One year after launching her first children's book, NSW Swifts mid-court star Maddy Proud has been given an opportunity to write a significant chapter in her club's history as the team's captain.
The 25-year-old, who admits she has the reputation as a comedian in the dressing room, was elected by her teammates to spearhead an outfit determined to become Super Netball's most feared team.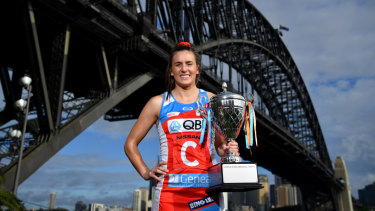 No laughing matter: Swifts captain Maddy Proud will be hoping to hold the Super Netball trophy again in a few months' time.Credit:AAP
"It's a huge honour," said Proud. "Knowing the players voted for me makes it that little bit more special. It's time for me to step up on and off the court as a leader. "I'm a person who likes to have a bit of a laugh, but there is the side to me that's as determined as anything to win for this team. I want to be someone the players look to in those moments when we want to get over the line."
The Swifts haven't made the play-offs in the competition's opening two years, but Proud plans to inspire her troops by following leadership's most basic fundamental.
"It's leading by example," she said. "All I can ask of my teammates is they give everything; to show up and know no game in this competition is ever easy.
"[Being captain] makes me come outside of myself a bit more. As a player when you're not having a great game you get caught up in your own performance. "As a leader you need to do the right thing by the team and give that extra voice. To know it's not only for you out there but it's for everybody else. I'm using it in that positive way . . . making sure it comes down to what's best for the team."
Her tenure, which starts in Sunday's season-opener, is considered a veritable baptism of fire. Proud echoed predictions that the Swifts-Giants derby will be physical and exhausting when she outlined the expectations on each of her players.
"It's about going in there with absolutely everything and knowing you can't leave anything in the tank," she said. "The derby is always a close game. This is a game where, if you can grind it out until the very end [you'll] get over the line."
"We're looking for consistency. Over the last couple of years, we've had these performances that are so exciting. We'll beat the top teams on the ladder, then, for some reason, we can't string it together the following week.
"That happens within games. We have some really good quarters, but then let other teams back in. We just need to focus for the whole 60 minutes and if we have a lead we need to be able to throw [our opposition] to the ground, while we need to also be able to grind out those close games."
Proud, who is studying for her masters of creative writing, couldn't help but smile when asked how she would start a book on her team's 2019 campaign.
"It would begin with '2019 will be the year of the Swifts," she said with her infectious laugh. "And, it would end with that line as well."
Source: Read Full Article