Do you like to laugh? Do you like hot dudes? If you said 'yes' to those questions, I've got good news. There's a movie that will satisfy both of your desires, and it's coming out in just a few days.
Little stars the ever-hilarious Issa Rae and Regina Hall in a brand-new comedy from the producers of Girls Trip. Regina plays Jordan, a tech mogul who is, um, pretty intense, if you will. Issa plays her assistant, April, who is quite frankly tired of her Devil Wears Prada–esque boss. When Jordan mouthes off to the wrong little girl, the girl wishes Jordan was a kid. And the next morning, Jordan wakes up approximately 30 years younger.
She basically turns into the sassiest and most well-dressed 13-year-old to ever exist, and even when she's forced to go back to school (the HORROR), she still acts like a total boss. Obviously the plot is comical enough on its own, but a few hot guys sprinkled in the mix don't hurt either! Luke James, Justin Hartley, and Tone Bell all star in the film as well, and after watching this ~exclusive~ clip of the three, you might need some water to quench your thirst.
PHEW! There's only one emoji to describe that video: 😍. If you want to see more of these three fineashell men (of course you do) check out Little when it hits theaters on April 12.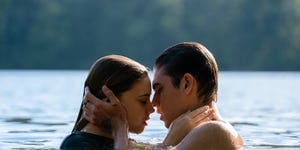 Source: Read Full Article