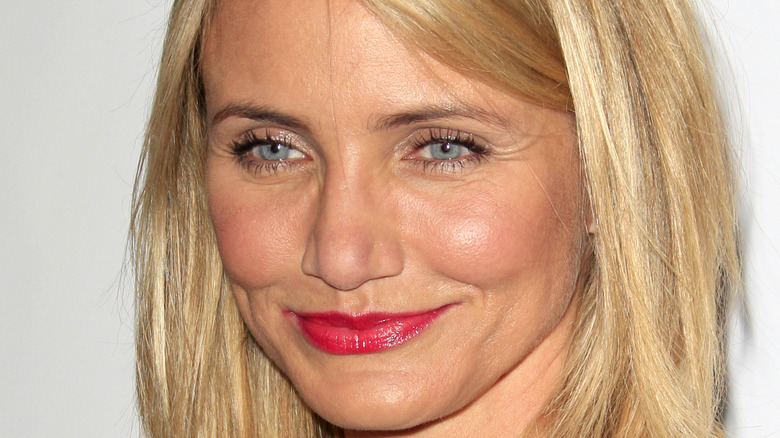 Trust us, we know: Pimples are experts in taking the pep right out of your step. Who doesn't hate the feeling of waking up, stretching your arms wide with a smile on your face, opening the windows to let warm sunlight in ("Snow White" style), only to find a colossal pimple on your chin as soon as you look in the mirror? 
Even more frustrating, you might be dealing with more than a once-a-week pimple and may instead be on an acne journey due to a plethora of reasons, whether it's hormonal imbalances, food allergies, or something else. While we will always be supporters of self-acceptance and self-love, sometimes you want to nix a pimple right at the source.
Whether your spot just sprouted up before a big nighttime event, a work interview, or a much-anticipated first date, you probably want to get rid of it stat. You may have already debated trying the old toothpaste trick, which, as per Verywell Health, is not a good idea and may burn your skin. Or maybe you're thinking of going on a quick drugstore run to buy rubbing alcohol for your zit. Per Insider, that's definitely another bad DIY idea and can create further skin imbalances. 
So, at this point, what options do you have besides waiting for your run-of-the-mill spot treatment to work, which may take days? Luckily, actress Cameron Diaz shared her best-kept secret to getting rid of pimples — and you might be very surprised by what it entails.
Cameron Diaz's best skincare tips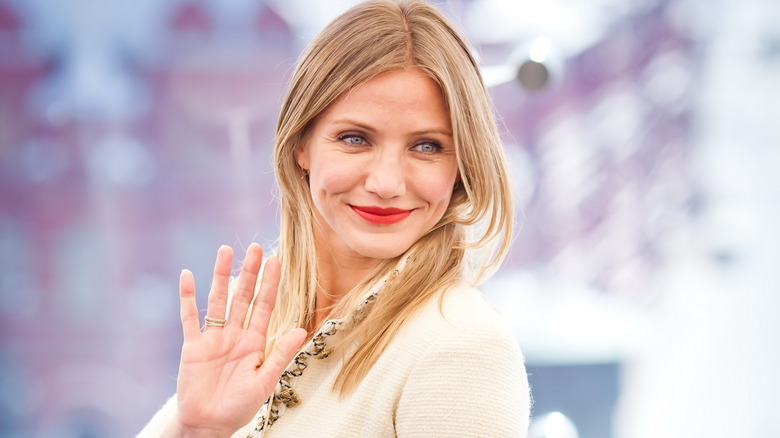 Actress-turned-writer Cameron Diaz has shared a lot of beauty and skincare tips over the years, ever since becoming an A-lister after her role as Tina Carlyle in 1994's "The Mask" (via IMDb). Gracing the cover of hundreds of magazines ever since (via Famous Fix), it's clear that the San Diego native has picked up a thing or two in the last almost-30 years in the industry. Even Goop queen Gwyneth Paltrow calls the 49-year-old her "beauty mentor" (via Hello! Magazine). We're kind of obsessed with Diaz's insider tricks, and now you will be, too!
Contrary to the rumor mill, Diaz does not wash her face with Evian water (via PopSugar). So, then, what's the secret to her signature glow? As per Women's Health, the actress wrote about her best tips in her wellness tomes, "The Body Book" and "The Longevity Book," and we're shook. For one, she wrote that she never fears aging and sees it as a "blessing and a privilege" to grow older — not something to stress about (and possibly age you further). 
Diaz always gets quality sleep, and, per Better Homes & Gardens, she stays active every day; drinks a liter of water when she wakes up; and eats a healthy mix of avocado, quinoa, leafy greens, and lean protein. A source tells OK! Magazine that the actress sees being happy as a beauty trick in itself, and she tries to meditate every morning for 20 minutes (via InStyle).
Her pimple-solving trick takes the cake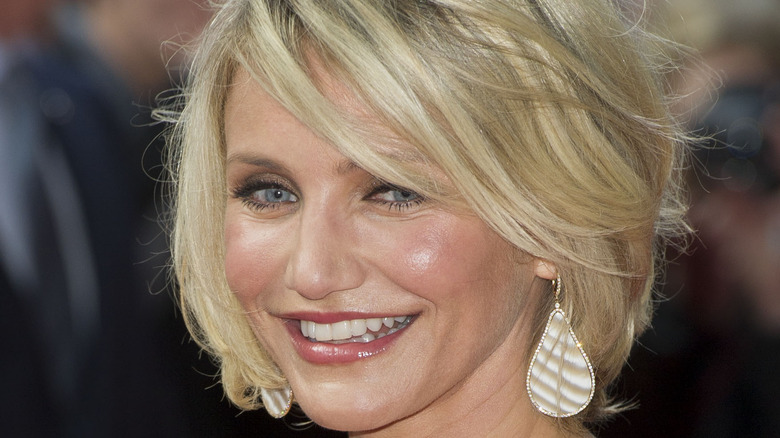 While we're jotting down all of Cameron Diaz's secrets to preventative skincare, we're just as curious about her trick to solving a pimple once it's already there. You might be thinking that the California beauty has never dealt with acne, but, surprisingly enough, she has. As per the Independent, the actress described her struggles with adult acne her skin in "The Body Book," writing, "I had terrible, terrible, skin… it was embarrassing, and I did everything I could think of to make it go away." 
The "Vanilla Sky" starlet described how she tried to "cover it with makeup," "get rid of it with medication: oral, topical, even the harshest prescriptions," but "nothing helped." Sadly enough, Diaz's skin eventually made her feel really bad about herself, she wrote, especially when dealing with it on sets with countless close-up cameras.
While the actress eventually cut out junk food and saw a noticeable improvement in her skin, she learned one incredible trick for acne along the way. According to StyleCaster, Diaz's longtime makeup artist Gucci Westman recently shared that the star "has a little lancer," or a specialized dermatological tool for extractions. Whenever the actress gets a pimple, she simply "kicks" it gently, and applies Neosporin and Visine on top. Yes, you read right: antibiotic ointment and eye drops. Who would've thought its effects on red, irritated eyes would work just as well on skin? As per Westman, this tip "takes away the redness and the swelling" of acne.
When in doubt, try some of the actress' best makeup tricks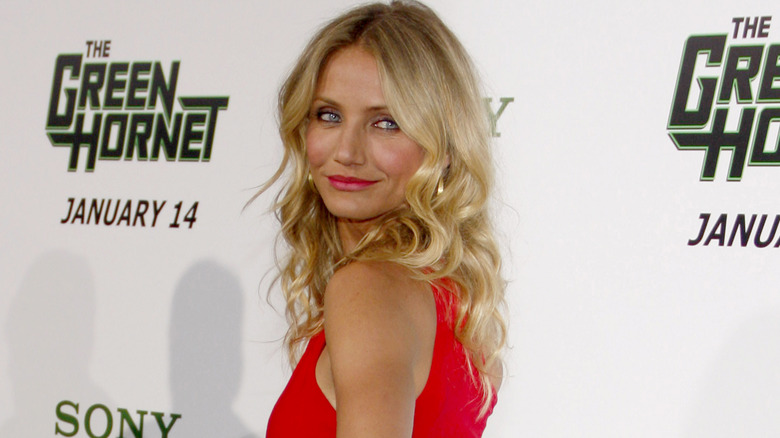 While we have to admit we're really invested in Cameron Diaz's shocking secret to getting rid of pimples overnight, we'll always believe in the power of makeup, too. We're trying her lancer-and-ointment trick stat, but, when in doubt, we'll always turn to the actress' incredible makeup hacks. Not just about covering pimples, these tips are about keeping it natural and looking like your best self.
As per Women's Health, the actress and makeup artist Gucci Westman recently shot a video for Harper's Bazaar, detailing Diaz's fresh-faced, go-to glam. Diaz shared that she loves wearing lipstick on her cheeks as blush, taking a fuchsia shade and dabbing it on just the apples. The actress admits that she got all her best tricks from Westman, including keeping makeup as sheer as possible, applying it sparingly, and layering as you go. In the video, Westman only uses cream products on the actress, blending a gunmetal eyeshadow on the lids with her fingers. Diaz's beauty shines right through the look, which would make any "bad" pimple day as bright as can be.
The actress is also not opposed to a subtle kitten eye (via PopSugar) and loves some shimmering golden eyeshadow to make her baby blues pop (via Glamour). She also lives for a berry lip, as shown by her red carpet looks over the years (via Seventeen). Never about covering up, Diaz is all about showcasing individuality, and we love it!
Source: Read Full Article