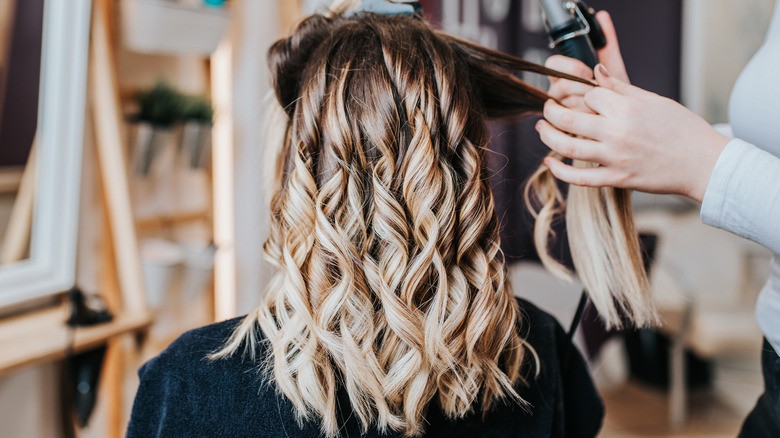 hedgehog94/Shutterstock
By Sam Cohen/Sept. 8, 2021 10:59 am EDT
Figuring out what you want to do with your hair ahead of a salon visit is often a daunting task. You spend hours scrolling through Pinterest for the perfect inspirational shot, all while trying to determine whether you really want to dye your hair or if you're just having an emotional crisis. Further complicating matters is the prospect of getting highlights versus lowlights, which are two very different things. If you haven't learned the distinction between the two yet, we're here to help!
According to Cosmopolitan, "highlights are dyed or bleached sections that are lighter than your natural hair color or base hair color, while lowlights are darker." Now that this fundamental difference has been addressed, you're probably wondering which style is best for you. Meri Kate O'Connor, a colorist at the Tabb and Sparks Salon in California, offers this helpful suggestion to start. "Lowlights are a great way to add dimension to your hair color, especially if you're looking to tone down overly blonde or highlighted hair," she said (via Cosmopolitan).
If you're feeling more confused than ever, our complete breakdown of highlights versus lowlights will provide you with all the information you need to make the best decision for your hair. Let's get started.
Lowlights work well for nearly every hair color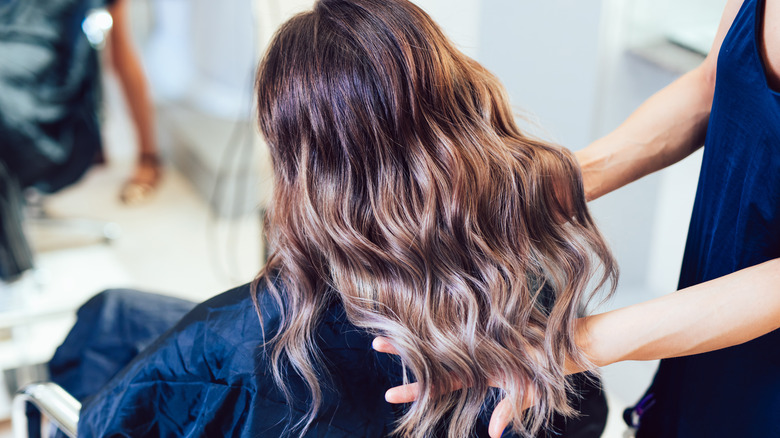 For those of you who want to freshen up your look without making a bold change, lowlights are the perfect option. "The best part about lowlights is that they work for all hair colors as long as your stylist is experienced and formulates correctly," according to Byrdie. Be sure to discuss what you want with your stylist to ensure that they know the exact tone you're looking for before they start on your hair. When you get lowlights, you're simply adding depth to your natural color. This is a far less drastic change than highlights and is usually preferable if you've never dyed your hair before since lowlights ease you into the overall process.
Celebrity hairstylist Loretta Wollner had some words of wisdom for Byrdie about lowlight maintenance. "Though lowlights can introduce more contrast immediately, they fade rather quickly in the summer months and can wind up appearing brassy," she says. "Consider this if you have damaged hair, as this may mean you'll have to re-highlight already-highlighted hair, which can contribute to breakage."
Taking supplements for your hair can help combat this breakage, encourage growth, and give your locks added strength and shine. Be sure to take supplements between salon visits to ensure you're keeping your hair as healthy as possible.
Highlights are commonly used to brighten your hair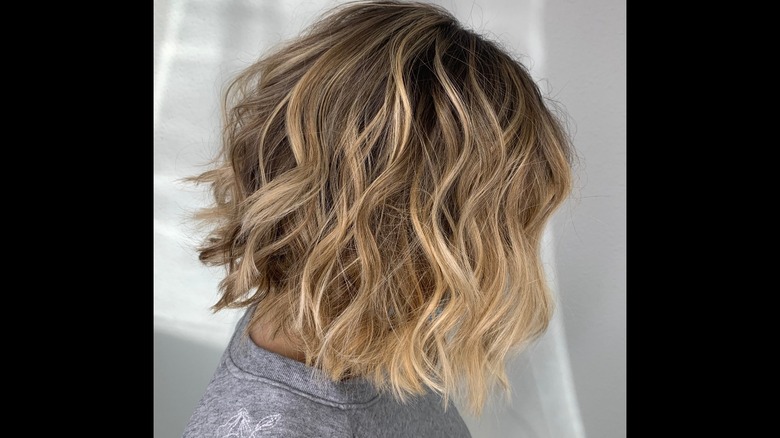 "Highlight" is a blanket term for a few common hair coloring processes that lighten hair, including balayage and foils. The hair care experts at Redken say that highlights "tend to be 2-3 shades lighter than your base color, so for brunettes, they can range from honey to golden to caramel; for redheads, something in the strawberry blonde family is usually gorgeous; and for blondes, they [are usually] bright-blonde and platinum." 
Once you decide what color you want for your highlights, you'll need to figure out the type of application process that is most suited to your desired look. For a bold effect, ask your hairstylist to apply your highlights in larger, chunkier sections. If you want a more subtle, sunkissed look, ask for your highlights to be applied strand by strand. This is where balayage comes in, as this hand-painting technique doesn't require the use of foils and is often used to achieve a more natural look.
Combine highlights and lowlights for a totally unique look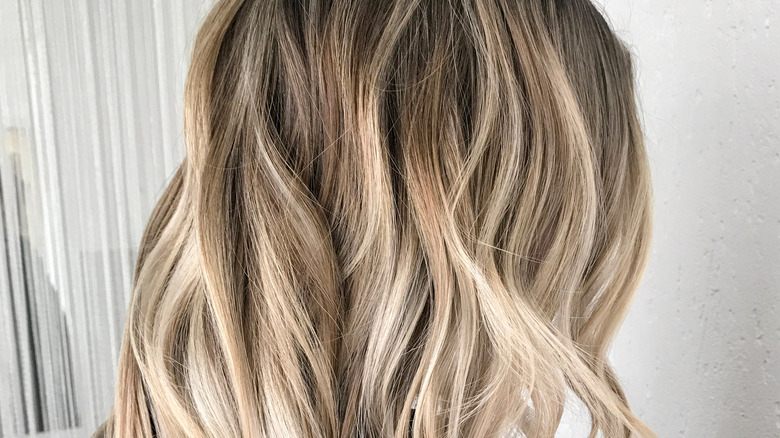 If you're still on the fence about whether you want highlights or lowlights, may we suggest both? "Unless you want streaky highlights with tons of contrast, there's a good chance your colorist will tone down and blend the color with lowlights, whether they're placed along your roots for volume or throughout your hair for texture," according to Cosmopolitan.
Most celebrities opt for a combination of highlights and lowlights to create their signature look, so if you're envious of Jennifer Lopez's multi-dimensional hair, you'll want to follow this approach. The cost increases when you couple lowlights and highlights, which is something to bear in mind if you're budget-conscious when it comes to your hair. Lowlights are typically less maintenance and only require touch-ups every two to four months, whereas highlights require touch-ups every six to eight weeks, per Cosmopolitan.
Discuss what you want with your stylist, both in terms of your overall color and your maintenance preferences, before taking the plunge one way or the other.
Source: Read Full Article