Let's face it: no one likes a pesky cowlick. According to L'Oreal Paris, the definition of a cowlick is "a small section of hair that grows at a different angle than the rest of the hair on your head," and, most likely, you've experienced some over your life. These stubborn follicles can make any put together hairdo look silly and straight-up odd, even though they're nothing to be embarrassed about since they are incredibly common. 
Those who suffer from chronic cowlicks have tried every possible way to get them to budge, including oils and straighteners, only to have them stick right back up again. And although cowlicks happen on practically every hairstyle and are due to genetics, per L'Oreal Paris, those with bangs are extra familiar with the struggle of getting smooth, flat strands.
Although one of the best ways to combat cowlicks is to use a blowdryer, there are other tools that you can utilize that won't cause heat damage — and are way more affordable. Like, $2 affordable.
These cheap hair clips say 'cowlicks, be gone!'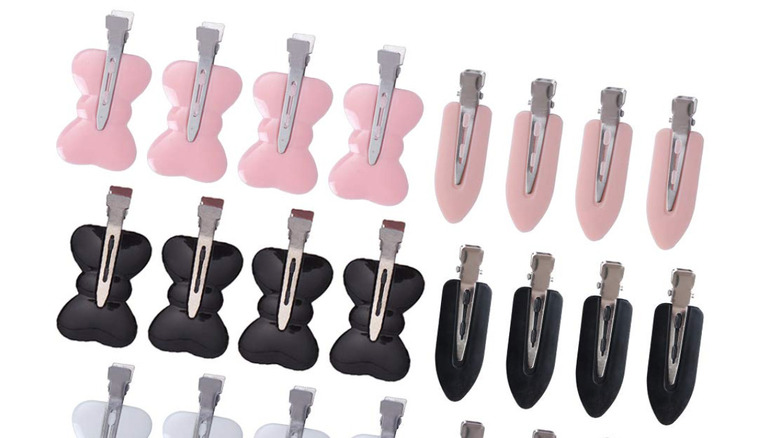 It may seem obvious, but one of the best ways to get rid of a cowlick is to simply pin it down. And better yet, there are a ton of cute clips on the market that'll be the perfect stylish accessory for your 'do. And with Y2K hair clips coming back in style (via Nylon), you won't look out of place. The 24 Pcs No Crease Hair Clips No Bend Hair Clips for Hairstyle and Makeup Application by fani comes at a highly reasonable $2 a piece and a cute bowtie design, so you can save money while taming your strands. (Unfortunately, these specific clips are currently sold out, but we hope they come back in stock soon.)
To use clips to tame a cowlick, push your hair back around ear level, then flatten the cowlick by putting two other clips near your part on both sides of your head. Called the "four clip method," celebrity stylist Laura Polko told Bustle that it's "the best way to get a cowlick out, and it's the best way to get this swooping motion over your forehead. Sometimes I do this instead of a hot tool, and just leave the clips in while I put my makeup on." Per her bio, Polko has worked with stars such as Emma Roberts, Adriana Lima, Hailee Steinfeld, and Olivia Munn, so she surely knows what she's talking about, as these stars have never had a cowlick in sight.
Source: Read Full Article