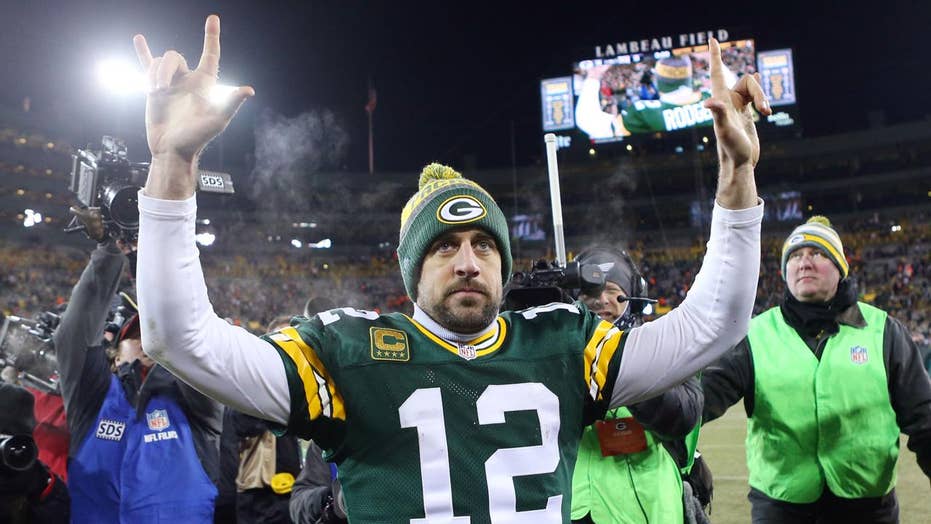 Aaron Rodgers' dad talks about their family feud
Fox411: Ed Rodgers explains rift between brothers: 'Fame can change things'
Olivia Munn is shocked but seemingly happy that ex Aaron Rodgers has finally made up with his family after years of distance and feuding.
Rodgers, 35, revealed Sunday that he spent his birthday with his family — a week after his "Bachelorette" star brother, Jordan, blasted him in November for allegedly not reaching out to their parents after the California wildfires.
When TMZ Sports asked Munn, 38, about the Rodgers reconciliation, she replied, "Oh my gosh! Well if that's true, that's amazing. It's long overdue."
OLIVIA MUNN PLEASANTLY SHOCKED AT AARON RODGERS FAMILY RECONCILIATION
The "Predator" star previously admitted that she thought both Aaron and his family were at fault for the rift.
"I do believe that family and fame and success can be really complicated if their dreams are connected to your success," she said on "Radio Andy" in May. "… And Aaron is one of the best — if not the best — quarterback to ever play the game, so their work has a direct connection to what he does and that's … at the end of the day there is a lot of complications … I don't think either side of the road is clean, but I do think it's not OK when you try to stand on someone's shoulders and then throw dirt in their face, which is what I think they did with him."
Munn added that while she'd initially been blamed for Aaron's troubled familial relations, it had nothing to do with her and that the fighting began long before she entered his life.
AARON RODGERS' BROTHER JORDAN SLAMS OLIVIA MUNN FOR DISCUSSING FAMILY DRAMA
"I met one brother, the one who was on 'The Bachelorette,' Jordan," she said. "I was friendly with Jordan. I met the parents only a couple times, and before he and I started dating, he hadn't spoken to the parents and one brother for like eight months."
Munn and Rodgers split in April 2017 after three years together.
The Green Bay quarterback has been dating Danica Patrick since late 2017.
Source: Read Full Article