Brielle Biermann wants you to stop making an ass out of yourself!
Kim Zolciak-Biermann's daughter clapped back at a follower on social media after they asked a pretty rude question in the comments section of one of her latest beach bikini photos.
Related: Celine Dion Has A Message For The Body-Shamers!
First, ch-ch-check out the the 21-year-old's shot of her casually posing in front of the bright blue sea (below):
View this post on Instagram
I crave a love so deep the ocean would be jealous
A post shared by Brielle Biermann (@briellebiermann) on
Biermann's cut-out blue bikini puts her beautiful figure and assets on display. Get it, girl!!
Although the comments section was mostly filled with love, one hater decided to boldly ask this cheeky question, captured in the screen grab (below):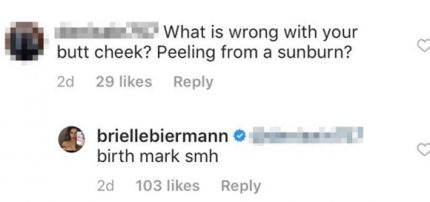 Can anyone helps us see the cause for concern here? The birth mark in question is barely noticeable and not even worth calling out!
Sigh. Can people just quit policing each other's bodies on the internet, please?
As you know, this is far from the first time anyone's ever questioned Brielle's body. Did y'all catch her #10YearChallenge? The young Bravo-lebrity, who's pretty good friends with the Kardashians, caught plenty of heat online for praising how much better she looked with lip fillers.
Truly taking a page out of Kylie Jenner's book on that one. LOLz…
Perezcious readers, what do U guys think of Brielle's bootylicious beach pic?? Sound off below!
Source: Read Full Article