Carrie Fisher and Mark Hamill became cinematic icons as Leia Organa and Luke Skywalker in Star Wars. And just as their characters evolved from strangers to siblings, the actors' relationship was just as complex. In fact, Fisher once admitted that her and Hamill's roles as the Skywalker twins made a huge impact on the dynamic between the Star Wars actors.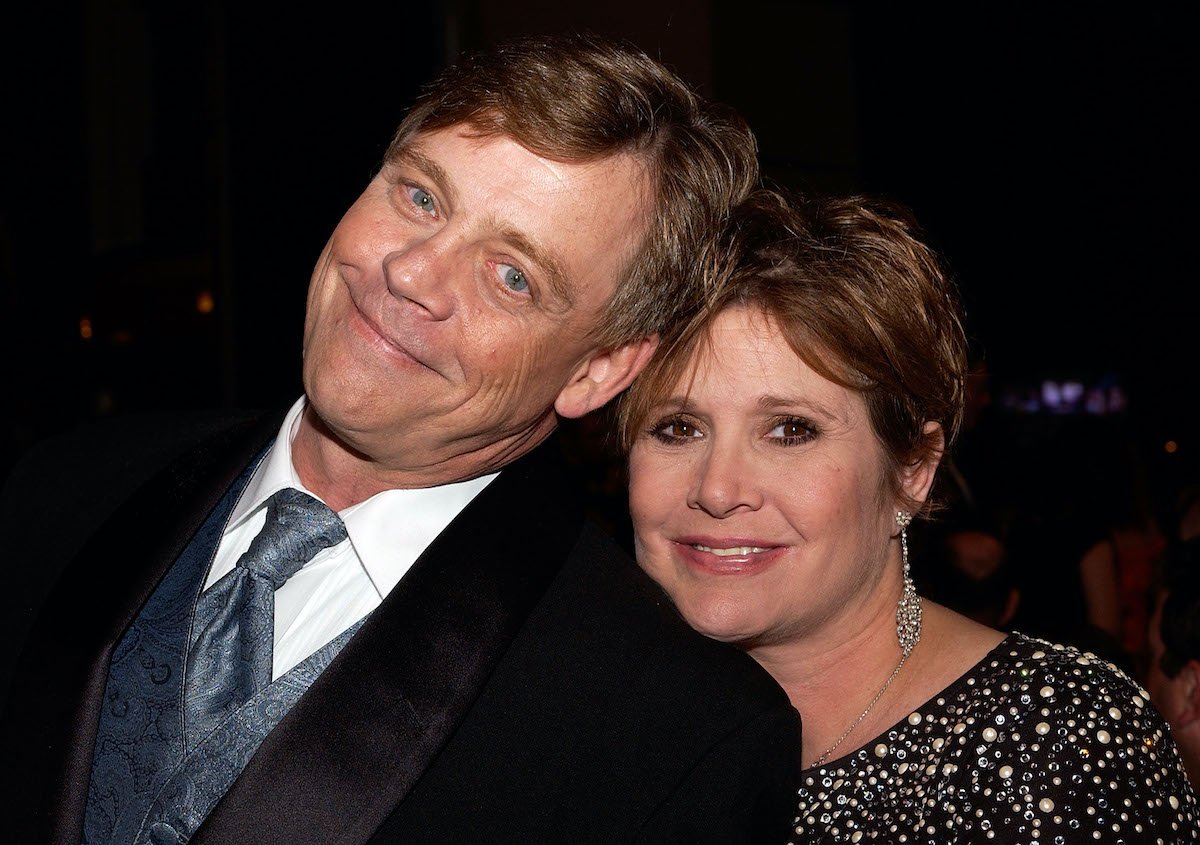 Carrie Fisher starred in 5 'Star Wars' movies prior to her death
Following George Lucas' original 1977 film, Fisher and Hamill — along with co-star Harrison Ford — returned for two sequels. Collectively, the original Star Wars trilogy centered on this trio as they unite with other heroes to defeat the Galactic Empire. But as fans know, 1983's Return of the Jedi was far from the end of that story. Not after Disney purchased Lucasfilm in 2012.
Of course, Lucas himself dusted off Star Wars for the original trilogy's special edition and then again for the prequel trilogy. But for nearly a decade, the "galaxy far, far away" waited quietly until Disney scooped it up. Then from 2015 to 2019, Lucasfilm released one Star Wars film each year, reuniting — among others — Fisher, Hamill, and Ford for the sequel trilogy.
The actor once explained how her feelings for Mark Hamill evolved
Prior to Fisher's death, the three appeared together in five Star Wars movies. After all, Ford isn't in 2017's The Last Jedi, the final one Fisher filmed. Yet, Hamill still apparently never learned of Fisher and Ford's affair until she revealed it in 2016. In an interview with The Guardian shortly before her death, Fisher explained how she felt about her two co-stars.
"Yes, I love [Harrison Ford]. I'll always feel something for him. I love Mark too, but I love Mark more like a sibling. You can't pretend something for so long without some of it coming true."
Fisher was known for being open and honest about her own life. So it stands to reason all those years playing sibling with Hamill rubbed off. Her account also squares with Hamill's, as the actor said he and Fisher alternated between loving and hating each other over the years. As in the Star Wars saga, no one's ever really gone, with Hamill often keeping Fisher's memory alive.
'The Rise of Skywalker' reunited Luke and Leia in its final scene
Star Wars: The Rise of Skywalker hit theaters almost exactly three years after Fisher's death. Had the actor lived, the movie would have focused in large part on Leia's arc. Director J.J. Abrams used deleted footage from The Force Awakens to establish Leia as Rey's (Daisy Ridley) Jedi Master. Moreover, Leia plays a key role in Kylo Ren's (Adam Driver) redemption.
But in the end, the movie also comes back around to Luke and Leia. In the controversial final scene, Rey claims ownership over the Skywalker name as both characters watch over her. The series began 42 years earlier with Fisher and Hamill leading the charge. So it's only fitting that — even in death — the two characters they play are reunited one last time.
Source: Read Full Article