Avengers: Endgame is nearly here, and as it approaches, the speculation over how our heroes are going to overcome the disastrous events of Infinity War is only going to heat up.
We'll be scrutinizing every piece of Endgame merchandise for clues, naturally, but even we didn't expect that a hint at the events of the film might come courtesy of a teddy bear.
The newly-announced 'Thanos Bear with Sound' from Build-a-Bear features five different lines, some of which seem to indicate how the final showdown with the villain may go down.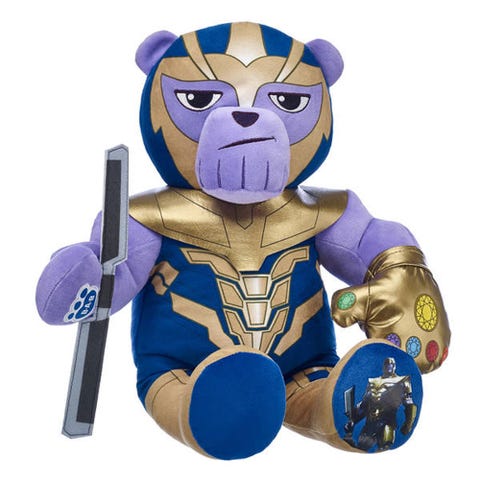 Build-A-Bear Workshop Inc
Some of the lines, including "If you cannot retrieve the orb, don't bother coming back – I will find you," come from existing Marvel Cinematic Universe films (Guardians of the Galaxy in the case just mentioned).
But some of the other lines haven't been heard before—and may be more revealing.
There's "I had all the power in my grasp," and "How are you doing this?"—and, most intriguingly, "You do not have the power to wield the Infinity Stones."
Fans are speculating that this relates to the final battle with Thanos. Will one of the Avengers take the Infinity Gauntlet away from him and use its powers to undo his Decimation, which erased half the population of the universe? Were all those time travel theories just a red herring?
In the original Infinity Gauntlet comic that was the primary source material for Infinity War, Nebula (who is evil in this story) was able to steal the Infinity Stones from Thanos, before it was eventually claimed by the hero Adam Warlock.
What do you think? Will Captain America or Iron Man take up the gauntlet, restoring everyone—perhaps at the cost of their own life? Or are we reading too much into a teddy bear's voice?
Avengers: Endgame will be released on April 26 in the US.
From: Digital Spy
Source: Read Full Article