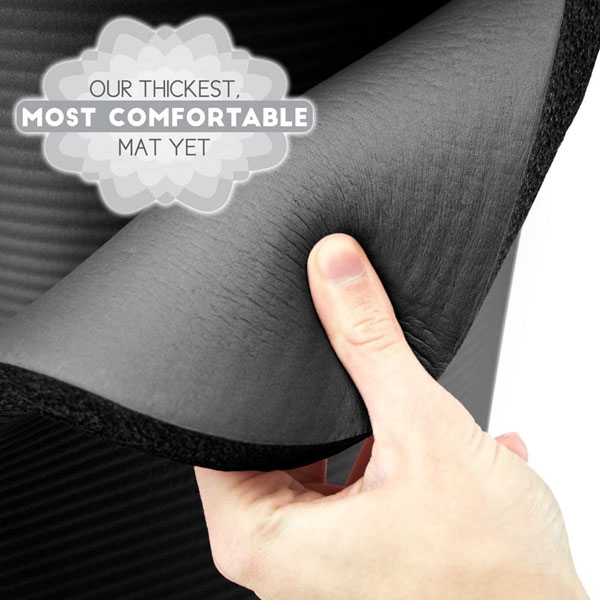 From CB: I was going to do another post with some favorite things I've bought on Amazon this year but instead I think I'll just include them in this joint post with Hecate as they would make great gifts too. This will be our last Amazon post of the year but we'll be back next year! Let me know if you're looking for anything or if you've received a gift you really like.
An ultra thick yoga mat for more cushioned workouts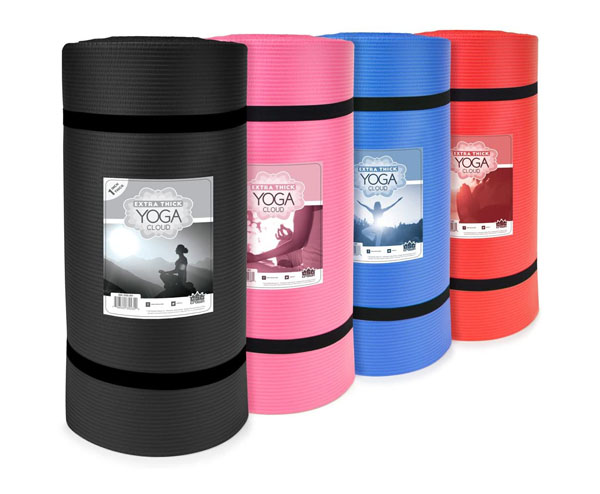 From CB: This yoga mat was not cheap at $40 but I splurged on it in September and now wonder how I ever did floor exercises on a thin yoga mat. I have a long tailbone that gets hurt and bruised when I do situps. I would have to fold and double up mats and would still be uncomfortable. That problem stopped after I got this 1" thick mat by Yoga Cloud. It's so soft and has plenty of cushioning. Plus it stays in place and is easy to roll back up. I have it in black and it comes in three other colors. This has 1,700 ratings, 4.7 stars and a B on Fakespot. Reviewers say it's great for eliminating back and knee pain from doing long poses and that it's "thick but not squishy." "When I do leg lifts and other similar exercises, I no longer feel pain from my lower spine being pressed to the floor." 'It is very comfortable and provide tons of cushion, yet is still easy to roll up when you are done." "What a difference that extra cushioning makes!" Oh and it does have a chemical smell to it at first, but I left it outside for a day and that went away.
A beaded hand and wrist rest for comfortable typing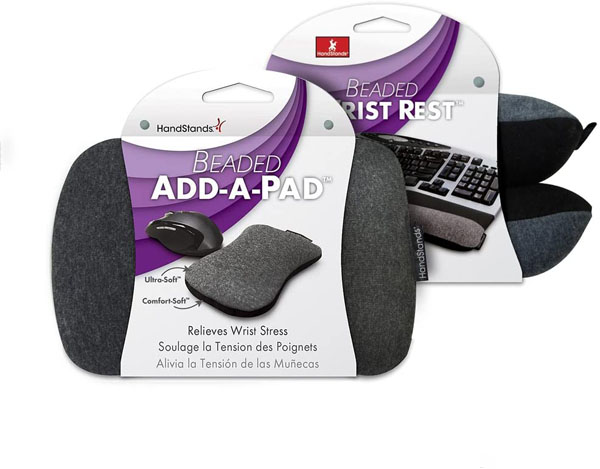 From CB: I was getting wrist and arm pain from sitting at the computer long hours. I researched so many wrist rests before deciding on this beaded set and am so glad I picked it. My wrist pain went away within a couple of days. This set is so comfortable and I like to roll the little beads around. This beaded keyboard and mouse support set by Handstands has 4.5 stars, 526 ratings and a B on Fakespot. Reviewers like it as much as I do. "I have carpal tunnel and these work wonderfully well. I have not been bothered with numbness in my hands at work since using these." "I would recommend them to anyone who does a lot of computer work and is looking for relief from wrist strain." "I love how these are so soft on my wrists and help me keep proper position not to worsen carpal tunnel symptoms."
A ring light for better looking Zoom calls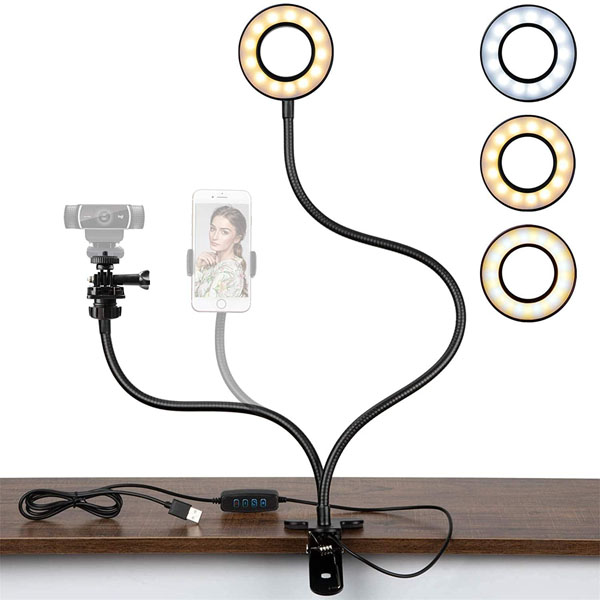 From CB: This USB powered ring light makes such a difference in how I look in Zoom calls. It's clipped to my desk and is easy to move for the perfect angle. Plus it has so many color and brightness settings. This ring light by Ameda has 1,400 ratings, 4.3 stars and a B on Fakespot. Reviewers say it's easy to set up, that it's sturdy and stays put and that it puts out a great light. "Great for working from home zoom meetings." "This light is actually bright enough to make a difference in the endless stream of conference calls. It does a good job of lighting the side of my face that's away from the window/light source." "The ring light really boosts my webcam quality and focusing ability."
Anti-razor bump solution that really works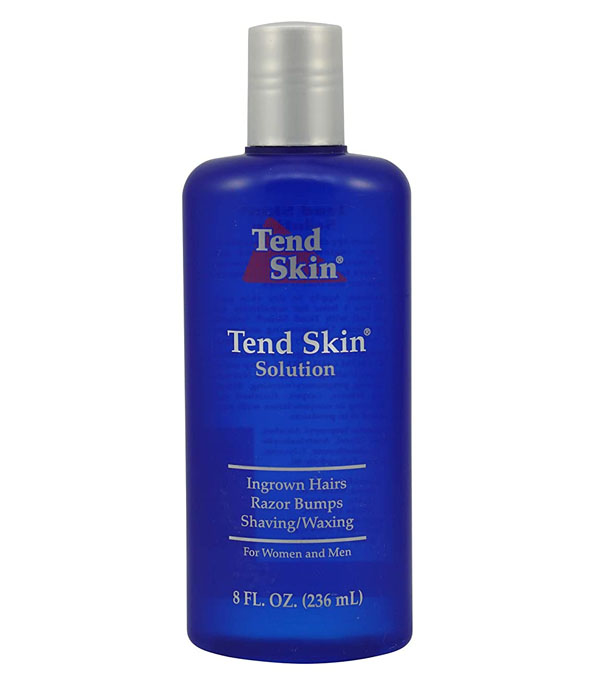 From CB: Even in quarantine I was shaving and still dealing with razor bumps. In August I found Tend Skin razor bump treatment. This has over 11,500 ratings, 4.5 stars and a B on Fakespot. I can't believe how well it works, even on my bikini line. I've never been able to shave there and not get bumps before I found this. This doesn't entirely eliminate them, but they last just a day or two and aren't painful. Reviewers say the same thing. "I figured razor burn was just something I'd have to live with the rest of my life and learned to sort-of-kind-of manage. Not anymore! After one use of this product post-shaving last night, the razor burn is gone from my legs." "I used this after I shaved a few times, and now my legs are the kind of dolphiny, feel-my-legs-I-just-shaved smooth that we all wish for in this cold, dark world."
An eyelash curler for extra glam lashes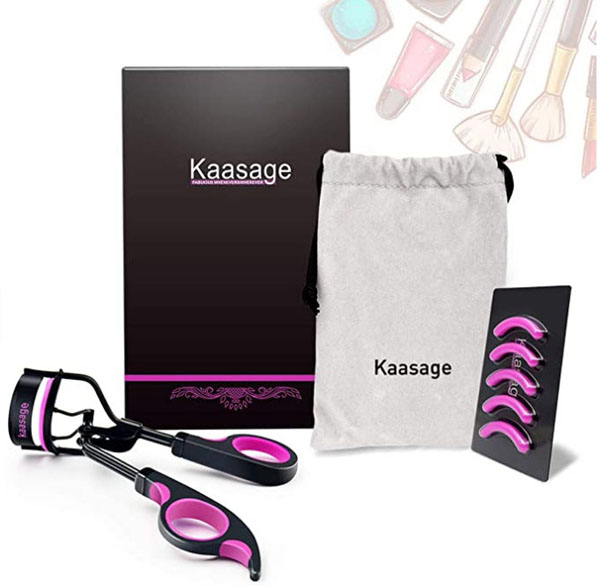 From CB: I got this eyelash curler in July and this is another one of those products I don't want to do without now. My eyelashes look so glam and long now. This silicone eyelash curler by Kassange is under $11 and comes with five replacement pads. It has over 5,400 ratings, 4.3 stars and a B on Fakespot. Reviewers say it's easy to use and that it creates a long-lasting curl. "I have very thin eyelashes and have had a hard time finding an eyelash curler that will grab, hold and curl my eyelashes. I purchased this curler with hopes that it would do a decent job. I was wrong…..it did an amazing job!" " Provides a really nice curl and an even better lift."
A silly duck toy you and your dog will love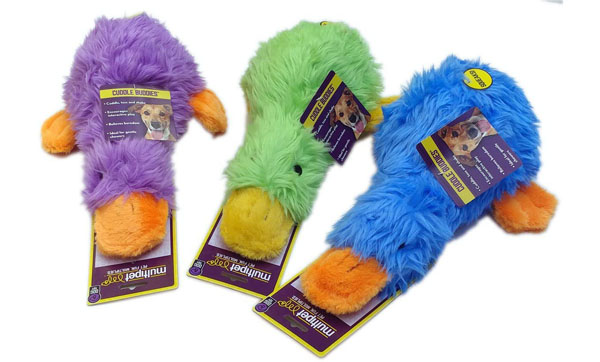 From Hecate: Did you forget your four-legged friend this holiday? I never forget mine, but I always tell myself I don't need to get much. Then I panic and think they'll somehow gain some kind of consciousness about Christmas and I overbuy for them. So I bought one singular toy this year from a craft fair. But then I saw this thing on Buzzfeed and OMG how can I not! It's a 13" brightly colored floppy duck that arrives in time for Christmas. This will look absolutely ridiculous hanging from your pups jaw as it struts around the house. Plus, these soft toys are good for chewing but also comfort toys if the dog is stressed, like a blankie. They come in packs of 1-3 ranging form $9-$30. With 294 reviews, ReviewMeta confirmed it at 4.6 stars. Apparently these little guys become members of the family, "Sometimes she will just sit there resting her front paws or her head on the duck. This is a great toy." And one customer said they might even make it to see the New Year, "I got one at christmas, and it was the only toy my 40lb Aussie didn't rip the guts out of." In stock and will arrive in time for Christmas.
Spicy honey for perfect sandwiches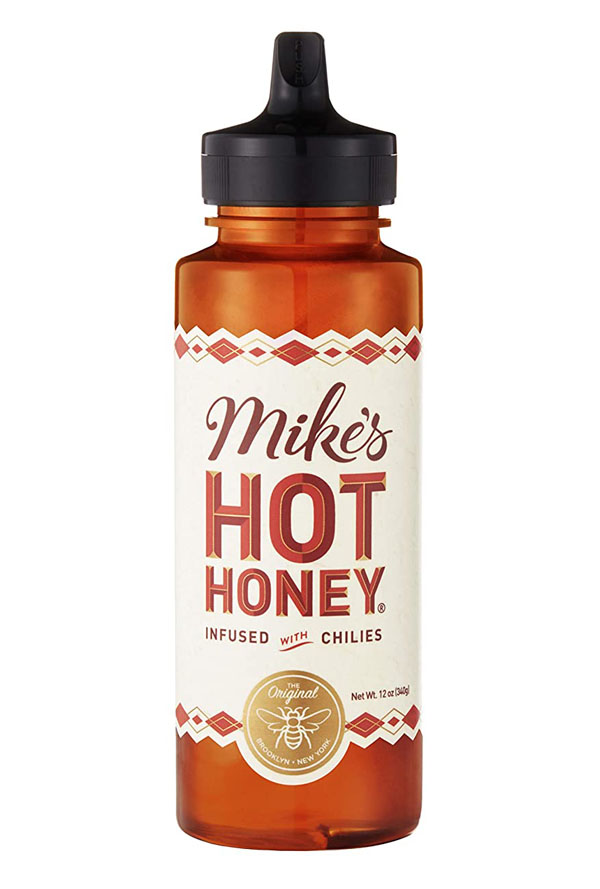 From Hecate: I am a recent convert to spicy honey. I've seen this stuff everywhere but didn't see the appeal. But I came across a recipe for Thanksgiving leftovers sandwich that used it and decided to try it. I was sold from the first bite – no idea what took me so long. I keep finding new ways to use it, it's good on so much. I recently started using it in tea. I haven't tried Mike's brand from Amazon, but it is one of their Best Sellers. It comes in packs of 1, 2, 4, or 6 starting at about $10 a bottle. You don't use much and honey lasts forever so that $10 will go a long way. Mike's Hot Honey has over 16,000 reviews with 4.7 stars and an A on Fakespot. Many folks mentioned it's not too hot, one in particular saying, "I was afraid the spice would be overpowering, but it's actually quite mellow and smooth; just the right touch of heat." Another said it's so good, it's addictive, "Mike's Hot Honey. They need a 12-step program for it. It's that good." Mike's Honey will arrive before Christmas.
A hot air brush that dries and volumizes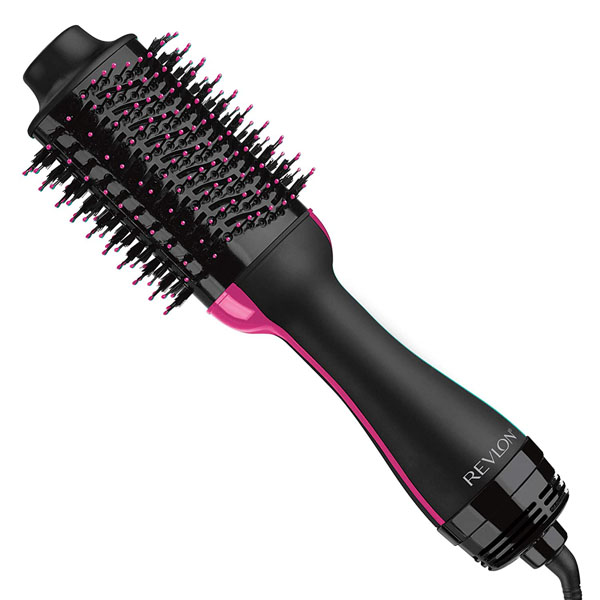 From Hecate: I just got this for my niece for Christmas, so if you are my niece, forget you just read that. These hot air brushes supposedly save a little time because they are two stylers in one. My hairdresser likes them because she says by blowing the air through the brush, it causes less breakage. All I know is my girlfriend who has one always has fabulous volume in her hair. This one is made by Revlon and I tend to trust them. It's a best seller with over 21,000 reviews and ReviewMeta confirmed it has 4.3 stars. A few people commented how they got salon quality from it, with one saying "Not only is it easy to use, it gives my hair the closest thing to a professional blowout at home." One customer with a cosmetology and hairdressing background said, "BRILLIANT!!! The design made it ridiculously easy to use and I did my whole head in like 5 minutes." Good enough for me. This will also ship in time for Christmas. It comes in 5 colors, ranging from $42-$60 depending on color.
Thanks for reading and commenting on our affiliate post! If you make any purchases through these links we get a small percentage and appreciate it. Hope you have a great holiday however you celebrate.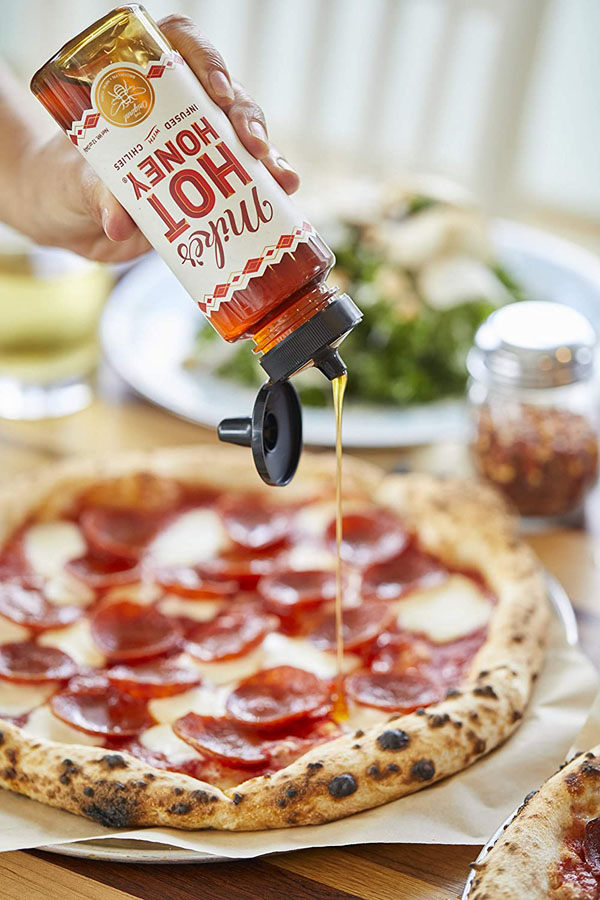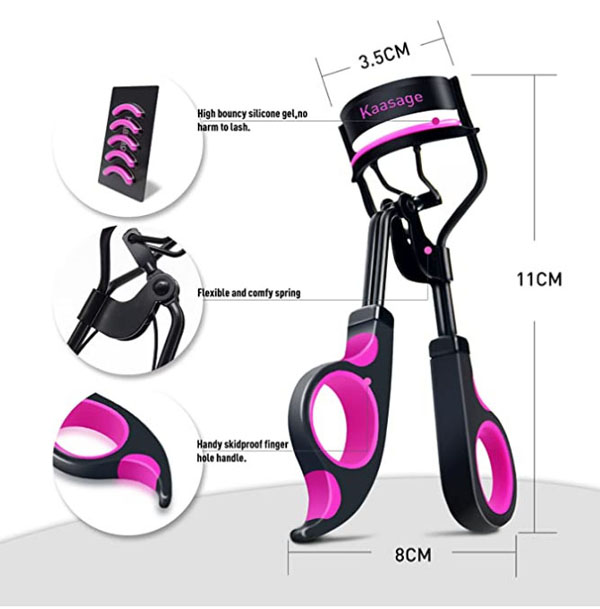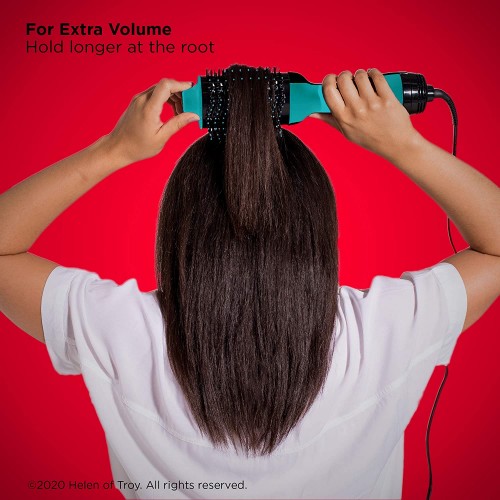 Source: Read Full Article