2020 has been difficult, but some people have been able to find success despite hard times. Doja Cat is one of those people. She will likely look back at 2020 as a watershed year for her career. Despite quarantine, the up and coming hip hop artist managed to drop an epic track. Doja Cat collabed with Nicki Minaj for a remix of "Say So," which has become a social media sensation, in addition to climbing charts. Her newfound fans want to know more about her, including where she got her nickname.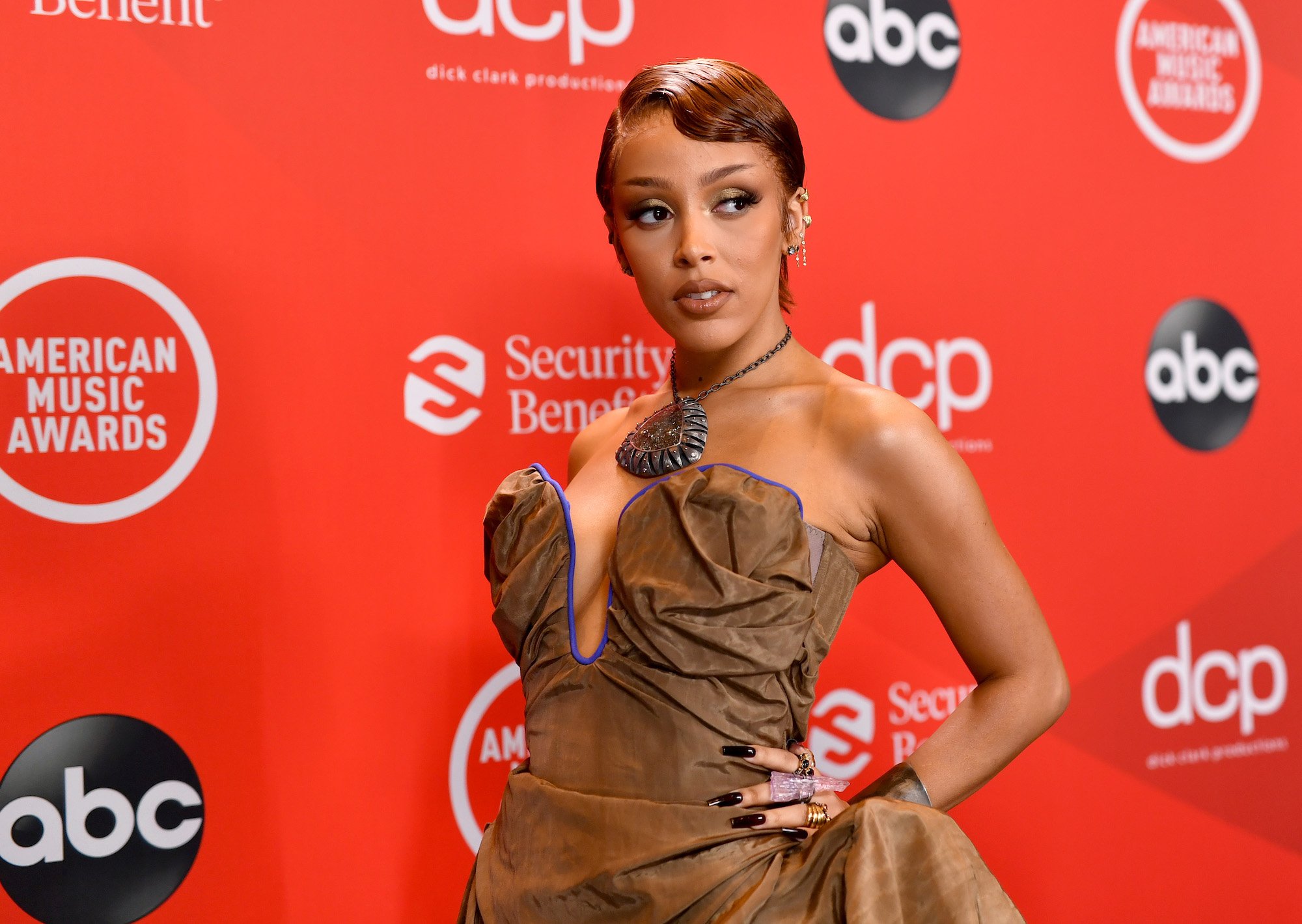 Doja Cat owes her stage name to her two favorite things
The word Doja is a reference to a strain of cannabis, according to Nicki Swift. According to Genius, the artist has said she no longer smokes weed, she does admit she was once a bonafide cannabis enthusiast. The artist says she "was heavily addicted to weed and weed culture." Doja was one of her favorite strains, and she thought it sounded like a girl's name. So she used that, in addition to the word cat, just because she loves cats. 
Even though Doja Cat's name still references weed, she no longer smokes. She even credits quitting marijuana with some of her success. When Doja Cat recorded her first album, Amala, she was "super high all the time." It was her way of trying to impress others, but being herself worked better. Plus, she makes much more musing now that she's not smoking.
Doja Cat's real name is Amalaratna Zandile Dlamini
The name of Doja Cat's 2018 album Amala is actually a reference to her real name. Doja Cat was born Amalaratna Zandile Dlamini. The singer and hip hop artist is the perfect mix of her parents. She's the daughter of an immigrant father and an American mother. Her father, Dumisani Dlamini, is an actor with a strong resume, according to Standard. He worked alongside Whoopi Goldberg in Sarafina!, and had a role in The Lion King musical on Broadway. Her mom, Deborah Elizabeth Sawyer, is an artist. 
Doja Cat's talent for entertainment and artistry almost certainly comes from her talented parents, who both imparted a love of music and theater to their daughter. She also grew up in not one, but two of the cities most known for their ties to the entertainment business. Doja Cat moved back and forth from New York and California as a child. She considers herself from both The Bronx, New York, and Oakland, California. New York is home to the country's most illustrious theater scene, and Oakland is Hollywood adjacent.
Tik Tok made Doja Cat famous, but she's outgrown the platform
Doja Cat was one of the first stars to come out of the relatively new social media platform Tik Tok. Her first hit was a song called "Moo!" Doja Cat made a splash with the track, thanks to her strange lyrics and over the top costumes. She's made quite a few new songs and videos since "Moo!" but the point is the same. Doja Cat thinks the time is right for hip hop to change. She wants to bring her colorful, cartoonish style to the genre. "It's the perfect time for people to be colorful and animated. We need people who are open to doing something with theme, something with a cartoonish twist. [Rap] is very one dimensional right now."
Tik Tok may have been where Doja Cat got her start, but now her songs are mainstream. "Say So" is still a viral sensation, however, despite the fact that it's played on radio stations all over the world. Fans on Tik Tok have been making their own dance moves up for the song, and some high profile users have gotten on board. Doja Cat may have outgrown Tik Tok, but it hasn't outgrown her.
Source: Read Full Article