Melania Trump had what some might call an interesting experience while being the first lady of The White House for four years. From her scandalous fashion choices to her supposed brazen feelings about celebrating a certain classic holiday, Trump was often the talk of the town, ahem, the country. Of course, being former President Donald Trump's wife can also evoke very strong feelings from all political sides.
Everyone was constantly viewing what Trump did (or did not do) as first lady under a microscope. This, of course, was no different from the media coverage of previous first ladies, like Michelle Obama, who doesn't have a desire to be in politics at all, despite being in the White House for eight years. "I've never had the passion for politics," Obama said at the 2018 Simmons Leadership Conference, per Today. "I just happened to be married to somebody who has the passion for politics, and he drug me kicking and screaming into this arena."
Trump may have felt the same way, as she reportedly could not wait to exit the White House and does not want anything to do with her husband's potential 2024 run, per Yahoo! Life. Now that Trump is living a much more private life, many of us are wondering how she really felt when Donald Trump's term ended. Read on to find out.
Melania isn't interested in being in the spotlight anymore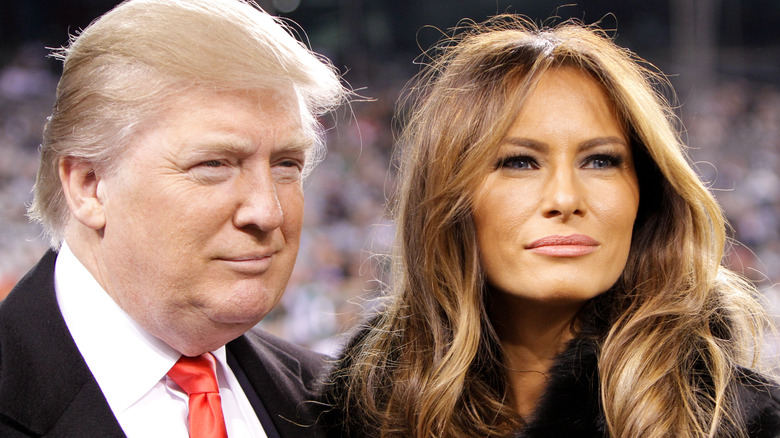 Melania Trump is over being in the public eye and likes her more quiet lifestyle she's returned to now that Donald Trump's term is over. "She was relieved when her husband's term ended," a political source told People on September 8. "Melania does not like being in the public eye and has made it clear that she isn't interested in doing it again. She likes family and her private life," the source continued. "The media glare is not for her."
That might be tricky, because there are whispers around the Washington, D.C. political rumor mill that her husband might jump into another presidential run in 2024. Donald's former senior adviser, Jason Miller, told Cheddar in September that there is between a "99 and 100 percent" chance that he will run. "I think he's definitely running in 2024," he added. 
Being in the spotlight isn't the only thing Melania is worried about; she is less than keen to be a part of another political run, the source told People. "She is not one bit interested in another campaign, and certainly not participating in it," the source said. "If he runs, I doubt she will be involved at all," the source added. "If he should win, that would be the worst-case scenario for her." Furthermore, Melania isn't focused on her future political career. She's currently more preoccupied with being actively involved with her teenage son's (Barron Trump) education and her family's overall well-being.
Source: Read Full Article