"Bridgerton" broke Netflix's viewership record becoming the most streamed show on the platform ever, according to Deadline, with an astounding 82 million households tuning in around the globe. From the music to the plot, viewers seemed to fall in love with the series — and the people in the story, including Daphne Bridgerton, portrayed by Phoebe Dynevor, and Simon Basset, the Duke of Hastings, portrayed by actor Regé-Jean Page. Another thing that fans really seemed to enjoy? The steamy sex scenes! 
According to Refinery 29, the sex scenes in Episode 6 were particularly popular, as Daphne and Simon got busy all over the house as an instrumental version of Taylor Swift's "Wildest Dreams" played in the background. Interestingly, Dynevor previously told Refinery 29 that she also has fond memories of the sex scenes in that episode, namely the one that took place in the library. "My first ever scene [on-set] was in the library, when Simon's going down on Daphne. And that was mine and Regé-Jean Page's first ever scene together. So the library scene is a memorable one for me," she told the outlet. This, of course, leaves fans wondering how Page felt about the sex scenes, and he has just spoken out! Keep reading to find out what he had to say.
Regé-Jean Page admits he was 'overwhelmed' by Bridgerton sex scenes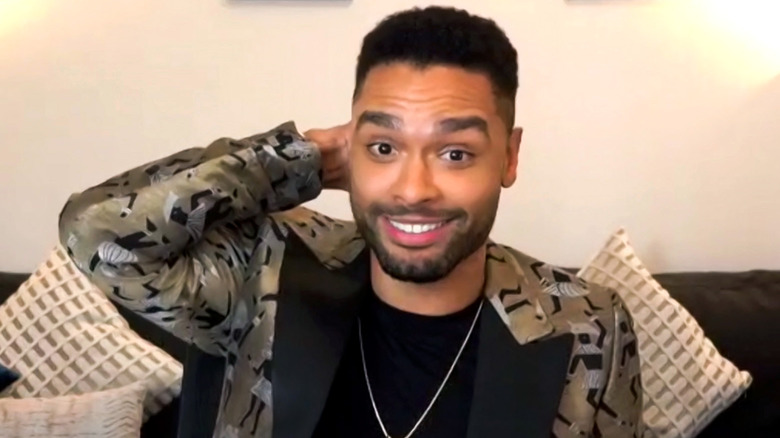 Regé-Jean Page was featured in The Hollywood Reporter's Emmy Roundtable which was published on June 16, and during the sit-down, he shared his feelings on his "Bridgerton" sex scenes. "No one was sufficiently prepared. I wasn't sufficiently prepared, and I was there," he said. "I think people were grateful for the intensity of the romantic aspects of 'Bridgerton,' I'm not sure how grateful I was to watch it for myself. It was overwhelming. But I think people were looking to be overwhelmed," he added.
Page also revealed how he felt about his family watching him get down and dirty on screen. "My family doesn't want to be overwhelmed by my backside, specifically, too often, but they'll take it on this occasion because everyone seems to be terribly happy," he said, adding, "I had to sort of sit by the remote and fast forward the bits before episode 6 that are slightly on the precarious side as well. I'm like, 'You don't need to see this bit!'"
As most fans know, Page will not be reprising his role as the Duke of Hastings. It was Lady Whistledown who broke the news to fans on social media, and Page later opened up about his departure in an interview with Variety. "It's a one-season arc. It's going to have a beginning, middle, end – give us a year," he told the outlet. Though fans are disappointed by the news, those sex scenes are still just a few clicks away!
Source: Read Full Article