Julie Andrews has been entertaining audiences for over half a century, and her sweet and down-to-earth personality has given her fans of all ages across all generations. After breaking out with hit movies such as The Sound of Music in the 1960s, Andrews has sustained her career into the present day with beloved roles in The Princess Diaries and more.
Julie Andrews has been in show business for decades
Andrews' lengthy career started on stage over seven decades ago in her native Britain. She followed in her parents' footsteps and sang alongside them as they performed at night, and even toured around the country with them.
Andrews made her Broadway debut the day before her 19th birthday in 1954 in the musical The Boy Friend, which had been a successful show in London. She then appeared in the Broadway production of My Fair Lady in 1956 and caught the attention of superstar composer Richard Rodgers.
By the early 1960s, Andrews was beginning to become a household name, and her breakout performance in the Disney musical Mary Poppins earned her her first Academy Award. (Ironically, she was snubbed for the role of Eliza Doolittle in the film adaptation of My Fair Lady, and beat out Audrey Hepburn for the award.) The following year, lightning struck twice with Andrews' iconic role in Rodgers and Hammerstein's The Sound of Music.
Julie Andrews is back in the spotlight
Andrews continued to be a working singer and actor in the following decades, starring in productions such as both the film and stage versions of Victor/Victoria. But she unfortunately lost her legendary voice in a botched vocal surgery in 1997.
After losing her voice, Andrews had to pivot to only speaking roles. Her first big movie in this career renaissance was The Princess Diaries, the 2001 comedy starring Anne Hathaway and Andrews' first Disney movie since Mary Poppins. She voiced characters in the Shrek movie series and narrated the 2007 Disney movie Enchanted.
Now, Andrews is back in the narrating chair in Shonda Rhimes' new period drama Bridgerton, which premiered on Netflix on Christmas 2020. In an interview with Parade, Andrews described the show as "scandalous and romantic, quick-witted, with lots and lots of friendships, families finding their way and mothers protecting their daughters — you can imagine all the intrigue."
Andrews called her character Lady Whistledown "a mysterious and rather sharp-tongued gossip writer of the day." She went on to describe Lady Whistledown as "a tartar, and a bit of a naughty woman." And while she doesn't appear onscreen at any point, Lady Whistledown is central to the drama.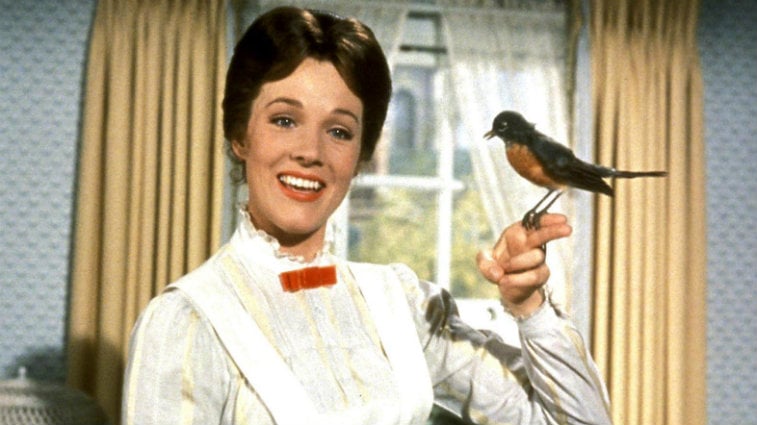 Julie Andrews mastered the art of smiling for a photo
Throughout her expansive career, Andrews has been able to master one particular part of fame that some celebrities often struggle with: posing for photos in a flattering way. Andrews talked about her special trick in a 2017 appearance on The Late Show with Stephen Colbert, and referenced a time when Colbert once asked her to smile for a photo and say "cheese."
Andrews is never one do to things conventionally, and says something different than what most people say when smiling for the camera. "You ask them to count [to] three, and then you say, 'Money,'" Andrews said, grinning.
She went on to describe why she opts for a non-traditional word when smiling for a photo. "I was told this. It's not my idea," Andrews admitted, "but I was told to do this, and lo and behold, it works!" She said that saying the word "money" "drops the jaw a bit [and] makes you smile nicely, so you might as well remember it!"
Source: Read Full Article