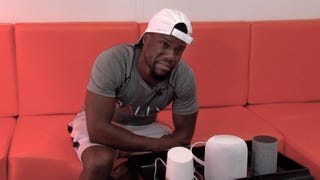 Hosting the Oscars is a thankless job. Yes, it's still a huge platform watched by tens of millions of people. But everyone is tuning in to see if the host makes them laugh, and the host has to deal with a staid, overly-long format that makes that far from easy.
Which is why it's a relief that Kevin Hart has accepted the gig. If anyone can pull off being the main draw for an event that increasingly leaves viewers jaded, it's him. The comedian announced on Instagram that he'll be the MC for the 2019 Oscars, airing on ABC on February 24, calling it "the opportunity of a lifetime" that he's long dreamed about.
View this post on Instagram
For years I have been asked if I would ever Host the Oscars and my answer was always the same…I said that it would be the opportunity of a lifetime for me as a comedian and that it will happen when it's suppose to. I am so happy to say that the day has finally come for me to host the Oscars. I am blown away simply because this has been a goal on my list for a long time….To be able to join the legendary list of host that have graced that stage is unbelievable. I know my mom is smiling from ear to ear right now. I want to thank my family/friends/fans for supporting me & riding with me all this time….I will be sure to make this years Oscars a special one. I appreciate the @TheAcademy for the opportunity ….now it's time to rise to the occasion #Oscars
A post shared by Kevin Hart (@kevinhart4real) on
History shows us that comics fare better than others at hosting the awards (Chris Rock and Jmmy Kimmel both aced the test; James Franco and Anne Hathaway… not so much), and Hart is a first-rate stand-up act. But he also happens to be a lot more: a legit A-list movie star with an enormous following that will hopefully boost viewership for the ailing Oscars, and a consummate host, as he's proven on his hilarious web series Cold as Balls, in which he freezes his ass off in ice baths with pro athletes. Hosting an awards show isn't exactly like interviewing celebrities, but a little natural banter goes a long way.
Hart has consistently shown that he's willing to make fun of himself, and he won't upstage the Oscars and make the ceremony all about him, yet he will almost surely be the reason to stay up late watching.
Plus, with Hart holding things down, chances just went up 1,000 percent that his friend Dwayne "The Rock" Johnson will make a cameo so the two can roast each other. That is irresistible television.
Source: Read Full Article