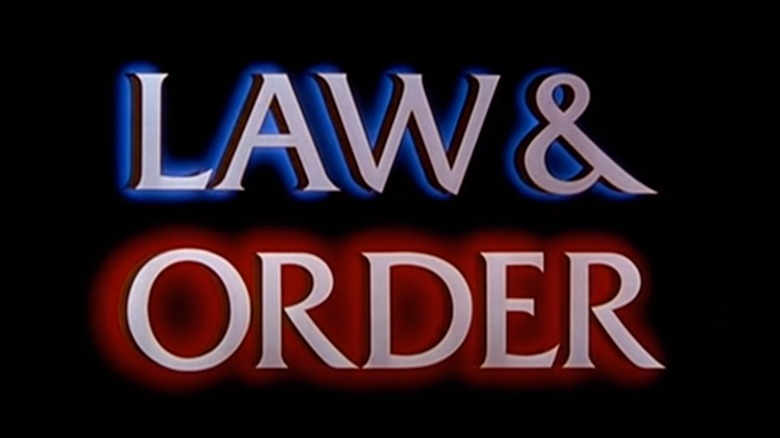 Does it get any bigger than "Law & Order?" The primetime drama was the definition of a smash hit, running for 20 seasons, topping off at 456 episodes, and inspiring four different spinoffs, as per NBC. Plus, according to IMDb, the show even won six Primetime Emmys, 41 other awards, and over 200 nominations. All it takes is two simple chords — DUN DUNH — and almost anyone around the country will think: "Law & Order!"
The premise is simple enough: a team of police officers investigate a crime (usually a ripped-from-the-headlines murder), and then district attorneys prosecute those responsible. But perhaps what made "Law & Order" so successful was its laundry list of amazing actors. From the red-carpet-worthy stars that headlined the show to memorable guests that appeared as perps and judges, it was the actors that made "Law & Order" impossible to turn off — which is why it's heartbreaking that so many have since died. Here are the "Law & Order" actors we've sadly lost.
Jerry Orbach died from prostate cancer in 2004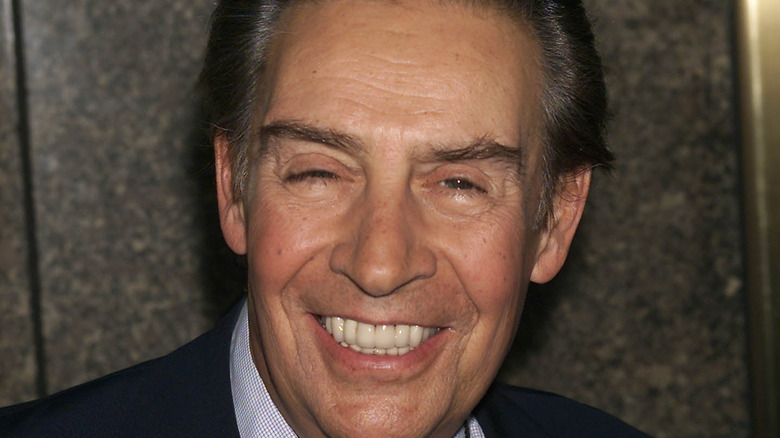 Jerry Orbach was one of the greats. As per Today, he began his acting tenure on the Broadway stage, starring in smash shows like "Chicago," "42nd Street," and "Promises, Promises" before moving to the screen and appearing in big hits like "Dirty Dancing" and "Beauty and the Beast." But it was perhaps Orbach's 12 years on "Law & Order" that really made him a star. The actor played Detective Lennie Briscoe for more than 270 episodes, earning both a SAG Award and a Primetime Emmy, according to IMDb. 
But, sadly, Orbach announced a prostate cancer diagnosis in early December of 2004 and died from the disease just a few weeks later. He was only 69 years old. "[He was] a real good guy who knew everything and everybody," Orbach's "Law & Order" co-star, S. Epatha Merkerson told Today. "He had a real lust for life and the work he did, and it permeated throughout the set." Orbach (and Detective Lennie Briscoe) will be sorely missed. 
Doris Belack, who played a judge on Law & Order, died at 85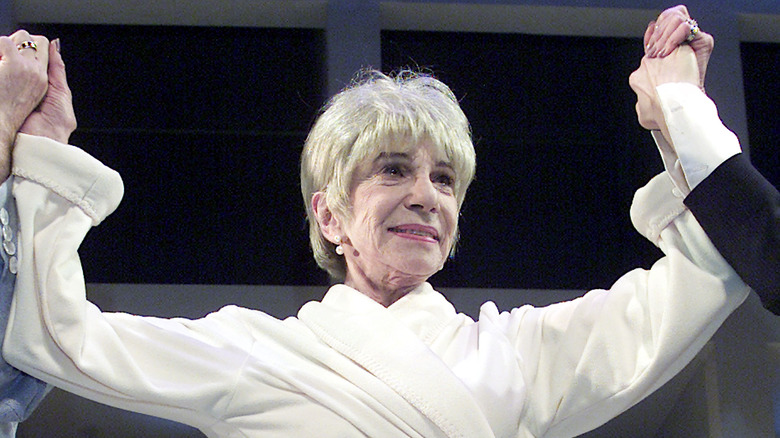 While the judges on "Law & Order" might not have been as provocative as the detectives or as dangerous as the perps, they were certainly memorable. And none, perhaps, were as memorable as Judge Margaret Barry, brought to life by actress Doris Belack. Belack played Judge Barry for more than 10 years, appearing in 10 episodes of "Law & Order" as well as two episodes of the spinoff "Law & Order: Special Victim's Unit," as per IMDb. However, the stern-faced judge will never grace a courtroom again as Belack died in 2011 at the age of 85. According to Variety, Belack died from natural causes in Manhattan, outliving her husband of 65 years by four months. 
Beyond her work as Judge Barry, Belack was also a prolific film actress, gathering credits in hits like "What About Bob?," "Naked Gun 33 1/3: The Final Insult" and "Prime." The actress also appeared in the massive comedic hit "Tootsie" as a harried producer, as well as other big TV shows like "Family Ties," "The Cosby Show," and "The Golden Girls." Belack's final role was a character voice in the video game "Grand Theft Auto IV."
Steven Hill, who played DA Adam Schiff on Law & Order, died at age 94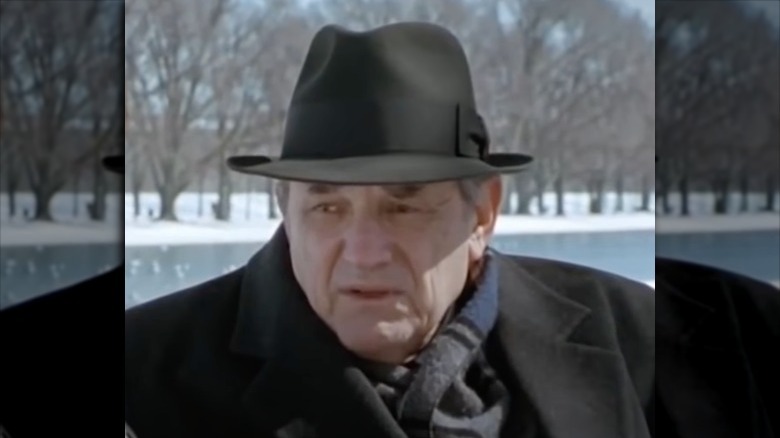 "Law & Order" would have been nothing without its district attorneys. Doling out the "law" part of the show, the sharply intelligent DAs brought justice to the apprehended criminals. One of the longest serving DAs on "Law & Order" was District Attorney Adam Schiff, played by Steven Hill. As per IMDb, Hill played DA Schiff from the show's second episode in 1990 until its tenth season in 2000. The primetime drama explained away Hills' departure, according to Variety, by having Schiff leave the DA's office to work on Holocaust commemoration — a fantasy job that would have been near to Hills' real-life heart, as the actor was a devout jew. 
Sadly, as per the The New York Times, Hill died in 2016 in Monsey, New York. He was survived by his second wife and his nine children, four from his first marriage and five from his second. "Steven was not only one of the truly great actors of his generation, he was one of the most intelligent people I have ever met," "Law & Order" creator and executive producer Dick Wolf told Variety. "He will be missed."
James Rebhorn, Law & Order guest-star extraordinaire, died in 2014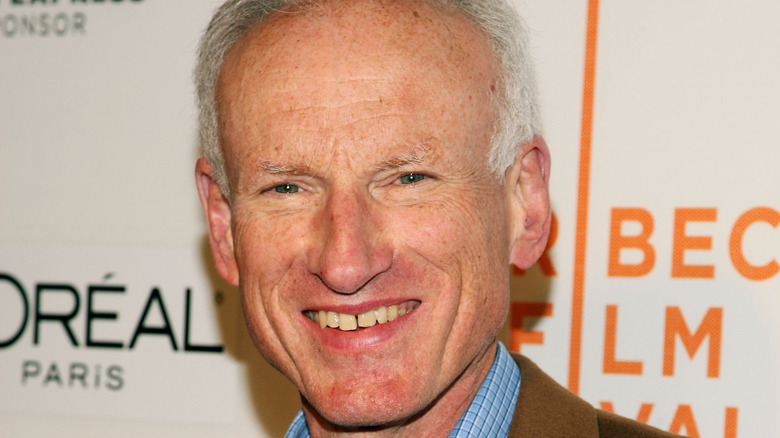 Procedural shows like "Law & Order" would be missing something special without guest stars. Who would play all the victims, expert witnesses, defense attorneys, and psycho serial killers otherwise? While "Law & Order" had hundreds, if not thousands of guest stars over the years, few popped up as many times as James Rebhorn. As per IMDb, the actor appeared in seven different episodes as three different characters: one as a serial killer, five as a defense attorney, and one as a doctor. Rebhorn's credits don't stop there, either. The actor also had memorable roles in other hits like "Seinfeld," "30 Rock,"and "Homeland," as well as in big movies like "My Cousin Vinny" and "Independence Day." 
Unfortunately, Rebhorn's career was cut short when he died at the age of 65 in New Jersey. "He died from melanoma, which had been diagnosed in 1992," his agent told The Hollywood Reporter. "He fought it all this time. He died … at his home in New Jersey, where he had been receiving hospice care for a week and a half."
Larry Sherman was in 13 episodes of Law & Order before he died in 2017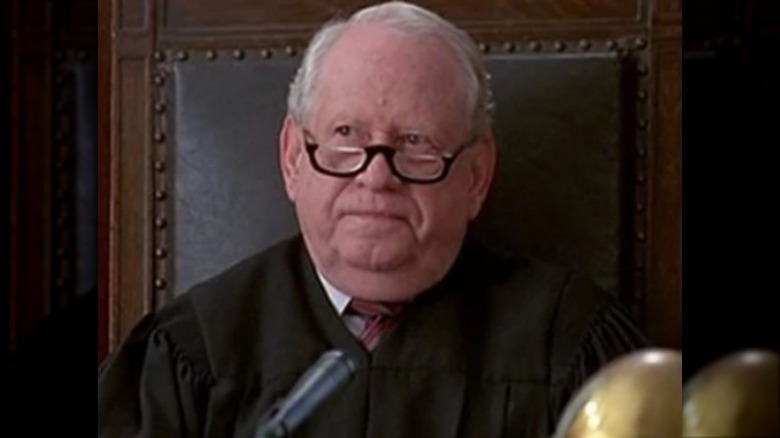 Larry Sherman, publicist, writer, and "Law & Order Actor," died of natural causes in August of 2017, as reported by The Hollywood Reporter. Though Sherman had many roles and jobs, one of his most recognizable was Judge Colin Fraser on "Law & Order," who he brought to life for more than 20 years. Judge Fraser wasn't a big character — as evidenced by Sherman's son joking to The Hollywood Reporter that "My father was a glorified extra" — but he was beloved by "Law & Order" fans the world over. 
However, Sherman almost wasn't on the show at all. The reason? He took a detour from acting for a while, working for Donald Trump as his press representative from 1982 till 1985. Sherman's son even revealed that Trump referred to his father as "the best PR guy he ever had." Luckily, Sherman found his way back to acting, appearing in "Law & Order" as well as "The Sopranos," "When Harry Met Sally," "Catch Me if You Can," and "The Terminal" (via IMDb).
Fred Thompson died after being diagnosed with lymphoma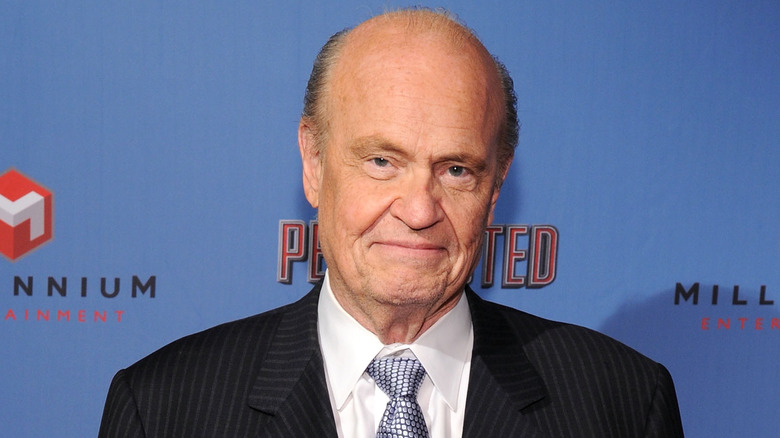 While most actors on "Law & Order" were just actors, there were some that brought real life experience to their roles — like Fred Dalton Thompson. As per IMDb, Thompson played District Attorney Arthur Branch for five years, but before he played a DA, he was a real life politician and lawyer. According to the Tennessean, the lawyer-turned-actor played a crucial role in the Watergate Committee; then in 1977, he represented Marie Ragghianti after she blew the whistle on a parole bribery ring. The American public was so captivated by the drama that it was turned into a movie, and Thompson was cast as himself. 
The acting bug bit Thompson hard during that first movie, as he went on to appear in other hits like "The Hunt for Red October," "Die Hard 2," and, of course, "Law & Order." Sadly, Thompson was diagnosed with lymphoma in 2004 and died from the cancer in 2015, as reported by the Tennessean. "Fred stood on principle and common sense," his family wrote in a statement. "He enjoyed a hearty laugh, a strong handshake, a good cigar, and a healthy dose of humility."
Marc Blum, who guest starred on Law & Order, died from COVID-19 complications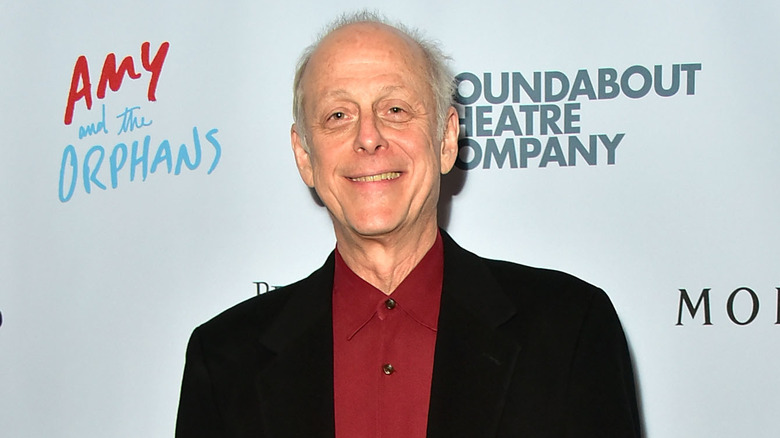 Marc Blum was another "Law & Order" guest star extraordinaire, appearing as three different characters on four separate episodes of the procedural. As per IMDb, the actor twice played a defense attorney, once an expert witness, and once a fertility doctor with nefarious intentions. Talk about range! Sadly though, Blum's incredible acting career was cut short when, in 2020, he died at age 69 from COVID-19 complications, as reported by CNN. 
Playwrights Horizons, a NYC-based theater company that Blum was heavily involved with, tweeted, "Thank you, Marc, for all you brought to our theater, and to theaters and audiences across the world. We will miss you." And Blum will surely be missed by many in the entertainment community and beyond, as the actor not only starred in many off-Broadway theater productions but also appeared in tons of fan-favorites like "Desperately Seeking Susan," the HBO series "Succession," the Netflix thriller "You," and "Mozart in the Jungle" from Amazon.
Dennis Farina from Law & Order died in 2013 from a blood clot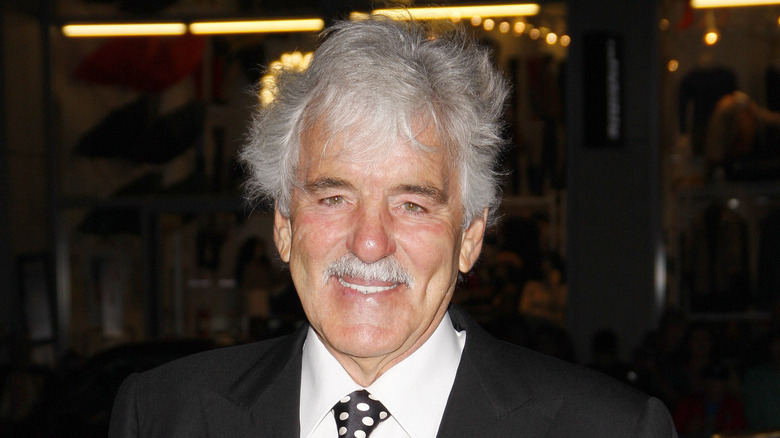 Dennis Farina played Detective Joe Fontana in 46 episodes of "Law & Order," and as per The Hollywood Reporter, he was the only actor in the show that brought actual law enforcement experience to his role. According to the publication, Farina had been working in the Chicago Police Department for 10 years when a chance encounter brought him into the world of entertainment. As the story goes, Farina gave movie director Michael Mann a tour of the city while he was shooting a movie. The director liked Farina so much that he gave him a role! 
This was serendipity at its best, as Farina went on to star in big hits like "Saving Private Ryan" and "Snatch," even scoring an American Comedy Award for his work in "Get Shorty" (IMDb). Unfortunately, Farina died in 2013 at the age of 69 from a blood clot, as reported by The Hollywood Reporter. "I was stunned and saddened to hear about Dennis' unexpected passing this morning," "Law & Order" creator Dick Wolf wrote. "The Law & Order family extends sympathy and condolences to his family. He was a great guy."
Lynn Cohen, who played Judge Mizener on Law & Order, died in 2020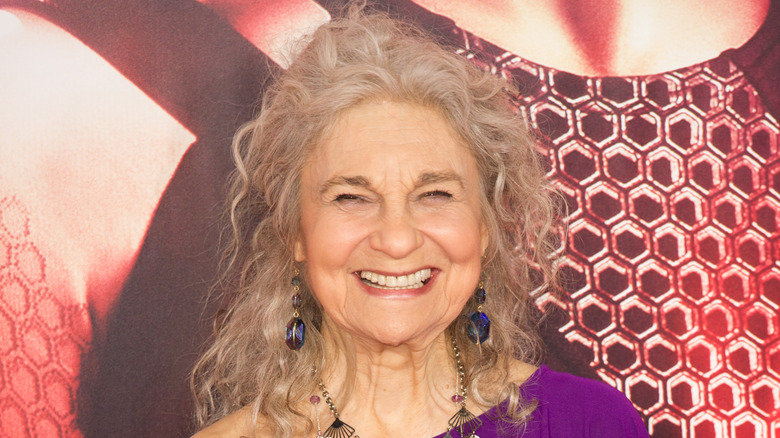 It could be argued that being a judge on "Law & Order" is one of the best guest star spots — popping in every few scenes to dispense justice, and staying comfortably seated the whole time. Perhaps that's why Lynn Cohen appeared as Judge Elizabeth Mizener on "Law and Order" 12 times from 1993 to 2006, as per IMDb. Or maybe it was just because she loved acting, as she'd been doing it for a very long time. According to The Hollywood Reporter, Cohen started acting in the 1970s, appearing in several off-Broadway plays and shows. Her credits got bigger and better, with Cohen making her screen debut in 1983 in the movie "Without a Trace" and her Broadway debut in "Orpheus Descending" in 1990.
Cohen is perhaps best known for her work as Magda, Miranda's religious housekeeper on "Sex and the City," and as Mags, an eccentric tribute in "The Hunger Games: Catching Fire." The entertainment world lost a bright star when Cohen died in 2020 at the age of 86, as per The Hollywood Reporter.
George Grizzard died at age 79 in 2007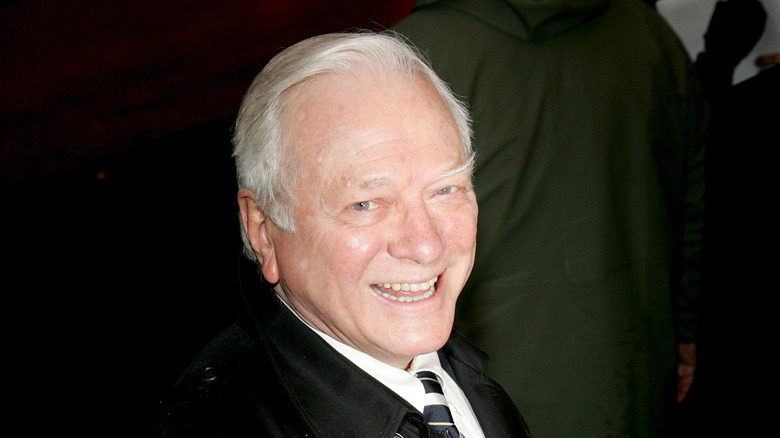 George Grizzard, an award-winning stage actor and frequent guest star of "Law & Order," died at age 79 in 2007. As reported by the New York Daily News, Grizzard died from complications from lung cancer at New York-Presbyterian Hospital Weill Cornell. The prolific actor was in five episodes of "Law & Order" between 1992 and 2000, appearing as a defense attorney named Arthur Gold, as per IMDb. 
Though Grizzard held several strong film and TV credits beyond "Law & Order," he was first and foremost a stage actor, bringing his talents to many off-Broadway and Broadway plays. Grizzard's first Broadway appearance was in 1955 when he played Paul Newman's brother in "The Desperate Hours." He was also in the first production of "Who's Afraid of Virginia Woolf?" and was nominated for several Tony Awards for his work in plays like "The Disenchanted" and "Big Fish, Little Fish." Grizzard won a Tony Award in 1996 for "A Delicate Balance." His former on-stage co-star Paul Newman once said of Grizzard (via the New York Daily News), "When we were on the stage together, he was the best thing around."
Ron McLarty, author and Law & Order guest star, died in 2020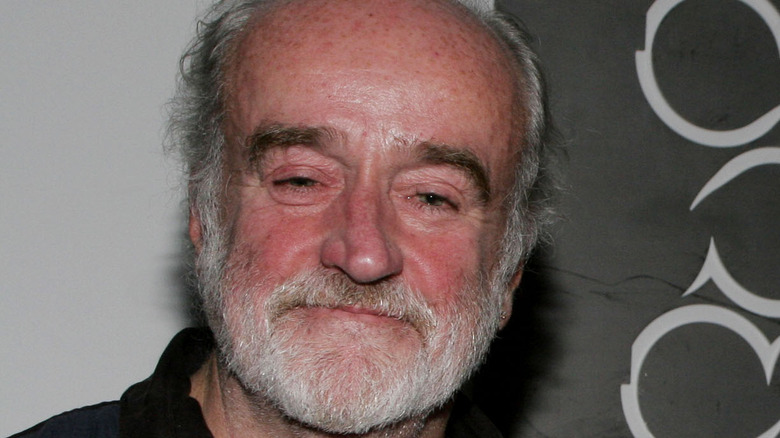 Ron McLarty was another beloved "Law & Order" guest star, appearing in five different episodes of the primetime drama between 1991 and 2008, as per IMDb. In four of those episodes he played Judge William Wright, a tough purveyor of justice that had several beefs with different DAs throughout his tenure on the show. 
While McLarty had many other acting credits in addition to "Law & Order," his heart was really in writing. He penned several novels and many plays in his day, but one, "Memory of Running," was a big hit thanks to Stephen King. According to The Hollywood Reporter, a small company published "Memory of Running" only as an audiobook. King listened to the book and then raved about it in his Entertainment Weekly column, prompting a publisher to buy McLarty's work for $2 million. Warner Bros. even bought the rights to the book and hired McLarty to write the screenplay, but the movie was never made. 
Sadly, McLarty died at the age of 72 in 2020. His wife, Kate Skinner, told The Hollywood Reporter, "He was the light of my life and I am bereft and heartbroken."
Philip Bosco died in 2018 from dementia complications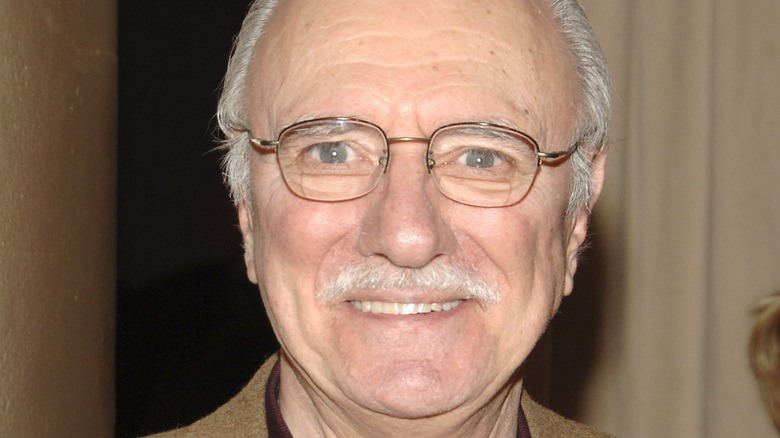 Philip Bosco, a Tony Award winning actor and "Law & Order" guest star, died in 2018 from dementia complications, as reported by Deadline. "We will not soon forget your grace, your courage, your resolute will, or the love which you found so easily all around you," his grandson wrote about Bosco in a Facebook post (via Variety). "You are my hero and a hero to so many other young actors … And let's not forget your irresistible urge to crack a joke in any setting. You will be dearly missed."
Bosco appeared in five episodes of "Law & Order" between 1990 and 1999, three of which as defense attorney Gordon Schell, as per IMDb. He was also in six episodes of the spinoff "Law & Order: Special Victim's Unit" as Judge Joseph Terhune. In addition to his work in the world of "Law & Order," Bosco gathered credits in several huge movies like "Working Girl," "The Savages," "My Best Friend's Wedding," "Hitch," and "Three Men and a Baby." And, as reported by Deadline, Bosco won a Daytime Emmy Award for "Read Between The Lines" and was inducted into the American Theatre Hall of Fame in 1998.
Law & Order's Ron Silver died at age 62 in 2009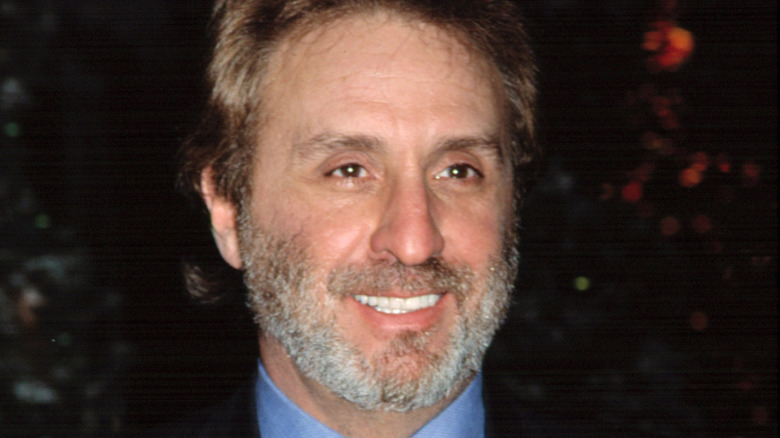 Ron Silver, a prolific actor and political activist, died at the age of 62 in 2009 from esophageal cancer, as reported by The Guardian. "He was a talented actor, a scholar and a great believer in participatory democracy," Robin Bronk, executive director of the political group Silver started, revealed. "He was an activist who became a great artist and his contributions will never be forgotten."
And Silver was a talented actor. He brought defense attorney Bernie Adler to life in two episodes of "Law & Order" as well as one episode of the canceled spin-off "Law & Order: Trial by Jury" (via IMDb and IMDb). But Silver was perhaps best known for his work as the polarizing Bruno Gianelli in the smash hit "The West Wing," a role that mirrored his real-life political leanings. "Often when I walked on to the set of 'The West Wing' some of my colleagues would greet me with a chanting of 'Ron, Ron, the neocon'," he revealed to The Guardian. "It was all done in fun, but it had an edge."
Source: Read Full Article