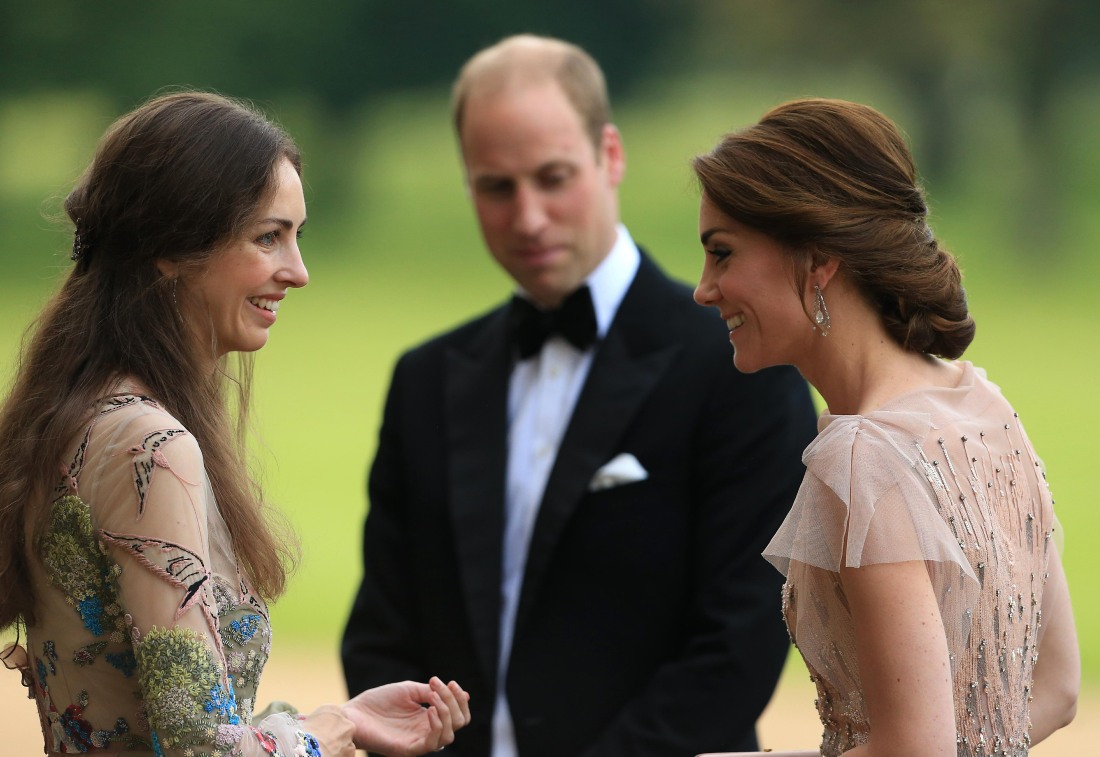 It's still so bizarre to me to see the entire British press – tabloid and mainstream – all kowtow to Prince William and his legal threats about his (alleged) affair with Rose Hanbury, the Marchioness of Cholmondeley. The Cholmondeleys are the Cambridges' Norfolk neighbors, and it was almost two full years ago when we first heard the whispers about William and Rose. William threatened every UK media outlet with legal action and the whispers were tamped down. I also believe William had to give the press something else to write about, so he handed his brother and sister-in-law to them. Anyway, it sort of worked. The only outlets still referencing William and Rose's affair are American and French outlets. Meanwhile, whenever the UK press writes anything about Rose, they call her "Kate Middleton's friend." Yikes!
Kate Middleton's friend Rose Hanbury has gone all frugal as she looks to do up her 18th century Grade I listed home on the cheap. The wife of David Cholmondeley, 58, who is the 7th Marquess of Cholmondeley, took to Instagram to ask for help to find some new rugs.

The couple – who are worth an estimated £75million and have three children – live at the grand Houghton Hall, set in 1,000 acres close to The Queen's Sandringham estate. But 36-year-old Rose – a member of the Duchess of Cambridge's well-born group of friends dubbed the Turnip Toffs – said she isn't looking to spend much money on them.

She posted on Instagram: 'Help! I'm desperately looking for some nice rugs for bedrooms like the one in this room, or any other suitable styles. Does anyone have any tips on where to buy these (that aren't too expensive!) Thank you.'

A source said: 'It seems odd she is asking for inexpensive items to furnish her home, considering she lives in a mansion. Surely she can't have fallen on hard times.'

Some followers poked fun at her and told her to try the likes of TK Maxx, IKEA or Etsy.

Houghton Hall is a stunning Palladian mansion with 106-rooms, built in the 1720s for Britain's first Prime Minister, Sir Robert Walpole.

The Marchioness of Cholmondeley's chintzy bathroom decorated with de Gournay wallpaper appeared in House and Garden magazine in February.

Kate and Prince William visited the house, just three miles away from Anmer Hall, in June 2016 to attend a charity gala to support East Anglia's Children's Hospices. Rose and David attended the Cambridges' wedding in 2011 and their twin boys Alexander and Oliver were playmates of Prince George.
[From The Daily Mail]
First of all, the substance of the story is so stupid – Houghton Hall has like a bajillion rooms, of course not EVERY room is going to be decorated with priceless antiques. Trying to "shame" Rose for looking for affordable, non-antique rugs for some of the bedrooms makes zero sense to this gauche American. And what's so wrong about rugs from IKEA or Etsy? Damn. As for the references to Kate and William… part of me wonders if the Daily Mail is tugging on the Cambridges' leash, you know? Just a reminder: we'll still mention Rose in association with you two lazy ass Keens. Interesting.
Also, after all of that rose bush trimming drama, I started following the Houghton Hall Instagram – which I believe Rose mostly runs by herself – and the estate really is incredibly cool. But yeah, there's no reason why she shouldn't put inexpensive rugs in some of the bedrooms.
https://www.instagram.com/p/CItKnd_pHEm/
A post shared by Houghton Hall and Gardens (@houghton_hall)
https://www.instagram.com/p/B3gzCZApArF/
A post shared by Houghton Hall and Gardens (@houghton_hall)
Photos courtesy of Avalon Red, IG.
Source: Read Full Article