If you're a big fan of The Golden Girls, you'll be delighted to hear this news. The first-ever Golden Girls convention will be held soon. You'll finally get to meet other fans of The Golden Girls and talk about your favorite episodes. Here's more on what we know.
'The Gold Girls' Convention
The Golden Girls Convention, called Golden Con: Thank You for Being a Fan, will be held in Chicago from April 22 to April 24, 2022. The organizers say the event will be held in the "historically LGBTQ+" Northalsted neighborhood.
The website says there will be plenty of fun events. Some of the events include a "Greatest Gift" Vendor's Market, live parody shows from Hell in a Handbag Theater Company, the "Chicago: You've Got Style" costume parade, and themed nightlife events. The organizers say events, performers, and special guest appearances will be announced at a future date. There's no word yet on whether Betty White will attend the event.
'The Golden Girls'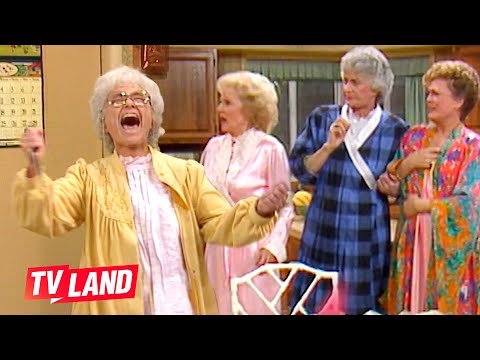 The Golden Girls aired from 1985 to 1982. The main characters were Rose Nylund (played by Betty White), Blanche Deveraux (played by Rue McClanahan), Dorothy Zbornak (played by Bea Arthur), and Sophia Petrillo (played by Estelle Getty). The NBC comedy follows the lives of four older women who become roommates after going through divorce or widowhood.
TV show reboots have become the norm lately. One reboot that excited a lot of fans was the reboot of Highway to Heaven, starring Michael Landon. However, you won't see a reboot of The Golden Girls anytime soon.
During a 2017 interview with Entertainment Weekly, creator Susan Harris says she doesn't see a reboot happening without the original cast. As of this writing, all the original cast members are deceased except for Betty White.
"They've wanted to do Golden Girls the Musical and re-do Golden Girls, and we've always said no because Golden Girls would not be Golden Girls without that cast," Harris tells the publication. After the series ended, there was a spinoff with three of the four characters titled The Golden Palace. However, the show only lasted one season.
"Without Dorothy, it didn't work," says Harris. She went on to say The Golden Girls was "what it was and that's the way it should remain."
Betty White's 100th birthday
We don't think it's a coincidence that The Golden Girls event is being held the same year as Betty White's 100th birthday on January 17th. Fans are so concerned about White as her big birthday approaches that some have posted messages on social media, asking for national security for the actress. Another fan joked that her birthday should be a national holiday.
Another event taking place during White's 100th birthday is being hosted by Choice Mutual Insurance Agency. The agency offered fans a chance to win $1,000 if they volunteer to watch 10 hours of White's work.
 "We're looking for someone who adores Betty White," said Choice Mutual Insurance in a statement. "This candidate is probably already planning to binge 10 hours of her classics, but now they get paid to do it!" In addition to $1,000, the winner receives a DVD player and a selection of DVDs featuring White's best work.
RELATED: Betty White's Thoughts on Death
Follow Sheiresa Ngo on Twitter.
Source: Read Full Article