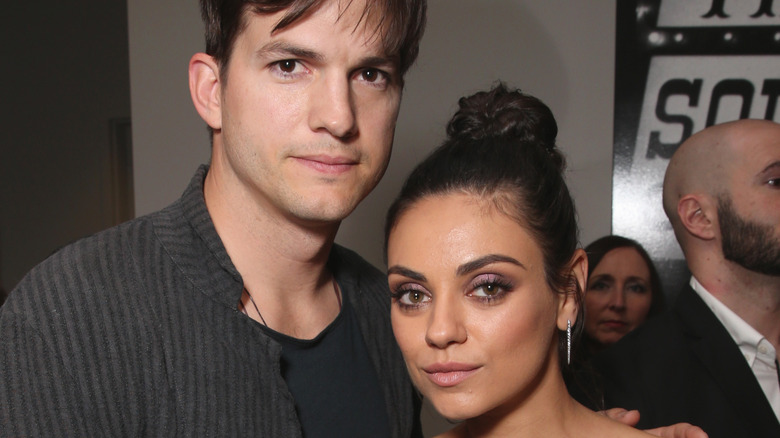 Ashton Kutcher and Mila Kunis' relationship is one of the most interesting in Hollywood. The couple met when they were both cast on "That 70s Show." Kutcher was 20-year-old at the time, while Kunis was only 14, per Insider. Although the actors on the series were supposed to be at least 18 years old, Kunis admitted in 2012 that she lied about her age in order to land the role of Jackie, the spoiled and annoying girlfriend to Kutcher's character Kelso.
However, the couple didn't strike up a romance on set. In fact, it was reported that Kunis and Kutcher didn't get along while working together. "Ashton and Mila were absolutely not friends during much of the making of 'That '70s Show.' In fact, they couldn't stand working together," a source told Radar Online of the couple back in 2014. "The two were never close on the set. Quite the opposite." 
Of course, that quickly changed after Kutcher ended his six-year marriage to actress Demi Moore in 2011, the same year that Kunis called it quits with her boyfriend of nine years, Macaulay Culkin. By early 2012, the pair had reconnected and started a romantic relationship, which has blossomed into one of the cutest celebrity couplings of all time.
Ashton and Mila were friends before getting romantic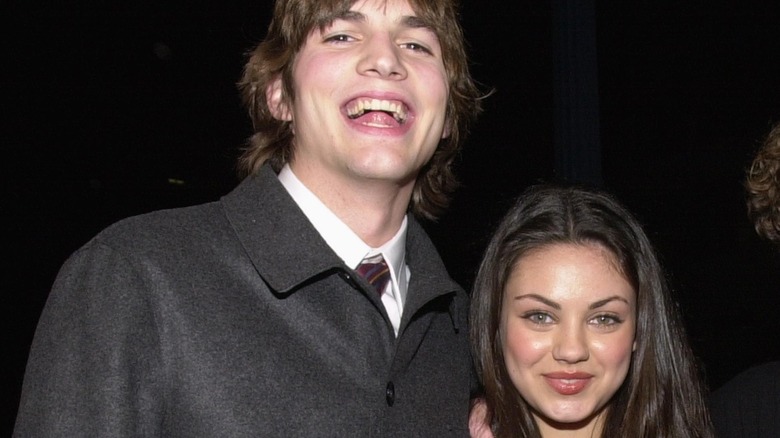 Ashton Kutcher and Mila Kunis practically grew up together on the set of "That 70s Show." The two were so young while working on the series that Kutcher was even Kunis' very first kiss, even though it was in front of the camera for a scene between their characters Jackie Burkhart and Michael Kelso. 
The two developed a friendship, and Kunis says that Kutcher even helped her with her high school homework while on set (via Insider). "I say this not as a joke, but [he] literally did my chemistry homework," the actress said. "I thought he was fine, he was a nice guy, we worked together and sometimes he'd drop me off at home."
"She was like my little sister. I wanted to make sure she was OK," Kutcher told AP News back in 2017. "At first I think she thought that I was good looking, and then shortly thereafter, I was just annoying to her, because I was like a big brother. It was like, 'He's annoying because he's always looking out for my best interest.'" 
Of course, years later when the duo finally began dating, they realized that they were perfect for each other, and already had a friendship as the foundation of their relationship.
Mila never wanted to get married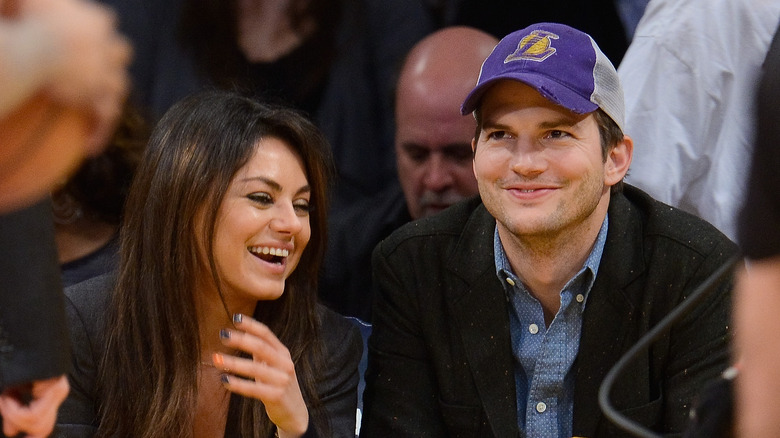 After two years of dating, Ashton Kutcher popped the question to Mila Kunis in February 2014 (via Insider). Just a few months later, Kunis announced that the couple was expecting their first child during an appearance on "The Ellen DeGeneres Show." The pair's daughter, Wyatt Isabelle Kutcher was born in October 2014. The following year, the fan-favorite pair walked down the aisle on July 4, despite Kunis' not believing in marriage.
"I never wanted to get married. From the age of 12, I prepared my parents for no marriage," Kunis told Us Weekly in 2014. "Then things changed — I found the love of my life. Now my theory on weddings is: Don't invite anyone. Do it privately and secretly. My parents are okay with that. They're just excited that I said yes," she explained. Kunis was so low-key about her wedding that she and Kutcher opted to buy their wedding rings on Etsy, paying less than $200 for the pair (via Screen Rant).
A year following Kunis and Kutcher's wedding, the actress spoke out with her thoughts on marriage again, saying, "Commitment sounded great, but I didn't believe in marriage,"  the actress told Glamour. "I grew up in West Hollywood, and my brother has reminded me that when I was like 12, I said, 'When gay people can get married, then I'll get married.' I was ahead of my time. The Supreme Court decision [on same-sex marriage came down], and that's when Ashton and I got married."
Ashton and Mila have interesting views on parenting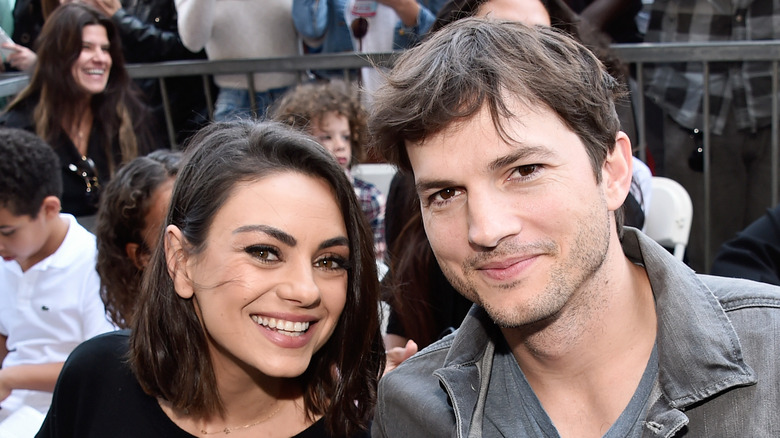 Mila Kunis and Ashton Kutcher welcomed their second child, son Dimitri Portwood, in November 2016. Despite growing their family, the couple reportedly don't believe in the celebrity tradition of having a nanny, per Buzzfeed. "We just want to know our kid. We want to be the people that know what to do when the baby's crying to make the baby not cry anymore," Kutcher previously told Ellen DeGeneres.
The couple also seem to be going outside the norm when it comes to leaving their kids an inheritance. According to ScreenRant, the pair don't plan on leaving their children their fortune because they want their kids to work their way through life. However, Kutcher did reveal that he would be willing to help his children establish their own businesses in the future.
Another unconventional parenting decision that Kutcher and Kunis have made is to not give their children Christmas gifts. Kunis previously admitted that they limit the number of gifts that their children get for the holiday, and since the kids' grandparents tend to go overboard with the gift-giving, the pair have decided not to buy the kids any extra presents.
It appears that Kutcher and Kunis have cultivated a strong relationship and are raising their family according to their own values, rather than conform to the celebrity norm. Their down-to-earth style has made them a favorite among fans, who love to see how far the couple has come over the years.
Source: Read Full Article