Greg Gutfeld is a familiar face to viewers of Fox News, having been a staple on the right-leaning cable news network for more than a decade. A one-time print journalist, Gutfeld came to television by sheer fluke. As his Fox News bio noted, he began as a contributor in 2007 before being tapped to host the network's irreverent middle-of-the-night show, "Red Eye." It was there that his flair for politically incorrect comedy took flight, building a loyal audience of insomniacs and, as once he joked to the Daily Beast, "people with overactive bladders, breast-feeders, and meth addicts."
Getting late-night laughs wasn't the only thing keeping Gutfeld occupied at Fox News. In addition to "Red Eye," daytime viewers also watched him bring his contrarian opinions to "The Five," a weekday panel show in which Gutfeld, as one of five regular panelists, shared his typically skewed take on the news of the day.
Gutfeld's star has only risen at Fox News, thanks to the unexpected — and, some might argue, inexplicable — success of his late-night talk show, "Gutfeld!" His journey from liberal college student to right-wing comedy firebrand is far from usual; read on to uncover the untold truth of Greg Gutfeld. 
His politics took a swerve to the right during college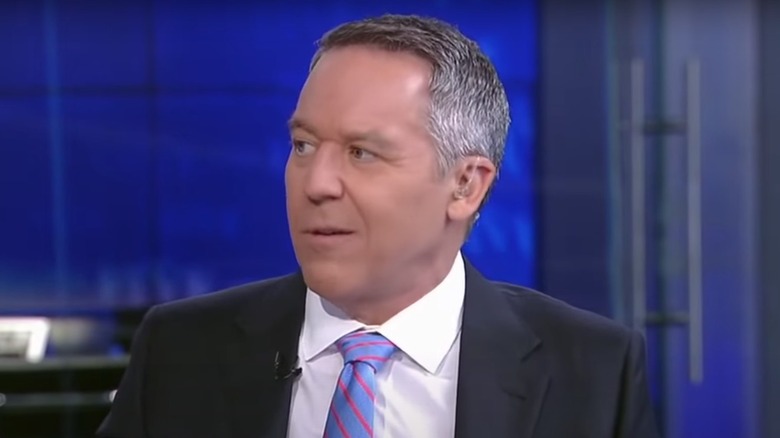 Viewers who watch Greg Gutfeld are well-aware that he's politically right-wing with a libertarian flair. However, he wasn't always a dyed-in-the-wool conservative. "As a teenager, I was a liberal," Gutfeld recalled in a 2009 interview with Reason. As he recounted, Gutfeld eventually came to realize that he was "a complete fraud," particularly when he attended left-leaning Berkley as an undergrad. 
It was during his college years that his political views evolved, apparently driven by his individualist nature. "I became a conservative by being around liberals and I became a libertarian by being around conservatives," he explained. "You realize that there's something distinctly in common between the two groups, the left and the right; the worst part of each of them is the moralizing." The way Gutfeld views it, liberals "want to dictate your behavior under the guise of tolerance," while conservative moralizing is fed by religion. "But if you remove both of those from the equation," he added, "what you're left with is libertarianism."
Gutfeld fancies himself such a diehard libertarian that he even called out one of Hollywood's most famous self-professed libertarians: comedian Bill Maher, host of HBO's "Real Time." "Bill Maher is not a libertarian. He's not even close. He's a P.C. liberal," Gutfeld declared to Reason, insisting that libertarianism "is a very cool thing to use as a disguise." As for his feelings about Maher himself, Gutfeld was characteristically blunt: "I hate that guy." 
Even he can't believe he was once editor of Men's Health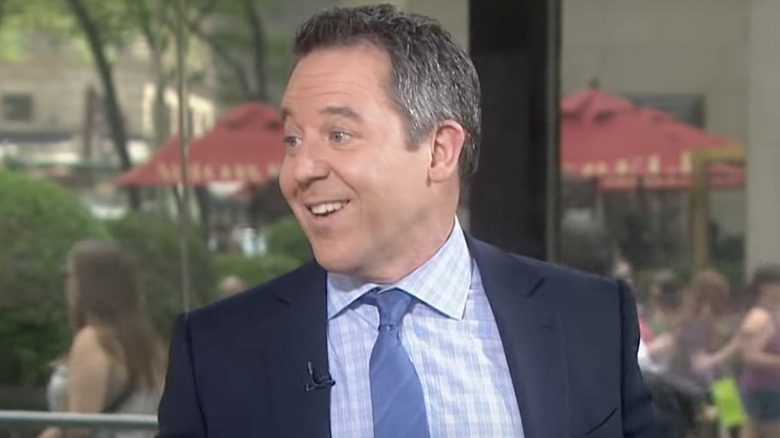 After graduating college, Greg Gutfeld began a career in magazine journalism, starting off with the conservative journal, The American Spectator. As a profile in Reason pointed out, an unsuccessful attempt at screenwriting led Gutfeld to pursue further magazine work, including serving as editor of Men's Health, Stuff, and Maxim's British edition. 
While racy men's magazines Stuff and Maxim proved to be a good fit for his irreverent point of view, even Gutfeld had to admit that being editor of Men's Health wasn't a particularly good fit. "I was the only editor of any health magazine that did a feature on how smoking is good for you," he told Reason of an article titled "I Smoke and I Work at Men's Health." As Gutfeld recalled, the piece was not well-received. "It was a fantastic article, and it dropped like a stone in journalism. People just hated it," Gutfeld noted, adding, "Health editors are generally miserable people."
Gutfeld's tenure in the magazine business was characterized by his frequent firings, and it can best be illustrated by a stunt he pulled at a 2003 seminar for the American Society of Magazine Editors. As The New York Times reported, he hired three dwarfs to crash the event, and they loudly took calls on their cell phones while munching on potato chips, until being thrown out. "I love the idea of showing up at a place and just disrupting it," Gutfeld explained.
He built a following — and a brand — on Red Eye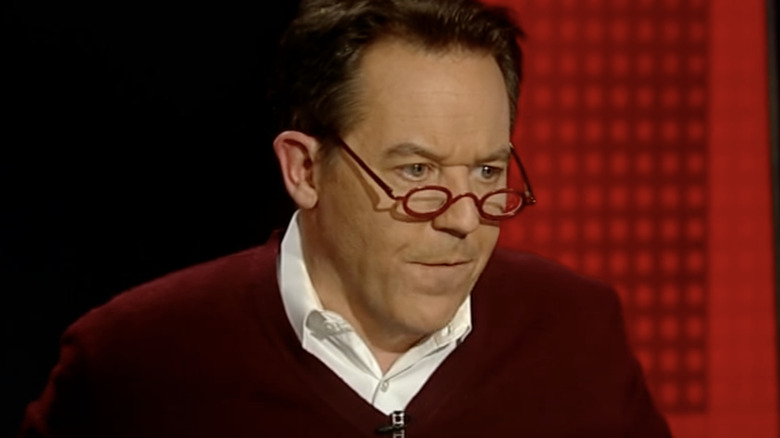 After his checkered career in print journalism, in 2007, Gutfeld migrated to television. His first stop: Fox News, where he was given a wee-hours time slot for a new insomniacs-only show dubbed "Red Eye." At the time, Gutfeld spoke to Observer about the impression he was trying to get across to the network's viewers. "It's somewhat similar to somebody who's lost his mind," Gutfeld said. "Because I'm a complete maniac. You may disagree with me, but you can't stop watching … I don't even think you have to like the show to get sucked in."
According to Gutfeld, "Red Eye" capitalized on what he perceived to be his biggest strength — and his favorite aspect — of being a magazine editor. As he recalled for Observer, "The best part of the day was when I would just stand there and yell at everybody. That's the only thing I know how to do well: stand and yell at people."
The Atlantic noted that by 2009, "Red Eye" was topping all other cable news channels in the ratings in its time slot; however, the magazine also placed that ratings success in context by pointing out that the competition at such a ridiculously late hour was primarily infomercials. Gutfeld left "Red Eye" in 2015; the show was ultimately canceled in 2017.
Greg Gutfeld married wife Elena Moussa after just five months of dating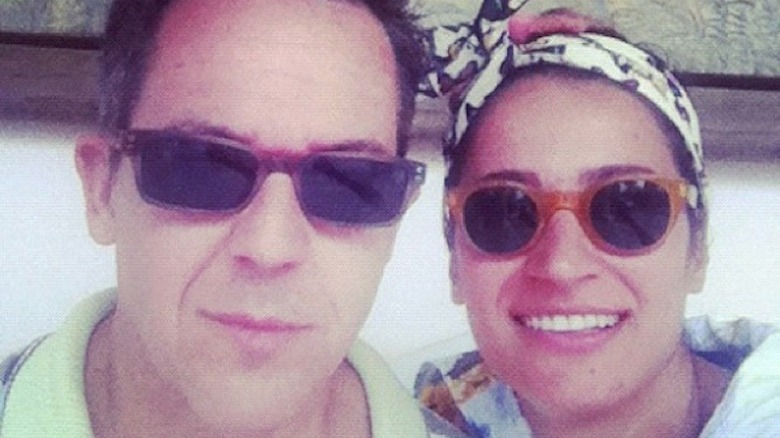 Greg Gutfeld's 2007 interview with Observer mentions his wife, Elena Moussa, whom he met while living in London. According to The Sun, Moussa is a former model and photo editor for the Russian edition of Maxim; the couple reportedly met at a company-wide conference while Gutfeld was editor of British Maxim. While the couple has kept their marriage more or less out of the public eye, Gutfeld was uncharacteristically open in an interview with the Daily Beast. "I actually met her my first day on the job," he revealed. "When I saw her, I said to the editor of Maxim Russia, 'Who is this woman?' And I foolishly hit on her for three days. She was pretty cold to me, and finally I asked her out on a date." 
Apparently, Gutfeld's gambit paid off when "she moved to London to be with [him]." At the time of the Daily Beast interview, the couple had recently celebrated their 10th wedding anniversary, with The Sun reporting that they wed in 2004 after a five-month courtship. According to a 2005 profile on Gutfeld in The New York Times, the two were wed in a "civil ceremony" in New York City. 
Moussa later segued into fashion design, attending Parsons School of Design and graduating in 2017. According to Moussa's Parsons page, during her time of study, she created a collection of dramatic turbans that "explores the relationship between fabric and paper."
He apologized to Canadians for mocking the country's military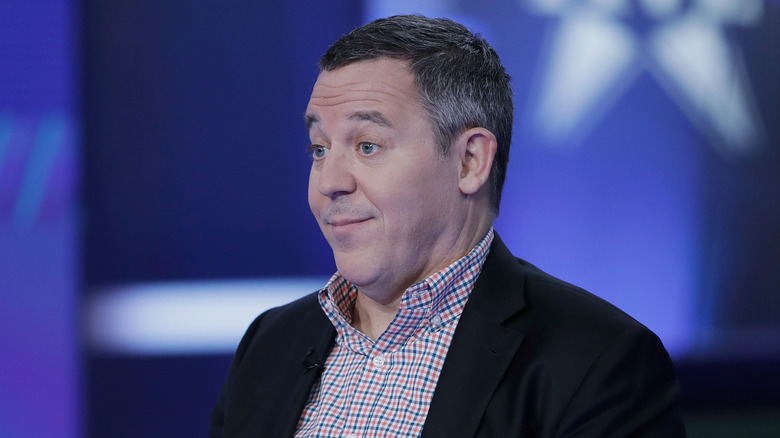 During his years on "Red Eye," Greg Gutfeld's tendency to make outrageous, attention-hunting statements generated controversy — sometimes more than he'd expected. That was the case with an episode in which he mocked Canada's military role in Afghanistan. As CBC News reported, Gutfeld was discussing a recent announcement that the Canadian military could require a year of recovery time after the country ended its military presence in Afghanistan. "Meaning, the Canadian military wants to take a breather to do some yoga, paint landscapes, run on the beach in gorgeous white Capri pants," Gutfeld quipped. 
Gutfeld's joke upset the Canadians, who responded with outraged backlash — particularly from Peter MacKay, a Canadian Defense Minister at the time, who slammed Gutfeld's remarks as "crass … insensitive … in fact disgusting…" (per CTV News). MacKay demanded an apology, "to the families in particular, and to the Canadian Forces and to Canada generally — given the sacrifice and the commitment that we've demonstrated in Afghanistan." 
Gutfeld subsequently did offer an apology, reported CBC News, insisting that his joke "was in no way an attempt to make light of troop efforts. However, I realize that my words may have been misunderstood. It was not my intent to disrespect the brave men, women and families of the Canadian military, and for that I apologize."
He stirred up controversy with a joke about opening a gay bar next to a Ground Zero mosque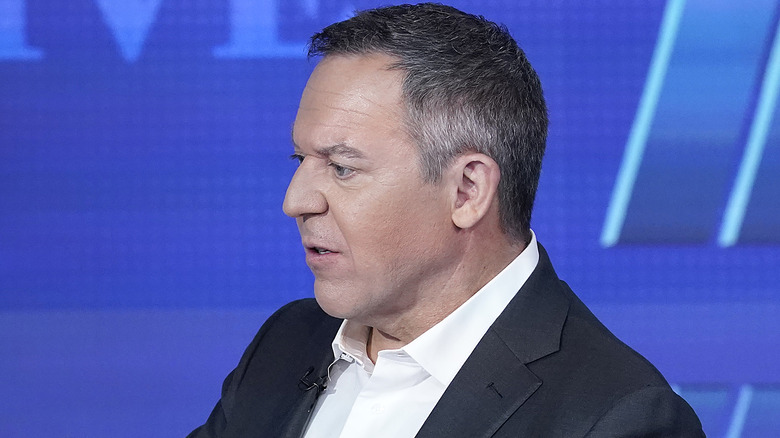 Insulting Canada was far from the only time that Greg Gutfeld made controversial remarks. In 2010, reported HuffPost, he took to his blog, The Daily Gut (which has since been, well, gutted), to share his response to plans for a Muslim community center and mosque on the site of Ground Zero in lower Manhattan. Gutfeld wrote of "planning to build and open the first gay bar that caters not only to the west, but also Islamic gay men" — right next door to the site of the mosque. "As an American, I believe they have every right to build the mosque — after all, if they buy the land and they follow the law — who can stop them? Which is, why, in the spirit of outreach, I've decided to do the same thing," he continued.
Gutfeld was adamant that "this is not a joke," pointing out that Islam "does not look kindly upon homosexuality, which is why I'm building this bar." His goal, he claimed, was to "break down barriers and reduce deadly homophobia in the Islamic world."
In a subsequent appearance on Glenn Beck's Fox News show, Gutfeld floated some offensive potential names for his Islamic gay bar.
Greg Gutfeld has authored numerous books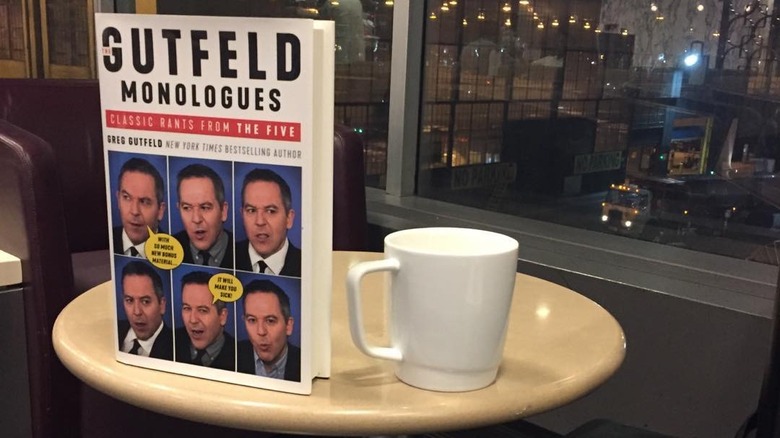 In addition to his work on television and magazines, Greg Gutfeld is also the author of several books. His first literary effort was a memoir chronicling his experience as an American living in London after he was hired to be editor of the U.K.'s Maxim magazine. Published by Simon & Schuster, the book was titled "Lessons from the Land of Pork Scratchings: A Miserable Yank Finds Happiness in the UK," built around Gutfeld's "hilarious observations on British culture, rituals and peculiarities at all levels of society [as] an illuminating insight into the land of pubs and curry, where everyone is called 'mate' and people with pimples and greasy hair can get on primetime TV."
Gutfeld has written two other books for Simon & Schuster, "The Plus" (described as a self-help book "for people who hate self-help"), and "The Gutfeld Monologues," a collection of some of his more choice on-air rants from Fox News' "The Five." Then there's his how-to book, "The Bible of Unspeakable Truths," published by Grand Central Publishing.
Gutfeld also wrote three books for Penguin Random House: "Not Cool," subtitled, "The Hipster Elite and Their War on You;" "How to Be Right," which also boasts a subtitle, "The Art of Being Persuasively Correct;" and "The Joy of Hate," featuring the pithy subtitle, "How to Triumph Over Whiners in the Age of Phony Outrage."
Rumors swirled that he engineered Juan Williams' departure from The Five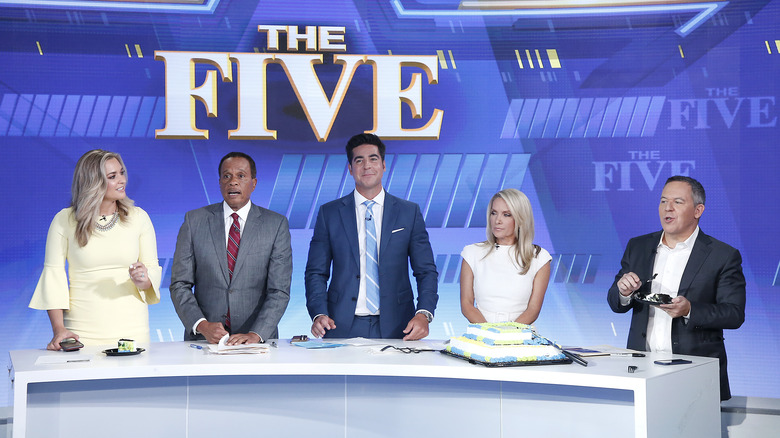 Throughout his years hosting "Red Eye" and then his own show, Greg Gutfeld maintained a constant presence on Fox News' "The Five," where he served as the comic relief on a five-member panel discussing the news of the day. One of Gutfeld's longtime cohorts on "The Five" was journalist and political analyst Juan Williams, who left the show under apparently murky circumstances in 2021. While Williams claimed he wished to remain in Washington, D.C., when the show relocated to New York City, rumors emerged theorizing some other reasons why Williams — the show's sole liberal panelist and only person of color — was leaving "The Five" after seven years. 
Williams was "routinely treated as a punching bag by cohosts Greg Gutfeld and Jesse Watters," Vanity Fair wrote of the on-air dynamic. A former Fox News producer told the Daily Beast they were "very confident" that Gutfeld was the driving force behind Williams leaving the show. Additional sources claimed the tension between Williams and Gutfeld had become so marked that they no longer spoke to each other off the air. "I heard that their on-air brawls are turning personal," said a different former Fox News producer, while a "current employee" opined that when "you have multiple narcissists on a show, this is the type of sh*t that goes on."
However, a Fox News spokesperson insisted it was completely false that "Gutfeld had anything to do with the move whatsoever." 
The reason Greg Gutfeld is cautious about Twitter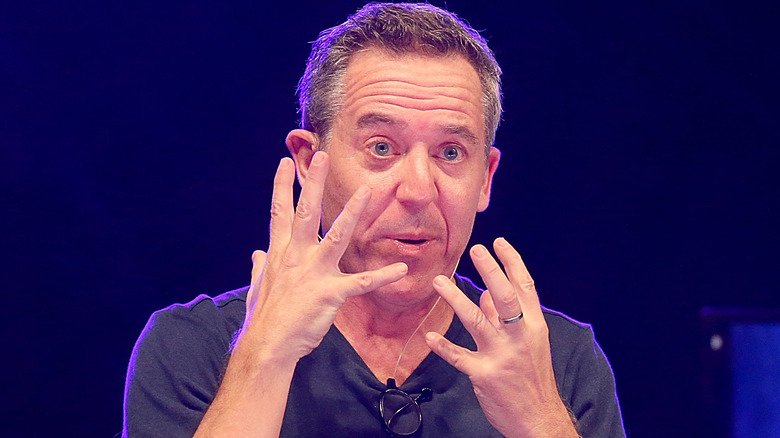 Greg Gutfeld has not been shy about expressing his views on so-called "cancel culture." During a conversation with Outkick, he got real about how social media has become something of a minefield, simply by virtue of allowing everybody a platform upon which to share stupid thoughts that could later come back to bite them. 
"At this point, I basically use Twitter just to retweet stuff that I find interesting or to promote stuff," said Gutfeld. "It's funny, I used to treat it like a video game. I'd send out a tweet and see what kind of response it'd get. It was like this fun, weird little game I played. But then I realized, 'Why am I doing something for free that could get me into trouble?' That wasn't smart, so I stopped," he said.
Perhaps Gutfeld views Twitter more as a promotional tool than a digital soapbox, but that doesn't stop him from airing his opinions when he feels like it. A mild example is a response he tweeted to a Dictionary.com definition of "jeopardy." After their definition, Dictionary.com used the word in a sentence: "My job remains in jeopardy because of my past comments." Gutfeld's retort was, "twitter remains the high school cafeteria."
He didn't realize his mic was on when he ad-libbed a song on live TV about his need to urinate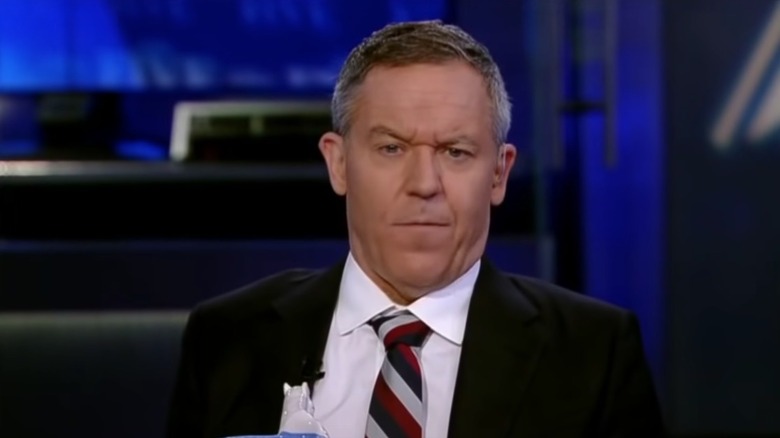 Gutfeld made headlines — unintentionally, for a change — during a March 2021 edition of "The Five," thanks to an unscripted open-mic moment. While co-host Juan Williams launched into an introduction, Gutfeld — apparently unaware that his microphone was live and he was on the air — began singing a little ditty with some TMI lyrics. "I gotta pee, I gotta peeeeee," he sang. 
"You're on the air," host Jesse Watters told him. Gutfeld, however, was apparently not receiving audio through his earpiece. "Greg," Dana Perrino called out in hopes of grabbing his attention, earning still no response. "That was so funny," quipped Watters as he laughed, telling viewers he'd take over for Gutfeld during the segment "until he has to come back from the bathroom."
Shortly after, reported the Independent, Gutfeld addressed his ode to urination by confirming that he was unable to hear anything that his co-hosts or the producers were telling him. "For some reason, I got unplugged," he explained. He later joked about the incident on social media to answer the question on everyone's minds, tweeting, "Yes I peed."
A weekend solo show led to late-night success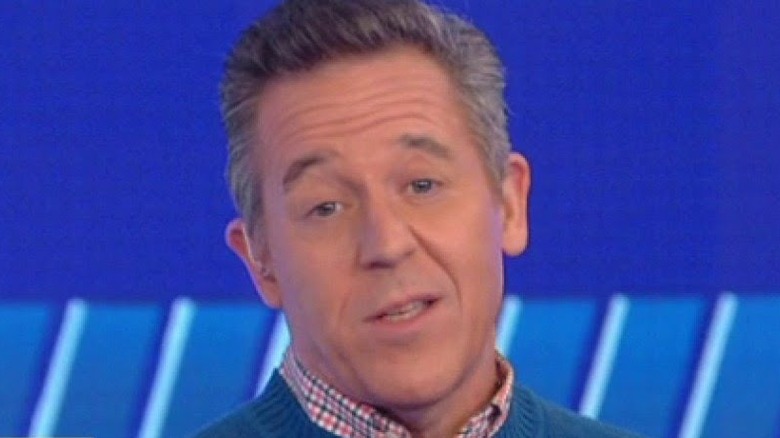 When Greg Gutfeld exited Fox News' "Red Eye," it was to pursue a bigger opportunity with the network. That was when he began hosting his own hour-long weekend show that would take him from a middle-of-the-night time slot into primetime. According to a Fox News statement obtained by Variety, the show intended to capitalize on its host's "whimsical nature and political satire" and would "focus on his strong libertarian values and social commentary."
Bill Shine, who was Fox News' programming chief at the time, was bullish on Gutfeld's future with the network. "We are confident that Gutfeld's distinct perspective and knack for humor will start a valuable dialogue and be a refreshing addition to the weekend lineup," Shine said in a statement (per Variety). 
As Gutfeld admitted in an interview with the Daily Beast, shifting from late-late night to primetime did require making some adjustments to his on-air schtick. Toning down the wackiness, he explained, was a necessity in order to attract a wider audience for what he described as "a news-slash-talk-slash-variety show" with "weird little pockets of absurdity." 
He became the unexpected king of late night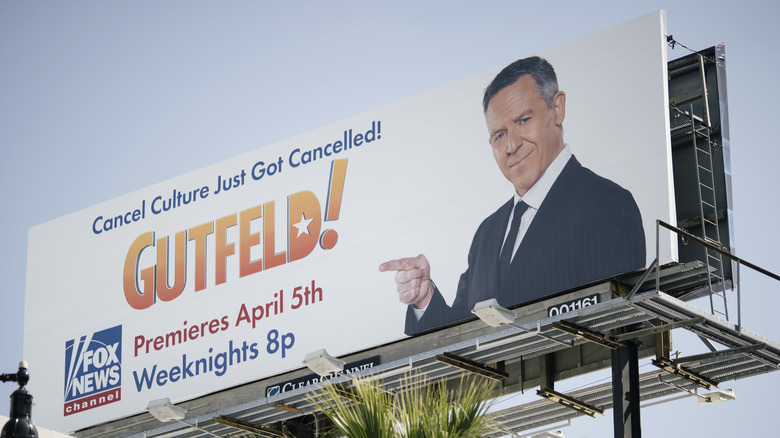 In April 2021, Deadline reported that Fox News was giving Greg Gutfeld the shot he'd been preparing for, announcing he'd host a five-nights-a-week late-night version of his show, airing in the 11 p.m. time slot and dubbed "Gutfeld!" The host told Outkick, "We are going to try a lot of new things on the show. Maybe some will seem somewhat like 'Red Eye,' maybe not." He continued, "The great thing about the five-day-a-week frequency is that you get to experiment with it. We are going to make mistakes and see how it goes." According to Deadline, Fox News went all in by promoting the show on a billboard in a high-profile location on Hollywood Boulevard. 
However, reviews were scathing. Variety blasted the "show's tone of acrid nihilism," while USA Today chided "Gutfeld!" for "rehashing Fox talking points," which aren't typically known for their hilarity (at least, not intentionally). Meanwhile, The New Republic held nothing back by describing "Gutfeld!" as "undoubtedly the worst late-night comedy show in television history," and "the latest evidence that conservatives have no sense of humor."
Those reviews, however, did nothing to scare away viewers. By August, The Wrap reported that "Gutfeld!" racked up monster ratings, managing to beat the other late-night fare — including Jimmy Fallon's "The Tonight Show," Stephen Colbert's "The Late Show," and "Jimmy Kimmel Live!" — both in "total viewership and the advertiser-coveted age demographic of 25 to 54." 
He hit the road for a live stage show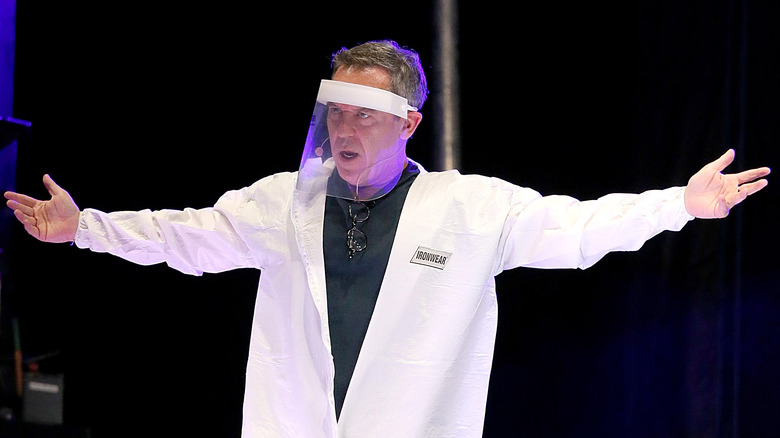 In addition to Greg Gutfeld's TV work on Fox News, his various books, and his weekly podcast, "The One w/Greg Gutfeld," the host took his act on the road. According to Gutfeld's website, he has graced fans with his presence via "Gutfeld Live." 
Given Gutfeld's busy schedule and the demands of hosting a weeknight talk show, it's not too surprising that these live shows have been sporadic and infrequent. Gutfeld scheduled one gig per month in October, November, and December 2021, in locales ranging from Newark, New Jersey, to the Soundstage at Graceland, adjacent to the mansion that Elvis Presley once called home. 
So what have viewers seen at performances of "Gutfeld Live?" According to Gutfeld's site, the show is a somewhat low-key affair, with Gutfeld joined by comedian Tom Shillue (who took over from him as host of "Red Eye") for what's billed as "an unforgettable evening of hilarious, insightful and engaging conversation on topics from his New York Times Best Seller 'The Plus' and other headline-grabbing topics of the day." Interviewed by Cleveland.com, Gutfeld offered his own hyperbolic assessment of his live act, describing the show as "the best two hours of entertainment you will ever experience, in your entire life, forever and ever."
Fox News has been beneficial to Greg Gutfeld's bank account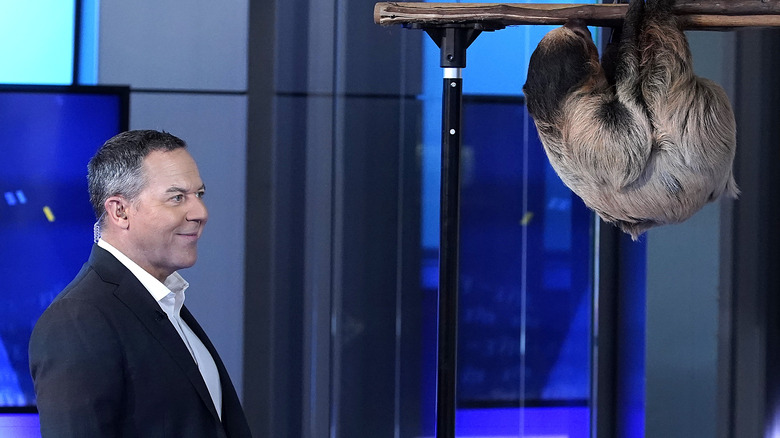 With all those irons in the fire, it's easy to assume that Greg Gutfeld has made a pretty penny over the course of his career — and that assumption is not incorrect. According to Celebrity Net Worth, Gutfeld is sitting atop a $13 million fortune, with his annual salary pegged at $7 million per year. While Celebrity Net Worth doesn't specify what that salary encompasses, in 2021, the Daily Beast reported Gutfeld's Fox News salary was "rumored" to be $4 million per year, a number that may well grow larger if his late-night show holds onto all those viewers by the next time his contract comes up for negotiation.
Despite his success on television, Gutfeld never actually envisioned his hosting path when he first launched his career. "I never saw myself like this, what I'm doing now," he explained in an interview with Outkick. "I just saw myself as a writer and an editor. A packager person. Someone for magazines and stuff like that. I was never a comedian. I never went on stage, so I never could call myself one."
Source: Read Full Article