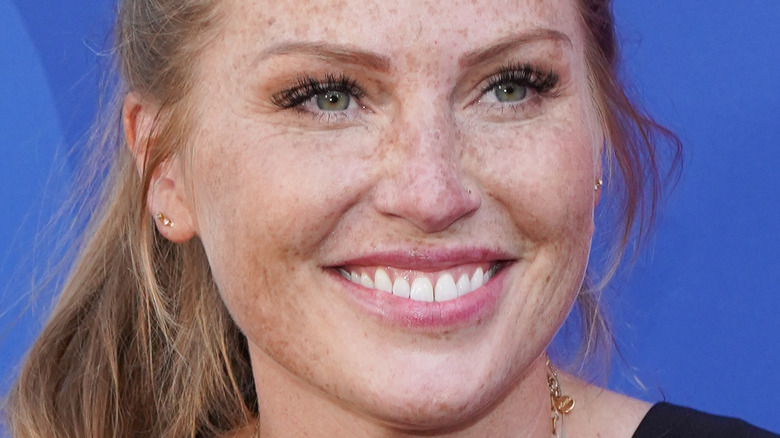 Back in early 2016, HGTV issued a press release announcing a new home-renovation show focusing on the proprietors of Indianapolis-based Two Chicks and a Hammer, former lawyer Karen E. Laine and her daughter, Mina Starsiak Hawk. Their mission: "to revitalize their favorite neighborhoods one house at a time."
As HGTV viewers well know, "Good Bones" became an instant hit, attracting 13 million total viewers to its first season and returning for a second. The show's success kept on growing, with "Good Bones" renewed for third, fourth and fifth seasons. By the time HGTV announced the impending arrival of the sixth season in 2021, total viewership had grown to a whopping 22 million. 
When Laine announced her semi-retirement ahead of the 2021 season, more of the show's focus naturally shifted to Starsiak Hawk. This carried little downside for the network, given that she had established herself as one of HGTV's most popular personalities, thanks to appearances in such HGTV series as "A Very Brady Renovation," and "Rock the Block." Despite how much fans of "Good Bones" may think they know about this home-renovating powerhouse, there's so much more to learn. Read on to discover the untold truth of Mina Starsiak Hawk.
Mina Starsiak Hawk was bitten by the renovating bug after buying her first fixer upper for $37K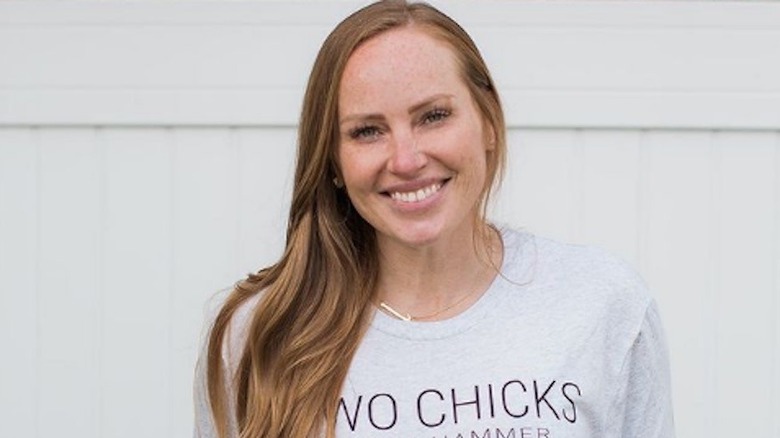 The story of HGTV's "Good Bones" begins with Mina Starsiak Hawk's graduation from college in 2007. As she explained in an interview with People, after earning a bachelor's degree in general studies she had no idea what she wanted to do next. "I didn't want to work 9 to 5 in a cubicle, but I wanted to do something grown up, because all my friends were getting accounting jobs and doing big kid things," she recalled. "So, I decided to buy a house."
According to USA Today,  Starsiak Hawk plunked down $37,500 for an affordable fixer-upper, and enlisted her mom to help renovate. There was one small catch, however: neither mother nor daughter had ever done any home renovations before. "We just learned as we went," she shared. "I read directions on how to install flooring and watched online videos about putting up tile. It was really trial and error."
Despite their lack of prior experience, the renovation was a success — so much so that it led Starsiak Hawk to find her purpose when she and her mother subsequently founded their own contracting company, Two Chicks and a Hammer.
Mina Starsiak Hawk is the 'sieve' to her mom's 'hippy-dippy' dreams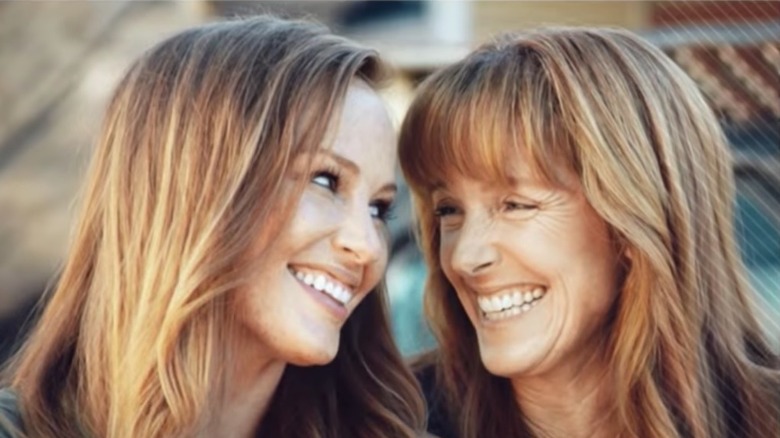 As viewers of "Good Bones" are well aware, Mina Starsiak Hawk and mother Karen E. Laine don't always see eye to eye when it comes to what they set out to accomplish with their renovations on the show. As Starsiak Hawk explained to USA Today, that's all part of the unique dynamic between the two, characterizing her mother as the "hippy-dippy dreamer" of the pair, offering proof by pointing to the "white-painted taxidermy deer head" that adorns the wall of Laine's living room. 
Starsiak Hawk, on the other hand, views herself as the "sieve" through which her mom's sometimes outlandish design schemes can filter, emerging with an end result that melds Laine's raw creativity with her daughter's practicality — and that showcases both their respective strengths. "She's the kid, and I'm the mom," is how Starsiak Hawk described their reversed-role dynamic to the Los Angeles Times. "Yeah, I don't know how this happened to her," joked Laine. "I raised her to be a free spirit, and she's totally motivated and conservative. I've failed as a mother!"
Mina Starsiak Hawk's first date with future husband Steve Hawk was a disaster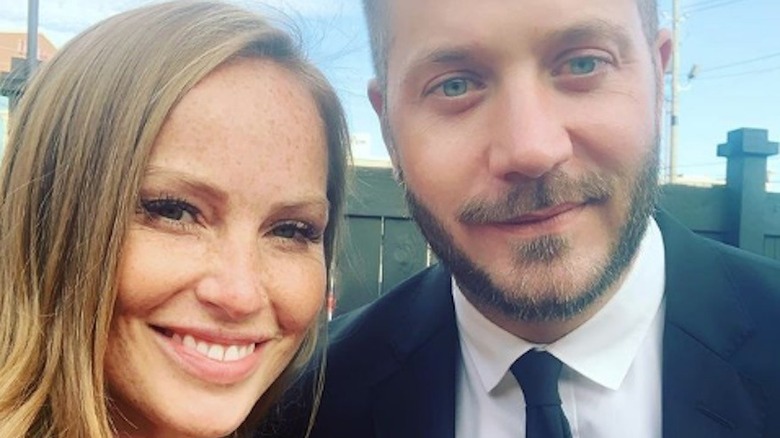 Since 2016, Mina Starsiak Hawk has been married to Steve Hawk, having fallen in love after being introduced by mutual friends via Facebook, she revealed in an interview with Country Living. Finding her future husband to be "stunningly handsome," they set up plans to meet face to face. When they got together, however, it was as part of a group, watching a basketball game. 
According to the "Good Bones" star, that first date was a big bust when "he ignored me all night," and even "let his friend hit on me!" Demonstrating the same stubbornness and determination that results in superior renovations, Starsiak Hawk texted him and gave him another chance to redeem himself. "We're going to try this again tomorrow — you get one more shot," she told him.
While that second date presumably went far better, the couple's road to the altar was a bumpy one. "They broke up for a while because he behaved really badly — in a phenomenally bad way," Karen E. Laine said of her son-in-law. Looking back, Starsiak Hawk sees that the "conflict and struggle" they experienced ultimately served to strengthen their relationship. "We have both committed to working through that," she added. 
Mina Starsiak Hawk struggled with infertility before welcoming her daughter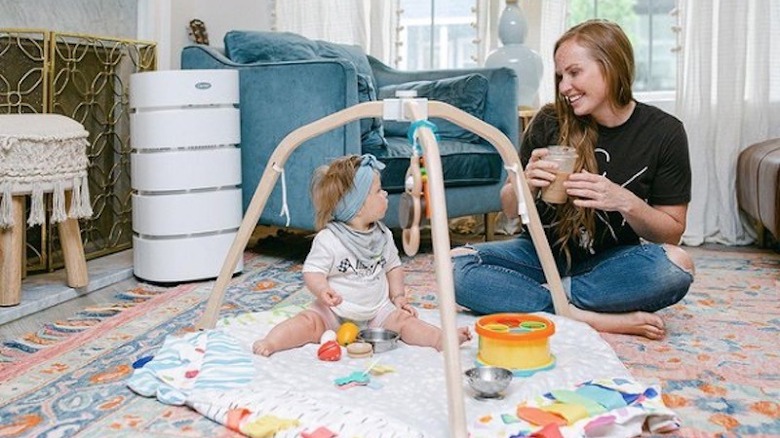 In 2018, Steve Hawk took to Instagram to announce that wife Mina Starsiak Hawk had given birth to the couple's first child, son Jack Hawk. When trying for a second child, however, the couple encountered some serious infertility issues, which Starsiak Hawk shared candidly on social media. In a series of posts on Instagram Story, as documented by People, she revealed that their attempt at IVF had failed. "We were told another round of IVF would be unsuccessful and our only option for me to carry another baby would be with an donor egg," she wrote in a subsequent Instagram post. They planned to seek a second opinion, she added, "although I don't have high hopes it will result in anything different."
Ultimately, Starsiak Hawk told People they tried a "Hail Mary" procedure called intrauterine insemination — which surprisingly resulted in pregnancy. "When I told [Steve] I was pregnant with Jack, he just started crying. When I told him I was pregnant this time, it was shock," she admitted. "It's super, super exciting! We feel incredibly lucky."
In September 2020, Starsiak Hawk announced the arrival of daughter Charlotte Hawk, sharing a photo of her newborn daughter on Instagram. "She's here!!!!" she gushed.
Mina Starsiak Hawk is a self-described 'control freak'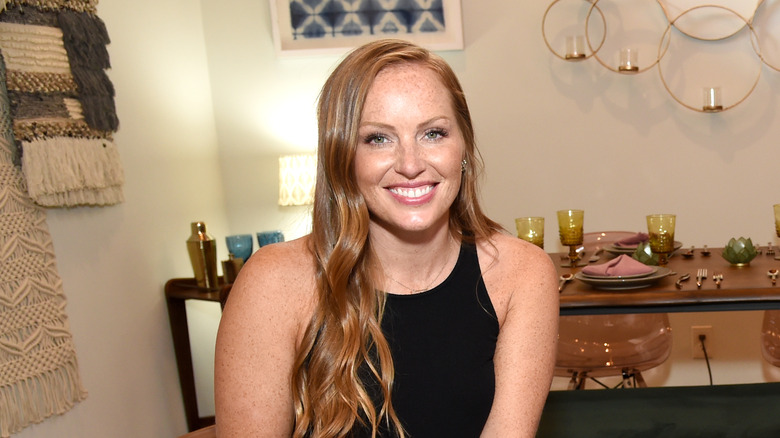 Mina Starsiak Hawk is aware that her take-charge personality can come across as overly controlling — and she's cool with that. "I'm a control freak and a huge planner," she confessed in an interview with Fox News. While this can lead to inevitable tensions when working with her mom on televised home renos for "Good Bones," Karen E. Laine says they've managed to come up with a system for dealing with the inevitable conflict that results from their differing personalities.
"We used to before the show kind of take a little time out from each other, think about what's going on, and then come back and have a little conversation," said Laine of how the pair would resolve conflicts. However, she added, that strategy was no longer feasible as production of the show ramped up, forcing the two together pretty much constantly. "So what we've learned to do is just work through it, whatever's going on, emotionally too, but keep working," Laine continued.
Ultimately, explained Laine, "what ends up happening is we basically forget about it." Added Starsiak Hawk, "We realize it wasn't that important."
Mina Starsiak Hawk and her mom opened their own store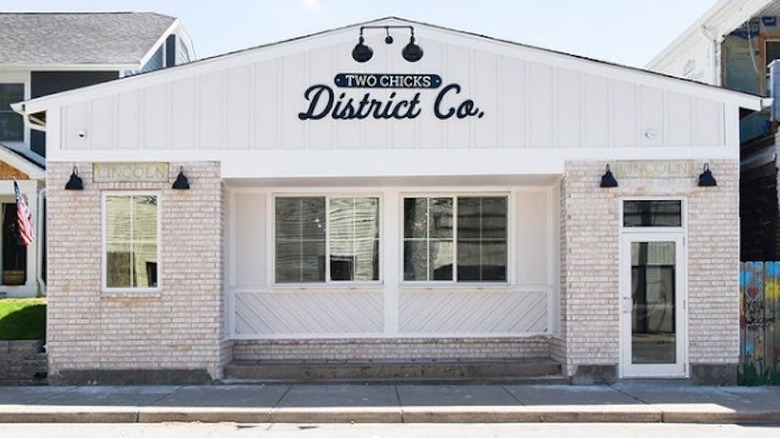 In the summer of 2020, Mina Starsiak Hawk and mom Karen E. Laine expanded the burgeoning business empire they began with Two Chicks with Hammers. As Architectural Digest reported, that was when the mother-daughter duo opened their Indianapolis retail outlet, Two Chicks District Co., featuring an array of merchandise ranging from "small takeaway items to home decor and furnishings." The store also boasts "a quaint bistro" where shoppers can grab a bite to eat, along with "a glass of wine, or a pint of beer."
Her vision for the store, Starsiak Hawk told Architectural Digest, was a space that was "approachable, comfortable, and beautiful," and exuded the "kind, inclusive feeling" that would appeal to Midwesterners. "We wanted the store to feel like an extension of your home," she explained. 
One particularly unique facet of Two Chicks District Co. is that it also includes an adjacent rental — dubbed The House That Two Chicks Built — which, at the time, could be booked for a stay via Airbnb. "The entire vibe of the Airbnb is our comfy, approachable style," Starsiak Hawk added. "Lots of pillows, comfy blankets, even a little pup corner with dog bed and bowls."
Mina Starsiak Hawk looked after her sister's daughter for nearly a year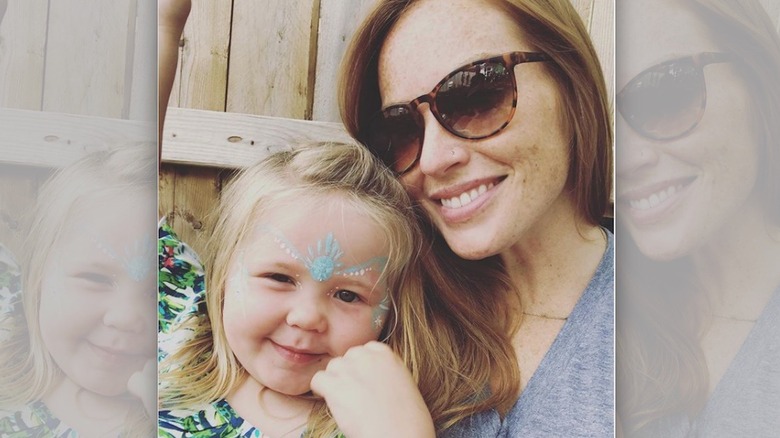 Mina Starsiak Hawk is clearly a good daughter, but she's also a super-dependable sibling. The "Good Bones" star demonstrated that in spades when her sister was experiencing some difficult personal circumstances in 2017, and Starsiak Hawk and husband Steve Hawk agreed to take in her 3-year-old daughter, Julie. "Julie lived with us for about nine months while my sister figured out her stuff," Starsiak Hawk told People. "It was very unexpected but once we figured it out, it was really, really awesome," she added. "I'm glad we got to be there for her when she needed some help."
At the time that Starsiak Hawk spoke to People, her niece had already gone back into her mother's care. The youngster, she said, "seems to be doing well so it's really good."
The experience of looking after a young child proved to be transformative for Starsiak Hawk. After the months she spent looking after the child she nicknamed "my 'Juju Bean,'" Starsiak Hawk was inspired to start thinking about having children of her own — something that would come to fruition the following year when she announced the arrival of son Jack.
Mina Starsiak Hawk wrote a children's book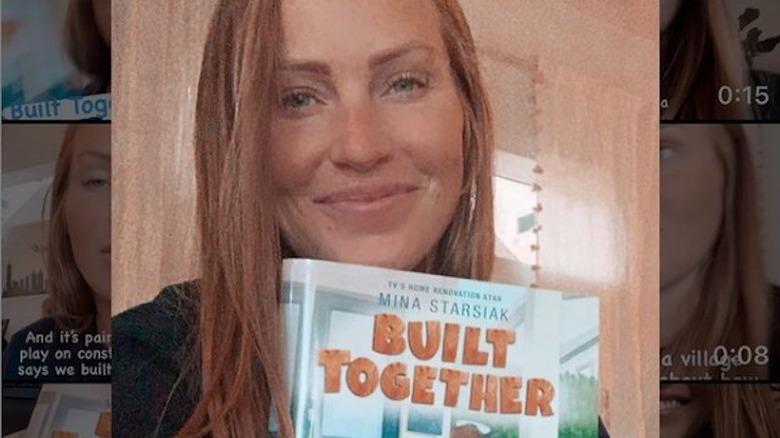 Filming a TV series, managing a renovation company, and running a retail store aren't the only projects to consume the time of Mina Starsiak Hawk. In 2021, she took to Instagram to announce she had written a children's book, "Built Together." In the works for two years, she explained the book's message is one of acceptance and inclusion, "that there are ALL kinds of families made in ALL different ways — and they're all imperfectly perfect."
In an interview with Parade, Starsiak Hawk said she was inspired to write a children's book after the birth of son, Jack Hawk. Using a building analogy, she explained the concept behind her story. "You can build your family any way you want, like you build a house any way you want," she shared. "You just have to have the right foundation to start with."
Ultimately, Starsiak Hawk's goal for the book is permeate children's "little sponge brains" with her message of "accepting and choosing your own kind of family, but also knowing that other ones are going to be different." 
Mina Starsiak Hawk candidly discussed her 'mom guilt' over post-pregnancy plastic surgery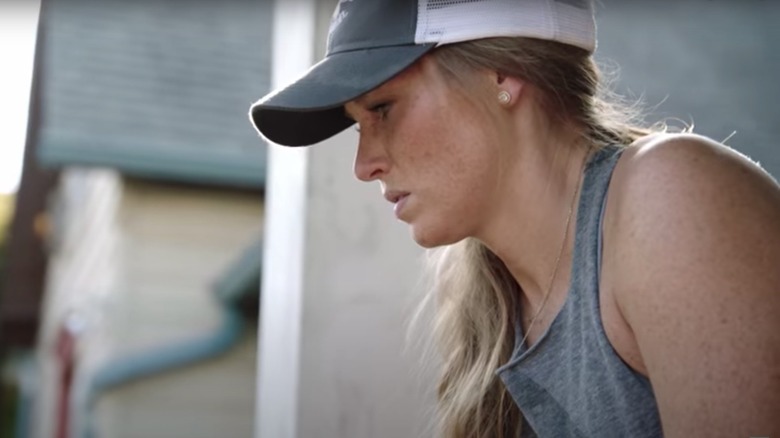 After her second pregnancy, Mina Starsiak Hawk opened up about undergoing cosmetic surgery, getting a tummy tuck, breast implants, and liposuction (a.k.a. the "mommy makeover"). As she explained in an interview with People, the decision to have plastic surgery was not one she arrived at on "the spur of the moment," but something about which she'd thought long and hard. 
Admitting she was "very hard on myself" for doing something so "super selfish," Starsiak Hawk divulged that her surgery was accompanied by a certain degree of guilt. "It's like this mom-guilt that everyone else needs to be taken care of except you," she explained. However, over time Starsiak Hawk had come to understand that, after delivering two babies via C-section, her body had not bounced back and never would, leaving her feeling uncomfortable in her own skin. "And if you don't feel good about yourself, it's going to affect your work life, your social life, your sex life. It just inhibits you," she added. 
Ultimately, Starsiak Hawk told Today, she felt that she had made the right decision. "I feel great," she proclaimed. "I feel like myself again."
Mina Starsiak Hawk and her mom are next-door neighbors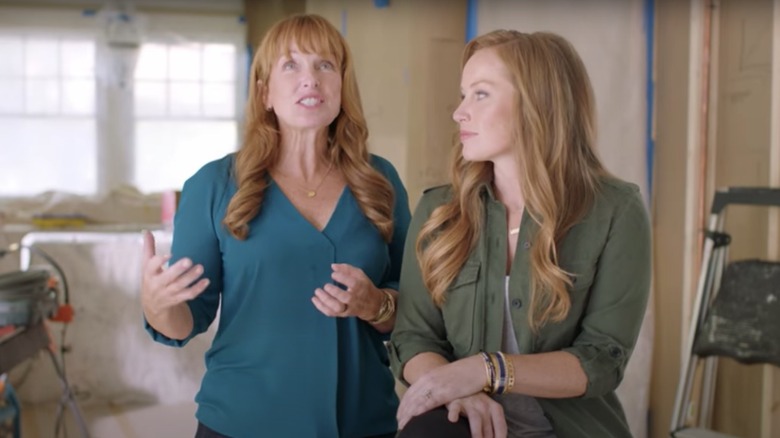 Mina Starsiak Hawk and mom Karen E. Laine are about as close as a mother and daughter can be, which is not surprising given that they work together, both in their Two Chicks and a Hammer business and while filming their HGTV series "Good Bones." 
However, as Laine revealed in an interview with IndyStar, the relationship between mother and daughter also has a competitive edge to it. In that same interview, Starsiak Hawk hinted that their relationship had been fraught in the past, but that any previous damage had apparently been repaired. "I think we're just getting back to the point where we like each other again," she confessed. This is important, not just for their working relationship but also because they're next-door neighbors. "We live next door to each other," Starsiak Hawk said. "We're mom and daughter and friends, as well."
Regardless of what may have taken place between the two, Laine professed that no matter what, "she's not going to lose me. I'm always going to love her and think she's awesome and have her back." She described that as their "default position," adding, "It's not like two business partners who can just go their separate ways."
When HGTV came calling, Mina Starsiak Hawk thought she was being pranked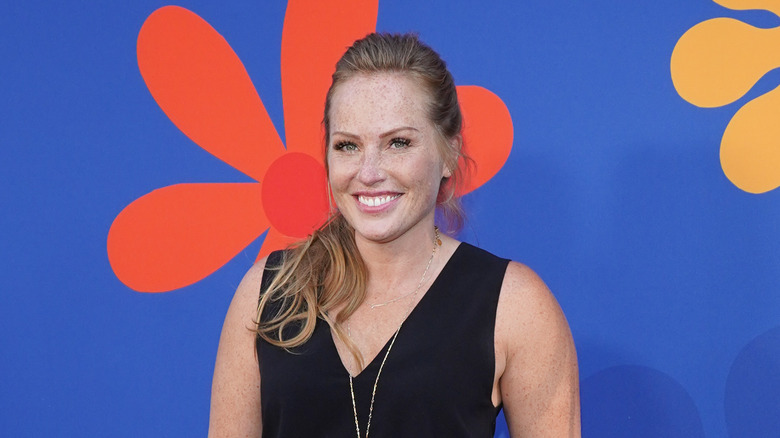 Mina Starsiak Hawk and mom Karen E. Laine had been successfully renovating homes in their native Indianapolis for a few years when they were contacted about the possibility of starring in their own HGTV show. As Starsiak Hawk explained in an interview with PopSugar, when a casting agent found them on Facebook and tried to reach out, she was more than a little skeptical. "She kept calling my cellphone, and I thought it was someone messing with me first and trying to get our business information," she recalled. 
However, once Starsiak Hawk came realize the call was legit, they began to discuss whether starring in a home-renovation series "was something we'd be interested in." She admitted there wasn't a whole lot of hesitation before they agreed. "We were like, 'Sound's like a party. Let's do it!'" she continued.
Unbeknownst to Starsiak Hawk, her mother had long harbored an ambition to ply her trade on HGTV. "Mom was cleaning out something and found a letter that she had written to HGTV years ago saying, 'You should make a show about us!'" Starsiak Hawk revealed.
Mina Starsiak Hawk taught herself everything she knows about home renovation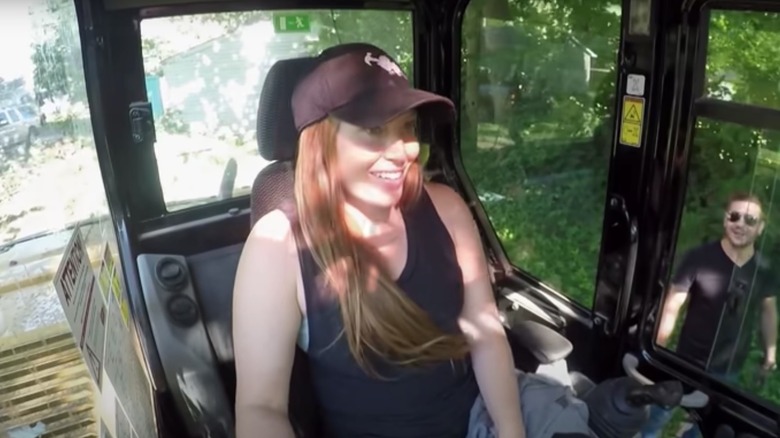 When Mina Starsiak Hawk and mom Karen E. Laine first began renovating the former's new home, they were utter neophytes when it came to home repair. To remedy that, the duo launched into a crash course in how to actually do it. As Laine told IndyStar, when they began the process they didn't have much money to work with, but they did have time on their hands to do some research. "We are self-taught. We read books, we watch YouTube videos, and we read directions," Laine divulged in an interview with USA Today. "That's key — it's amazing what you can learn when you read the directions."
"Most of it we learned along the way," Starsiak Hawk told Indianapolis Monthly of the skills the gained while performing that first restoration. "I read the directions for flooring and putting up light fixtures. I watched YouTube to figure out how to tile." The one aspect of the renovation process that didn't require them to learn any special skills, Starsiak Hawk admitted, was demolition. "No one has to teach you how to break s**t," she quipped. 
Mina Starsiak Hawk enlisted her on-set COVID supervisor to be her babysitter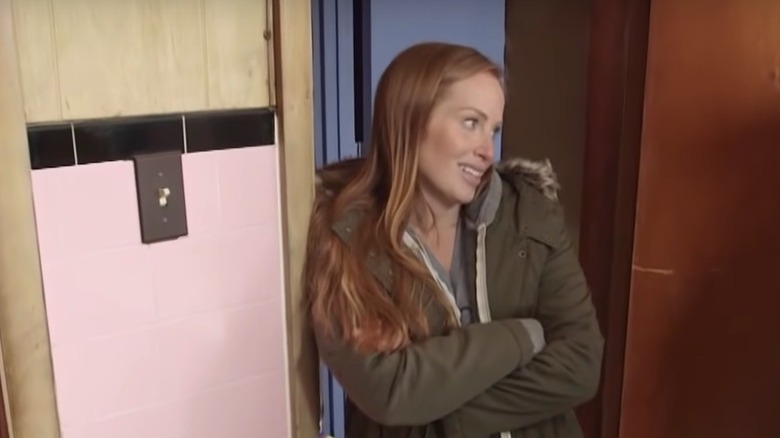 Production on "Good Bones" came to a grinding halt in the spring of 2020 due to the COVID-19 pandemic. When filming eventually resumed several months later, Starsiak Hawk encountered some differences in how the show was filmed. One of these differences was the presence of "COVID supervisors" on the set, assigned to each member of the cast to ensure they adhere to the stringent pandemic-related guidelines required under this new normal for the film and TV industry. 
Meanwhile, there was another big change in Starsiak Hawk's life during that same time frame: the arrival of her second child, daughter Charlotte Hawk, nicknamed Charlie. When filming ramped back up, the new mom brought her infant daughter to work with her. And when the cameras rolled, Starsiak Hawk managed to enlist her COVID supervisor to embrace a new facet of his job: babysitter. "A lot of times when I would come to set and bring Charlie … he would just hold her," she told Today. "It was so sweet, him just hanging out with this newborn baby," she added.
The key lesson Mina Starsiak Hawk has learned about tools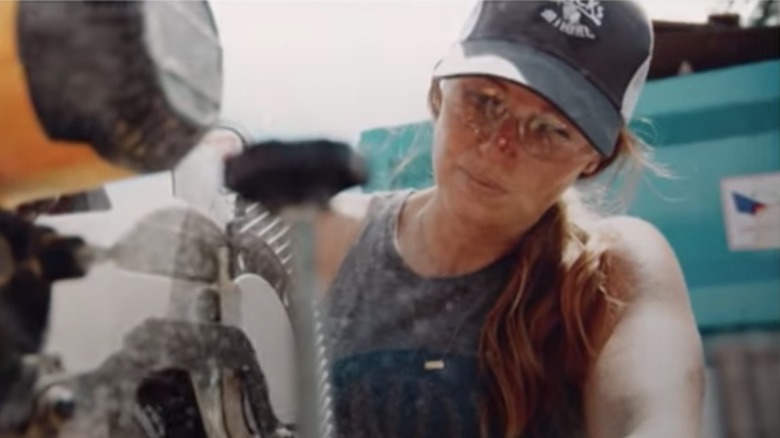 Given that Mina Starsiak Hawk taught herself all the home-renovation skills she demonstrates on "Good Bones," she's a firm proponent of homeowners empowering themselves with the knowledge to perform their own DIY home repairs. In that respect, she spoke with BuzzFeed to share her recommendations on what tools are required for a basic home toolkit. One key lesson Starsiak Hawk wanted to share was one that she'd learned through trial and error. "To save a few bucks we always chose the budget option," she revealed, "and quickly learned the number one DIY lesson the hard way: Don't buy the cheapest tools!"
Instead, Starsiak Hawk suggested to "buy tools as you need them," and if an expensive tool would help save time and result in a better end result, "it's probably worth the money." In fact, Starsiak Hawk views tools as "investments that continue to grow as you gain skills and confidence," with the cost offset by the savings that will result from doing one's own repairs. "Tools are like kitchen knives," she added. "Sure, you can cut bread with a steak knife, but it's a lot easier to cut it with a bread knife."
Source: Read Full Article