Serena Williams is a tennis legend who has smashed countless records and earned a record-setting amount of money playing the game she loves. Along the way, she's gained millions of fans who want to know everything about her life, from her marriage to her relationship with her dad, but she's also had to put up with her share of critics, many of whom have spewed headline-making sexist and racist comments.
Thankfully, she's never let the negativity faze her, instead focusing on the positive and drawing strength from her supporters. The biggest of which might be her husband, Alexis Ohanian, as he proved in January 2021. When Ion Țiriac, owner of the Madrid Open, said on Romanian TV (via Ubitennis) that "at this age and the weight she is now, she does not move as easily as she did 15 years ago" and urged Williams to retire "if she had a little decency," Ohanian shot back on Twitter, writing, "Safe to say no one gives a damn what Ion Țiriac thinks." He followed that up with a screenshot of a Google results page showing that Țiriac has won zero Grand Slam singles titles and quipped, "Had to Google it… turns out my 3 year old has more Grand Slam victories than this [clown]." It's the type of fierce response Williams herself would have doled out — something she's done on numerous occasions. Here are all the times Serena Williams proudly shut down sexist comments.
The 'Williams brothers' comment that landed a tennis bigwig in hot water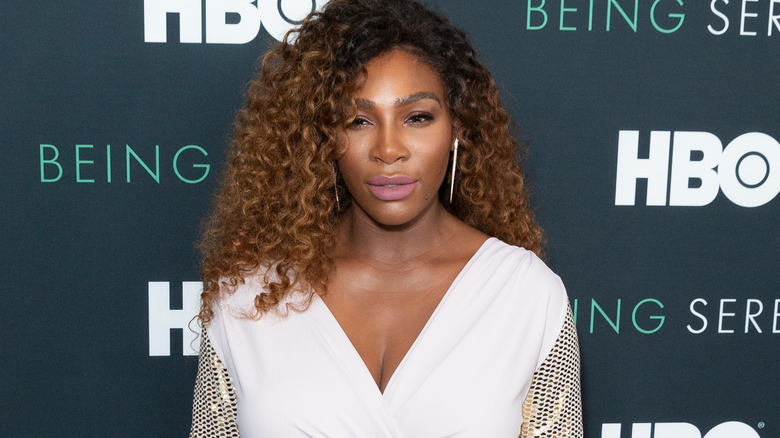 Russian Tennis Federation president Shamil Tarpischev apparently thought he was being funny when he appeared on what he called a "humorous" late night show in Russia and called Venus and Serena Williams the "Williams brothers." As The Washington Post reported, his slight came after Olympic gold medal-winning tennis player Elena Dementieva — a fellow guest on the show — was asked about playing against the Williams sisters. That's when Tarpischev cut in with his "joke" and proclaimed, "It's scary when you really look at them."
Well, the Women's Tennis Association wasn't laughing and quickly suspended Tarpischev for a year and fined him $25,000. As The Guardian noted, Tarpischev was "forced to apologise publicly," but his statement was too little too late, and Serena Williams didn't shy away from publicly condemning him. During the 2014 WTA Tour Finals in Singapore (via The Washington Post), she called the remarks "very insensitive and extremely sexist as well as racist at the same time," adding that they "were in a way bullying." She then told reporters she was happy to see the WTA "taking immediate action to his comments" and penalizing Tarpischev. Williams also received support from her colleagues, including fellow tennis great Maria Sharapova who told reporters at the WTA Tour Finals that Tarpischev's behavior was "very disrespectful and uncalled for," as well as "very inappropriate."
Serena Williams shut down a reporter wanted to know why she wasn't smiling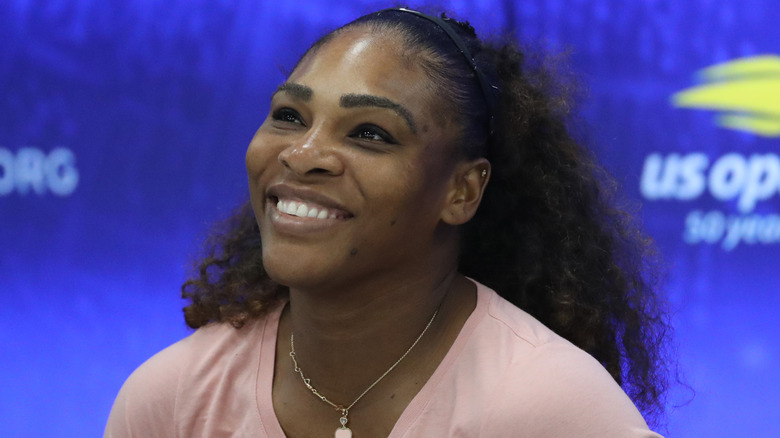 Always one to speak her mind, Serena Williams once unleashed an apologetically honest response on a reporter who took issue with her smile — or lack thereof. The incident took place during a 2015 press conference following her win at the US Open quarterfinals match when a member of the media noted how "normally you smile when you win, you come here and you laugh." But this time, she wasn't smiling and the journalist wanted to know whether that was because she had just beaten sister Venus Williams on the court or simply because her mind was focused on the next round. When the reporter asked if something was wrong, Serena served a wonderfully blunt comeback: "Umm, it's 11:30[pm], to be perfectly honest with you, I don't want to be here." She went on to say that she "just want[s] to be in bed right now" and remarked that the reporters "asking the same questions" over and over was "not making [the interview] super enjoyable." As one fan noted on Twitter, the original question was unequivocally sexist because "do you ask male athletes to smile during an interview? Hell no!"
After letting the room know she wasn't exactly keen on the Q&A that was happening, Serena Williams started to crack up as she emphasized she was "just being honest." But the exchange didn't end there. When the same reporter tried to ask a follow-up question, per CBC, the sports star asked, "Is it about Venus again?" Hey, the reporter got the laugher they so badly wanted — they probably just didn't expect the laughter to be at their expense. 
Serena Williams went after Raymond Moore's 'inaccurate' comments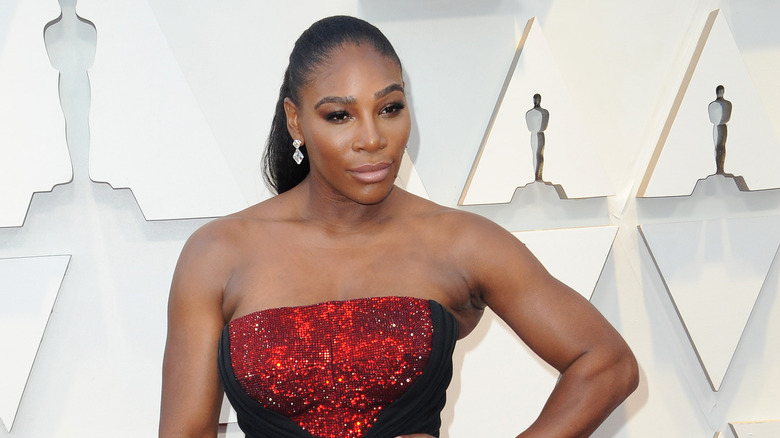 In 2016, Raymond Moore, a former professional player and CEO of Indian Wells Tennis Garden, brought the wrath of Serena Williams upon himself when he criticized female players in some eyebrow-raising remarks. Speaking before the BNP Paribas Open finals, Moore proclaimed (via ESPN), "In my next life, when I come back, I want to be someone in the WTA because they ride on the coattails of the men." Going on to call female players "very lucky" because they "don't make any decisions," he slammed, "If I was a lady player, I'd go down every night on my knees and thank God that Roger Federer and Rafa Nadal were born because they have carried this sport."
Williams responded like only she can: with brutal truth. After calling Moore's statements "very much mistaken and very, very, very inaccurate," she was asked if perhaps his words were being misinterpreted as a sexual innuendo. "You can only interpret it one way," she reasoned. "I speak very good English. I'm sure he does too." She then shut down his arguments by dropping facts, noting the success of the women's final the year prior.
"I'm sorry, did Roger play in that final or Rafa or any man play in that final that was sold out before the men's final?" she asked. "I think not." Moore later said he was "truly sorry" for making comments that were "in extremely poor taste and erroneous."
Serena Williams had the perfect response to John McEnroe's diss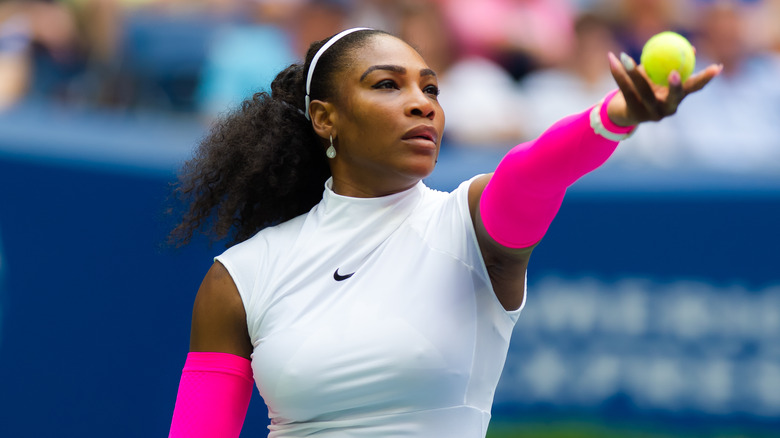 John McEnroe may know a thing or two about tennis, but he put his foot in his mouth in 2017 when he told NPR that Serena Williams is the "best female player ever," but that she could never be "the best player in the world, period" because "if she played the men's circuit she'd be like 700 in the world." Trying to explain his stance, McEnroe said Williams is "an incredible player," but underscored that while he believes she could occasionally "beat some players" who "choke" under pressure, the men's division "would be an entirely different story." McEnroe then insisted that while "at some point a women's tennis player can be better than anybody," he hasn't seen that happen yet. He also boasted that he could beat Williams in a match-up, despite being 60 at the time, and made a dig at the fact that she was carrying daughter Alexis Olympia, telling the outlet, "Maybe I should get her now because she's pregnant."
Williams wasn't impressed and she soon clapped back on Twitter, writing, "Dear John, I adore and respect you but please, please keep me out of your statements that are not factually based." She added, "Respect me and my privacy as I'm trying to have a baby. Good day sir." McEnroe appeared on "CBS This Morning" days later, but refused to back down. When Norah O'Donnell asked if he'd like to say sorry, Men's Journal's No. 1 bad boy of tennis simply replied, "No." 
Ilie Nastase's offensive remarks didn't sit right with Serena Williams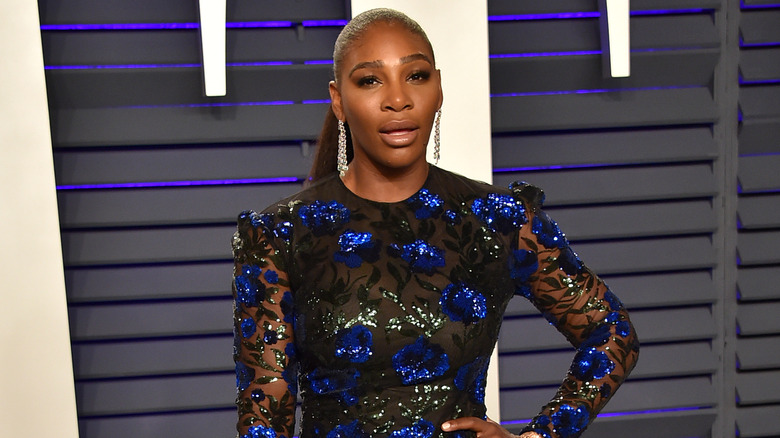 Two of tennis' greatest players openly butted heads in 2017 when Ilie Nastase, the former No. 1 in the world, made some questionable comments about Serena Williams, the then-No. 1 in the world. The incident took place at the Fed Cup where Nastase, who was working as the Romanian team captain, was overheard talking about the skin color of Williams' unborn child. According to The Guardian, he asked, "Let's see what color it has: Chocolate with milk?" What's more, he also reportedly approached British team captain Anne Keothavong, who was at the Cup, and asked for her room number.
The International Tennis Federation investigated the claims and slapped Nastase with a four-year suspension and $10,000 fine, per CNN, for ​​his "racially insensitive" remarks, but not before Williams shut down Nastase on Instagram for his "racist comments towards myself and unborn child, and sexist comments against my peers." Noting that "this world has come so far but yet we have so much further to go," she lamented the current state of gender equality, writing, "Yes, we have broken down so many barriers, however there are a plethora more to go." 
That said, she insisted that haters would never "stop me from pouring love, light and positivity into everything that I do. I will continue to take a lead and stand up for what's right," she declared. "I am not afraid unlike you. You see, I am no coward." 
Serena Williams slayed Bill Simons when he asked about Maria Sharapova's looks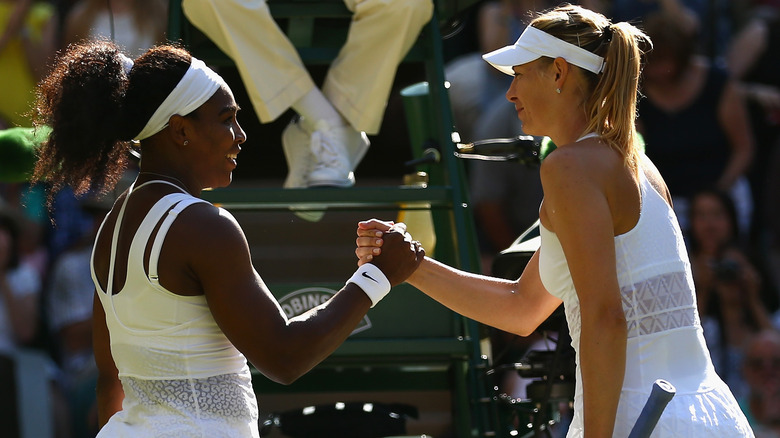 Serena Williams had a cringe-worthy exchange with Inside Tennis reporter Bill Simons in 2018. Simons kicked off their interview by bringing up Williams' then-nine-month-old daughter, Alexis Olympia, and telling the new mom to "work with me here" because "we're in this together, baby" (via Today). The tennis great quickly shut that sentiment down, saying, "No, we're not. You're not going home to a screaming baby."
Things then went from bad to worse as Simons posed a question he'd reportedly been "waiting about 14 years to ask you." Recalling how he once interviewed Donald Trump, he shared that No. 45 told him Maria Sharapova's shoulders "were incredibly alluring" and mused that Williams was likely "intimidated by her supermodel good looks." Simons then went on to ask if Williams has ever been "intimidated" by a fellow tennis star and what her thoughts were on Trump's speculation. "I honestly don't have any thoughts about that," she clapped back. "I can't say I have been intimidated by anyone. That's all. That's it."
Meanwhile, Williams' husband, Alexis Ohanian, also jumped in on the conversation, tweeting a snapshot of the interview transcript and slamming, "Pro-top: wait at least another 14 more years before asking another question." Simons quickly apologized for his "awkward" questions, tweeting that he didn't mean to "empower Trump or attack Serena," insisted he's "spent [a] lifetime fighting racism/sexism/homophobia," and said he "SO admire[s] her." Talk about a whiff of an interview.
Serena Williams slammed a 'sexist' umpire for being 'a thief'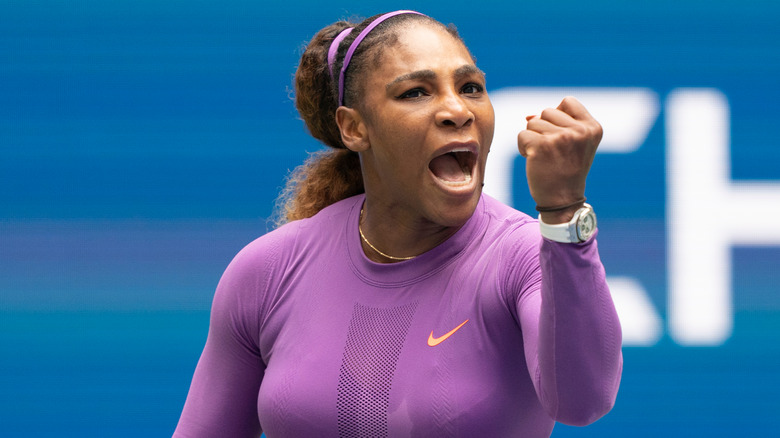 Things heated up at the 2018 US Open final when Serena Williams clashed with chair umpire Carlos Ramos. As Vox reported, Ramos gave Williams a verbal warning for coaching, which is prohibited by Grand Slam rules. However, as the outlet noted, players often exchange looks, signals, and words with their coaches without getting dinged for it, which made Ramos' warning unusual. Williams asked for an apology from the referee for suggesting she'd cheated and stated, "You're attacking my character."
She didn't get a mea culpa, but what she did get was a penalty, costing her a point, after she smashed her racket in frustration at losing her lead to Naomi Osaka (who eventually won). Williams called Ramos a "thief" and said he "stole a point." After she demanded a second apology, Ramos fired back with a second penalty. In the end, Williams lost the match and was fined nearly $20,000 for three infractions. Understandably, she was not thrilled with this outcome.
"I've seen other men call other umpires several things and I'm here fighting for women's rights and for women's equality […] and for me to say 'thief' and for him to take a game, it made me feel like it was a sexist remark," she explained at a press conference. "He's never took a game from a man cause they said 'thief' […] but I'm going to continue to fight for women." Time and time again, Williams proves she's stronger than a clay tennis court.
Serena Williams took the French Open's catsuit ban in stride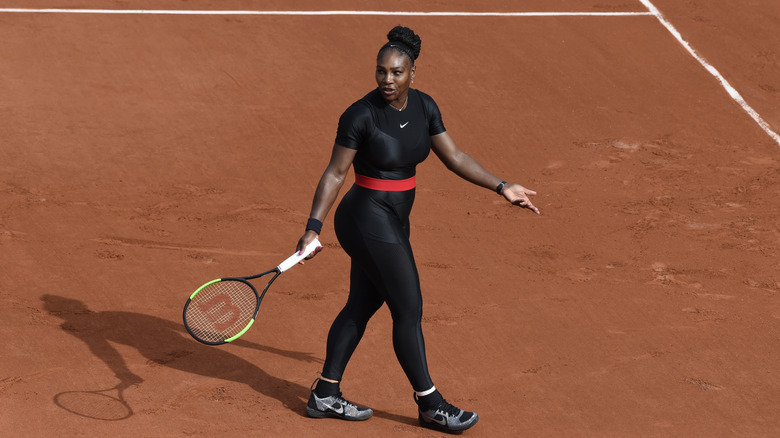 Serena Williams made headlines in early 2018 when she showed up to compete at the French Open wearing a black catsuit designed by Nike. The sartorial choice garnered plenty of support on Twitter — "I am absolutely living for Serena Williams' bodysuit" one fan gushed — but the French Tennis Federation wasn't feeling it. President Bernard Giudicelli announced later announced they'd implemented new outfit rules and that Williams' catsuit would be a no-go because "one must respect the game and the place," per the AP. Regarding the one-piece, he argued that "sometimes we've gone too far."
This decision came after Williams had revealed that the outfit had a medical function. After giving birth to Alexis Olympia nine months prior to the French Open, Williams almost died from blood clots. In order to ensure proper blood circulation, she donned the specially-designed Nike suit, per The Guardian. Critics also dubbed the incident a case of "misogynoir," but as always, Williams wasn't shaken. She said at a press conference (via ESPN) that she and Giudicelli had talked and that she found "other methods" to help with her blood clots. She then elicited laughs from reporters as she quipped, "When it comes to fashion, you don't want to be a repeat offender, so it'll be a while before this even has to come up again."
But this wasn't the end of her bodysuit journey. In 2021, Williams paid tribute to Florence Griffith Joyner at the Australian Open by wearing an asymmetrical catsuit (per Olympics). 
Meghan Markle has Serena Williams in her corner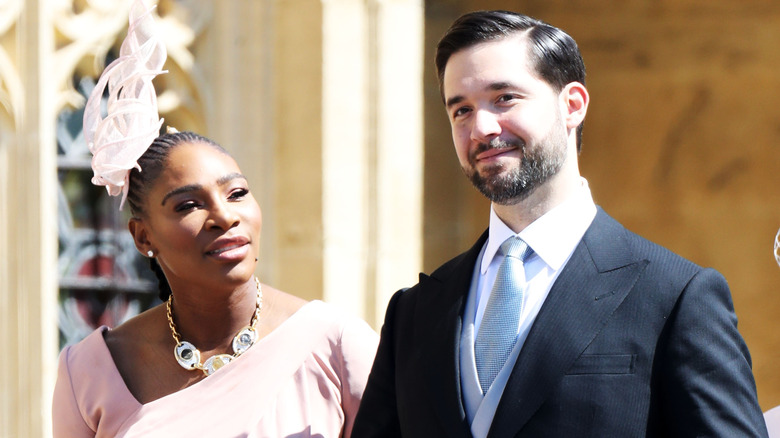 Serena Williams and Alexis Ohanian were two of many high-profile guests to attend Prince Harry and the Duchess of Sussex's royal wedding, but Williams and Meghan Markle actually share a years-long friendship. So it's no surprise that when Markle came under fire following her and Harry's bombshell interview with Oprah, Williams felt a need to stand up for her pal.
Taking to Twitter, she called Markle a "selfless friend" who lives with "empathy and compassion" and "teaches me every day what it means to be truly noble." She then underscored how Markle has experienced the type of "pain and cruelty" she herself has gone through time and time again. "I know first-hand the sexism and racism institutions and the media use to vilify women and people of color to minimize us, to break us down and demonize us," Williams wrote. She went on to note the "devastating, isolating and all too often lethal" effects that go hand in hand with "systemic oppression and victimization" and ask her followers to "decry malicious, unfounded gossip."
The tennis great also shared her hopes for a better, more supportive future, adding, "I want Meghan's daughter, my daughter and your daughter to live in a society that is driven by respect." Game, set, match.
Source: Read Full Article