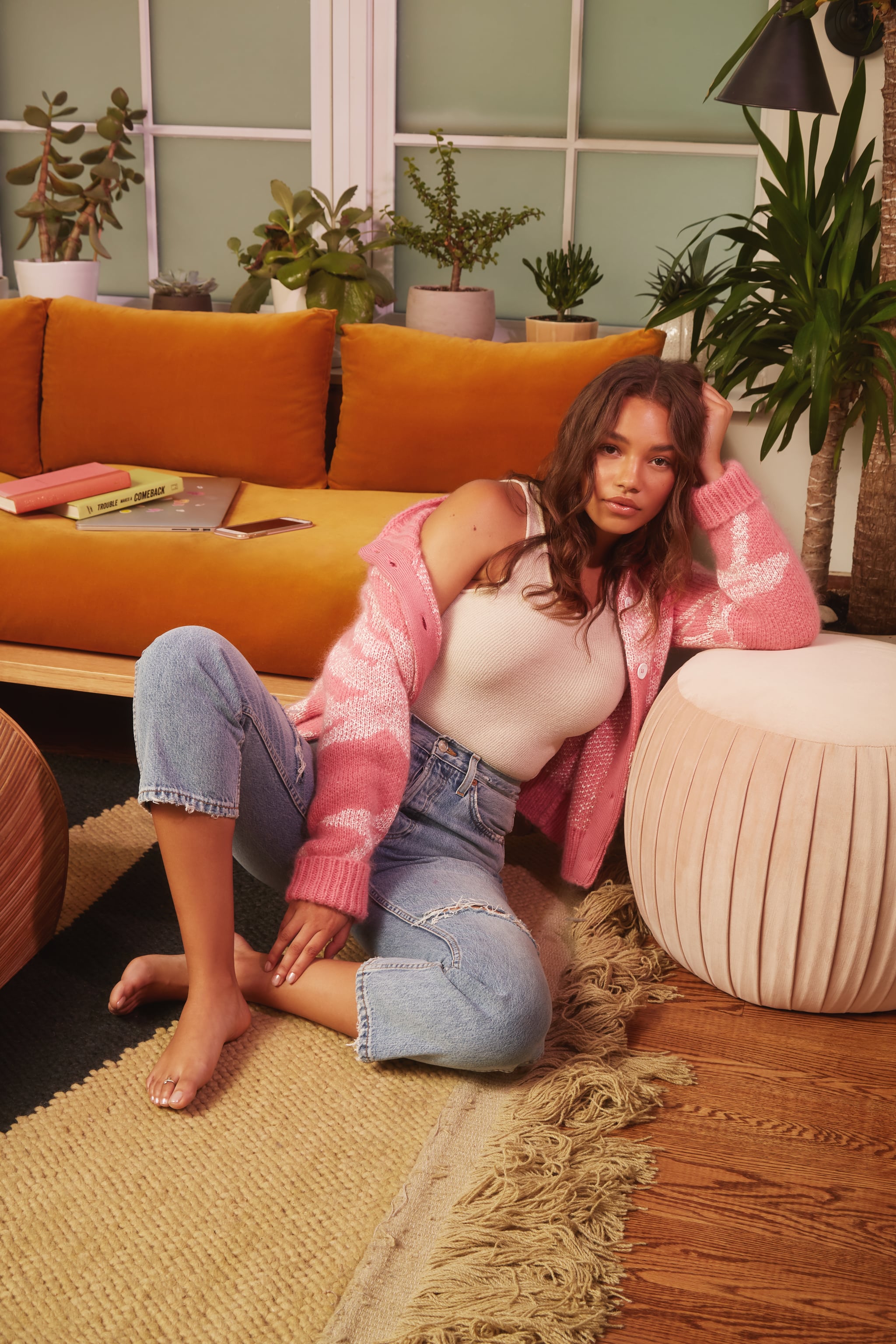 I pretty much stopped wearing makeup when we started staying home; I did take up dry brushing and a nightly skincare ritual that's heavy on moisturizer, serum, and involves an at-home microcurrent device, though. The silver lining of all this time at home meant that I was finally embracing a beauty routine that was more about what I really wanted long term and for myself. My shopping history over the last four months tells a similar story. I've bought a "nap dress" and leggings, also a classic button-down that I can wear layered over a swimsuit or with jeans. I zeroed in on a search for gold hoops that have been on my list since last Christmas and finally found the ones. What you won't find in my receipts are any spontaneous Zara purchases, the kind that once filled my cart regularly — dresses I might wear a few times to work or a top I'd be excited to wear to an event and then maybe never again. I cut down on trend pieces; but that's not to say I gave up on experimenting.
Even as a woman who works in — and loves — Fashion, I still felt what a lot of us maybe felt at the start of the pandemic: "what's the point of getting dressed at all?" Months in and I've found that the point is simply that I like it. Not only do I enjoy the prospect of getting up, opening my closet or dresser drawer to the possibility of a new outfit, I'm kind of enjoying the fact that I'm doing it just for myself — that no one else will actually see what I'm wearing (save for the few coworkers who'll briefly get a glimpse from the waist up on a virtual hangout). Now that other people have been removed from my day to day (save for my daughter and my husband) — my opinion is not just the only one that matters, it's really the only one period. And suddenly, getting dressed meant the possibility of experimenting without self-consciousness, without the notion of having to be "trendy", and without the pressure — good or bad — that comes from dressing for other people.
I've dealt with this a lot in life — trying to remove the fear of what other people think; but it's always just been an exercise for me. Something I have to practice and unlearn, and it still persists. I feel it most at Fashion Week, dressing for other editors and street style photographers, but I feel it on regular days in the office. There's pressure there, too. Now, it's gone, and in its place, I've found something more satisfying. There is something uniquely gratifying that comes with the fact that my outfits are my own, and I approach each one like my uninhibited second-grade self attacking a costume box. I feel like Carrie Bradshaw, dressing for my mood in a pair of knee-high socks and a slip around my apartment, just because I can.
Sure, I still see trends and follow influencers, who through the pandemic, are very much making a case for them at home. I've dabbled in biker shorts, Birkenstocks, tie-dye, and rainbow-colored necklaces you've likely seen taking over your feed, too; but, there is a difference. I'm opting in a la carte; I'm choosing trends more carefully, shopping less, and finding joy in discovering the gems in my own closet. In the absence of an audience to dress for, I'm learning to just follow my intuition — unwittingly, I've been defining my personal style. Now, my sense of self is getting stronger, my voice is getting louder, and it asks simply and often: does it make you happy to wear that?
I'm eager for the day when we'll hug friends and family, see our co-workers in office, share dinners, and enjoy life events together, and I hope that when normal life resumes — that even when there's more noise, more trends, more newness — that this is how I'll think about getting dressed for the real world, too.
Source: Read Full Article