Tracking the best of the haute couture season from the new Alaïa and Jean Paul Gaultier to Balenciaga and Dior.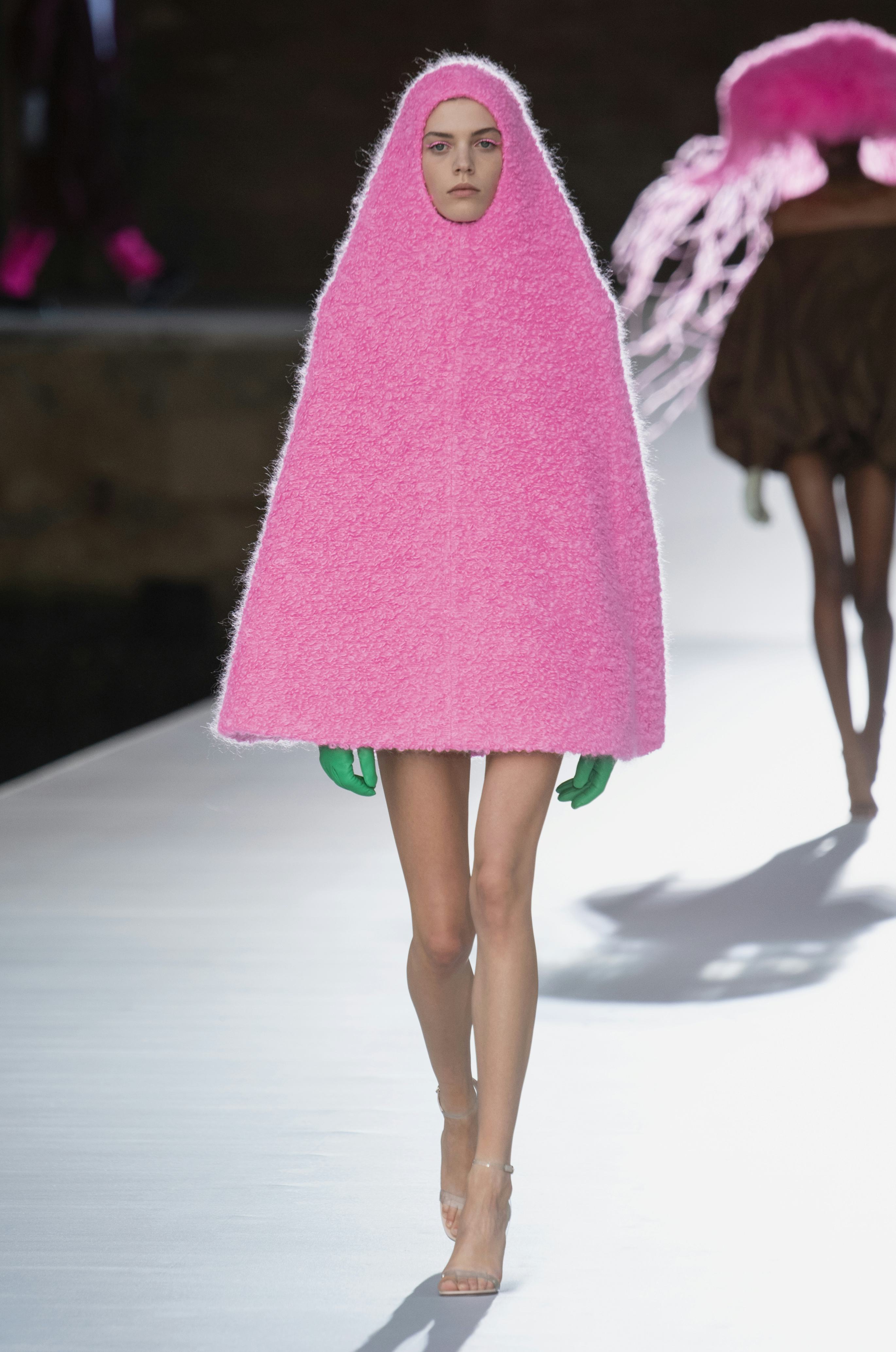 Even in the so-called before times, the couture season was an especially exhilarating experience. But this year, the excitement is at an all-time high. Not only has Paris emerged from lockdown, and fashion editors, buyers, and clients finally feel comfortable boarding long-haul flights, but a new class of designers is debuting at the most exclusive of fashion weeks. On the streets of the Marais, Pieter Mulier set the stage for his vision for Alaïa, four years after the unexpected passing of the house's beloved founder. And Kerby Jean-Raymond has made history by becoming the first Black American designer invited by the Chambre Syndicale to present an haute couture collection for his Pyer Moss label. Scroll through for the most outrageous and breathtaking looks from the season.
Pyer Moss's debut couture show was as much a thrilling history lesson as it was a fashion presentation. Kerby Jean-Raymond—the first Black American designer to land a coveted spot on the haute couture calendar—tapped into the oft-overlooked ingenuity of Black inventors in a collection that blended high pop art with high fashion. The looks themselves—among them a cape of hot rollers, a softly sculpted gas mask dress, and a chessboard suit—were a whimsical, yet profound reminder of the contributions Black people have made for centuries. And as Jean-Raymond wrote in the show notes, "Black imagination is this world's greatest technology."
For his splashy debut Fendi couture show last season, Kim Jones looked to Britain and Virginia Woolf's Orlando. That runway featured Demi Moore, Naomi Campbell and Kate Moss alongside her daughter Lila Moss. While his sophomore outing was a quieter affair (albeit still with supermodels Amber Valletta, Christy Turlington, Paulina Porizkova, and Kate and Lila, again), its scope was just as vast in spanning time and history. This time around, Jones set his sights on Rome as seen through the lens of Roman film director Pier Paolo Pasolini. Through exquisite toga-like draping and accessories featuring mosaics and arches, Jones presented an homage to the statues, architecture, and spirit of the Eternal City.
Fifty years after Cristóbal Balenciaga closed his couture business, Demna Gvasalia is reimagining it for a new era. For his long-awaited debut, Gvasalia filled Balenciaga's original (and recently renovated) salon in Paris with his own modern interpretation of the luxury house codes. Glamorous open-shouldered and swing-back silhouettes, as well as cocoon and opera coats mingled among more everyday staples like baggy jeans and even robes and hoodies.
At almost 87 years old, Giorgio Armani remains a maestro of fashion magic. His haute couture collection titled simply "Shine" was staged at the Italian Embassy in Paris on Tuesday, July 5 and consisted of frothy pink and luminous sorbet confections that seemingly floated on air.
Vauthier—a designer Celine Dion keeps in heavy rotation—put a Vegas spin on his couture collection with sparkling ponchos and bodysuits, showgirl feathers, a Guys and Dolls pinstripe suit, and crystal-embellished Westernwear. Coincidentally, Dion recently announced she'd be returning to Sin City—could this be a sneak preview of her upcoming stage attire? We can only hope.
Visions of Gabrielle "Coco" Chanel, paintings by Éduoardo Manet, Berthe Morisot, and Marie Laurencin, and English gardens were all dancing in Virginie Viard's mind for her optimistic fall 2021 couture collection for Chanel. The corresponding fashion film made in partnership with Sofia and Roman Coppola and scored to the music of Siouxie and the Banshees provided an edgy contrast to Margaret Qualley's otherwise pretty-in-pink closing bride.
There's a direct line between couture and Cannes this season as the film festival coincides with the haute couture presentations. It's easy to imagine Giambattista Valli's many layers of tulle being stuffed into a starlet's suitcase bound for La Croissette. But while the over-the-top volumes and flounce are indeed cinematic there is a slightly twisted nature to them as well—a nod to the Ryan Murphy-verse from which Valli drew inspiration. What appears as a Babes in Toyland candy cane dress could just as easily recall the barber pole of Sweeney Todd. Fashion, like film, is always open to interpretation.
Maria Grazia Chiuri's latest outing was as much about touch as it was about seeing. Drawing inspiration from Clare Hunter's book, Threads of Life: A History of the World Through the Eye of the Needle, Chiuri delivered a fully tactile and tweed experience from head (helmet hats) to toe (kicky boots). Pleated metallic and sheer wisps of gowns provided Dior's signature glamour while massive embroidered panels by the artist Eva Jospin served as a backdrop for a runway where fabrics were the primary focus.
Ten years since she became the youngest designer to join the official Paris Haute Couture calendar Iris Van Herpen continues to blur the lines between fashion, art, and science. This year her multi-layered and gravity-defying designs took flight quite literally. For her grand finale look, Van Herpen enlisted world champion skydiver Domitille Kiger to model an otherworldly blue and white gown that melded with the horizon as Kiger plummeted, then parachuted, back down to earth.
Skydiver Domitille Kiger in Iris Van Herpen's finale look.
After creating Hulk-like sculpted abs body armor for last couture, Daniel Roseberry has taken a softer—if still surreal—approach to his latest designs. The collection titled "Matador Couture" blends outsized floral motifs both in fabric and precious metals. Enormous gowns seem almost made for Lady Gaga, who wore the designer to President Biden's inauguration and is currently starring in her own one-woman fashion show on the streets of NYC.
Pieter Mulier made his thrilling debut as the creative director of Alaïa in Paris on Sunday, July 4, and instead of the usual show notes, the Belgian designer shared a touching letter to the house's legendary founder who died unexpectedly in 2017. "This collection is intended as a tribute to thank you," Mulier wrote. "You who designed beauty more than fashion, as you liked to say. Thank you for your peerless adulation of the feminine figure. You were a sculptor, a genius of the hand. I will take care of your house and your family with a tremendous sense of admiration and responsibility. Thank you with all my heart."
Source: Read Full Article