At the risk of getting restraining orders from every member of ABBA upon releasing my own stats to do it, I am here today to tell you how to find your top Spotify songs from 2018 and share them online. Because gasp, my friends — it is somehow December. And as anyone with a Spotify account and a beating heart knows, December marks the month that Spotify rounds up your top played songs from 2018, both in the service of assembling them into a neat little playlist and also of directly calling you out for replacing your personality with every song from the Mamma Mia: Here We Go Again! soundtrack.
If you're looking for the playlist, odds are you've already found it — when you log onto the app, Spotify prompts you to click on it and will take you right there. Otherwise, you can find it on your "Made For You" tab on the home page, which also houses your Daily Mixes, Release Radar, and Discover Weekly.
BUT if you're looking for that fancy little square of information that you can share, you're going to have to leave the app — all of that information is compiled on a separate website, called Spotify Wrapped. Once you log onto the site, it will prompt you to sync it with your Spotify account. After that, brace yourself — some extremely dorky truths are coming.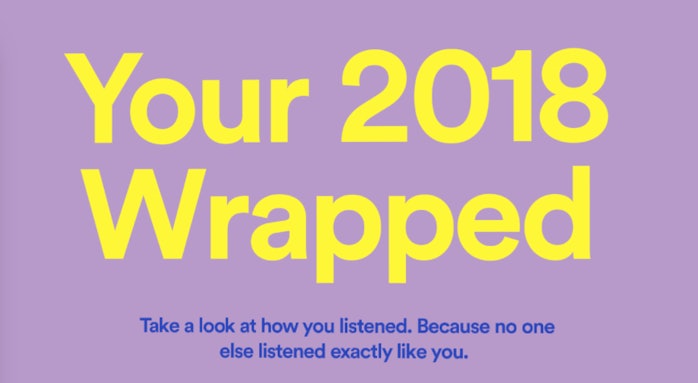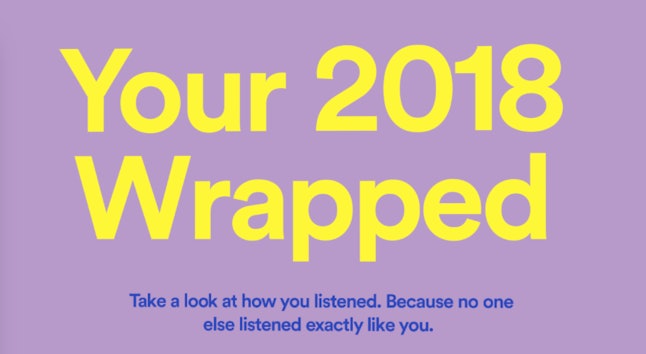 Once you sync the account, it will tell you all kinds of interesting facts about your listening in 2018 — not just your top artists, songs, and genres, but things as specific as what zodiac sign of artist you tend to listen to the most (mine was Cancer, and as a Cancer, I am extremely, astrologically smug). It has ten different panels for you to peruse, so you can take your sweet time going, "Wow, how do I tell my friends I spent over two calendar days of this human year pretending I was in the 1970s instead of 2018?"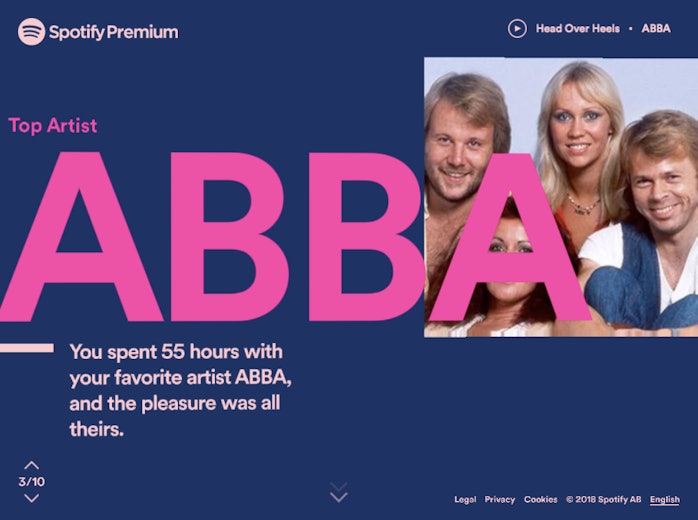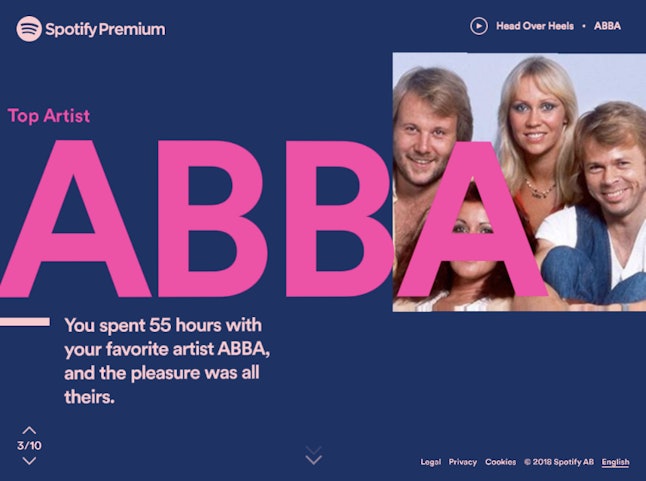 Once you reach the bottom, the tenth panel will reveal the little digestible square that people have been sharing on Twitter, Facebook, and Instagram, full of your main stats. I am sharing mine here because I clearly left my shame at the door about 1,000,000 listens of "Dancing Queen" ago.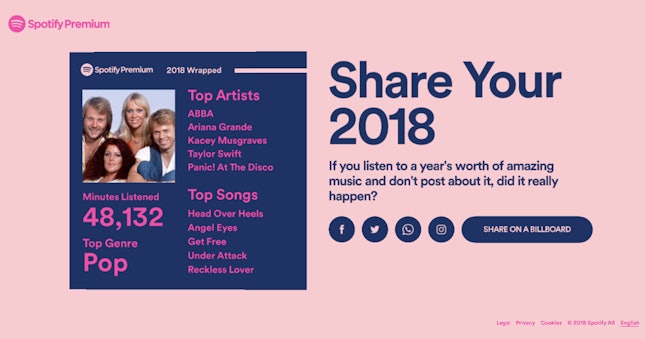 From there, you can just go ahead and click the buttons on the side to directly share your lil' music square on the platform of your choosing, or just download the image for your future music-listening scrapbooks.
This year, though, we get an added bonus; not only is there a playlist compiled of all your top songs, but there's a playlist called "Tastebreakers," which is meant to help you expand your horizons in 2019 based on the genres and songs Spotify already knows you like. Mine is approximately 90 percent Broadway stars who released independent albums nobody paid attention to, so this December is already going to be a trip and a half for me, y'all. Happy listening!
Source: Read Full Article