These days, a little bit of controversy seems crucial for fame. But there are certain celebrities who seem to take this to the next level by deliberately making enemies wherever they go by voicing their strong opinions. One of the most loved and hated of these is Piers Morgan, the outspoken host of Good Morning Britain.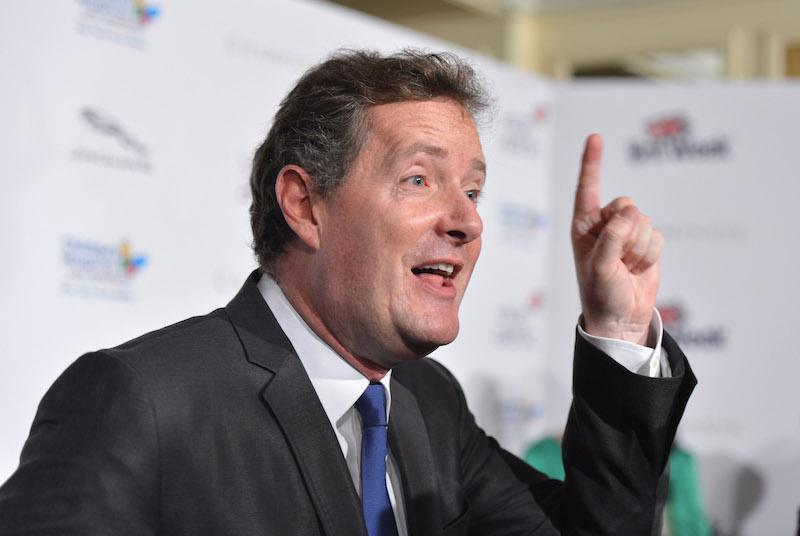 Piers Morgan| Alberto E. Rodriguez/Getty Images
Who is Piers Morgan?
Piers Morgan was born on March 30, 1965, in Newick, East Sussex, England. He was raised Catholic and still identifies as such, though he claims he doesn't go to confession because it would "probably take too long." Morgan's father passed away when he was 11 months old and his mother later remarried.
His journalism career began when he got a job at a newspaper called the South London News. It wasn't long before Morgan landed his first high profile gig writing the Bizarre section of Rupert Murdoch's newspaper, The Sun. In 1994, Morgan became the youngest editor of Murdoch's News of the World in over 50 years. He was 29.
By 1996, Morgan already had a reputation for inciting controversy. He was fired from his post there in 2004 after agreeing to publish false photos of British soldiers attacking Iraqi civilians.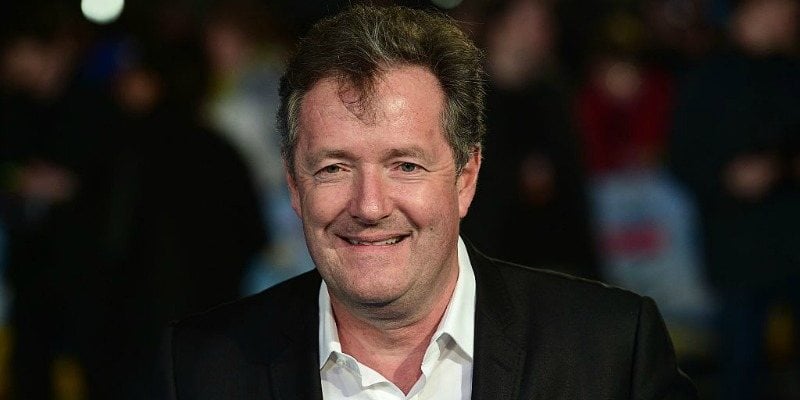 Piers Morgan | Leon Neal/AFP/Getty Images
Piers Morgan didn't slink off quietly after the incident – in fact, it was quite the opposite. He headed up a new show called "Piers Morgan Tonight" as a replacement for Larry King after the legend retired. The show didn't live up to expectations and eventually got canceled in 2014. Over that time, it managed to earn Morgan even more enemies thanks to his strange and controversial tactics – some of which were even deemed unethical.
How much money does Piers Morgan make?
Currently, Morgan serves as the main host on Good Morning Britain, where he makes a salary of about $2 million per year. He also makes money appearing on other television shows. His current net worth is about $20 million.
Piers Morgan became fairly famous in the U.K. a while ago, but he gained notoriety in the United States after winning Celebrity Apprentice and befriending Donald Trump. Morgan also served as a judge on Britain's Got Talent, launched a program called Piers Morgan Life Stories, and interviewed a serial killer named Lorenzo Gilyard. The celebrity news host also authored eight books, including four memoirs.
He's most known for public feuds
Piers Morgan has no shortage of critics. He got into a public fight with Ian Hislop after appearing on the satirical news quiz show Have I Got News for You. Morgan and guest panelist Clive Anderson started arguing and Hislop accused Morgan of following and placing surveillance on his house. The situation on the show became so heated that the host suggested they take the fight outside.
Hislop isn't the only one Morgan has a beef with. He's also an outspoken critic of the Women's March on Washington and consequently Ewan McGregor, who canceled an appearance on his show after Morgan called protestors "rabid feminists" and "vacuous." Morgan permanently banned several celebrities from his show including Madonna, High Grant, and Kelsey Grammar, to name a few.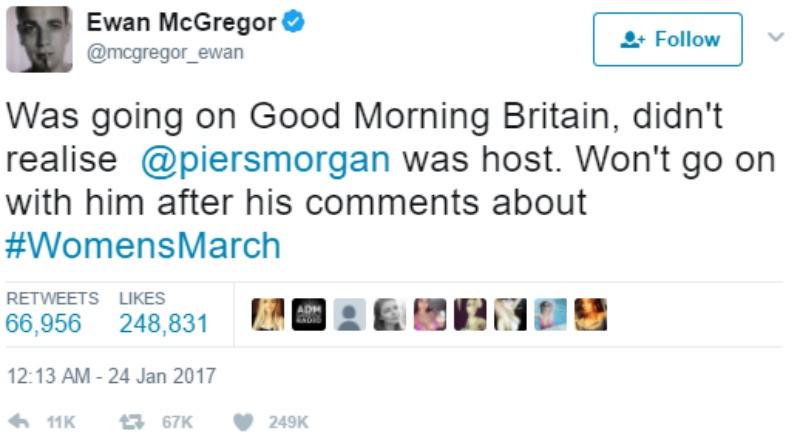 Ewan McGregor Ewan McGregor via Twitter
Piers Morgan is outspoken on social media, too, where he voices his opinions on nudity, female sexuality, and nudity, to name a few. He's exchanged words with Kim Kardashian West and Ariana Grande on Twitter and it wasn't pretty.
Source: Read Full Article