Office romances are often complicated. No one wants to be in that awkward meeting with two exes who haven't dealt with their breakup, or witness that uncomfortable encounter in the office kitchen over the coffee maker between two people who obviously hooked up at the holiday party but are trying to keep things on the DL. But what about working with someone you're already dating, or better yet, who you're married to? Legends of Tomorrow stars Brandon Routh and Courtney Ford, who play superhero Ray Palmer aka the ATOM and supervillain Nora Darhk respectively, are practically the gold standard when it comes to working with your spouse.
The two actors, who have been married for 11 years and have a child together, have worked together on four shows so far. Right now, they're playing former enemies turned crushes, as love letters have been exchanged and feelings confessed between their two characters on The CW's superhero team-up series (airing Mondays at 9 p.m.). And while that may sound like a complicated working environment, Ford confesses it's actually made things easier.
Sitting in the Waverider on the Legends of Tomorrow set, Ford tells Bustle along with a group of reporters that working with her husband for a fourth time "is not strange at all."
"I don't know if it's strange for anyone. It might be other people like, 'Oh my god, this dynamic's freaking me out,'" she says. "But if they hang out with us and they're working with us day to day, they know that it's — I mean there's nothing different than when I was coming up, some of my first big jobs were with married couples."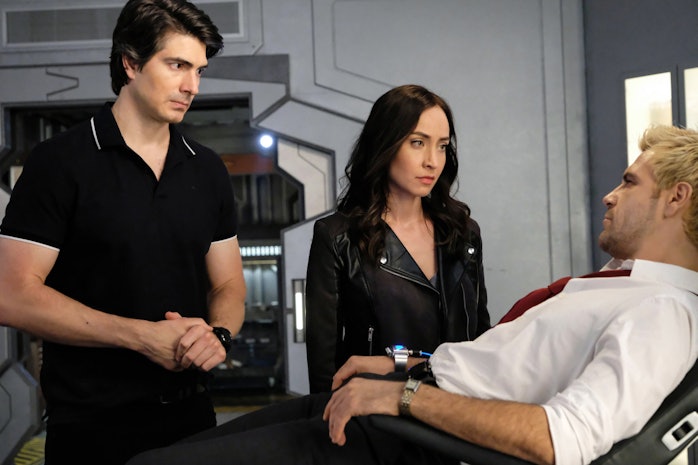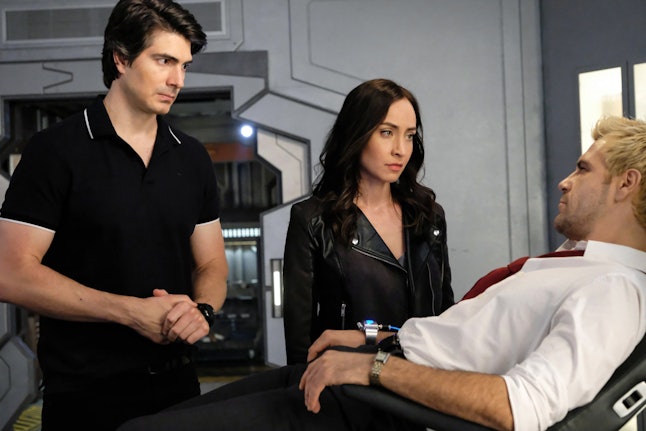 Ford cut her teeth working on Dexter when Michael C. Hall and Jennifer Carpenter were married. "I was watching them and then I went from Dexter to True Blood and Anna Paquin and Stephen Moyer were married. I did two seasons of that. She just had her twins. So I saw a lot of that and how professional they were."
Looking back on her time on True Blood and Dexter, Ford believes she learned a lot about "married people work ethic" from the experts themselves. "I really appreciated how they handled themselves," she says. "So it seems normal [to me]. The short answer to your question is it's totally fine. We've done it four times and it's not a thing. It's totally normal."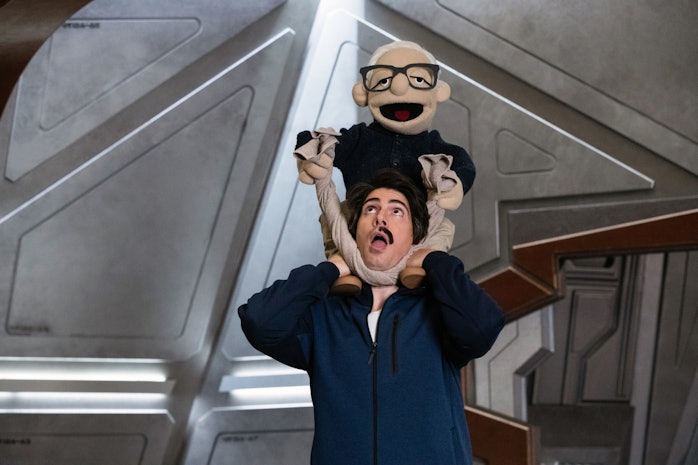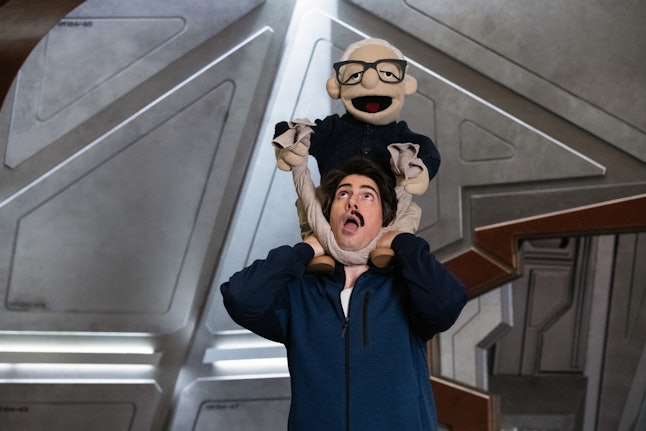 Taking things one step further is the fact that Ford and Routh always seem to play characters who are romantically connected onscreen. Even though they started off as enemies last season on Legends of Tomorrow, their characters started to develop real feelings for each other this season.
"I love working with Courtney obviously and in all of the previous incarnations of characters that we've played we've always been romantically involved," Routh says with a laugh. "But at the same time, because there's that contrast in the characters, I didn't want it to be another strikeout for Ray. So I was a little hesitant for that [relationship], and hesitant for Ray."
Since Ray has always been pretty unlucky in love so far in the Arrowverse, Routh didn't want this thing with Ray and Nora to be fleeting. "I said prior to Courtney joining the show that if Ray is going to be in a relationship again, I wanted it to be a good one," Routh says. "He deserves a sustained relationship and to have the person really be there for him. The good thing about this relationship at least is, unlike the relationships with Felicity [Emily Bett Rickards on Arrow] and with Kendra [Ciara Renée on Legends Season 1], there's no third person. There's no love triangle this time."
Routh smiles as his relief for Ray finally shines through. "I think that makes a difference, making a stronger impact on Ray," he adds. "And it's changing Ray in many ways. Those other relationships were great for Ray, but they didn't challenge him in the same way Nora is challenging his view of the world."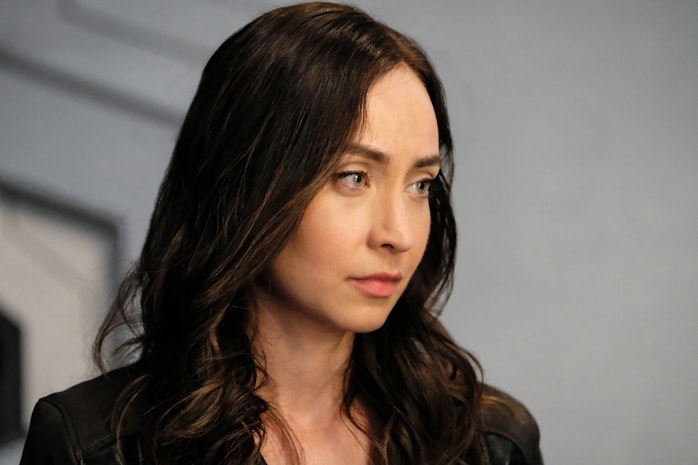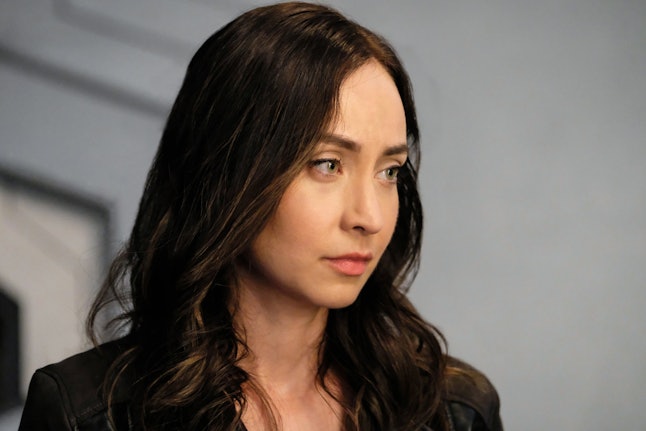 As for how Ford joined yet another project that her husband was on? It came about organically, as she was filming an arc on Supernatural, which shoots on the soundstage just next door to Legends of Tomorrow.
"I would come over and we'd have lunch sometimes together in real life," Ford says. "An opportunity came up to come on Legends just to do a little fun thing. I thought, 'Oh this will be really fun. Oh, I'm going to be so bad!' Just as we were there and we were just working the scenes, my role in the show got a little bit bigger and got a little bit bigger, extended bit by bit."
Apparently Nora's arc was never intended to be as important as it has become now for Ray. "These moments that we had really started to blossom after the Berlin episode, 'No Country For Old Dads,'" Ford says. "I think that's when we were like, 'Oh whoa.' There was something really interesting that we could do and we all became excited about it."
But if you ask Routh, he thinks the writers always had the idea in mind to pair Ray and Nora romantically once she became less of a villain.
"I think they would have done it sooner into last year, but we kind of said to wait," Routh says. "It was up for discussion, and we said, 'Let's draw it out a little bit,' just because when you do that — when you bring two characters together too quickly — it's a flash in the pan and it's done and the excitement's over. So it allowed for a lot of comic moments and tension last season and through this season as well, bringing us closer and closer together."
And now that Legends is going full force into a Nora-Ray relationship, Routh loves how much it's opening up each character in new ways.
"I think Ray's definitely been a positive influence on her, giving her someone who cares about her that's not dark and evil," he says. "Here's somebody who seems to love her who's presenting another option and showing her a different route for her life and giving her these opportunities and these chances to say, 'I know this is your past but I see possibility for you to change. It's within all of us to change, no matter what we've done in our past.' So I think that's getting through to her."
He pauses, then continues, "She's changing because of herself, but also because of Ray. It's corny but I think that Nora in some way hopes that maybe someday she can be with Ray, but also they're so different so that could never happen and maybe she's a fool to think about it."
But if those sweet love letters are any indication, there's definitely some good Nora-Ray romance coming down the line, so it's a good thing Ford and Routh have some practice in acting like they're in love.
Source: Read Full Article