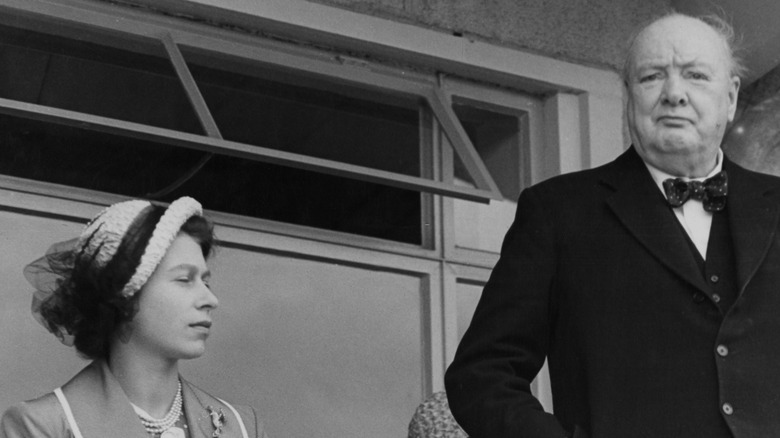 It's not every day that a person of distinction can say that he met someone who he would serve when she was just a small child, but that's what happened when Winston Churchill first met Queen Elizabeth II. In a letter to his wife Clementine, the statesman talked about bumping into the then-princess when she was just a toddler. "There is no one here at all except the Family, the Household & Queen Elizabeth — aged 2. The last is a character. She has an air of authority & reflectiveness astonishing in an infant …" he wrote (via International Churchill Society). 
It was not until her teens that Princess Elizabeth came to know of Churchill as many others of her age did. Churchill was a hero to the British people during World War II, because at that time he was credited with saving the United Kingdom from German aggression. The young princess would have also known about Churchill through her parents, King George VI and Queen Elizabeth, as the king and the prime minister shared what Biography described as a "warm friendship."
The queen 'captivated' Winston Churchill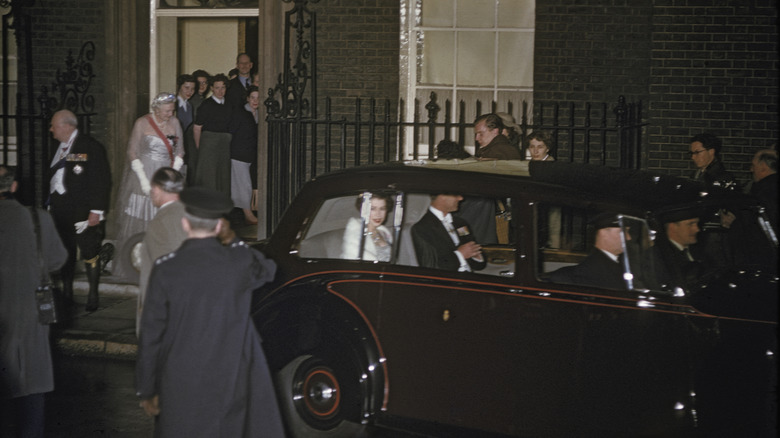 Fate brought Winston Churchill and Princess Elizabeth together after World War II. While Churchill's party had been defeated by its rival Labour Party after the war, Churchill returned to power as prime minister in 1951. Months later, in February 1952, Churchill's friend King George VI was dead, and the young princess was set to become the new monarch. She was crowned more than a year later in June 1953 (via History).
George's death left Churchill bereft, but it was not long before he had established a rapport with the young queen. As Churchill's daughter put it, "The Queen very quickly captivated him, he fell under her spell. I think he felt early on her immense sense of duty, and he looked forward to his Tuesday afternoon meetings with the young monarch" (via International Churchill Society).
The fondness went both ways, because Churchill took it upon himself to instruct the queen on the laws and politics involved in running a constitutional monarchy, and we can only imagine the appreciation she felt over his candor.
Winston Churchill was reportedly Queen Elizabeth's favorite PM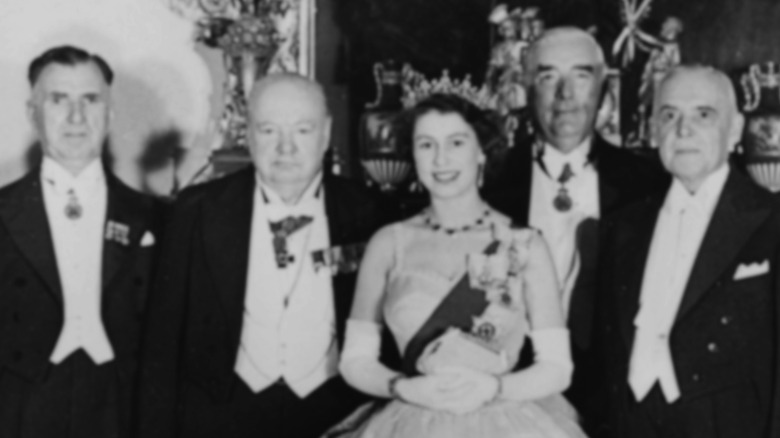 It wasn't all business between the queen and her first prime minister. When she was asked which one of her PMs she had enjoyed the most, Queen Elizabeth reportedly said, "Winston of course, because it was always such fun" (via Biography). They shared hobbies including horse racing and polo, and they were known to have had plenty of lighthearted moments. As the queen's private secretary, Sir Tommy Lascelles, put it: "I could not hear what they talked about, but it was, more often than not, punctuated with peals of laughter, and Winston generally came out wiping his eyes" (via International Churchill Society).
By the time he stepped down because of failing health, the relationship between Churchill and Queen Elizabeth was such that she sent him a handwritten note, telling him that no one that succeeded him could "hold the place of my first prime minister to whom both my husband and I owe so much and for whose wise guidance during the early years of my reign I shall always be so profoundly grateful."
Queen Elizabeth gave Winston Churchill a state funeral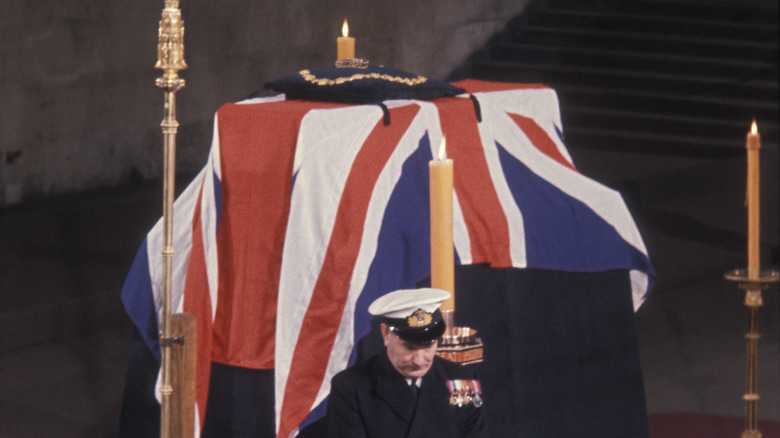 After Winston Churchill died, Queen Elizabeth II gave special permission for him to lie in state at Westminster Hall for three days before he was given a state funeral — only one of three British prime ministers to be given the honor — the first was the Duke of Wellington, and the second, the Viscount Palmerston (via The Telegraph). His was only one of two prime minister funeral services the queen has attended.
After he died, the queen's message to Lady Churchill reflected a love and appreciation for the man also known as "Monarchical No. 1." She wrote: "The whole world is the poorer by the loss of his many-sided genius while the survival of this country and the sister nations of the Commonwealth, in the face of the greatest danger that has ever threatened them, will be a perpetual memorial to his leadership, his vision, and his indomitable courage" (via Town & Country).
Source: Read Full Article