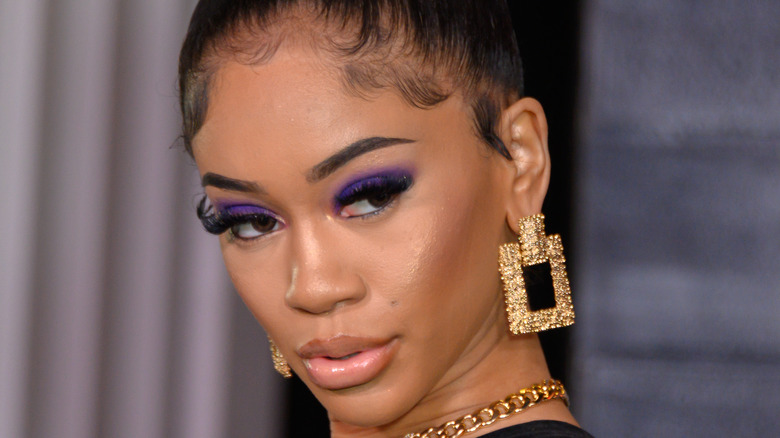 Silvia Elizabeth Pangaro/Shutterstock
By Haley Van Horn/Sept. 10, 2021 2:03 pm EDT
When you think of Saweetie, you probably think of her music. She has devoted much of her life to her craft. She spoke with Vulture earlier this year about her new record and all the effort she has put into making it in the music industry. "Vocal lessons, stage presence, body movement," she said. When asked why she doesn't have as strong of a stage presence as other artists, she explained, "I'm going to tell you the reason why I don't have a strong stage presence: It's because I'm not in tune with my body. I might be very feminine with my style, but I'm actually very masculine. I grew up as a tomboy. I could throw a football. I could smack a volleyball. I could outrun a lot of men … I can walk a mean walk!"
For a tomboy, she has had some incredible beauty moments (via BET). Whether she is rocking bright red lipstick or showing off her long, incredible nails, she always looks perfect. That's why it was no surprise when she announced she was jumping into the cosmetics game.
Saweetie is the new face of a huge brand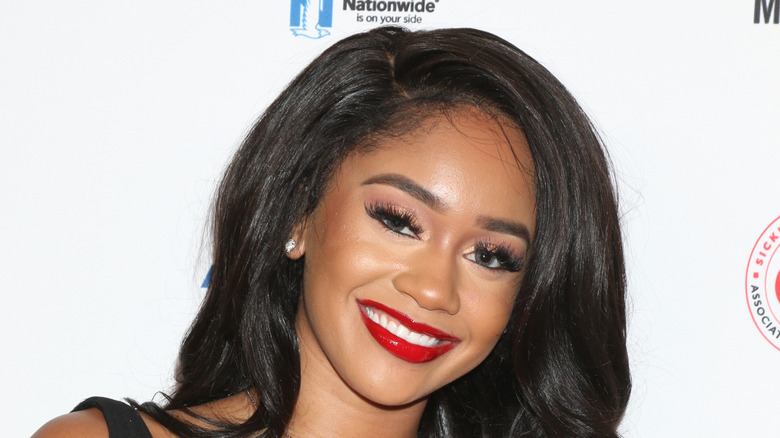 Given how beautiful she is, there was no surprise when MAC Cosmetics, one of the most popular brands in the beauty industry, announced Saweetie as the new face of the brand (via Us Weekly). The brand announced the rapper's new gig in an Instagram post. "Our new Best Friend @Saweetie is the new M·A·C Girl and Global Brand Ambassador," the caption read. The post featured a video of Saweetie simply stating, "I'm definitely a MAC girl."
This isn't the artist's first time working in the cosmetic industry. She released a collection with Morphe in late 2020 (via Essence). It was the first time the makeup brand had ever teamed up with a musician. "It was a joy partnering with Morphe," Saweetie gushed. "I love that they have a lot of integrity, and [that] they are affordable for the day-to-day girl."
With the success of her previous makeup collection, it makes sense that Saweetie would be the face of yet another huge name in the cosmetic industry. MAC said to stay tuned for more content involving Saweetie on their social media, using the hashtag, #MACLovesSaweetie.
Source: Read Full Article