The next time you're looking to treat yourself to some relaxation, don't leave your feet out of the pampering plans. It's easy to forget that your tootsies deserve the same love and attention that the rest of your body gets, but think about it: Does anything feel better than a foot massage? Short answer: Nope!
While you might be able to convince your S.O. to give you an old-fashioned foot massage once in a blue moon, if you want to treat your feet on the reg, an electronic foot massager is your best bet. They come with health benefits, too: Foot massage improves circulation, stimulates muscles, reduces tension, and often eases pain, according to Harvard Medical School.
But before you can reap all these amazing bennies, it's important to keep in mind a few things while searching for the right foot massager. Many foot massagers mimic the shiatsu massage, which uses kneading, pressing, tapping, soothing, and stretching on your feet and is thought to reduce muscle stiffness, stimulate the skin, and influence the nervous system, per the University of Minnesota. To maximize your comfort options, go for a massager that has different modes, heating functions, kneading options, and multi-function uses for those extra stressful days. Not into all those doodads and whatzits? Opt for a low-tech foot massager you can use in the shower. Or, bring the shower to your feet with an at-home massage bath that'll make you feel like you're at a luxury spa.
So, what are you waiting for? Check out this list of the 10 best foot massagers that will leave you with happy feet: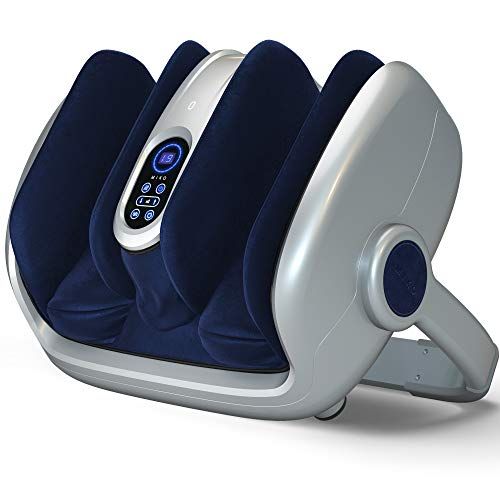 Want to feel ah-mazing all over? The Miko 360° Foot Massager will exceed your expectations by targeting not only your feet, but your ankles and calves as well. An Amazon best seller, this heated foot massager can easily be customized to your specific needs. Choose from five adjustable pressure and vibration settings, three massage modes, and a deep-kneading function for a relaxing at-home experience that's definitely worth the price.
Rave Review: "This foot massager is the best!! It's great for the feet and calves. I love the very easy adjustable bar/handle to create the best position for my massage experience. I use it on the floor while sitting up, as well as on the bed/couch while lying down. I have used my foot massager every night since I got it and I have noticed a huge improvement in my sleep, which is awesome. I LOVE my foot massager, I LOVE this company, this purchase has only made my life better!!!"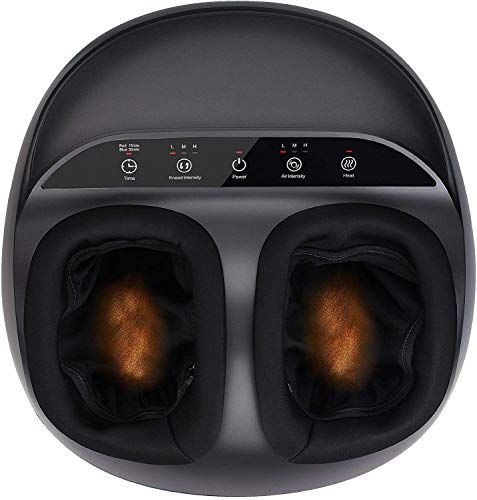 Kiss, er, kick your discomfort goodbye as soon as you try this stylish massager that is sure to soothe stress throughout your entire body. Using reflexology, the Renpho foot massager targets special areas on your feet that signal your body to relax, perfect for those who struggle with chronic foot pain. Designed for maximum comfort, this massager gradually intensifies the heat, squeezing, and kneading so you can ease yourself into just the right level of relaxation. Your feet will thank you, trust.
Rave Review: "Because of my job I am on my feet eight hours a day, at night I was exhausted especially the pain in my feet was annoying. When I bought this foot massager I was rescued!! The massager uses heat, vibration, air pressure, and Shiatsu-balls to gently relax tired feet. In 15 minutes, no more pain and tiredness!!"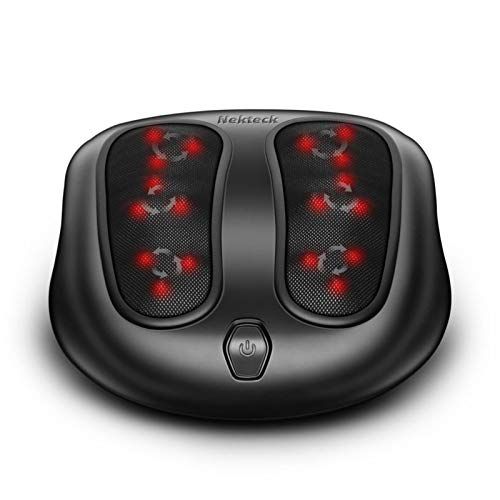 This may just be the most convenient foot massager on Amazon. Not only does it offer high-end massage features for less than half the price of other options, but the Nektek Foot Massager steps it up a notch by offering an adjustable height feature. Easily lift or lower the massager up to three levels, depending on what's comfortable for you. Plus, you can take the relaxation anywhere with its built-in cord storage and carry handle. The massager also provides six massage heads, 18 rotating massager nodes, and adjustable heat settings.
Rave Review: "I bought this mainly for the warming foot massage, but after using it once I was delighted to see the pain in my back had subsided. I was able to get up without cringing. What a relief and what a wonderful surprise. I highly recommend this device. It feels wonderful on my feet."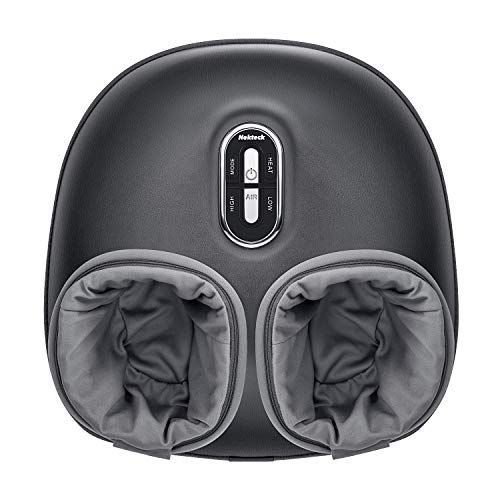 This Nekteck foot massager features an added twist (fun!). Using air compression technology and intense kneading functions, this deep foot massager will hug your feet in all the right places, claiming to reduce muscle stiffness, improve muscle tissue, and promote blood circulation in the foot and calf areas. Its special heating and rolling ball features can also help alleviate the pressure from a long day's work. After using this massager, you won't even know the difference between a professional masseuse and your Nekteck.
Rave Review: "Received my massager today and it is FANTASTIC! I love the way the shiatsu balls massage the soles, and the air compresses my feet and heels. I started on low pressure then switched to high. I thought about going to a foot masseuse, but decided to check Amazon. I'm glad I did. Now I can get a great massage at home whenever I want."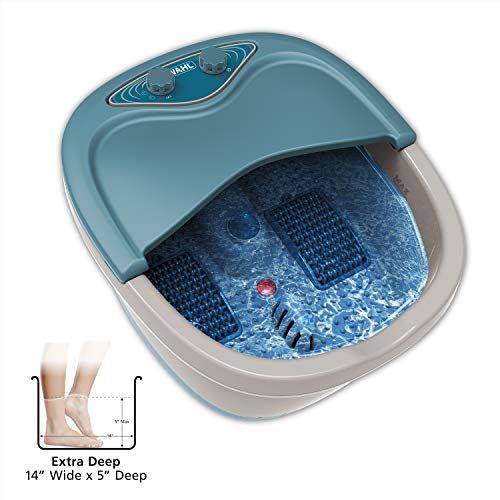 Bubbles instantly make everything 10 times better, right? The Wahl Therapeutic Foot & Ankle Bath Spa Massager will bring the salon treatment right to your home. Pamper your tootsies and exfoliate your skin with heating, jet-like vibrations and four pressure-node rollers at the soles of your feet. With a deep tub design reaching up to your ankles, this bath spa will be more than enough to give you the therapeutic massage you've been craving.
Rave Review: "This is a very nice and sturdy foot bath. The tub is deep and the heater is great so the water doesn't get cold while using it. The bubbles and foot rollers are wonderful to relax and massage tired feet."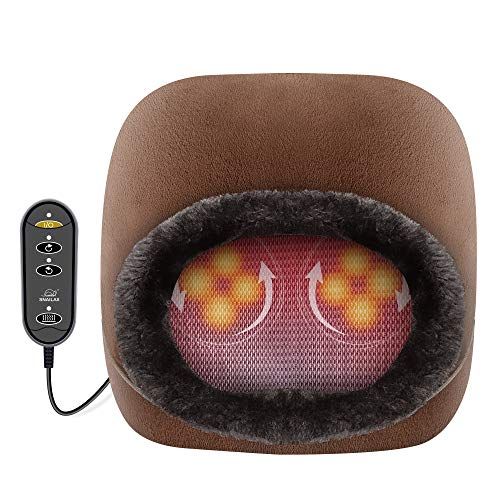 Does your body need all the help it can get? You may have met your multifunctional match. This two-in-one massager treats your feet, back, and neck, relieving tension, pain, and aches with all of its amazing features. Use it as a foot massager, a back heating pad, or a seat cushion while getting your daily tasks done. With eight rotating shiatsu rollers and soothing heat, all you have to do is choose which part of your body gets to relax first. Any muscle aches, knots, and general fatigue will melt away thanks to the soft plush material from this massager.
Rave Review: "Wow this massager is amazing! It gets my heels so perfectly and I also like to put it on my legs! The heat setting is just right and you can switch the direction of the massager. The cover easily removes and I can place it on my neck or my back! It's for your feet but I find it multi- purpose which is the best part! The cord is super long as well!"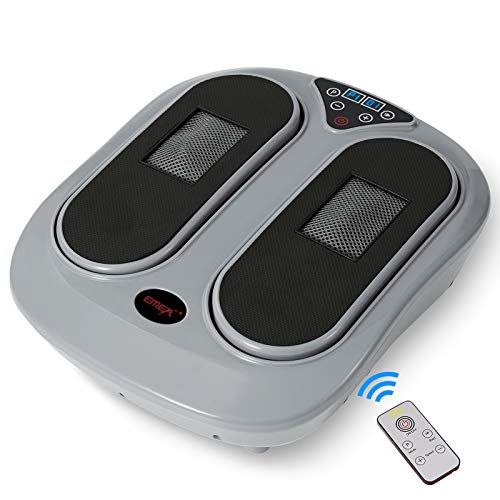 With 10 massage levels, acupressure technology, and a remote control for your convenience, this lightweight foot massager will be calling your exhausted feet home after a long day. The kneading acupressure technology is perfect for increasing blood circulation. But the perks don't end there: It also acts as a therapeutic foot, leg, back, and heel massager that works to reduce pain and stiffness. The remote control is an added bonus, allowing you to choose your intensity levels with ease.
Rave Review: "This massager is so relaxing, after a long shift at work all I need is to spend 20 minutes with this massager and I feel so good after that. It has multiple modes which makes it even more great and I usually use second mode which is very comfortable! It's a great purchase, I would love to buy one more for my mother."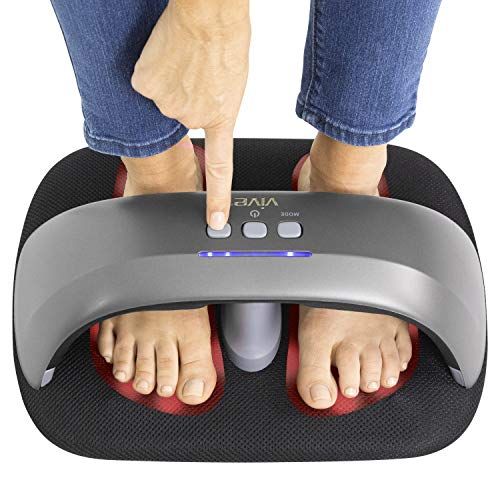 The unique open design from this foot massager is a plus for those with larger feet or anyone who just wants a little extra breathability and comfort. All you need is 15 minutes for a personalized massage that includes heat and air compression, from the balls of your foot to the ends of your heels. With three massage levels and two heating options, this will keep your feet rejuvenated for days.
Rave Review: "OMG. Best thing I ever purchased…this machine massages the pain away within a few minutes and helps my feet feel great. The open foot bed allows you to move your feet around freely and massage the needed areas."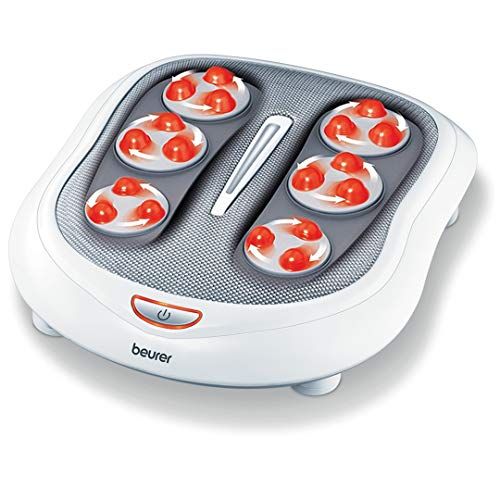 Prepare your feet for the relaxation they deserve with this 18-massage-head foot massager. If you're into a deeper kneading massage, this product will be sure to get right into the cracks of your toes for a soothing, heated, and powerful massage. Using the adjustable pegs at the bottom, adjust the height of this foot massager to your liking, and enjoy a customized experience that's all about relaxation and reducing stress.
Rave Review: "Everybody who comes over LOVES this machine. It also massages my hands quite nicely. After a few minutes on this machine, my feet feel like new. I would recommend it for yourself or as a gift. Well worth the price…the heat feature is a definite plus, also. All around 5 stars."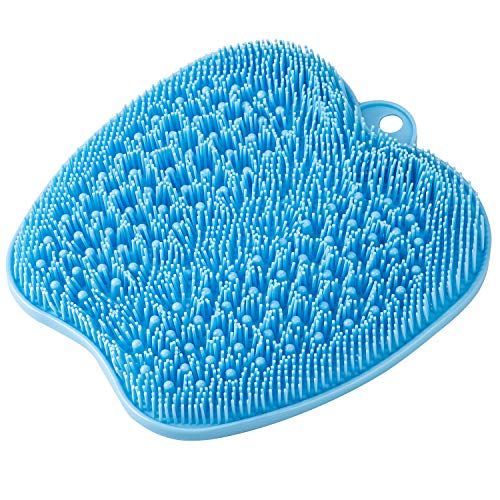 Want to treat your toes but don't have the time? This shower foot scrubber and massager may be just what your morning routine needs. It's the most comfortable way to clean and massage your feet at the same time. Simply stick it to your bathtub or shower floor, and let the dual-bristle design do the hard work for you. Hundreds of flexible bristles get right into the corners of your toes, massaging your feet and relieving tension from the body. Consider it a win-win.
Rave Review: "I love the thickness of the foot scrubber, it felt really good on my feet. I'm so glad I made this purchase to help in the soothing of my feet issues."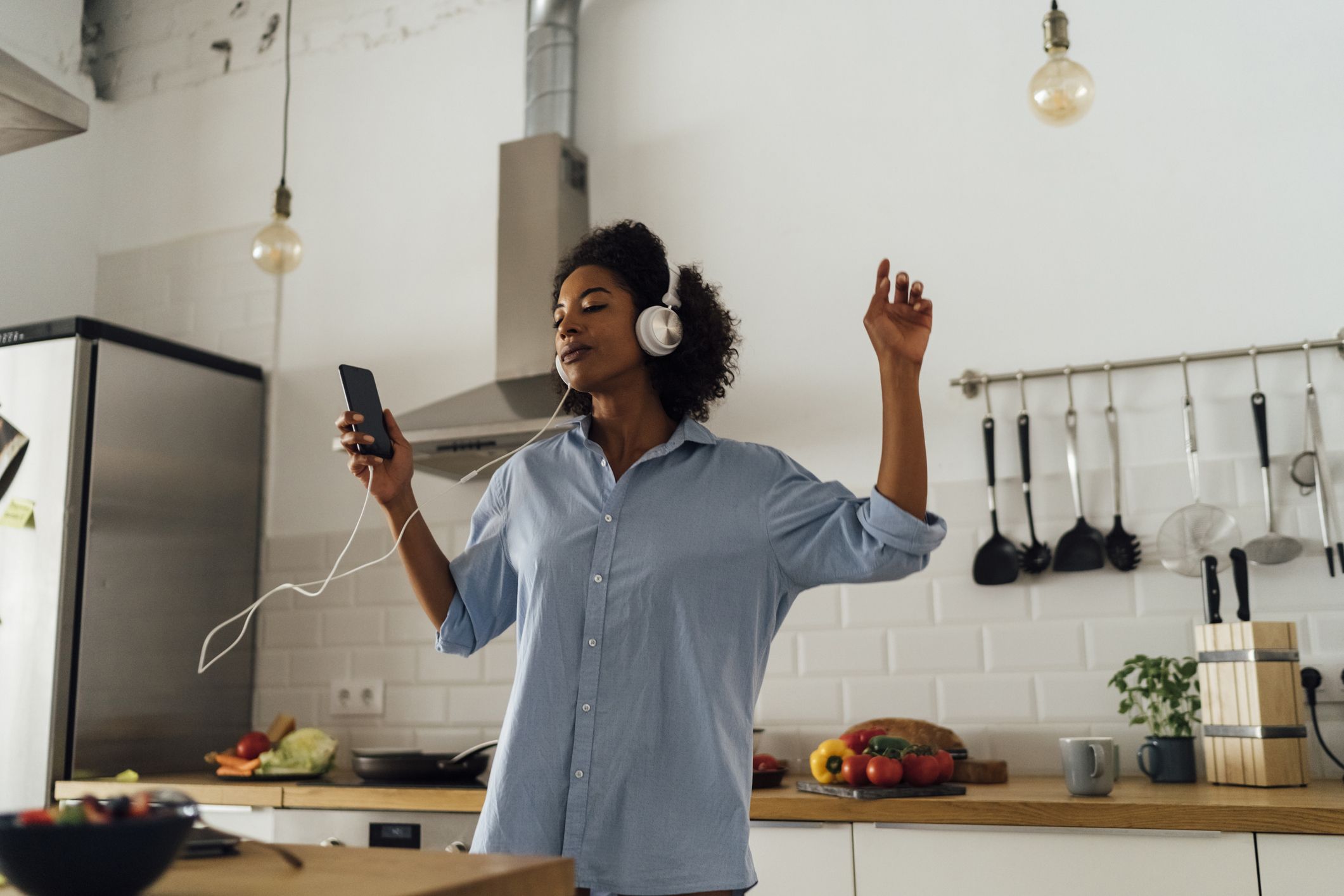 Source: Read Full Article