Venturing outside in freezing winter temps is no fun, but having one of the best scarves for winter on your neck will make it a lot more bearable.
How To Find The Best Winter Scarves
As you search for a quality scarf, look for options made with thicker, warmer fabrics (like wool or acrylic). These materials offer protection against chilly weather by acting as insulators on your skin — without feeling itchy. Then, consider your preferences in terms of sizing and colors. If you love being as bundled up as possible, go with an oversized blanket scarf. They're huge (hence the name) and versatile in terms of style. However, if you're not a fan of bulky layers, try a traditional two-end option or an infinity scarf instead. Color-wise, there are a wealth of options, from bold colors to neutral tones and eclectic patterns.
No matter your personal preferences, you'll find something that works for you in my list of the three best scarves for winter, below. Each of my picks uses heavy-yet-comfortable fabrics that'll keep you protected from the cold and swiftly become a staple in your wardrobe. Read on to choose your favorite. Spoiler: All three are available on Amazon.
1

The Best Scarf For Winter, All Things Considered

If softness is your number one priority in a winter scarf, Saferin's luxe-feeling scarf is the best choice. The cashmere and lambswool fabric blend means it's extremely soft and warm, and — like the option above — the fine, pashmina-like material will never feel itchy. It's reasonably priced for a cashmere blend and available in more than 30 colors.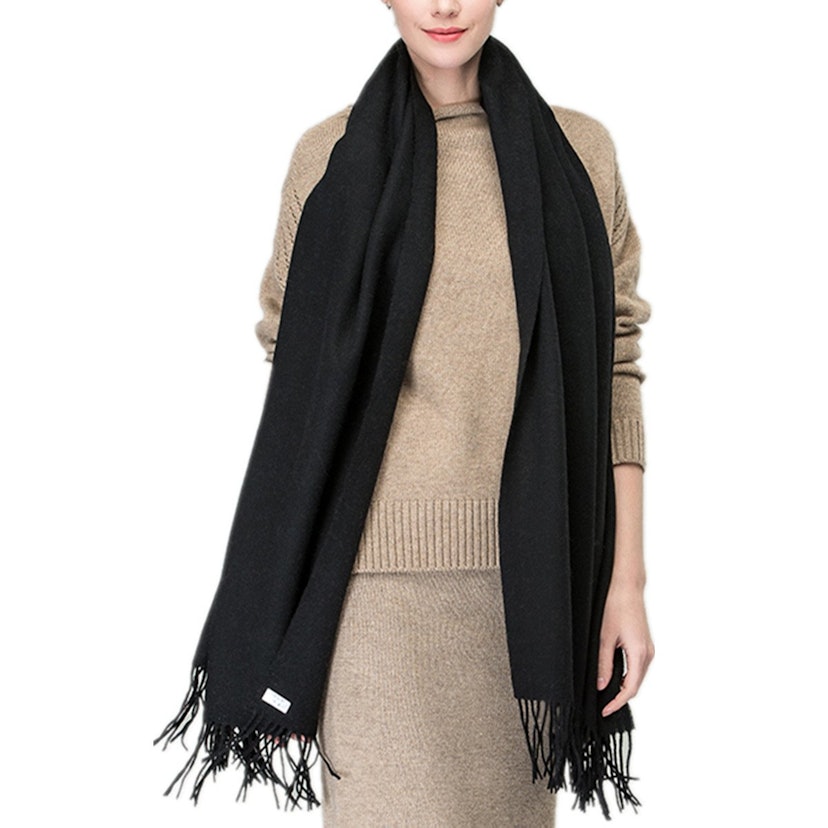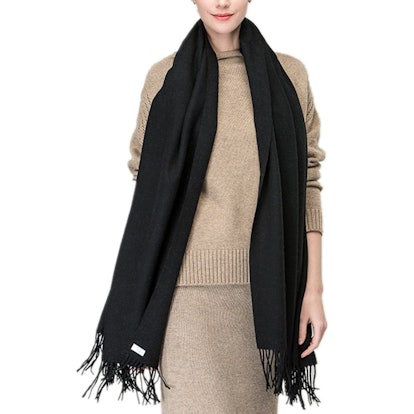 Saferin Cashmere Pashmina Scarf
$36
Amazon
The details: At 28 inches by 78 inches, it's not the largest option you'll find here, but its size is still generous enough to cover your torso as a shawl. Plus, its fringed hems add a contemporary flair to its otherwise traditional look.
What fans say: "[This scarf has] a super soft material and is SO warm. I live in the Northeast USA and I can get by with just this and a winter jacket — no sweater or layers — during the dead of winter, and I'm nice and toasty."
2

Also Great: A Cozy Blanket Scarf

Dimore's plaid blanket scarf is oversized and perfect for bundling up. The woven acrylic material acts as an insulator against the cold and keeps warmth close to your body — just like a blanket. It's available in a few different plaid color combos, and the best part? It's under $15.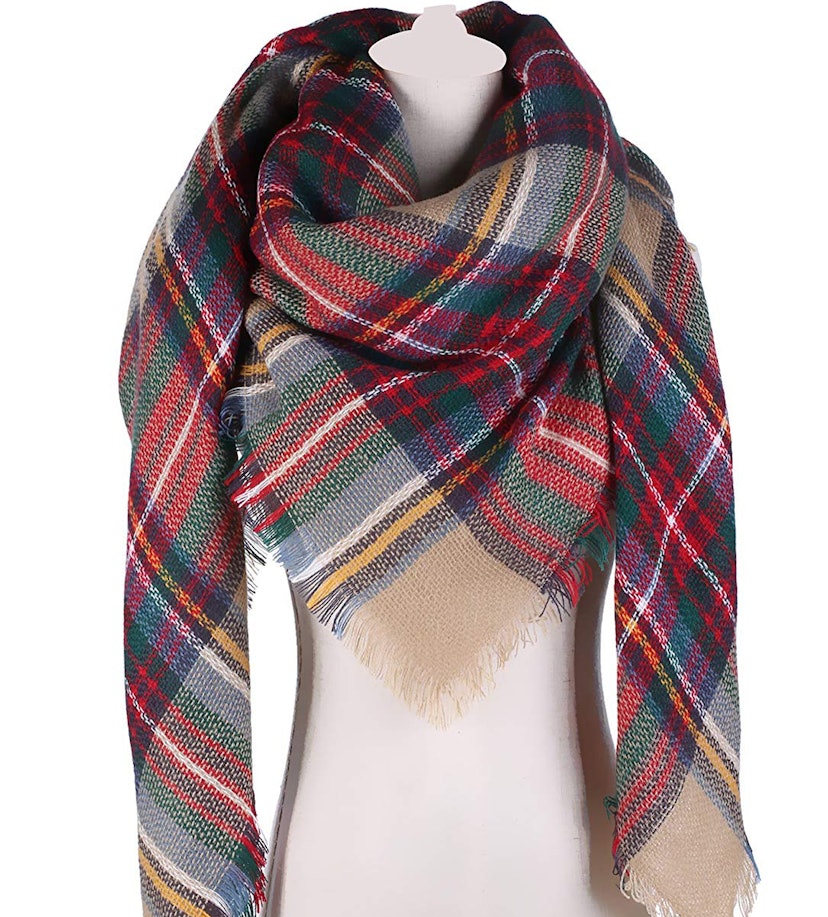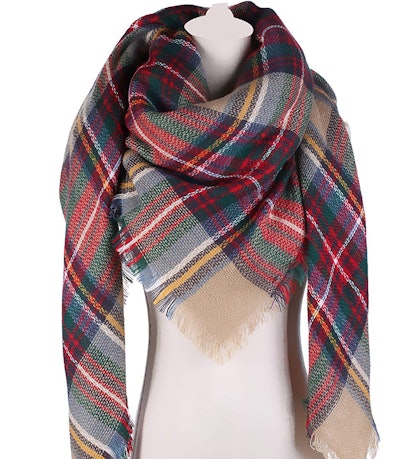 Dimore Plaid Blanket Scarf
$14
Amazon
The details: Boasting a vast blanket style, this 57-inch by 57-inch scarf provides maximum warmth. It's versatile enough to style in a variety of full-upper-body-coverage ways.
What fans say: "LOVE this scarf. It's my must-have travel accessory. It's big enough to use as a light blanket or shawl on a plane and then throw on as a super cute and warm scarf. For how big it is, it's not too bulky or hot to wear as a scarf."
3

A Warm Infinity Scarf

If you prefer infinity scarves over more traditional styles, you'll love this cable-knit infinity scarf by Neosan. It's made with a heavy, woven acrylic material that provides warmth without any unwanted itchiness. And considering its budget-friendly price point and whopping 40 color options, it's truly a versatile choice.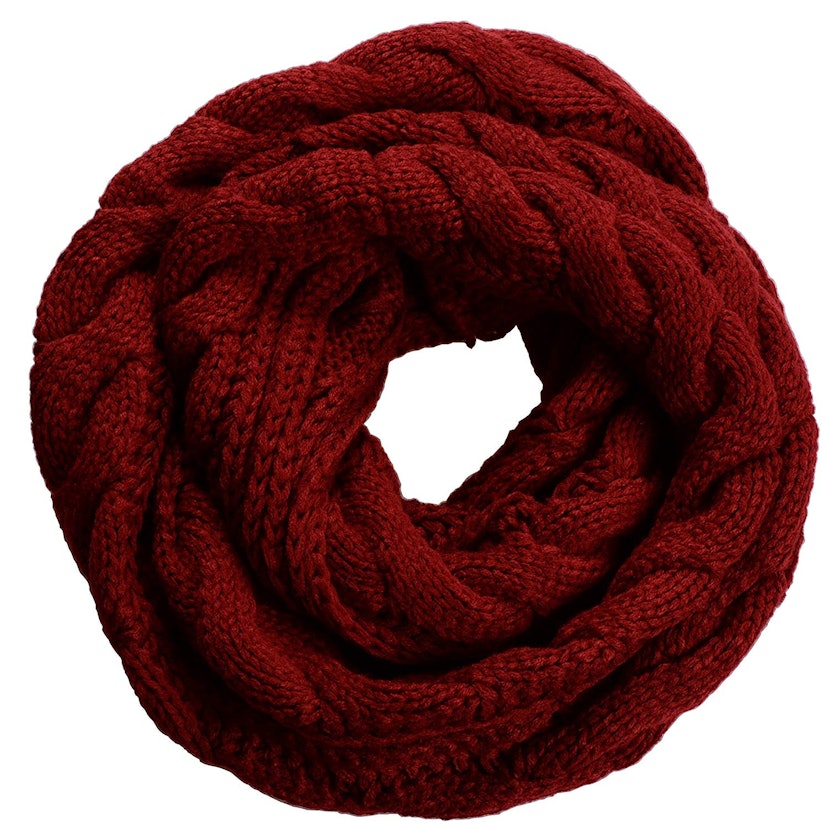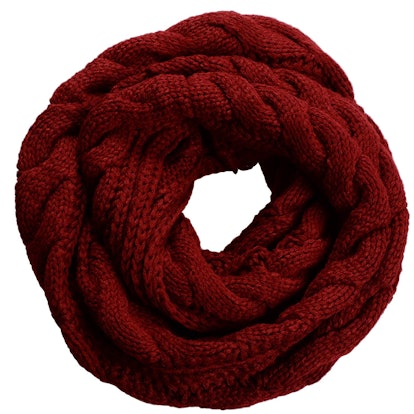 Neosan Knit Infinity Scarf
$13
Amazon
The details: The circular style of this scarf means it's not as big as the first two options, but multiple Amazon reviewers noted that it was large enough to wrap around their neck more than once. The circumference measures 53 inches, and when stretched out into a line, it's roughly 11 inches long.
What fans say: "It is very soft, a durable material, and warm. I definitely recommend this product for anyone looking for a fashionable, yet soft and warm knitted scarf."
Elite Daily may receive a portion of sales from products purchased from this article, which was created independently from Elite Daily's editorial and sales departments.
Source: Read Full Article