The best gift of all is the gift of Nailed It! holiday episodes on Netflix. The reality baking show brings in people who. can't. bake. at. all. but who try really hard and then let us all good-naturedly laugh at their failed food attempts. On Dec. 7, seven more Nailed It! episodes hit Netflix and they're not just Christmas themed. Yes, that's usually the holiday TV pays attention to most, but the Hanukkah-themed Nailed It! episode is helping the show be a little more inclusive to all the December celebrations.
This year, Netflix went a little Christmas crazy with the holiday originals. According to TV Guide, the streaming site added four new original Christmas movies this year alone, as well as special Christmas episodes for The Great British Baking Show, Fuller House, Neo Yokio, and Nailed It!
But "holiday" movies and TV shows can often leave out all the other celebrations that go on this time of year (or even acknowledge that some people celebrate nothing at all). Slowly but surely, people are trying to amend this. For example, as Bustle reported, Hallmark is adding a slate of Hanukkah movies to its usual Christmas lineup in 2019. So the word "holiday" is no longer just a synonym for "Christmas."
But right now, it's already Hanukkah 2018, and Nailed It! took that into account. In the third episode of the special holiday season of the show, three amateur bakers took on baking challenges that featured traditionally Jewish imagery. For example, in the first round, the bakers had to re-create dreidel cake pops. Then, in the second round, the bakers tackled a three-tier blue and white cake decorated with fondant menorahs, gelt, stars of David, and the nine candles of Hanukkah.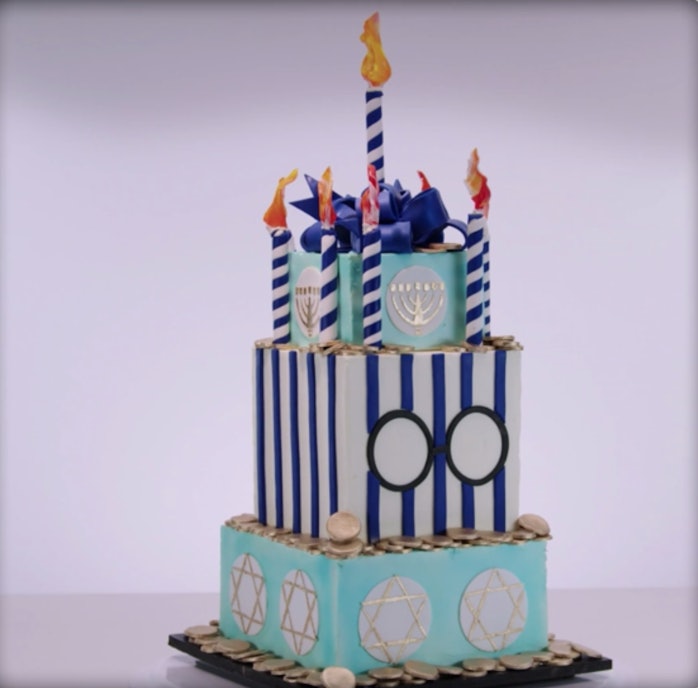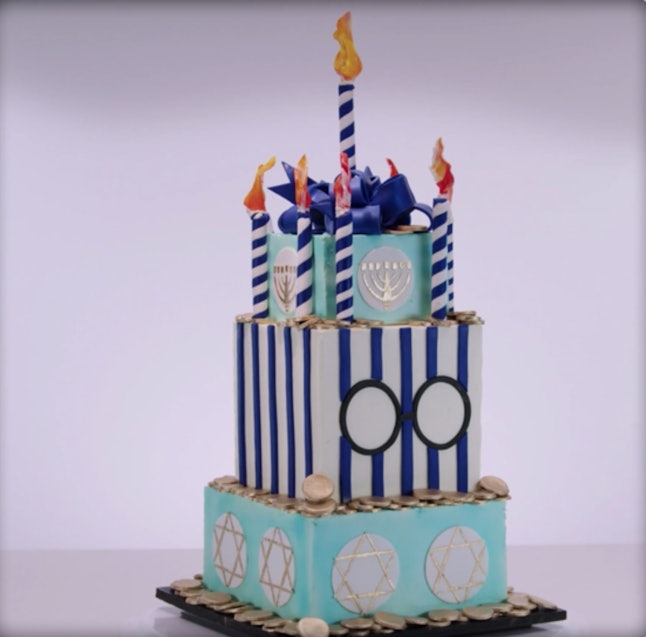 Inclusion is a great first step. But from my outsider's perspective, the episode probably could have gone a little bit further to not make their version of Hanukkah quite so over-the-top. There was a challenge to unwrap eight gifts from Bubbie, host Nicole Byer kept dropping puns like how this is "the show that asks for mazel tov but what we get is mozel off," and the winner's trophy was trotted out by a producer wearing a dreidel shirt to the tune of a traditional Jewish folk song. There was also a cringe-y moment where Byer joked that the contestants would be paid in gelt, only just kidding she doesn't know what gelt is.
I know that it's just Byer's schtick to be fun-loving and silly, but the show could have used that joke as a teaching moment to tell the audience what gelt is, or could have refrained from making the joke at all. This othering of another culture and religion, even in joke form, was a little frustrating to watch.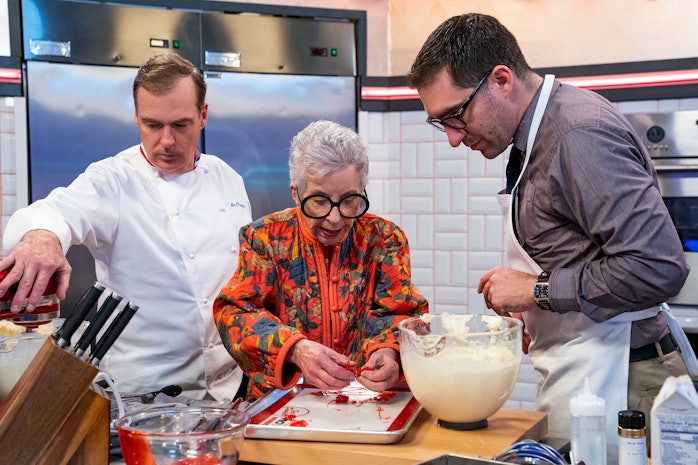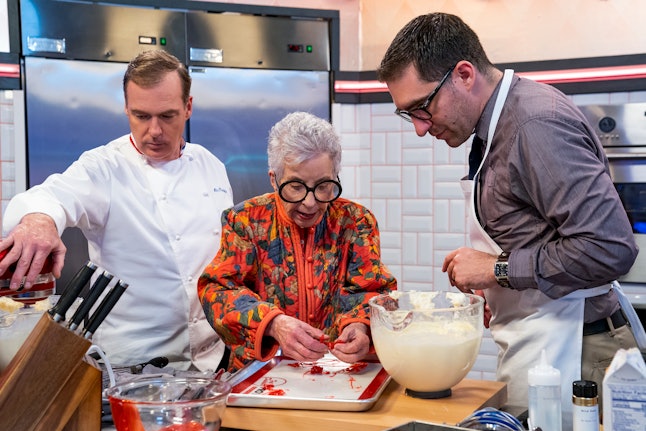 So, it probably won't be going down in history with beloved Hanukkah TV episodes, like "A Rugrats Chanukah" from Rugrats, "The Best Chrismukkah Ever" from The O.C., or "The One With The Holiday Armadillo" from Friends. Still, the episode was at least an important reminder that other holidays exist and deserve attention during this time of year where Christmas is all-too-often the dominating celebration. After all, the Washington Post reports that there are anywhere from around 6 to 12 million Jewish people living in America — depending on your definition of Jewish. (Some consider only those who actively practice the religion in their definitions, while other definitions are more broad.)
That's a pretty big swath of people who are continually ignored in holiday programming. Here's hoping TV and movie execs take note of that for their 2019 content, so the list of inclusive Hanukkah programming can extend beyond the very few offerings that are already out there.
Source: Read Full Article