There's no denying Prince Harry and Meghan Markle's wedding was extravagant. It was elegant, above-and-beyond, and the event everyone around the world was watching. Even so, there was something missing.
That's right. While most brides get whatever they want to make their big day a fairytale, Queen Elizabeth didn't let Meghan have every luxury she desired. Can you guess what the monarch denied her granddaughter-in-law on her wedding day?
Meghan Markle (R) and her mother, Doria Ragland, arrive for her wedding ceremony. | Oli Scarff/AFP/Getty Images
What luxury was not afforded to Meghan?
As is customary for royal family affairs, a wedding calls for the bride to wear a tiara from the family collection. Sure enough, when Meghan walked down the aisle on May 19, 2018, she sported the sparkling Queen Mary's Bandeau tiara complete with a flowing veil atop her dark hair.
However, the diamond-and-platinum headband she ended up wearing on her big day was not her first choice. According to The Sun, Meghan originally had her heart set on a tiara that featured emeralds. But the queen denied Meghan the opportunity to wear it on grounds it wasn't clear where the tiara came from.
"The provenance of the tiara could not be established," a royal insider told The Sun. "There were concerns it could have come from Russia originally."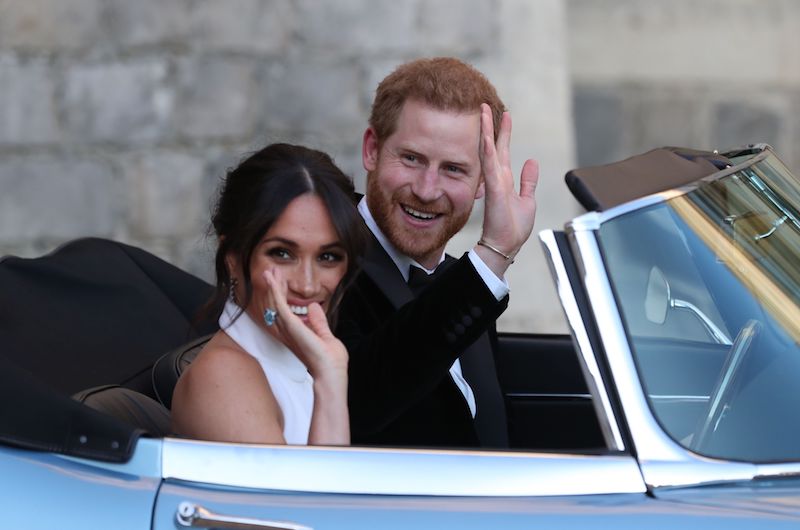 Britain's Prince Harry, Duke of Sussex, (R) and Meghan Markle, Duchess of Sussex, (L) leave Windsor Castle in Windsor on May 19, 2018 in an E-Type Jaguar after their wedding to attend an evening reception at Frogmore House | Steve Parsons /AFP/Getty Images
Was there bad blood because of this?
The same royal insider says things were definitely heated between the queen and the future Duke and Duchess of Sussex ahead of their nuptials.
"Meghan had her heart set on this tiara with emeralds and Prince Harry hit the roof when they were told it was impossible for her to wear it," the source continues. "There was a very heated exchange that prompted the queen to speak to Harry. She said, 'Meghan cannot have whatever she wants. She gets what tiara she's given by me'."
This wasn't the only outlet to allege there was tension ahead of the big day. There were also whispers Meghan had a very "my way or the highway" approach to things before the wedding — which, if we're being honest, isn't completely unheard of for brides-to-be. But, apparently, the queen was having none of that.
"The message from the queen was very much Meghan needed to think about how she speaks to staff members and be careful to follow family protocols," the insider said.
WINDSOR, ENGLAND – OCTOBER 12: Princess Eugenie of York arrives at St George's Chapel, Windsor Castle on October 12, 2018 in Windsor, England | Alastair Grant/WPA Pool/Getty Images
Here's what makes this decision so surprising
If you were privy to the tiara debacle back in May, you were no doubt scratching your head when you saw pictures from Princess Eugenie's wedding in October.
Queen Elizabeth's granddaughter sported an emerald encrusted tiara on her wedding day. People reported:
According to Kensington Palace, Eugenie is wearing the Greville Emerald Kokoshnik Tiara, commonly referred to as the Boucheron Tiara, lent to her by the Queen. The tiara was made by Boucheron for Dame Margaret Helen Greville in 1919 in the fashionable "kokoshnik" style popularized in the Russian Imperial Court.
Wait — was that the same tiara Meghan wasn't allowed to wear? Was she not allowed to wear it because Princess Eugenie already had dibs? And if so, why would the origin of the tiara matter for Meghan but not Eugenie?
These are royal wedding secrets we may never get the full answers to.
Check out The Cheat Sheet on Facebook!
Source: Read Full Article