How does a superhero — or super-villain — master his tricks? Alone in the bathroom mirror, apparently. Not such a far cry from what us regular human folk might do if faced with a similarly daunting physical task (an actor rehearsing for a role, let's say), so it somehow feels wonderfully fitting that Tom Holland's latest Instagram Story with Jake Gyllenhaal, as reported by People on Sunday, Dec. 9, sees Gyllenhaal doing just that. Or, at least, it certainly looks like that's what's going on, despite the actor's claims in the video.
Marvel fans who've been following Holland's Instagram activity with Gyllenhaal as of late might know that both Spider-Man: Far From Home stars surprised fans at a Brazil Comic-Con event which took place in São Paulo over the weekend (and where a sneak preview of the upcoming Spider-Man: Homecoming sequel's first trailer reportedly aired). But, from the looks of Holland's latest IG Story video, it seems his co-star might be a little confused about which character he's playing in Marvel's new movie. That, or he's still thinking about the original Spider-Man 2 switcheroo that never was.
"Uh, Jake. What are you doing?" Holland asks his co-star in the new IG Story video, part-amused, part-confused. Why's that? In the background, Gyllenhaal — who confirmed via the social media site last week that he'll be playing Mysterio, a popular villain from Marvel comics, to Holland's Spider-Man in the upcoming film — is seen in the hotel bathroom shooting make-believe webs from his hands in front of a mirror. (Fans will definitely want to check out the video in full to get a load of Gyllenhaal's accompanying sound effects.)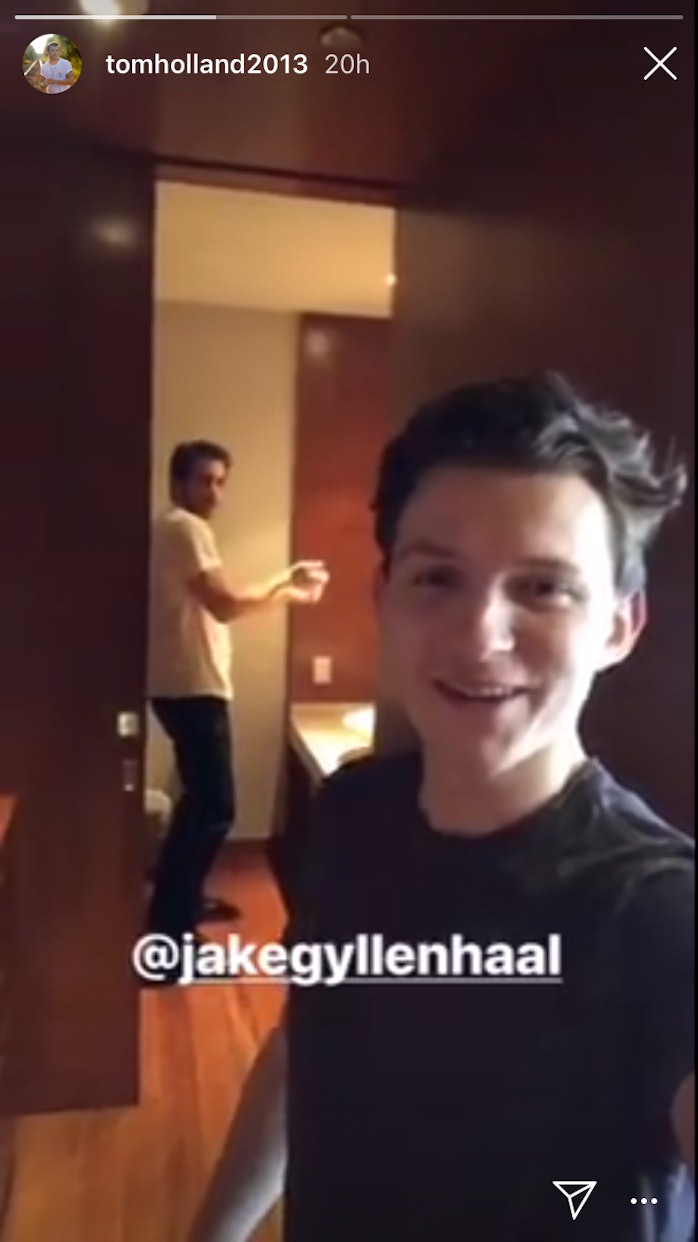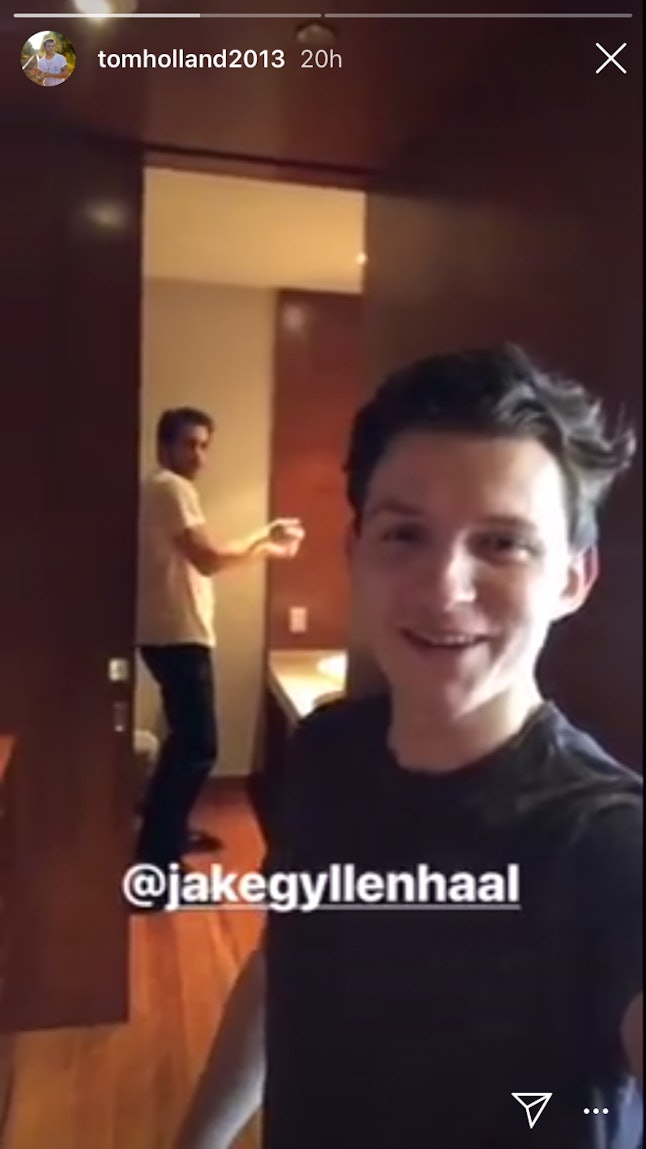 So, ahem, what was he doing in there, then? "Just drying my hands," Gyllenhaal responds quickly, before reaching to close the bathroom door. The whole interaction is sweet, silly, and — graciously — entirely captured by Holland's smartphone camera. But the most amusing part of all this? Anyone familiar with Spider-Man: Homecoming and its cast is probably well aware that, while his co-star's bathroom-mirror rehearsal session might suggest otherwise, it's actually Holland who plays the film's titular superhero.
Obviously, it's hard to believe that Gyllenhaal could have traveled all the way to São Paulo without realizing that he won't be playing Spider-Man in the upcoming Homecoming sequel. Those who saw Gyllenhaal's Mysterio announcement post on IG last week know the actor seemed to have his facts straight about the casting at one point, though even he admitted it was a journey to get there. "I just realized I'm not playing Spider-Man," Gyllenhaal captioned his first ever post on the social media site on Thursday, Dec. 6. In the video, Gyllenhaal reveals a Spider-Man comic to the camera that's appropriately titled The Return of the Man Called Mysterio!.
Though Mysterio was technically introduced to Marvel Comics as a villain back in 1964, Gyllenhaal's take on the character will reportedly be a little bit more nuanced, as far as "bad vs. good" is concerned. Per a new report from Screen Rant, which cites a handful of tweets and reports from folks who attended the event in Brazil over the weekend, Holland reportedly told the crowd that Spider-Man and Mysterio team up in Far From Home.
Of course, fans of the franchise eager for more information about the new Spider-Man movie and its cast of characters will just have to wait until Sony eventually gifts audiences with a trailer, teaser, or plot description of some sort to fill in the gaps. As for what to do in the meanwhile? Well, it's no movie trailer or anything (pretty please, Sony!), but at least we can revisit snippets of Gyllenhaal's highly entertaining hotel bathroom impression as often as we'd like before Spider-Man himself slings his way back on to the big screen.
Source: Read Full Article