John Cena is one of the greatest WWE Superstars of all time and is quickly rising in the world of Hollywood as well. Because of that, it's no surprise that he has millions of followers on his various social media channels.
On Twitter, he often posts inspirational messages, trying to teach people different lessons, which makes sense. Using his popularity to try to make the world a better place is commendable and can't be seen as a bad thing.
RELATED: 10 Celebrities That Get The Most Money For A Sponsored Post
His Instagram, on the other hand, is bizarre. Cena posts images with no captions at all and he simply leaves it up to the audience to take their own interpretation as to what it means. While it can be very funny, it does sometimes also leave his fans puzzled and sometimes concerned.
10

Ending His PPV Record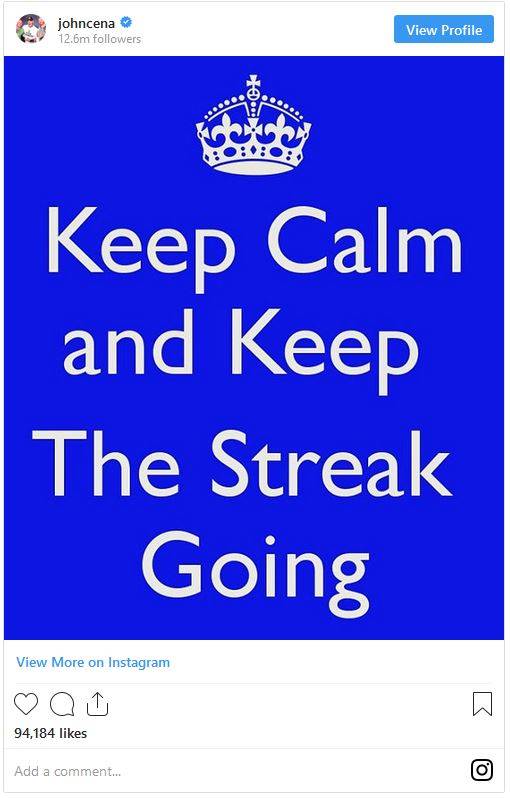 2019 was a historic year for John Cena, but not in a good way for the wrestling industry. Because his movie schedule has become so hectic, 2019 marked the first time in his WWE career where he didn't have a single PPV match.
During the day of the final PPV of 2019, WWE TLC, John Cena posted an image that was clearly referencing the impressive streak that he had built up for himself.
This immediately brought it to the attention of the WWE Universe. Because it wasn't one of WWE's major shows it was fairly clear that he wouldn't be showing up, which left many fans upset that Cena's time in wrestling is clearly coming to an end.
9

CM Punk

A post shared by John Cena (@johncena) on

John Cena enjoys teasing his audience on social media, mainly using Instagram, because he doesn't actually say anything at all. A recent post that got fans very excited for something that will likely never happen is the one pictured above.

CM Punk made his return to the wrestling world by joining the show, WWE Backstage. This has led to many fans wanting him to get back into the ring to wrestle, and obviously his great rival, John Cena is one name people are discussing.

RELATED: 10 Current WWE Superstars With The Highest Net Worth, Ranked

Cena teased the idea and continued to get fans thinking that way by sharing an image of Punk's return. However, it has just led to disappointment as this is unlikely to happen.
8

Watchmen

A post shared by John Cena (@johncena) on

Since John Cena has become a success in the movie world he has begun being linked with some of the biggest roles in both cinema and television. One of those roles that he was randomly linked with was Doctor Manhattan from the HBO series, Watchmen.

Cena had never stated that he was going to be on the show, but for some reason, people began linking him with the powerful blue character.

In a move that got some fans excited and others less so, Cena shared an image of a slightly out of shape Doctor Manhattan to his Instagram. Clearly giving a wink and a nod to the rumor and adding his own tease, it was Cena's way of having some fun with his audience.
7

His Love Of Big E

A post shared by John Cena (@johncena) on

For those who aren't wrestling fans, Big E is a fellow WWE Superstar and someone who John Cena happens to be good friends with in real life. The pair get along well and Cena helped E a lot during the early stages of his career.

RELATED: The 8 Richest WWE Wrestlers Outside America

This friendship is likely why Cena posts lots of pictures of Big E on his Instagram. So much so that it appears to have become a running joke, with fans simply expecting to see them.

Cena often photoshops Big E's face into different situations and images, leading some fans to be concerned about how obsessed he is with the New Day member.
6

Love Quotes

A post shared by John Cena (@johncena) on

For the most part, John Cena's Instagram isn't a very serious account. It is full of jokes and absolutely ridiculous content like pictures of a camels toe… literally. That is why many fans were concerned when he posted this image.

While it could very easily have been some form of a joke for Cena, many fans jumped into the comments and immediately became worried about how he was feeling.

It's obviously nice for Cena to know that his fans care so much about him and what could possibly be going on in his life. But it is also a potential negative of this type of content, as it leaves fans worried, never getting an answer.
5

Another Match Tease

A post shared by John Cena (@johncena) on

Remember the CM Punk match tease from earlier in the list? Well, John Cena has a history of teasing a match and not delivering, as this post with Kurt Angle did.

Angle had announced he was going on a retirement tour and because of that, fans hoped he would be the WWE Hall Of Famer's final opponent. Cena sharing this image got fans incredibly excited about the idea but it didn't end up happening.

RELATED: The 10 Highest-Paid Olympians in the World

While the image could very easily have been Cena just showing some respect to him. However, without any captions, that is impossible to know, and instead, it built fans up to let them down.
4

Instagram Broken

A post shared by John Cena (@johncena) on

While John Cena's Instagram is a very confusing bubble to get caught up in, it is also very funny. The sheer insanity of the entire thing is actually a lot of fun and if you understand the topic he is showcasing, it can become hilarious.

Just scrolling through his Instagram can provide some serious entertainment, particularly if you are a wrestling or movie fan. Because his Instagram is so popular, it led to some concern when he posted an image claiming his was broken.

Clearly giving a nod to the sheer insanity of the images that he shares, it did have some fans worried that time was up for this bonkers account.
3

Facial Hair

A post shared by John Cena (@johncena) on

John Cena is an attractive man, he's jacked and has the looks to back it up, which is why he is adored by countless women around the world. That is why many people were concerned and horrified when he posted this Instagram photo.

RELATED: 10 Weird Rules John Cena Follows To Achieve Success

While Cena's hair cut in 2018 was enough to cause a meltdown in the wrestling world, this facial hair would have tipped people over the edge.

Cena has always presented himself with a clean-shaven look, and it is one that's suited him well. That's why many people were worried when he posted this image that the facial hair was his. Fear not, he did reveal this was just a close up of his friend's face.
2

Captain America

A post shared by John Cena (@johncena) on

This one didn't necessarily have his fans concerned, but actually had a fair amount of people excited. While you can never take anything on John Cena's Instagram seriously, many fans certainly latched onto his Captain America post.

When it was confirmed that Chris Evans wouldn't be returning to the role after Avengers: End Game, the WWE Superstar simply shared an image of Captain America's shield.

Obviously, this got a lot of people talking about Cena potentially filling the role one day in the future. As his star power in the movie world grows, it is something that cannot be ruled out, and perhaps this post will have more relevance down the line.
1

Stone Cold Obsession

A post shared by John Cena (@johncena) on

While John Cena doesn't actively make all of his posts about wrestling, he does purposefully do some that are a clear nod to where he came from. Some of those include Stone Cold Steve Austin.

Cena often posts images of the WWE Hall Of Famer, but always with a twist. Instead of just being Steve Austin, he changes the face to someone totally different, with the likes of  Steven Tyler, Steven Harvey, and more all being used.

It originally did lead to some wrestling fans wondering if he was teasing a match with Steve Austin at some point. However, it just ended up being an insane regular occurrence that people still don't understand.

NEXT: 10 Reasons We Want Dwayne "The Rock" Johnson To Be Our BFF

Source: Read Full Article