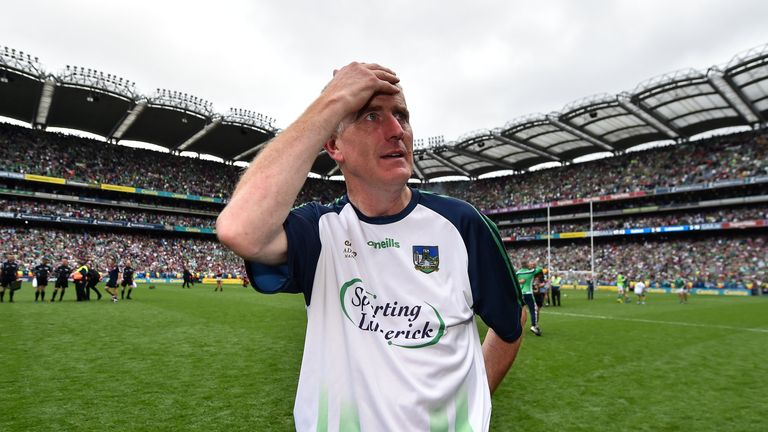 Limerick manager John Kiely says his young side are not getting carried away with their success as focus turns to 2019.
As the winter carries on, celebrations continue in the Treaty County following their first All-Ireland triumph in 45 years, but the squad knows their 2018 triumph will not count for much as the new season gets underway.
"We wouldn't be as good as Gaoth Dobhair at it [celebrating], I think we'd be only in a tuppence ha'penny place compared to the boys," laughed Kiely as he reflected on the winter.
"To be honest you could count the number of nights that we were out on one hand, times have changed. The nature of celebrating All-Irelands has changed, fellas are busy with their clubs as well for months and the club scene is taken so much more seriously now. Club managers expect very high standards from their players as well and a lot of lads are back at work, back in college, doing final year projects, doing teaching practice."
With the Munster Senior League getting the new season underway this month, Kiely is not overly concerned with the pressures that go with being defending All-Ireland champions.
He said: "Last year we were looking to know how we could close a gap of 45 years. You're talking about closing a gap of nine months.
"Look, I've no doubt it's going to be very difficult and a huge challenge. But we've risen to any challenge that has been put in front of us in the last couple of years.
"It'll be interesting to see what effect it [the All-Ireland title] has on the group. Obviously winning one is a great confidence booster and it fulfils you with the belief that you can actually do it and you can get across the line. We will approach this season very much with a sense of one game at a time, the same as we did for the last two years. It worked well for us last year, it didn't work well for us the year before. We'll see how it goes this year.
"We're really looking forward to 2019. I've a feeling, as good as 2018 was as a championship, I just have a sense that 2019 could be even more special. I think there's going to be a lot of really, really strong competitive panels out there and I think the competitions will be incredible over the next couple of months."
Limerick will prepare for the championship in the top tier of the league for the first time in nine years, after their promotion from Division 1B last year. Kiely feels their springtime troubles in recent years stunted their development.
He said: "We spent eight years in Division 1B, I think that was a major deterrent for Limerick teams in the past to advance in the championship. It stunted our development, really, as a county in terms of hurling over those eight years.
"We're very much looking forward to the challenge, we've obviously been watching the Division 1A going forward for the last number of years and it's hugely, hugely competitive.
"And it just brings a different dimension to the National Hurling League to us, and we've been craving that for many, many years and we're obviously going to relish that when it happens."
Make sure to keep up with all the latest GAA news and analysis via skysports.com, the Sky Sports mobile app and @SkySportsGAA on Twitter.
The Sky Sports mobile app will keep you up to date with the latest news from Gaelic games – here's how to receive the alerts you want.
Source: Read Full Article