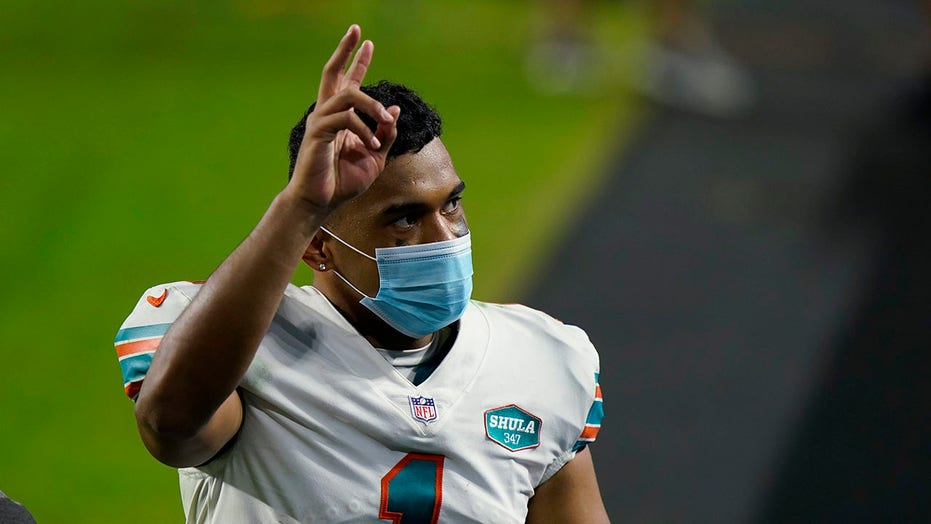 Fox News Flash top headlines for November 17
Fox News Flash top headlines are here. Check out what's clicking on Foxnews.com.
The Miami Dolphins are one of the hottest teams in the NFL through Week 10 of the 2020 season.
Three weeks ago following their bye week, the Dolphins turned to rookie quarterback Tua Tagovailoa, and he's been fantastic so far. Last week against the Los Angeles Chargers and fellow rookie Justin Herbert, Tagovailoa threw for 169 yards and two touchdowns in a 29-21 victory.
In three games, Tagovailoa has 519 passing yards and five touchdowns with no interceptions.
The Seahawks, on the other hand, looked like a Super Bowl favorite a few weeks ago, but quarterback Russell Wilson has struggled as of late. Wilson has thrown seven interceptions over the last four games to go along with three lost fumbles. Seattle is currently on a two-game losing streak and will look to bounce back on Thursday night against the Arizona Cardinals.
CLICK HERE FOR MORE NFL COVERAGE ON FOXNEWS.COM
Here is the full Week 11 edition of the NFL Power Rankings.
32) NEW YORK JETS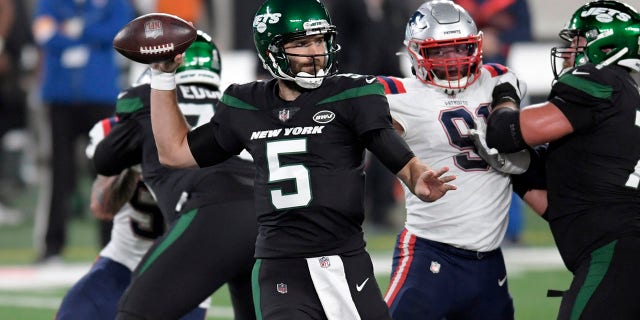 New York Jets quarterback Joe Flacco throws during the first half of an NFL football game against the New England Patriots, Monday, Nov. 9, 2020, in East Rutherford, N.J. (AP Photo/Bill Kostroun)
Record: 0-9
Week 10 result: BYE
Previous ranking: 32
31) JACKSONVILLE JAGUARS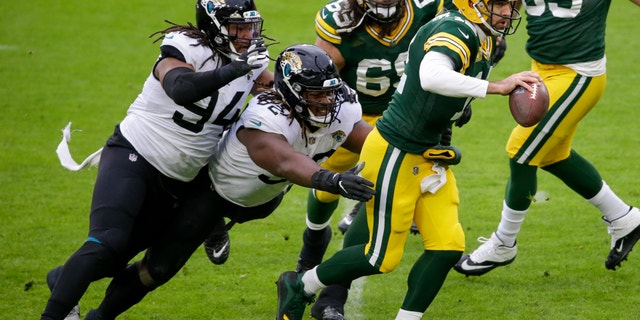 Green Bay Packers' Aaron Rodgers scrambles during the first half of an NFL football game against the Jacksonville Jaguars Sunday, Nov. 15, 2020, in Green Bay, Wis. (AP Photo/Mike Roemer)
Record: 1-8
Week 10 result: 24-20 loss to Green Bay Packers
Previous ranking: 31
30) DALLAS COWBOYS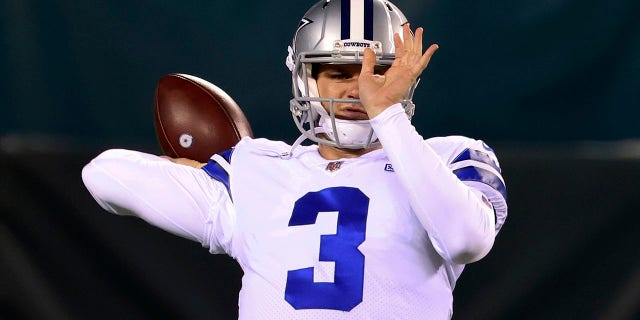 Dallas Cowboys' Garrett Gilbert (3) warms up before an NFL football game against the Philadelphia Eagles, Sunday, Nov. 1, 2020, in Philadelphia. (AP Photo/Rich Schultz)
Record: 2-7
Week 10 result: BYE
Previous ranking: 30
29) WASHINGTON FOOTBALL TEAM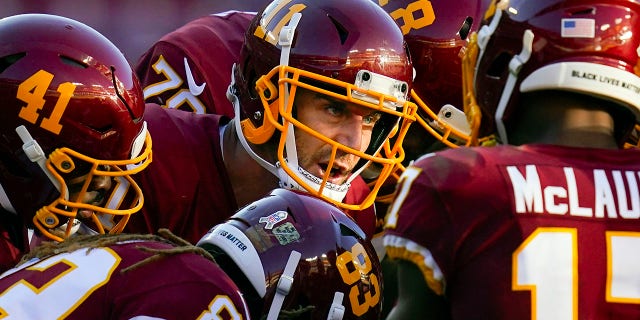 Washington Football Team quarterback Alex Smith (11) huddles with his team during the second half of an NFL football game against the New York Giants, Sunday, Nov. 8, 2020, in Landover, Md. (AP Photo/Patrick Semansky)
Record: 2-7
Week 10 result: 30-27 loss to Detroit Lions
Previous ranking: 29
28) LOS ANGELES CHARGERS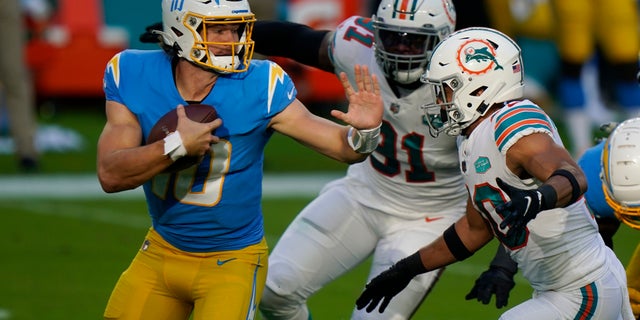 Los Angeles Chargers quarterback Justin Herbert (10) is under pressure by Miami Dolphins defensive back Nik Needham (40) and defensive end Emmanuel Ogbah (91) during the first half of an NFL football game, Sunday, Nov. 15, 2020, in Miami Gardens, Fla. (AP Photo/Wilfredo Lee)
Record: 2-7
Week 10 result: 29-21 loss to Miami Dolphins
Previous ranking: 27
27) HOUSTON TEXANS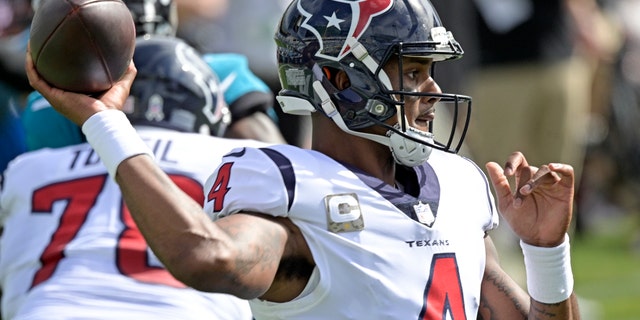 Houston Texans quarterback Deshaun Watson looks for a receiver during the first half of an NFL football game against the Jacksonville Jaguars, Sunday, Nov. 8, 2020, in Jacksonville, Fla. (AP Photo/Phelan M. Ebenhack)
Record: 2-7
Week 10 result: 10-7 loss to Cleveland Browns
Previous ranking: 24
26) DENVER BRONCOS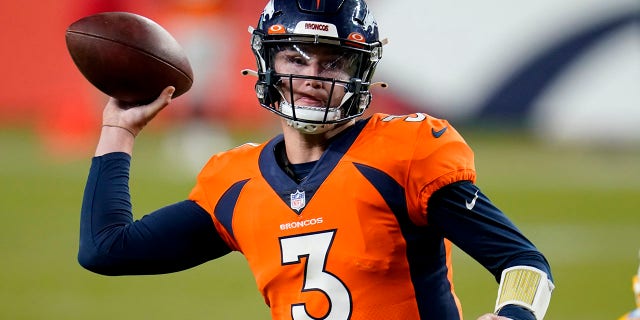 Denver Broncos quarterback Drew Lock (3) throws the game-tying touchdown pass against the Los Angeles Chargers during the second half of an NFL football game, Sunday, Nov. 1, 2020, in Denver. The Broncos won 31-30. (AP Photo/David Zalubowski)
Record: 3-6
Week 10 result: 37-12 loss to Las Vegas Raiders
Previous ranking: 22
25) CAROLINA PANTHERS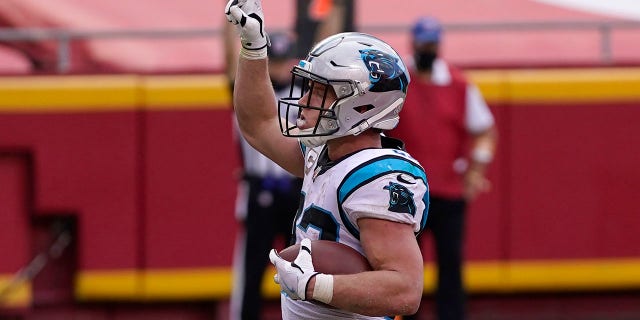 Carolina Panthers running back Christian McCaffrey (22) celebrates after scoring against the Kansas City Chiefs during the second half of an NFL football game in Kansas City, Mo., Sunday, Nov. 8, 2020. (AP Photo/Jeff Roberson)
Record: 3-7
Week 10 result: 46-23 loss to Tampa Bay Buccaneers
Previous ranking: 25
24) CINCINNATI BENGALS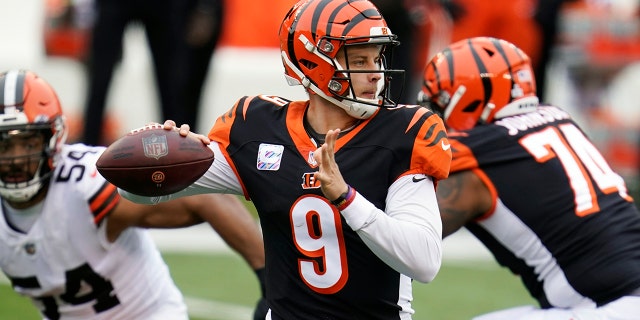 FILE – In this Sunday, Oct. 25, 2020, file photo, Cincinnati Bengals quarterback Joe Burrow (9) throws during the first half of an NFL football game against the Cleveland Browns, in Cincinnati. There's no shortage of high draft picks making huge impact around the league, especially on offense with the instant success of players like Burrow. (AP Photo/Michael Conroy, File)
Record: 2-6-1
Week 10 result: 36-10 loss to Pittsburgh Steelers
Previous ranking: 23
23) PHILADELPHIA EAGLES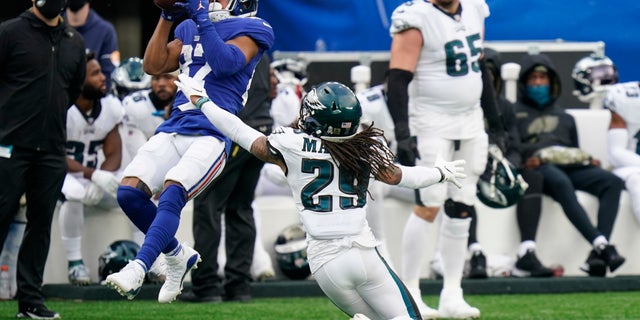 New York Giants' Sterling Shepard (87) catches a pass in front of Philadelphia Eagles' Avonte Maddox (29) during the second half of an NFL football game Sunday, Nov. 15, 2020, in East Rutherford, N.J. (AP Photo/Seth Wenig)
Record: 3-5-1
Week 10 result: 27-17 loss to New York Giants
Previous ranking: 19
22) SAN FRANCISCO 49ERS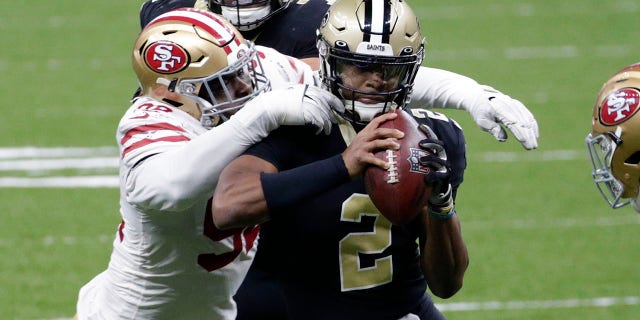 New Orleans Saints quarterback Jameis Winston (2) is sacked by San Francisco 49ers defensive end Kerry Hyder in the second half of an NFL football game in New Orleans, Sunday, Nov. 15, 2020. (AP Photo/Butch Dill)
Record: 4-6
Week 10 result: 27-13 loss to New Orleans Saints
Previous ranking: 21
21) DETROIT LIONS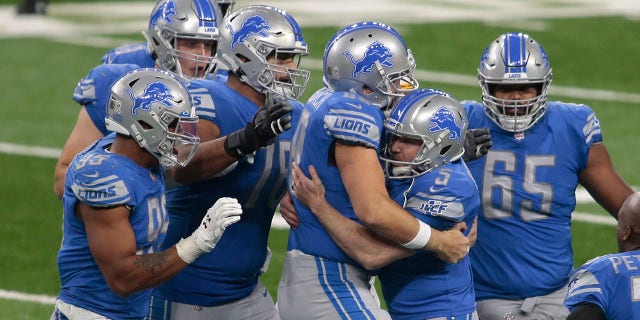 Detroit Lions teammates surround kicker Matt Prater (5) after his winning field goal in the closing seconds during the second half of an NFL football game against the Washington Football Team, Sunday, Nov. 15, 2020, in Detroit. (AP Photo/Tony Ding)
Record: 4-5
Week 10 result: 30-27 win over Washington Football Team
Previous ranking: 26
20) NEW YORK GIANTS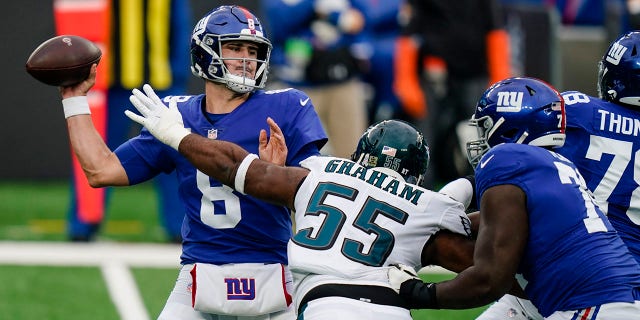 New York Giants quarterback Daniel Jones (8) looks to throw a pass as Philadelphia Eagles' Brandon Graham (55) rushes him during the first half of an NFL football game Sunday, Nov. 15, 2020, in East Rutherford, N.J. (AP Photo/Seth Wenig)
Record: 3-7
Week 10 result: 27-17 win over Philadelphia Eagles
Previous ranking: 28
19) CHICAGO BEARS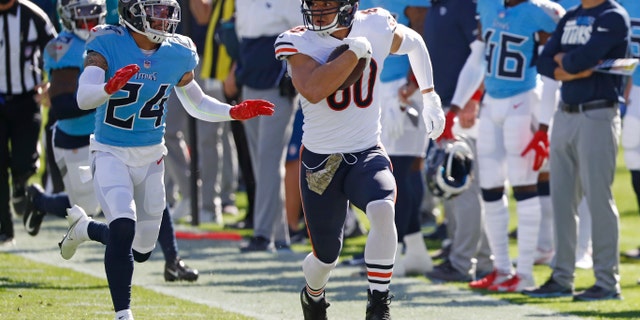 Chicago Bears tight end Jimmy Graham (80) gets past Tennessee Titans strong safety Kenny Vaccaro (24) in the first half of an NFL football game Sunday, Nov. 8, 2020, in Nashville, Tenn. (AP Photo/Wade Payne)
Record: 5-5
Week 10 result: 19-13 loss to Minnesota Vikings
Previous ranking: 18
18) ATLANTA FALCONS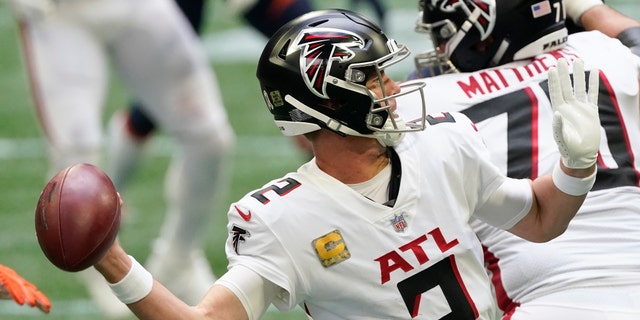 Atlanta Falcons quarterback Matt Ryan (2) works in the pocket during the second half of an NFL football game against the Denver Broncos, Sunday, Nov. 8, 2020, in Atlanta. (AP Photo/John Bazemore)
Record: 3-6
Week 10 result: BYE
Previous ranking: 17
17) NEW ENGLAND PATRIOTS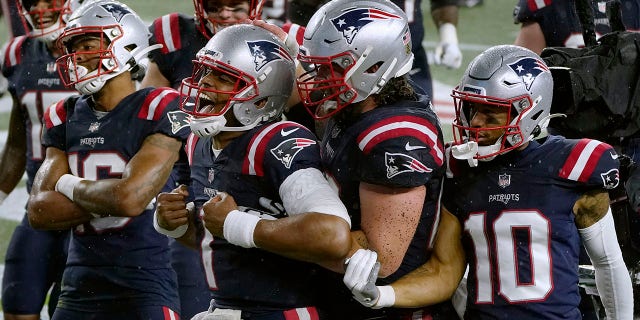 New England Patriots quarterback Cam Newton, center, celebrates his rushing touchdown with teammates in the second half of an NFL football game against the Baltimore Ravens, Sunday, Nov. 15, 2020, in Foxborough, Mass. (AP Photo/Charles Krupa)
Record: 4-5
Week 10 result: 23-17 win over Baltimore Ravens
Previous ranking: 20
16) CLEVELAND BROWNS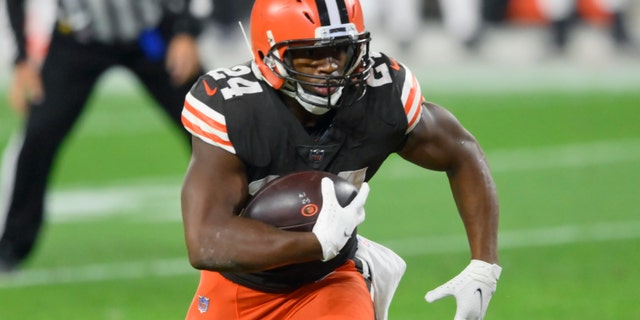 FILE – Cleveland Browns running back Nick Chubb runs with the ball in the first quarter of an NFL football game against the Cincinnati Bengals in Cleveland, in this Thursday, Sept. 17, 2020, file photo. (AP Photo/David Richard, File)
Record: 6-3
Week 10 result: 10-7 win over Houston Texans
Previous ranking: 16
15) MINNESOTA VIKINGS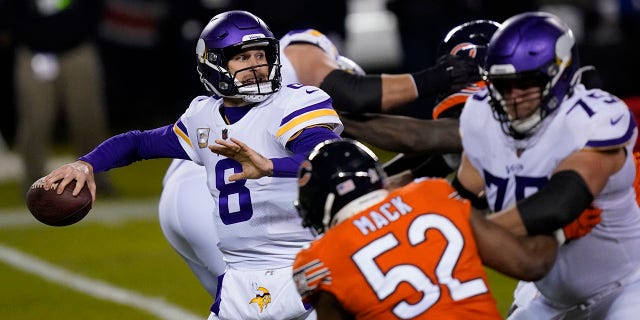 Minnesota Vikings quarterback Kirk Cousins throws during the first half of an NFL football game against the Chicago Bears Monday, Nov. 16, 2020, in Chicago. (AP Photo/Charles Rex Arbogast)
Record: 4-5
Week 10 result: 19-13 win over Chicago Bears
Previous ranking: 15
14) TENNESSEE TITANS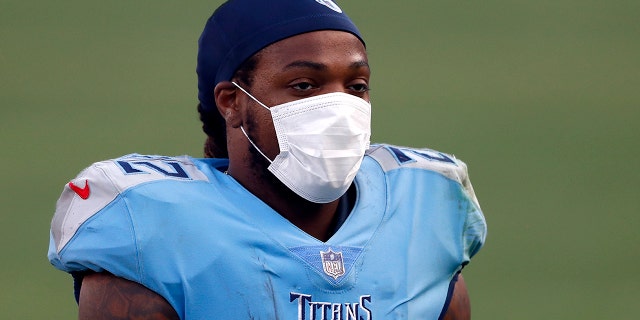 Tennessee Titans running back Derrick Henry (22) leaves the field after an NFL football game against the Chicago Bears Sunday, Nov. 8, 2020, in Nashville, Tenn. (AP Photo/Wade Payne)
Record: 6-3
Week 10 result: 34-17 loss to Indianapolis Colts
Previous ranking: 9
13) LAS VEGAS RAIDERS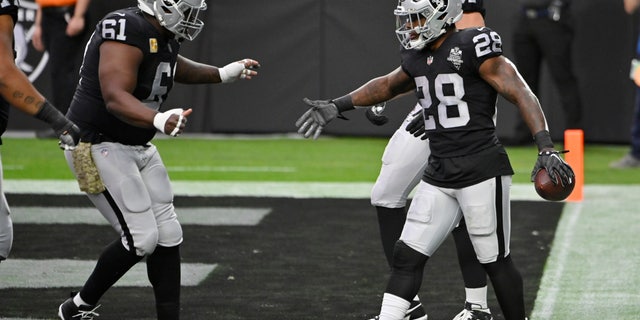 Las Vegas Raiders center Rodney Hudson (61) celebrates after running back Josh Jacobs (28) scored a touchdown against the Denver Broncos during the first half of an NFL football game, Sunday, Nov. 15, 2020, in Las Vegas. (AP Photo/David Becker)
Record: 6-3
Week 10 result: 37-12 win over Denver Broncos
Previous ranking: 10
12) INDIANAPOLIS COLTS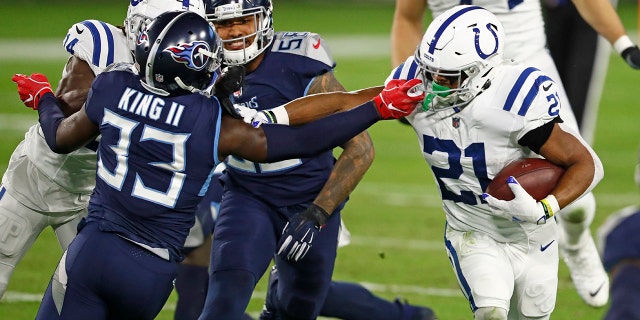 Tennessee Titans cornerback Desmond King (33) reaches for Indianapolis Colts running back Nyheim Hines (21) in the first half of an NFL football game Thursday, Nov. 12, 2020, in Nashville, Tenn. (AP Photo/Wade Payne)
Record: 6-3
Week 10 result: 34-17 win over Tennessee Titans
Previous ranking: 13
11) SEATTLE SEAHAWKS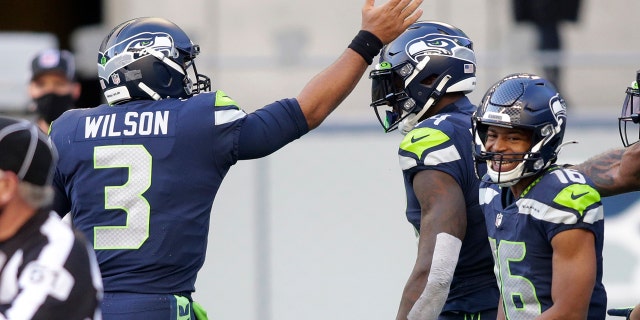 Seattle Seahawks quarterback Russell Wilson (3) celebrates with wide receiver DK Metcalf, center, after Wilson passed to Metcalf for a touchdown against the San Francisco 49ers during the first half of an NFL football game, Sunday, Nov. 1, 2020, in Seattle. (AP Photo/Scott Eklund)
Record: 6-3
Week 10 result: 23-16 loss to Los Angeles Rams
Previous ranking: 6
10) BUFFALO BILLS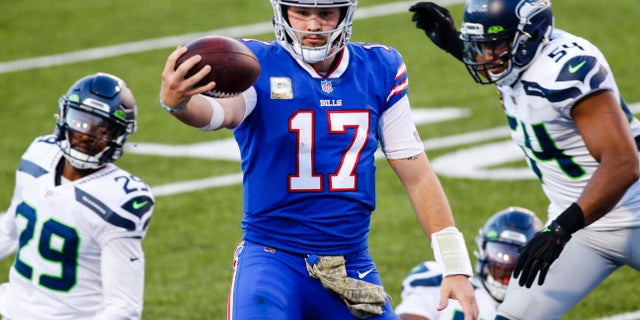 Buffalo Bills quarterback Josh Allen (17) rushes past Seattle Seahawks' Bruce Irvin (51) and Jayson Stanley (29) for a touchdown during the second half of an NFL football game Sunday, Nov. 8, 2020, in Orchard Park, N.Y. (AP Photo/Jeffrey T. Barnes)
Record: 6-3
Week 10 result: 32-30 loss to Arizona Cardinals
Previous ranking: 5
9) BALTIMORE RAVENS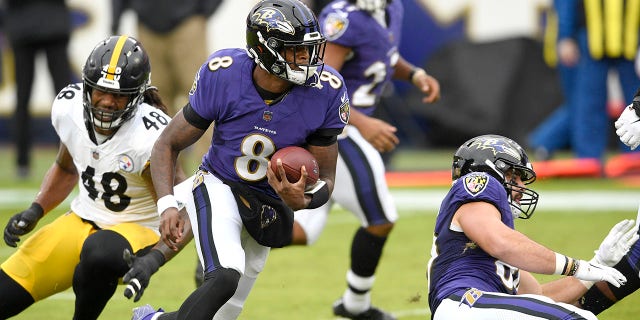 Baltimore Ravens quarterback Lamar Jackson (8) scrambles against the Pittsburgh Steelers during the first half of an NFL football game, Sunday, Nov. 1, 2020, in Baltimore. (AP Photo/Nick Wass)
Record: 6-3
Week 10 result: 23-17 loss to New England Patriots
Previous ranking: 4
8) LOS ANGELES RAMS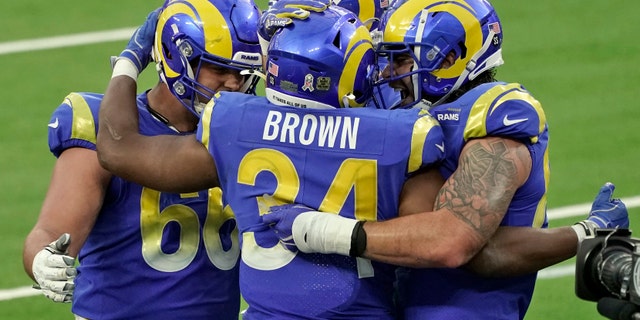 Los Angeles Rams running back Malcolm Brown (34) is hugged by teammates after scoring against the Seattle Seahawks during the second half of an NFL football game Sunday, Nov. 15, 2020, in Inglewood, Calif. (AP Photo/Jae C. Hong)
Record: 6-3
Week 10 result: 23-16 win over Seattle Seahawks
Previous ranking: 14
7) ARIZONA CARDINALS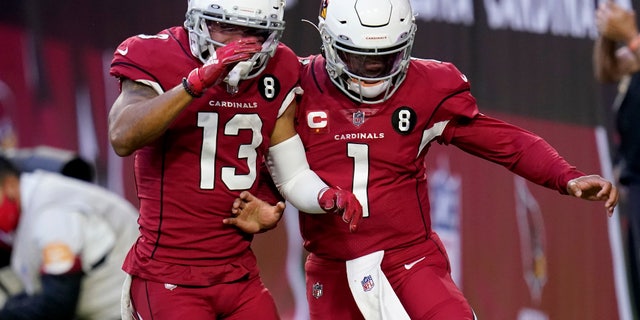 Arizona Cardinals quarterback Kyler Murray (1) celebrates his touchdown run with wide receiver Christian Kirk (13) during the second half of an NFL football game against the Buffalo Bills, Sunday, Nov. 15, 2020, in Glendale, Ariz. (AP Photo/Ross D. Franklin)
Record: 6-3
Week 10 result: 32-30 win over Buffalo Bills
Previous ranking: 12
6) MIAMI DOLPHINS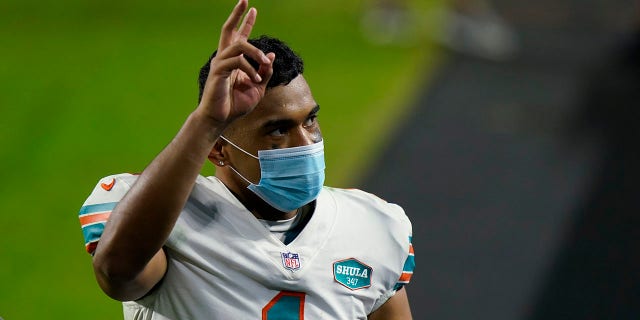 Miami Dolphins quarterback Tua Tagovailoa (1) gestures as he leaves the field at the end of an NFL football game against the Los Angeles Chargers, Sunday, Nov. 15, 2020, in Miami Gardens, Fla. The Dolphins defeated the Chargers 29-21. (AP Photo/Lynne Sladky)
Record: 6-3
Week 10 result: 29-21 win over Los Angeles Chargers
Previous ranking: 11
5) GREEN BAY PACKERS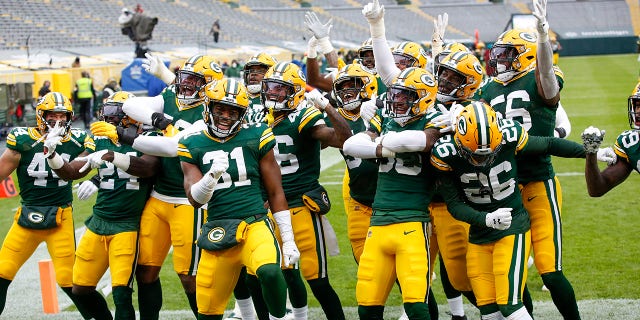 The Green Bay Packers defense celebrates after an interception and touchdown return during the first half of an NFL football game against the Jacksonville Jaguars Sunday, Nov. 15, 2020, in Green Bay, Wis. (AP Photo/Matt Ludtke)
Record: 7-2
Week 10 result: 24-20 win over Jacksonville Jaguars
Previous ranking: 8
4) TAMPA BAY BUCCANEERS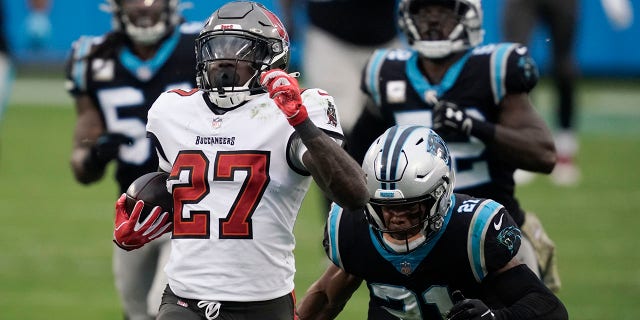 Tampa Bay Buccaneers running back Ronald Jones (27) runs for a 98-yard touchdown against the Carolina Panthers during the second half of an NFL football game, Sunday, Nov. 15, 2020, in Charlotte, N.C. (AP Photo/Gerry Broome)
Record: 7-3
Week 10 result: 46-23 win over Carolina Panthers
Previous ranking: 7
3) NEW ORLEANS SAINTS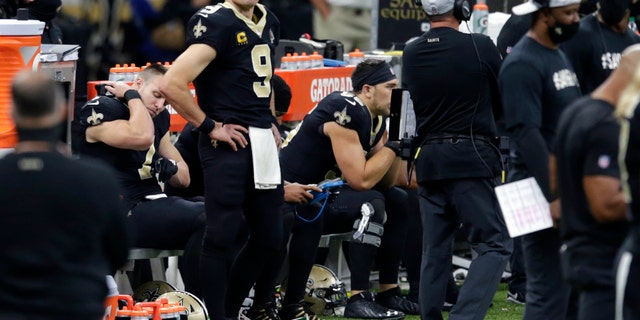 New Orleans Saints quarterback Drew Brees (9) watches from the sideline in the second half of an NFL football game against the San Francisco 49ers in New Orleans, Sunday, Nov. 15, 2020. (AP Photo/Butch Dill)
Record: 7-2
Week 10 result: 27-13 win over San Francisco 49ers
Previous ranking: 3
2) KANSAS CITY CHIEFS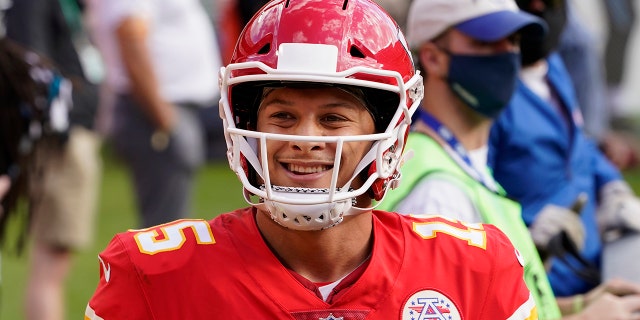 Kansas City Chiefs quarterback Patrick Mahomes (15) smiles during the second half of an NFL football game against the Carolina Panthers in Kansas City, Mo., Sunday, Nov. 8, 2020. (AP Photo/Orlin Wagner)
Record: 8-1
Week 10 result: BYE
Previous ranking: 2
1) PITTSBURGH STEELERS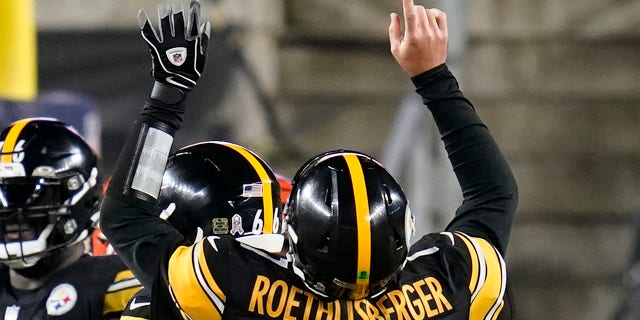 Pittsburgh Steelers quarterback Ben Roethlisberger (7) celebrates a touchdown pass to wide receiver Chase Claypool during the second half of an NFL football game against the Cincinnati Bengals, Sunday, Nov. 15, 2020, in Pittsburgh. (AP Photo/Keith Srakocic)
Record: 9-0
Week 10 result: 36-10 win over Cincinnati Bengals
Previous ranking: 1
Source: Read Full Article