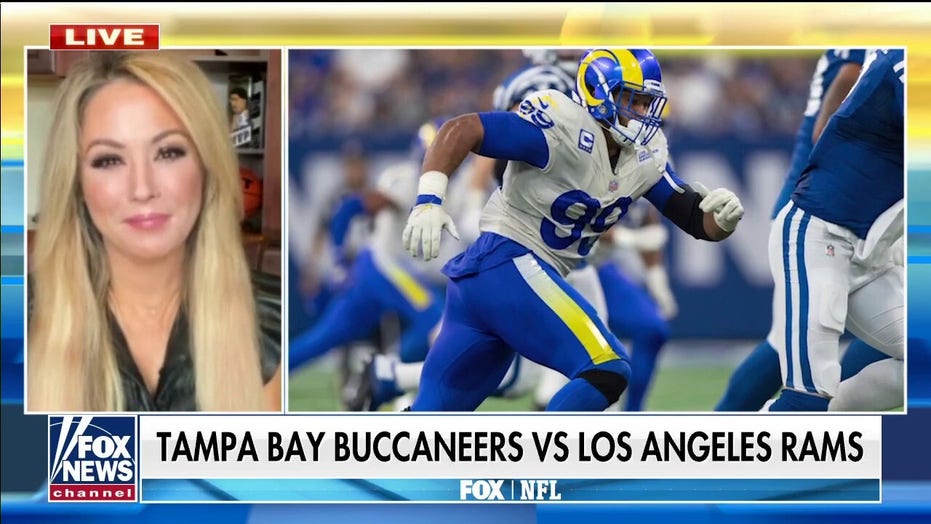 NFL week 3 matchups to watch this weekend
Fox Sports' Jen Hale previews multiple NFL games set to kick off this weekend.
The third week of the 2021 NFL season is here and there is a full slate of integral games on the docket.
The week began with Sam Darnold leading the Carolina Panthers to their third straight win while the Houston Texans will Davis Mills made the first start of his career.
The week will also feature a marquee AFC South matchup as well as a battle between AFC West rivals. Tom Brady will also head to Hollywood as the Bucs play their first road game of the season against the Los Angeles Rams. The primetime games are also poised to be fun to watch.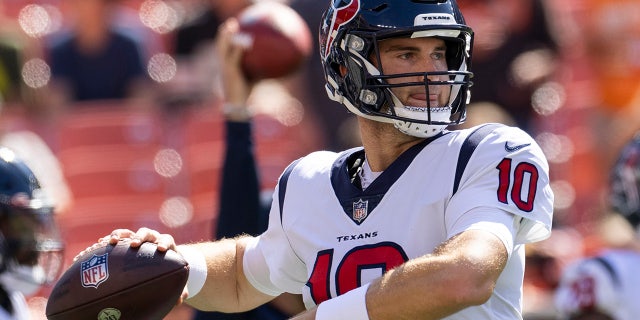 Houston Texans quarterback Davis Mills throws the ball during warmups before the game against the Cleveland Browns Sept. 19, 2021, at FirstEnergy Stadium in Cleveland.
(Scott Galvin-USA TODAY Sports)
PANTHERS 24, TEXANS 9
Sunday, September 26, 2021
1 PM: Colts @ Titans (CBS)
1 PM: Falcons @ Giants (FOX)
1 PM: Chargers @ Chiefs (CBS)
1 PM: Bengals @ Steelers (CBS)
1 PM: Bears @ Browns (FOX)
1 PM: Ravens @ Lions (CBS)
1 PM: Saints @ Patriots (FOX)
1 PM: Cardinals @ Jaguars (FOX)
1 PM: Washington @ Bills (FOX)
4:05 PM: Jets @ Broncos (CBS)
4:05 PM: Dolphins @ Raiders (CBS)
4:25 PM: Seahawks @ Vikings (FOX
4:25 PM: Buccaneers @ Rams (FOX)
8:20 PM: Packers @ 49ers (NBC)
Monday, September 27, 2021
8:15 PM: Eagles @ Cowboys (ESPN)
–
Standings into Week 3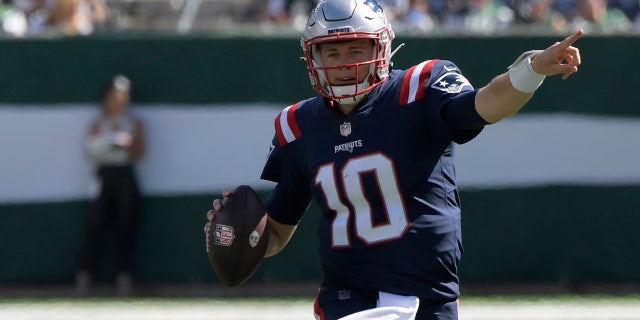 New England Patriots quarterback Mac Jones looks to throw during the first half of an NFL football game against the New York Jets, Sunday, Sept. 19, 2021, in East Rutherford, N.J. 
((AP Photo/Bill Kostroun))
AFC East
1). Bills (1-1)
2). Dolphins (1-1)
3). Patriots (1-1)
4) Jets (0-2)
AFC North
1). Steelers (1-1)
2). Browns (1-1)
3). Bengals (1-1)
4). Ravens (1-1)
AFC South
1). Titans (1-1)
2). Texans (1-2)
3). Colts (0-2)
4). Jaguars (0-2)
AFC West
1). Broncos (2-0)
2). Raiders (2-0)
3). Chiefs (1-1)
4). Chargers (1-1)
NFC East
1). Eagles (1-1)
2). Washington (1-1)
3). Cowboys (1-1)
4). Giants (0-2)
NFC North
1). Bears (1-1)
2). Packers (1-1)
2). Lions (0-2)
4). Vikings (0-2)
NFC South
1). Panthers (3-0)
2). Buccaneers (2-0)
3). Saints (1-1)
4). Falcons (0-2)
NFC West
1). 49ers (2-0)
2). Rams (2-0)
3). Cardinals (2-0)
4). Seahawks (1-1)
Source: Read Full Article