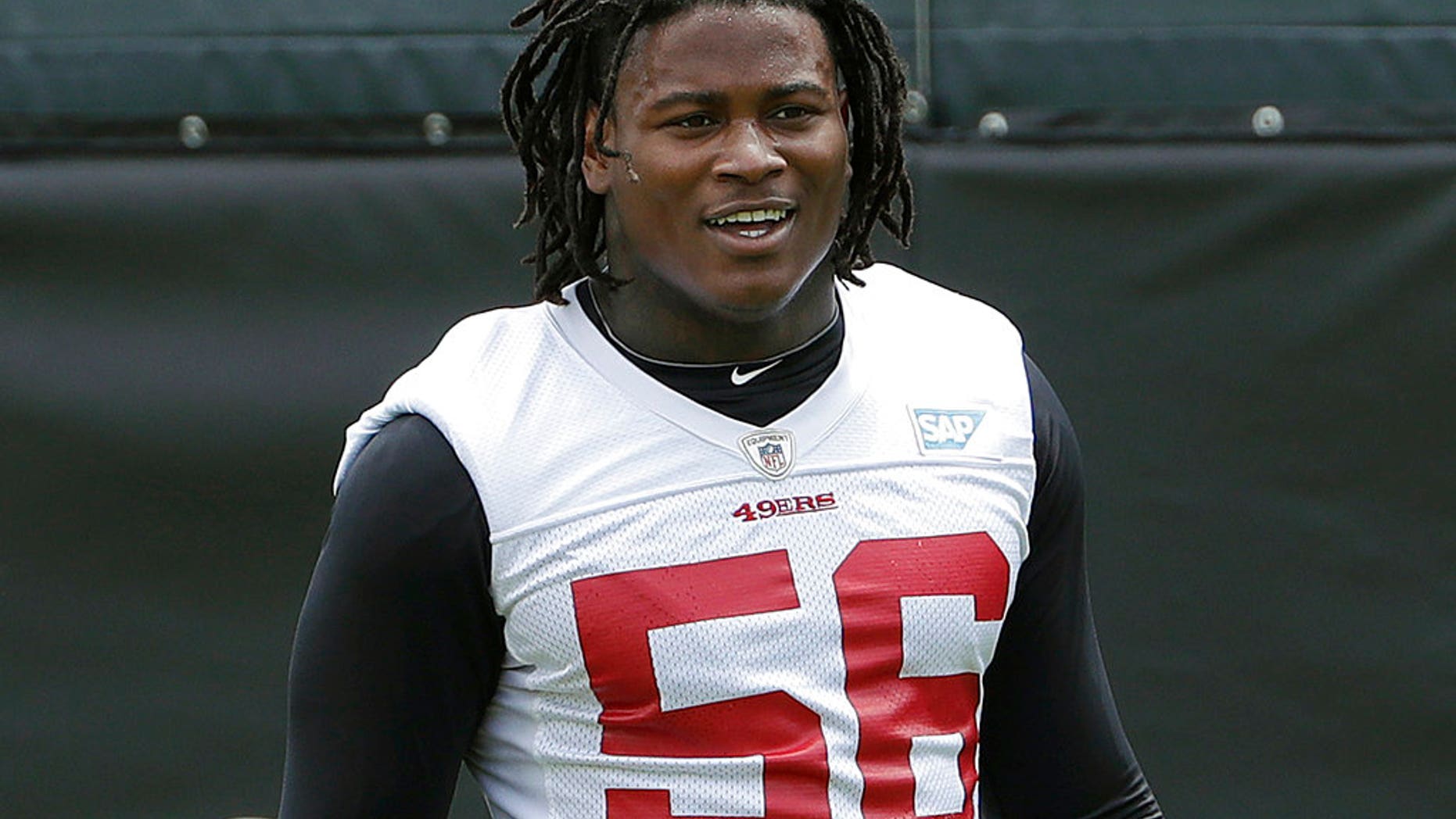 FILE – In this May 30, 2018, file photo, San Francisco 49ers linebacker Reuben Foster walks on the field during a practice at the team's NFL football training facility in Santa Clara, Calif. Foster was arrested Saturday, Nov. 24, at the team hotel on charges of domestic violence.
(AP Photo/Jeff Chiu, File)
The Washington Redskins' decision to claim Reuben Foster after he had been released following a domestic violence arrest was another "slap in the face," the linebacker's ex-girlfriend said.
Accuser Elissa Ennis, 28, discussed her relationship with Foster in an interview with ABC's "Good Morning America," which was set to air Thursday. She said in the interview that she and Foster were very close, but behind the scenes Foster wasn't the "good-hearted person" her family thought he was.
Foster was arrested in Florida in November, hours before his former team, the San Francisco 49ers, were set to play the Tampa Bay Buccaneers. He was charged with one count of first-degree misdemeanor domestic violence.
Foster had invited Ennis to the Grand Hyatt Hotel in Tampa, where the team had been staying prior to the game, according to ABC News. A confrontation between Foster and Ennis turned physical when Foster allegedly slapped Ennis' phone out of her hand, pushed her and slapped her in the face, ABC News reported, citing an arrest affidavit. Ennis said they were both working on their relationship.
"We both were seein' therapists and stuff, tryin' to work on our relationship," she said. "So I was like, 'I can't believe you — you're back to doin' this,'" Ennis said, referencing Foster's relationships with other women.
The 49ers released Foster soon after the incident.
Ennis had previously accused Foster of domestic violence in February. She accused him of hitting her a number of times and dragging her out of their Los Gatos, Calif., home, authorities said. Ennis told a judge that she concocted the entire story and Foster's domestic violence charges were dropped.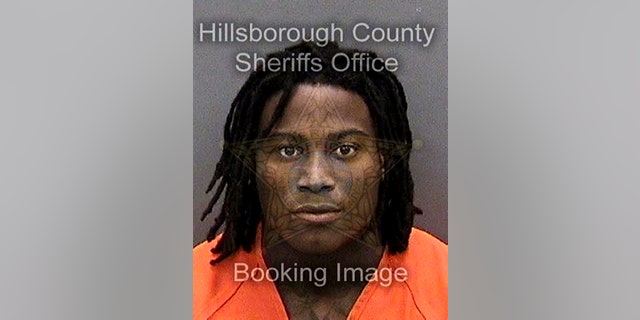 The San Francisco 49ers released Foster on Sunday morning, hours after he was arrested at the team hotel in Tampa, Fla., on charges of domestic violence.
(Hillsborough County Sheriff's Office via AP)
"I did what I had to do for the person I love. I thought that he would change," Ennis said of her decision to tell a judge she made up the story.
San Francisco didn't release Foster at the time because they were made aware of Ennis' decision.
When the Redskins picked up Foster days after his release, Ennis said it felt like a "slap in the face."
Doug Williams, the Redskins' senior vice president of player personnel, said in a statement last week that team officials "fully understand the severity of the recent allegations made against Reuben. If true, you can be sure these allegations are nothing our organization would ever condone."
Williams was also forced to apologized late last week after describing the allegations against Foster as "small potatoes" and added that people in "high, high, high, high places that have done far worse."
Foster will not be able to practice or attend games while the NFL investigates.
Fox News' Nicole Darrah contributed to this report.
Source: Read Full Article