Back in 2017, American academic Robert Kelly was giving an interview on BBC World News from his apartment via video chat. Wearing a suit and tie, the political science professor — whose specialty happens to be Korean relations — was discussing the impeachment of South Korea's president (a fairly serious topic, to say the least), when he was interrupted by his two adorable kids, daughter Marion and son James. The duo pulled focus when they were seen in the background, bursting into their father's study, before their panicked mom, Jung-a Kim, eventually barged in to quickly get the children out of sight.
Despite fearing that the interruption may have cost him his career — "I thought I'd blown it in front of the whole world," the so-called "BBC Dad" told The Guardian – Kelly's fame only skyrocketed after the incident. In fact, he became something of a social media sensation as the clip went viral. "I couldn't understand why the BBC was carrying on with the interview," Kelly added. "Maybe they realised right away that this was comedy gold."
However, he's far from the only working parent to have an important call interrupted, especially as the COVID-19 pandemic has increased the number of folks working from home. It's not just us ordinary people who find their children popping in to say hello during Zooms, either. From Kelly Clarkson to Chris Hemsworth, plenty of celebrities have found themselves upstaged by their kiddos during work calls, many of which have played out on live TV. 
Megan Fox's kids pop into Today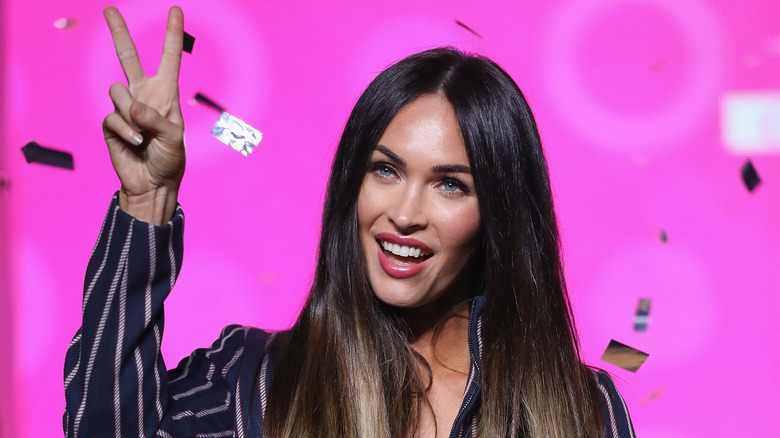 While promoting her movie, "Till Death," on the "Today" show in June 2021, Megan Fox found her video-chat interview with Savannah Guthrie and Jenna Bush Hager interrupted by one of her young sons running around in the background. The actor, who shares her kids, Noah, Bohdi, and Journey, with ex-husband Brian Austen Green, explained that the boys had fallen asleep in her home's living room area the previous evening after watching a movie and were just waking up. Fox hardly seemed bothered by the disruption, simply saying with a laugh, "It just is what it is."
The response acted as an almost perfect summary of the mom-of-three's parenting philosophy. In addition to making it a point to remain in the moment — as Fox said on "Today," "I feel like no matter how engaged you are or how hard you were trying at the time, you always look back and you're like, 'I could have been more present'" — the star believes in respecting children as individuals and not trying to control or "limit" their "communication and creative expression," as she once told Education and Career News.
According to US Weekly, however, it may have been these strongly-held beliefs that actually caused some of the friction that led to her split with Green, who seems to adhere to more traditional parenting philosophies.
Tina Fey's daughter calls her a 'loser' on live TV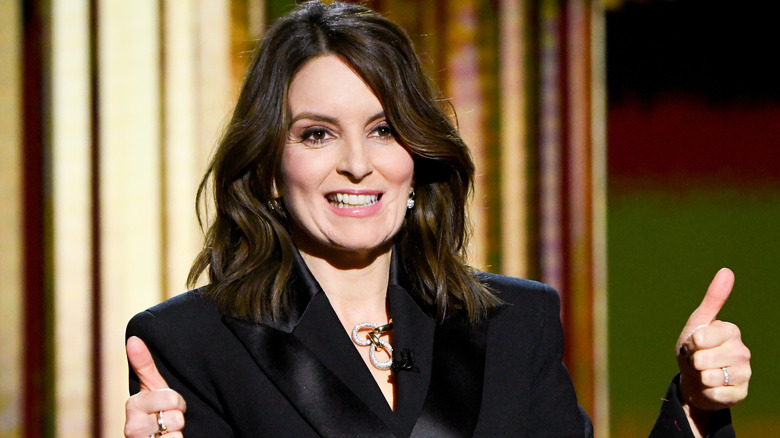 Speaking of parents who can laugh off their kids' antics, Tina Fey unsurprisingly turned this interview interruption into solid comedic gold. While appearing on "Late Night with Seth Meyers" via video chat to promote a special interactive episode of "The Unbreakable Kimmy Schmidt" in 2020, the "Saturday Night Live" alum's TV appearance was crashed by her daughter, Penelope. 
After her famous mom asked if she needed something, the preteen (who was inexplicably wearing a colonial-era dress) stepped into the frame and wordlessly lifted her hand to her forehead, with her thumb and forefinger in the shape of an "L," while giggling. Fey burst out laughing, telling Meyers, "The colonial lady just called us losers!" She then mimicked the hand motion, quipping to her now-offscreen daughter, "This means loyalist in colonial times, so that's on you!"
The funnywoman shares her two daughters, Penelope Athena and Alice Zenobia, with her longtime husband, composer and director Jeff Richmond. And it's no surprise that Fey, who once mused to Parents that the "ideal [work-life balance] situation for a parent is one that no one has," wasn't fazed by her child's hilarious antics. "Kids are definitely the boss of you," she previously admitted to InStyle. "Anyone who will barge into the room while you are on the commode is the boss of you. And when you explain to them that you're on the commode and that they should leave but they don't? That's a high-level boss."
Jimmy Fallon's daughter shows Russell Wilson and Ciara her tooth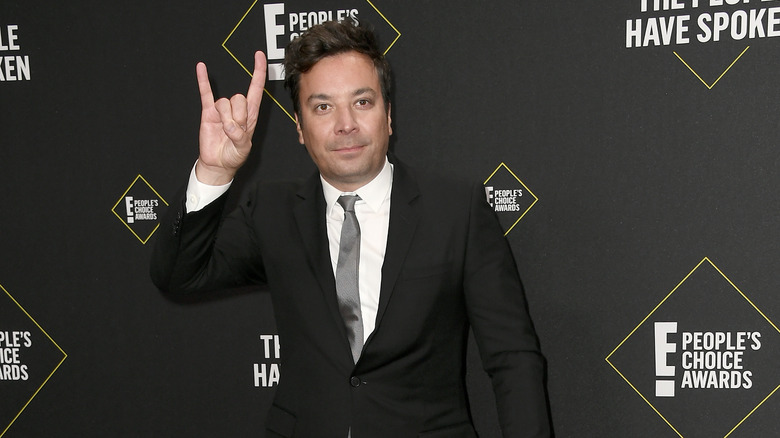 During the height of the COVID-19 pandemic, when most live TV shows were being filmed from the comforts of their hosts' homes, cameos from celebrity kids became more frequent. Take, for example, Jimmy Fallon's daughters, Winnie and Franny. The adorable duo became regular fixtures on "The Tonight Show," helping their dad with everything from his Thank You Notes segment to providing handmade signs for the opening credits.
But it was Winnie who became the real MVP after she crashed an interview with Russell Wilson and Ciara. The elementary schooler burst into the room proudly announcing that she'd lost a tooth. Parents to three young kids themselves, the Wilsons proved themselves to be an engaged audience, asking Winnie for details and cheering on her big win, and promising the little one a visit from the Tooth Fairy. Fallon also celebrated the milestone, telling Winnie, "Oh my gosh, I'm so happy! … I'm so proud of you buddy!" and actually had to shoo away Franny, who briefly popped into the frame as Winnie was on her way out. 
Fallon's enthusiasm for the moment clearly wasn't faked or forced either. In fact, he told Fatherly in October 2020 that fatherhood has made him more emotional, saying, "II think it's my Irish-Catholic upbringing. Now I'm like full-on– Hallmark is for me now. I'm ready for a good cry." 
Adam Sandler's daughter does some live triage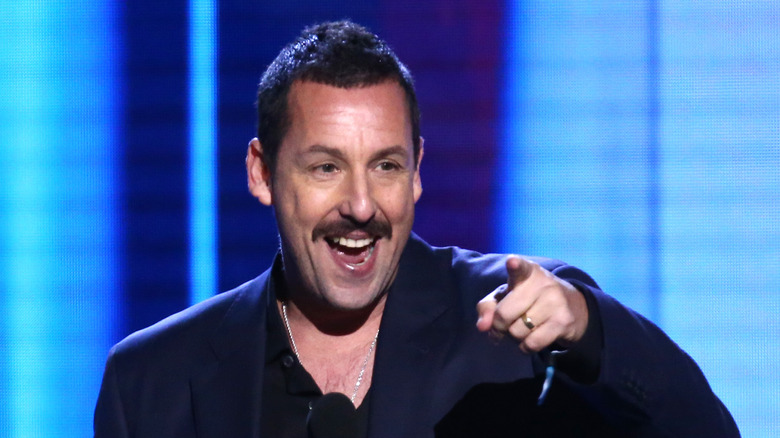 This comedian and actor is clearly the A-Lister in the family, but that doesn't Adam Sander's kids haven't upstaged their famous dad once or twice. While promoting his film, "Uncut Gems," on "Jimmy Kimmel Live!," Sandler pulled his younger daughter Sunny into the frame to help explain a little medical mishap they'd had earlier in the day.
Sandler told Kimmel that while he'd been preparing for the interview, his daughter informed him that he had an unwieldy hair sticking out of his ear. After he trimmed it, Sunny told him that he'd cut more than just the hair and that his ear was now bleeding profusely. She then gave Kimmel, and the audience, an update on the situation, saying, "So it's like… it's bloody and then there's a big gut." Despite the drama, Sandler seemed unfazed, shooing his kiddo away "to go upstairs and do some homework… so daddy can talk dirty."
That casual response is typical of Sandler's parenting style. He once told HuffPost, "I'm a worrier. I've learned in life now that when your kid is upset, you're rocked until they're not upset anymore. … You're always nervous because you want your kid to be happy. … Making sure everyone in the family is OK is the most important thing." So it only seems natural that, even after slightly maiming himself in front of his progeny, he'd have a relaxed reaction designed to keep her emotions in check and the general mood up.
Kelly Clarkson's kids take part in a Trolls scavenger hunt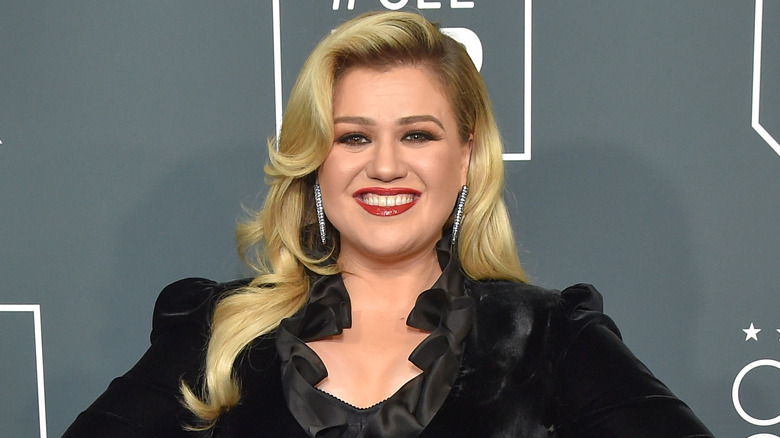 During a segment on "The Kelly Clarkson Show," the host challenged her "Trolls" co-stars Justin Timberlake and Anna Kendrick to a scavenger hunt. One  prompt Clarkson gave was to "find something related to you." Both Kendrick and Timberlake held up toy versions of their characters, Poppy and Branch. Clarkson, however, pulled into the frame her two kids, River Rose and Remington Alexander, who she shares with ex-husband Brandon Blackstock.
While the tots were excited to meet the actors behind two of their favorite characters (River even told Kendrick "I love your acting!"), Clarkson revealed (per WUSA9) that they were much less enthusiastic about her own role in the franchise. She said, "My kids, they were just so concerned I was a mean one because in the preview it looked like I was mean to y'all… They were so mad. They were like 'We can't even, you're not our mom because you're mean to Poppy!'"
River and Remy's empathy for the on-screen characters likely stems from Clarkson parenting approach, which includes directly engaging her kids on tough subjects. Citing kids' unavoidable exposure to things like "bullying," "sexual harassment," and "rape culture in schools," she told Refinery29 in 2017, "I think it's a very crucial time for anyone with kids. … Right now we have a unique opportunity to use what's happening to ask our kids, 'Do you think this was right or wrong? What do you think should have happened?' It sounds obvious, but that's the only way, long term, this world is going to get any better."
Kevin Jonas' daughters make his Tonight Show appearance a family affair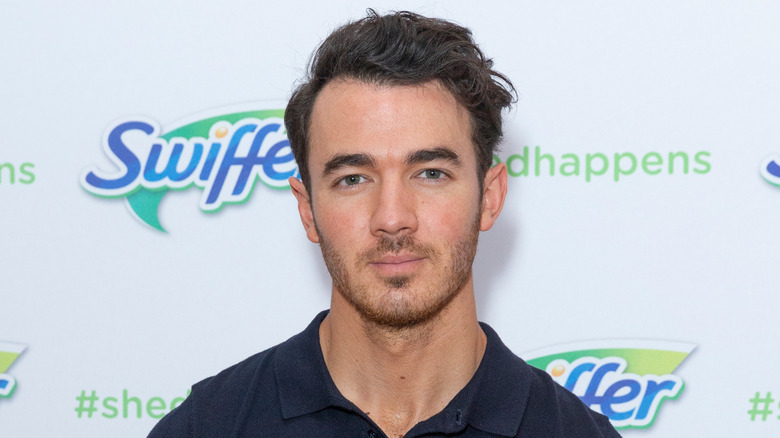 Nick, Kevin, and Joe Jonas were chatting it up with Jimmy Fallon on "The Tonight Show" about a series of upcoming projects, when they were joined by a few junior Jonases. Kevin's two young daughters, Alena and Valentina, whom he shares with his wife Danielle, snuck into the room where their dad was recording, prompting Fallon to invite them to say hello.
After the girls shyly answered a few questions, Kevin went into dad mode, asking his elder daughter, Alena (per People), "Aren't you supposed to be doing schoolwork right now?" The first-grader then left the room, presumably to get back to work, only to pop back in moments later to ask a question about her homework. While the proud papa has a great relationship with his daughters now, he's admitted in the past that it hasn't always been easy. 
After the birth of his eldest in 2014, Kevin revealed on Oprah: Where Are They Now? that he struggled at first. "I didn't find my place right away," he said, adding, "I kind of dove into work, because I was not fully finding my place yet, and I think that a lot of guys … don't realize how much of an effect it has." The singer went on to encourage other fathers who find themselves in the same boat to not beat themselves up about it, but to just continue to be present and trust that the connection will come. 
Al Roker's son helps with a weather forecast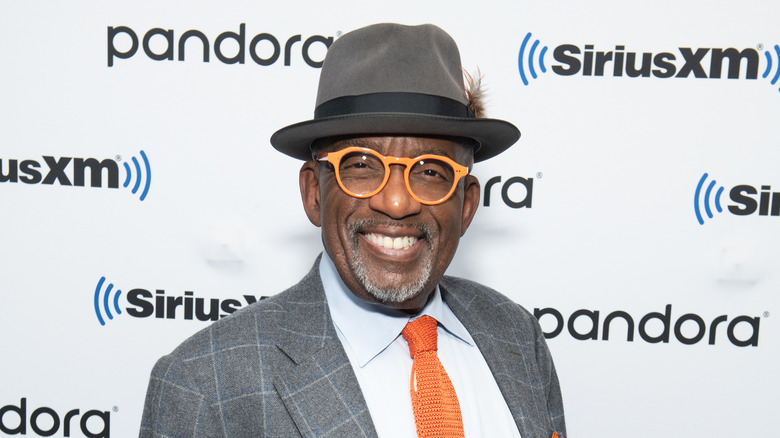 Long-time "Today" weatherman Al Roker has always been close to his kids, but it seems the pandemic has only made them closer. His youngest son, Nick, who is on the autism spectrum, still lives at home with Roker and his wife, Deb Roberts, and has become his dad's partner in crime. For example, the duo have started an Instagram series called "What We're Cooking," where they take viewers through their favorite dinner recipes step-by-step.
The quarantine hobby isn't the only collaboration fans have gotten from the pair. In April 2020, Nick joined his dad on the morning show to help give out the day's weather report. Before they got down to business, dad wowed his co-hosts by showing off Nick's height, and reassured them that the teen was "doing good" despite how drastically the pandemic had upheaved his regular routine. 
Roker has repeatedly spoken about how parenting is one of his life's greatest joys. When his co-host Gadi Schwartz (who had recently announced the impending arrival of his first child) asked on-air for Roker's best parenting advice, the weatherman got choked up before replying, "I will tell you both that it's the greatest thing that will ever happened to you, and that you will know that your heart beats outside your body to somebody else's. … Your job is just making sure that each of these children, whoever they are, can be whoever they want to be." 
Jason Bateman's daughter wanders by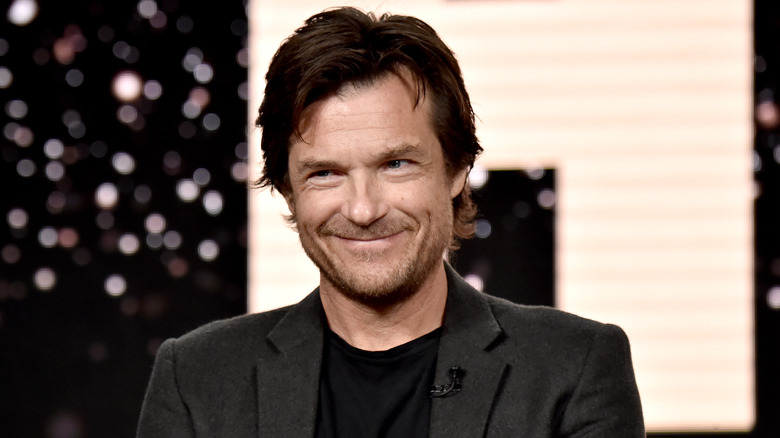 A former child actor himself, Jason Bateman doesn't seem to be pushing his kids to follow in his footsteps. Instead, the girls are seeking out fame on their own terms. At least, his younger daughter Maple is. The elementary schooler popped up outside, in the window behind her dad, while he was playing "Was I In It? on "Jimmy Kimmel Live." Maple waved furiously, grinned at the audience, and upstaged her famous pops.
The actor then forayed into a brief discussion of parenting with Kimmel, a dad himself, joking "I keep her outside. That way there's more food for me inside the house." He also admitted he was "having trouble" keeping up with her second grade coursework. His confession that the schoolwork, particularly "long division," wasn't something he really remembered how to do, surely hit a chord with millions of parents who also find themselves struggling to teach their own kids these formerly easy skills. 
Despite some of those more technical parenting skills being out of his scope of knowledge, fatherhood as a whole has been an easy and joy-filled ride for Bateman. He told The Daily Telegraph, "The transition from non-dad to dad was a very natural one for me. It's another thing I didn't take on earlier than I should have, and I think because of that it's been very comfortable and enjoyable."
Alanis Morissette belts it out with her daughter on her lap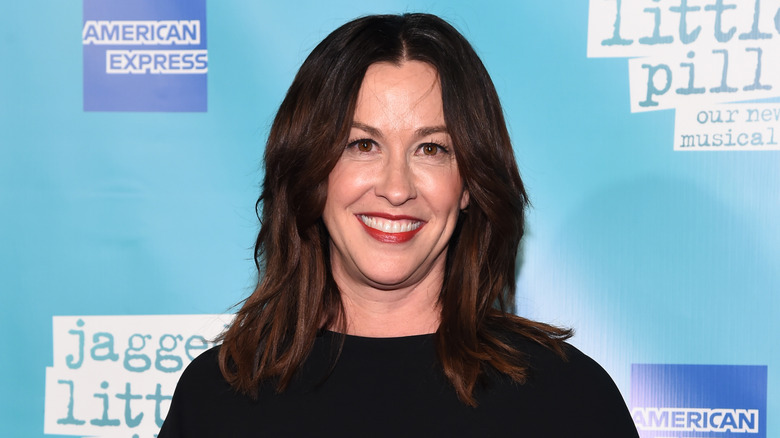 Proving that working moms really can do it all, Alanis Morissette belted out a single from her new album, "Such Pretty Forks in the Road," on "The Tonight Show with Jimmy Fallon" while cradling her four-year-old daughter, Onyx, on her lap. The song, titled "Ablaze," was described by Vulture as "Morissette's vow to her three children," and includes the lyric: "My mission is to keep the light in your eyes ablaze." Adorably, the tyke even chimed in with a few original lyrics of her own.
Along with Onyx, whom Morissette shares with her husband, rapper Mario Treadway (aka Souleye), the notoriously private Canadian songstress has two sons, Ever and Winter. The couple take a less-traditional approach to parenting, demonstrated through their adherence to something called "unschooling," which Morissette described to Health as "child-led education. Despite what the term may lead you to believe, the approach isn't a lazy one, in fact, it's just the opposite, requiring "a major commitment" that Morissette and Treadway are devoted to "24/7." 
She dove further into the educational method as well as her overall "attachment parenting" style on the "Katie's Crib" podcast, saying that her family seeks to be "attuned to each other" in order to create a "deep connection that will be the hotbed for their whole life." 
Double Trouble for Chris Hemsworth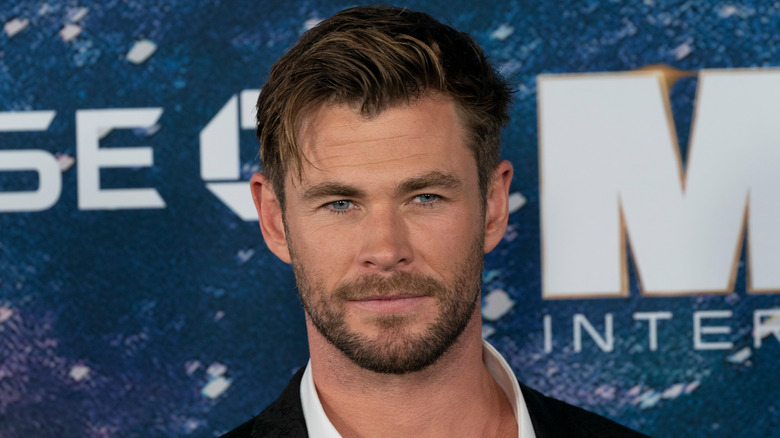 Even Avengers are powerless against the wiles of a willful child or two! While promoting his Netflix film, "Extraction," on a Zoom interview with Australian radio station Triple M, Chris Hemsworth found himself interrupted by his twin boys, Tristan and Sasha. The six-year-olds began by chattering loudly off-screen before one of them wandered into the frame and stood next to his dad, making faces into the webcam. But the antics didn't stop there. After disappearing from the shot, the mischievous duo began throwing pillows at their dad's computer, making the camera visibly vibrate. Only then did the father of three (Hemsworth also shares one daughter with his wife Elsa Pataky) appear a little bit flustered.
Host Luke Darcy summed up what we all felt about the interview, saying, "I'm enjoying this interview already, because I'm watching Chris, who can do anything, Hollywood star, life's going beautifully, but like all of us, can't keep his kids under control." 
And while Hemsworth's career is, arguably, about as good as it gets in Hollywood, it seems the roles he's most interested in these days are at home, not on the screen. He told GQ Australia, "There's times when I've thought, 'Wow, because having kids is more important to me, some of my roles have suffered.' There's definitely a couple of films I could've put way more energy into but I was like, 'No, I'd rather be with my kids.'"
Source: Read Full Article