Friends was one of the biggest sitcoms of the '90s. The hit TV series made stars out of Jennifer Aniston, Courteney Cox, Lisa Kudrow, David Schwimmer, Matthew Perry, and Matt LeBlanc and made pop culture history. During the show's 10-season run, the actors saw significant changes in their personal lives. Notably, Cox became pregnant during the shooting of the final season. Her pregnancy challenged showrunners with hiding a progressively harder-to-conceal baby bump.
But Friends wasn't the only '90s sitcom to face the same situation.
Courteney Cox's pregnancy in 'Friends' was obvious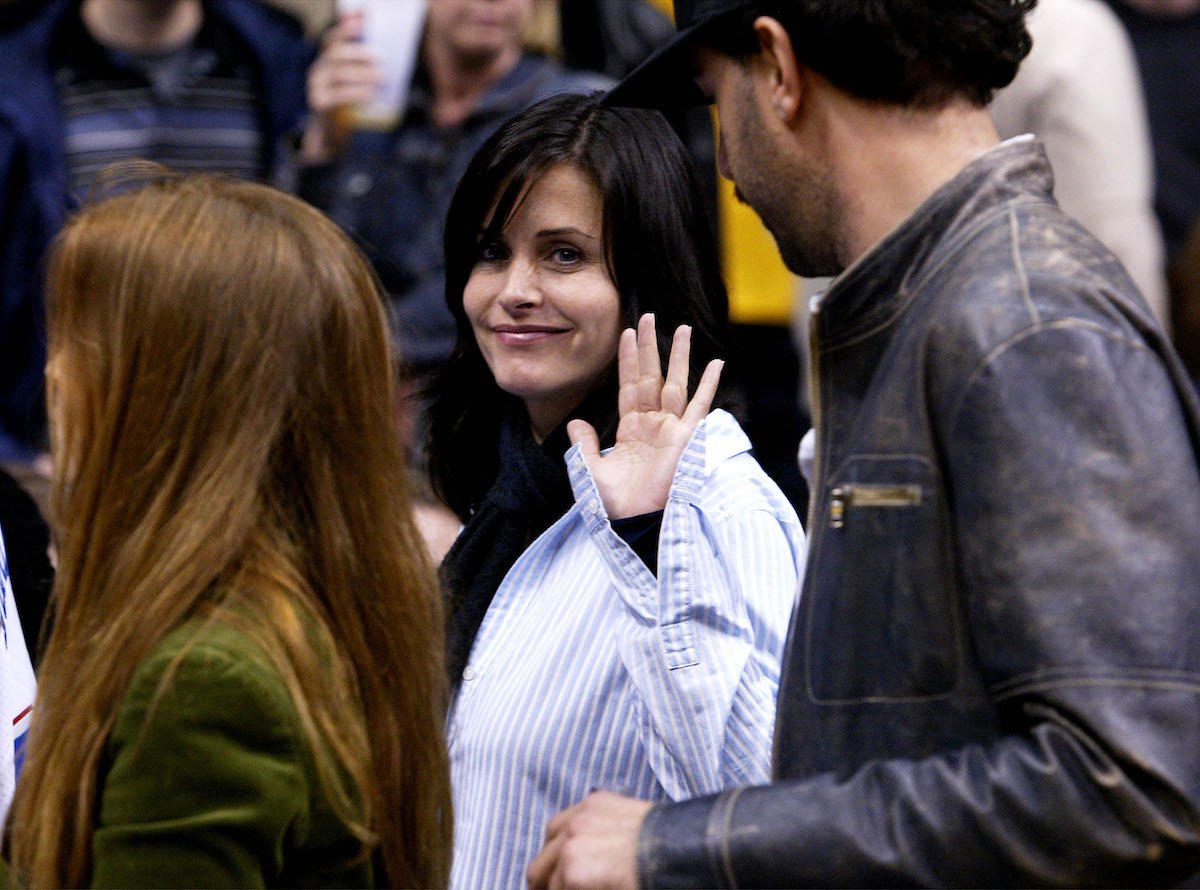 Courteney Cox married actor David Arquette in 1999 at the peak of her Friends stardom. A few years later, the couple announced they were expecting their first child. The only problem is that Cox was hard at work filming the final season of Friends.
Showrunners didn't have many options because Cox's storyline on Friends involved Monica and Chandler's challenges with infertility and their journey to adopt children.
According to MsMojo, producers worked with Cox to hide her pregnancy. She wore baggy clothes and hid her growing belly behind props. But however hard they worked, it was impossible to disguise the petite Cox's baby bump, and by the end of the season, she was obviously pregnant.
Other '90s TV shows that failed to hide pregnancies
Over the years, there have been several instances of stars who became pregnant while filming hit TV shows.
For instance, Leah Remini in The King of Queens worked with a unique storyline to hide her pregnancy. The actor's character, Carrie, ended up between jobs, so she spent a lot of time at home. She wore large, comfy lounge clothes — the perfect camouflage to hide a pregnancy. At the end of Remini's pregnancy, Carrie returns to work, eventually slipping back into her business-casual wear, MsMojo reports.
Another funny example of showrunners scrambling to hide a pregnancy involved Julia Louis-Dreyfus in the iconic '90s sitcom Seinfeld. During season 3 filming, Louis-Dreyfus was pregnant. Her growing bump put producers in a pickle because Elaine, her character, was famously child-free.
In addition to dressing the actor in oversize coats and placing her behind random objects during the third season, showrunners wrote a storyline that sent Elaine to Europe for the first few episodes of the following season. That time away allowed Louis-Dreyfus to enjoy maternity leave. She returned to Seinfeld in the middle of the fourth season.
How did 'Friends' showrunners handle Lisa Kudrow's pregnancy?
Although Friends showrunners couldn't work Courteney Cox's pregnancy into the show because of her character's fertility issues, writers found a way to get Lisa Kudrow's real-life pregnancy a feature.
When Kudrow announced her pregnancy in 1997, writers decided to make her character, Phoebe, the surrogate mother for her brother's children. The idea not only provided Kudrow with a reason to be pregnant on TV but also gave Phoebe a storyline that resulted in hilarious moments.
Though Kudrow's pregnancy ended up being a breeze for Friends producers, in most cases, showrunners must hustle to hide stars' pregnancies. Typically, producers use tricks like baggy clothes and clever camera angles to keep the baby bump out of full view. However, when pregnancies become impossible to disguise, showrunners and writers must develop creative ways to divert attention.
Source: Read Full Article