Really good news for everyone who has accidentally binged all two million episodes of Love Island: there's a brand new season. And although the whole, "this is the most dramatic season yet," vibe is totally a Bachelor thing, you should probably know that this round will likely bless us with some of the most ridiculous episodes of Love Island yet. Here's what you should know.
You can stream Love Island from the United States.
First thing's first, it's important to figure out how to even stream this thing. As you know, you can binge all of the old seasons of Love Island on Hulu. The streaming service has paired up with ITV (the network that airs the show in the UK) to give American fans access.
There is one tiny catch, though. The series premiered on January 12, but the first few episodes won't be available until January 20. So, you're going to miss about a week of content…but that just means you can binge a few hours and be caught up in no time.
There's a new host.
Love Island's original host, Caroline Flack, has stepped down from her role after being charged with assault. Instead, TV personality Laura Whitmore will be hosting.
"I want to thank ITV for trusting me at the helm of this huge show. I wish it was in better circumstances," said Laura. "Caroline is a brilliant host and also a friend. We've spoken a lot in the last few days since she stepped down. She has been very kind to me and strongly pushed me for this role."
The season takes place in South Africa.
There's a new villa! Love Island season 6 will be filmed in Cape Town, South Africa instead of Mallorca.
The cast is pretty controversial.
The season's just begun, but Love Island fans are already shocked by some of the cast members. First off, one of the women formerly dated musician Lewis Capaldi, and claims to be the (heartbreaking) inspiration behind one of his songs. Okay!
The whole of the UK when Paige said 'My ex is Lewis Capaldi and I have a song written about me': #LoveIsland pic.twitter.com/UmqJYPA3wJ
Even more troubling is the fact that a contestant named Ollie allegedly hunts endangered species. Apparently he deleted the posts before being announced as a contestant, but fans are still upset that he's been allowed on the show. In addition to all of the social media outrage, there's even a Change.com petition with nearly 30,000 signatures calling for him to be removed from the series.
Ollie better be the first one out of love island if he's sat there shooting CRITICALLY endangered & partially extinct animals & have his own hunting company. Honestly disgusted LMFAOO, we should be saving the animals not shooting them for banter or a trophy 🥴🥴🥴 #LoveIsland pic.twitter.com/RahGrmPUCF
If the show is already this messy from the get-go…I can't imagine the dumpster fire it'll be by the finale.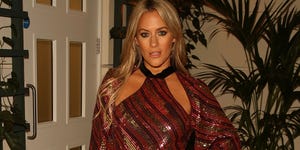 Source: Read Full Article