Teresa Giudice is not one to mince words. As a true Garden State gal, the "Real Housewives of New Jersey" star likes to keep her family and friends close, and her frenemies even closer. And while Teresa can certainly count plenty of people as her friends and supporters, there's always been one person who has sat out in the other corner: her former co-star, Danielle Staub.
There's no denying that Teresa and Danielle have had a rocky history. Teresa became a household name when she literally flipped out and almost turned a table over during a dinner party with Danielle during the first season of the show. While Teresa never really clarified what her beef with Danielle was at the time, she accused the single mother-of-two of being engaged multiple times. If that weren't enough, Teresa also made television history when she famously called Danielle a "prostitution whore" in front of millions of viewers, per the Daily Mail. Speaking about her frenemy in 2010, Teresa told Parade, "If Danielle was on or off the show, it didn't bother me. I can deal with her. And I'm certainly not afraid of her or anything."
With that said, here's why Teresa and Danielle's feud stands above the rest of the "RHONJ" drama.
Teresa Giudice and Danielle Staub had an ongoing feud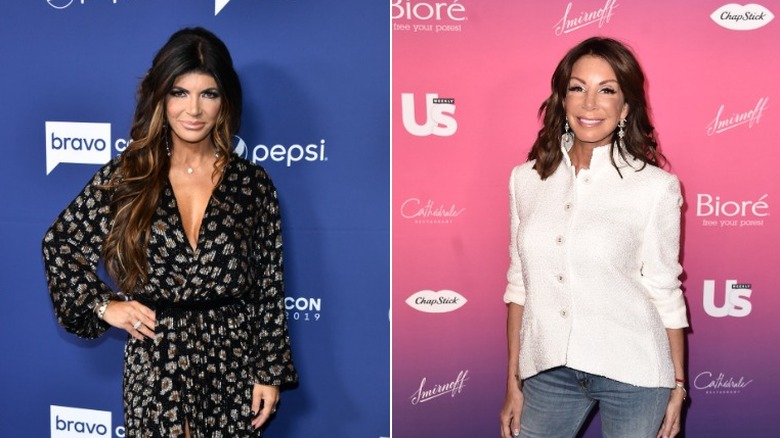 Seeing how Teresa Giudice had her own rap sheet and later became the first Real Housewife to land behind bars, a lot of "RHONJ" fans to this day can't help but wonder why she despised Danielle Staub so much. 
However, it wasn't until Danielle got into a physical altercation with housewife Margaret Josephs — and Teresa was caught on camera telling Danielle to pull her hair — that things really began to sour between them. When Danielle left the show after Season 10, she couldn't help but take a swipe at Teresa and the rest of the women when she said during an episode of S'More Date, "I'm pretty much the only person on 'The Real Housewives of New Jersey' that didn't commit crimes in my adult life."
Eventually, though, Teresa did manage to patch things up with Danielle, at least to some extent. In her book "Standing Strong," Teresa wrote, "Danielle and I are friends now," (via People). That said, it does seem like Danielle has had the last laugh in this feud, as during the same week that Joe Giudice admitted that he doesn't "miss being married" to his ex-wife (via Us Weekly), she said about him, "I literally think he looks better than he ever has" (via Taste of Reality).
Source: Read Full Article