The first three episodes of The Handmaid's Tale Season 4 finally dropped on Hulu, and fans are already mourning the deaths of a few major characters. Of course, there's always a chance a key player will be killed off — this is Gilead, after all. But according to The Handmaid's Tale showrunner Bruce Miller, there's a specific reason why that heartwrenching ending in season 4 episode 3 had to happen.
[Spoiler alert: This article contains spoilers from The Handmaid's Tale Season 4 Episode 3, "The Crossing."]
What happened at the end of 'The Handmaid's Tale' Season 4 Episode 3?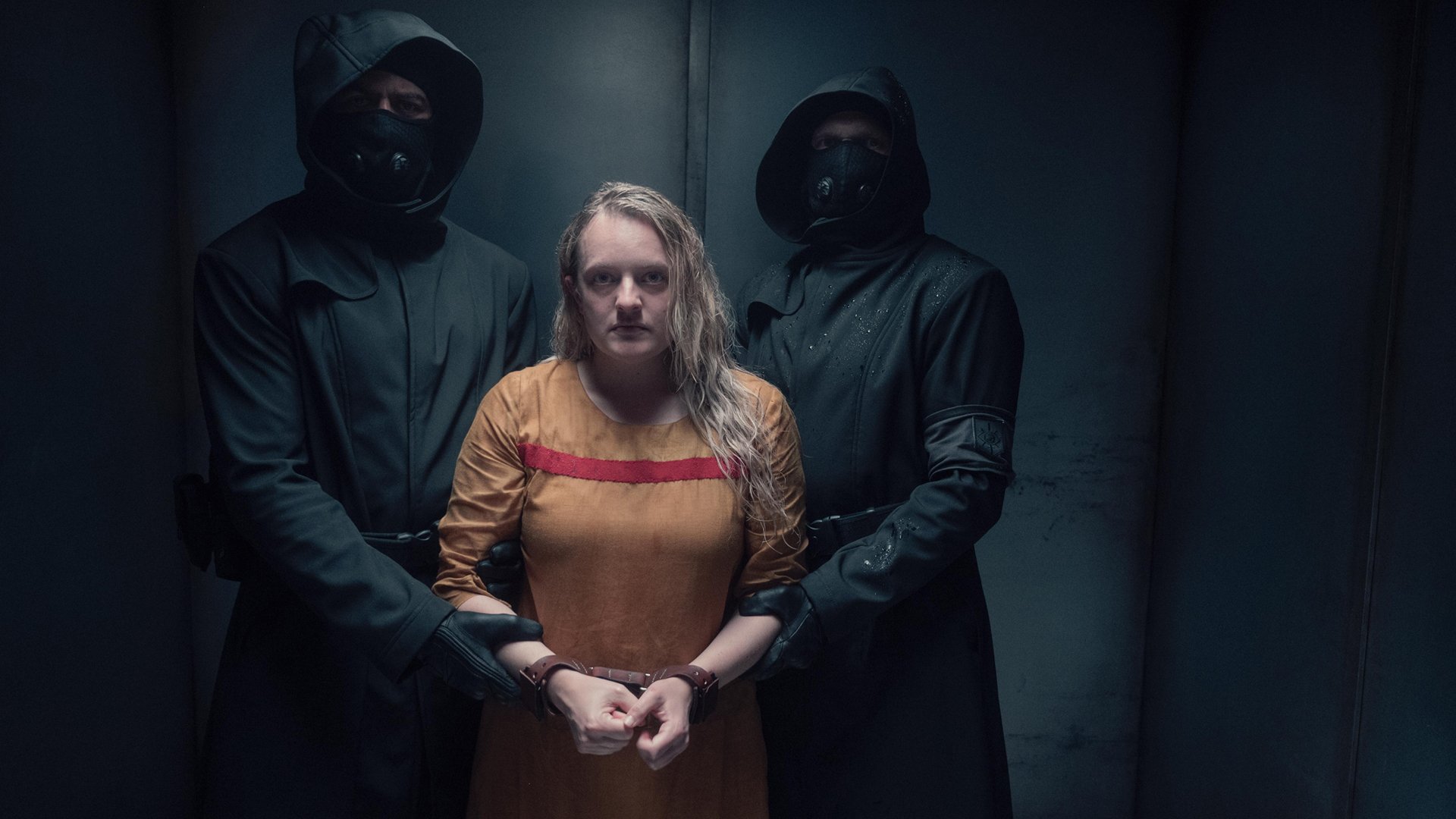 At the end of The Handmaid's Tale Season 4 Episode 3, "The Crossing," June (Elisabeth Moss) revealed the location of her fellow Handmaids. Then the women were sent to a breeding colony. But before they arrived at their destination, everything was derailed.
The truck transporting the Handmaids stopped at a railroad crossing because a train was coming. The driver also decided to take a bathroom break, leaving Aunt Lydia (Ann Dowd) alone with the Handmaids. Suddenly, June charged Lydia as the rest of the Handmaids rushed out of the vehicle.
At first, June stayed behind to get her revenge on Lydia. Alma (Nina Kiri) stopped her, telling June that they had to beat the train to escape. Finally, the six Handmaids were on the run. But in the end, two were gunned down by the driver. Then as June and Janine (Madeline Brewer) made it to the other side of the tracks, Alma and Brianna (Bahia Watson) were struck by the train, killing them instantly.
'The Handmaid's Tale' showrunner on the ending of 'The Crossing'
When Hulu released the first three episodes of The Handmaid's Tale Season 4, Miller opened up about the final moments of "The Crossing." The showrunner noted how lucky and unlucky June was for making it before the train while her fellow Handmaids perished. Then Miller shared why beloved characters — such as Alma and Brianna — had to die in episode 3.
"The reason I thought about that was, first of all, it's very hard to judge that particular thing when you see it coming. So I know people get hurt that way all of the time," Miller said. "And also, I wanted it to have a cost for June right in front of her because honestly when people say something's going to be hard and then it turns out to be hard, everybody's shocked [by] what hard feels like. "
The showrunner continued, "But this is what hard feels like: you make decisions and people can die in front of you and you are nothing but full of regret and mistakes and that doesn't go away."
What's next for Janine and June in 'The Handmaid's Tale Season 4
Now, many Handmaid's Tale fans are wondering about June and Janine's next step as season 4 continues. Still speaking with Variety, Miller pointed out that escaping Gilead will be "very hard." He also hinted that June will be impacted by the death of her friends.
"I want her to feel responsible," Miller said. "Whether she feels guilty is a slippery thing because who's guilty, who's responsible? It's really Gilead. But yes, she is weighted down, hugely, by what she has done, thought, wanted to do, how her desires have changed, how ruthless she's become and how she finds satisfaction in violence sometimes."
Miller also suggested that Janine will take "a lesson from June" and become more of a leader in The Handmaid's Tale Season 4. That said, it seems viewers will have to watch what she becomes.
"It's a protégé story," Miller said. "What does her protégé turn into? A lot of her ruling philosophy is the same as my mother's parenting philosophy, which is, my mother just thought about what her mother would do and did the opposite."
The Handmaid's Tale Season 4 Episode 4 will be released on Wednesday, May 5, 2021.
Source: Read Full Article