Could anyone play "NCIS" Special Agent Jacqueline "Jack" Sloane quite like Maria Bello? She has slayed while starring alongside Mark Harmon, joining the beloved crime drama in Season 15, according to Deadline. She signed a three-year contract, so Bello ended her time on NCIS with Season 18.
Landing a gig on "NCIS" is a pretty surefire way to gain publicity points. Fans are so invested in the cast that people want to know about the real-life partners of the cast. There's also a fair bit of buzz about why so many stars leave "NCIS." There have actually been some scandalous exits from the series too. How about Lauren Holly's exit from "NCIS"? And why did Pauley Perrette leave the series? We can't forget about Emily Wickersham either. And we obviously really care about what these former "NCIS" stars are up to. And while there are so many to choose from, we're focusing on Bello and her remarkable transformation. Here's the scoop.
How Maria Bello got started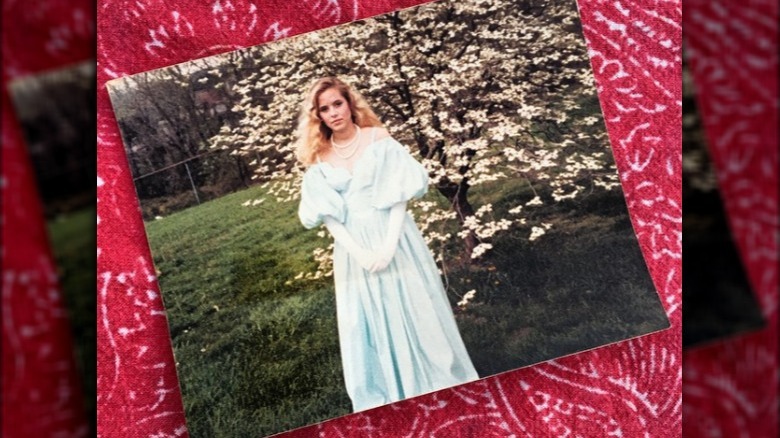 Maria Bello grew up outside of Philadelphia in a Polish-Italian family, according to Flare, and shared a high school photo to Instagram (pictured) of her Cinderella style. Bello began college career at Villanova University. She was working towards a career in human rights but took an acting class in her final year that wound up changing everything. Bello began acting by starring in off-Broadway plays like "The Killer Inside Me" and "Small Town Gals with Big Problems," according to Empire.
Then Bello broke into TV and movies after seven years, and her credits go all the way back to 1992 where she played the character Eddie on the film "Maintenance," according to her IMDb credits. Bello didn't have an easy time, though. She recalled a pivotal day when a casting director called her agent to say that Bello was a terrible actor. Her agent called her to fire her. Bello told Flare, "I remember crying and running down 23rd Street and, all of a sudden, I saw something on the sidewalk and it was a cheesy gold pump. And in the middle of 23rd Street, I took off my army boot and put the pump on—and it fit! I felt like Cinderella in that moment." From then on, Bello knew things would work out. 
Bello told Flare, "I felt like God was speaking to me, [saying]: 'You know what? You're OK.' And from that moment on I was, like, 'Yes, I can do this.'"
Maria Bello's fight for the good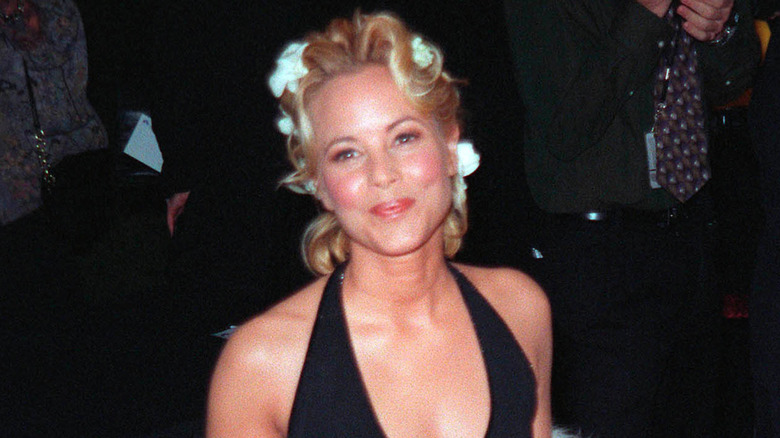 Maria Bello transcends one career label. While she's an actor, she's also an author and an activist. In 2011, she wrote a piece for HuffPost in response to the devastating 2010 earthquake in Haiti and called out some of the big-name non-profit organizations who talk a good talk but aren't there to really help.
In response to these potentially hollow performances, Bello founded WE ADVANCE, an organization that focuses more on bringing money and empowerment to the countries struck by natural disaster and less on bureaucracy. Bello was named a Global Ambassador for Haiti, according to The Global Ambassadors Program. In 2013, Bello was named the Goodwill Ambassador for Women in Haiti, with a huge investment in women-founded and run businesses.
Even her Instagram presence is full of activism. Bello posts regularly about voting, paying homage to the late Justice Ruth Bader Ginsburg, and the Black Lives Matter movement. It's so inspiring to see.
Maria Bello's relationship with her son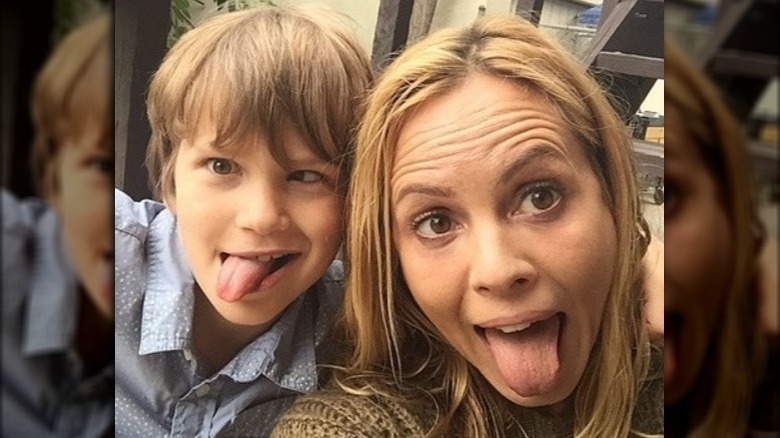 Maria Bello previously was in a relationship with Dan McDermott, according to People, and together they share a son, Jackson McDermott. Bello and McDermott split and she began dating Clare Munn.
In 2013, Bello wrote a touching essay for The New York Times called "Coming Out as a Modern Family," where she explained how she came out to her son. When she told Jackson that she was in a romantic relationship with Munn, she captured his response. "He looked at me for what seemed like an eternity and then broke into a huge, warm smile. 'Mom, love is love, whatever you are,' he said with wisdom beyond his years," Bello wrote.
Despite no longer being with her son's father, he still plays a big part in their lives. In June 2021, Bello posted a photo to Instagram of McDermott and their son with the sweet caption: "My baby daddy is the bomb. Thank the dear lord he is steady and funny and kind and organized. Whoever you love, however you love them – love is love. Merci Dan McDermott. Happy Fathers Day." What a great family message.
Maria Bello as an author and actor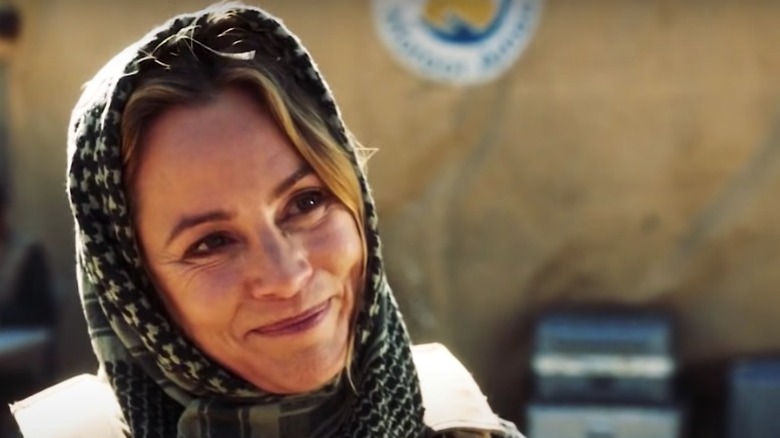 Maria Bello has some impressive credentials that include both author and actor. In 2015, she published a memoir about her relationship with Clare Munn called "Whatever…Love Is Love: Questioning the Labels We Give Ourselves." The title was aptly given by her son, Jackson McDermott, when she told him about her relationship with Munn, as she described in her essay for The New York Times.
Bello didn't just share about her relationship, though. In an interview with ET in 2015 where she discussed her book, Bello opened up about her struggle with bipolar disorder, something that she brings up in her memoir. "I think that my disease, since I'm medicated, is a gift, because I've gone so far through extremes — from the very bottom to the very top of human emotion and feeling," Bello said. "I think that I am more empathetic because of it." Bello has been vocal about her disdain for labels because of the harm they can do to people, so her memoir pushes back against this.
Shortly after she published her book, Bello joined the cast of "NCIS" in 2017, per her IMDb credits. Bello played Jack Sloane for three years, departing in 2021. In a tearful Instagram tribute to her co-star Leroy Gibbs (Mark Harmon), Bello teased their relationship: "Dear Gibbs – my pal. – Did we or didn't we? Who will ever know. They will only know that we loved each other dearly and were grateful for our time together with our crew. Love. Jack Sloane."
Maria Bello's engagement announcement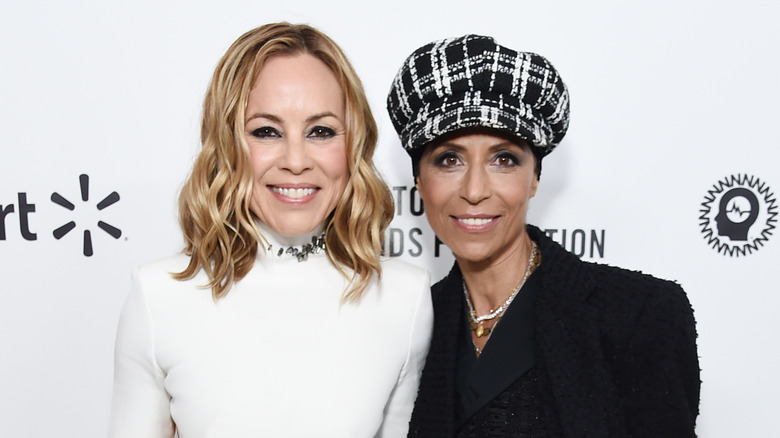 At Elton John's Oscar Party in 2020, Maria Bello told ET that she was engaged to Dominique Crenn, a French chef. "We're pretty happy, considering that we just got engaged," Bello told the outlet. "So this is sort of our fun time out in Hollywood for the first time. It was very surprising and meant to be, but about time. I've finally grown up enough to get married."
The duo got engaged on December 29, 2019, in Paris, France, according to People. The event was obviously a joyful one for the couple, as Bello told E! News: "We're really excited about this new chapter. It's cool to be out together in Hollywood doing this thing I've been doing for 25 years, but with somebody I really enjoy doing it with. Dom's a chef so we've been to some of her things, but not to Hollywood things."
For Valentine's Day, Bello jumped on Instagram and shared a beautiful photo of Crenn with the caption: "Precious partner in crime – you light up even the darkest spaces and bring so much joy to the world. May all of you make someone else smile on this Valentine's Day." What a great love story.
Source: Read Full Article