Vanessa Paradis's name has been repeatedly dragged back into the limelight since ex-husband Johnny Depp's turbulent split from Amber Heard in 2016. After Heard presented allegations of Depp committing domestic violence against her during the marriage, Paradis came to her ex's defense, calling Heard's claims "outrageous" in a handwritten letter obtained by TMZ. "In all the years I have known Johnny, he has never been physically abusive with me and this looks nothing like the man I lived with for 14 wonderful years," Paradis insisted at the time.
The exes have indeed remained close, even spending the 2019 holiday season together in Paris, per the Daily Mail. Depp reportedly gave Paradis a heads-up when he proposed to Heard after meeting her on the set of "The Rum Diary" in 2011, per US Weekly (via Hello!), one year before they officially separated in 2012. "There's no drama," a source told Us Weekly at the time. "Vanessa wished him happiness. She's not bitter." The lack of jealousy didn't seem to apply to Heard, as an insider told Us Weekly in 2015 that she left Depp no choice but to sell his luxury yacht named "Vajoliroja" after Paradis (for whom he purchased it) and refused to board it. "Johnny loved that yacht. But he bought it for Vanessa, and Amber is still jealous of her," the insider shared.
Who is the woman with whom Depp shares daughter Lily-Rose Depp? Keep reading for more on the French beauty.
Vanessa Paradis started singing and modeling at a young age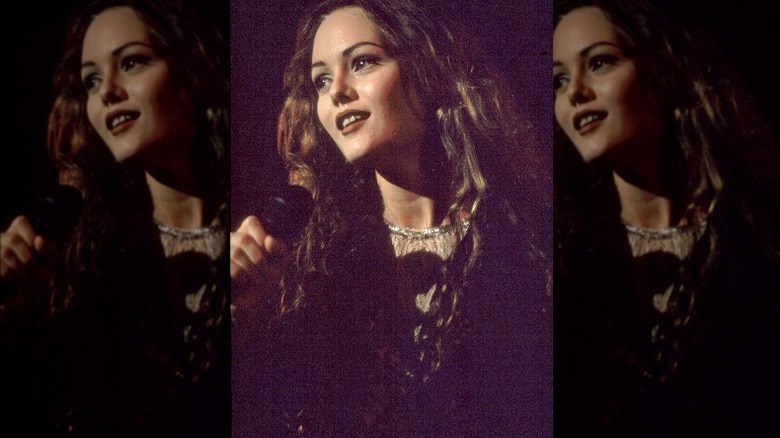 Per Vogue France, Vanessa Paradis captured the French public's imagination at just age eight by covering French composer Philippe Chatel's "Emilie Jolie" on the show "L'École des Fans." Sporting blonde bangs, a red bandana around her neck, and a soothingly melodic voice, Paradis foreshadowed seven years into her future when she scored her first big hit with the single, "Joe le Taxi" in 1988 at age 14 and officially launched her musical career. According to Vogue France, the song skyrocketed Paradis into the stratosphere of the top 50 French singers overnight, with the young Paradis becoming "an idol and icon to the young French generation." 
Of course, you're not a true French icon until you become a face of Chanel … and Paradis landed the role of spokesmodel for the brand's Coco perfume in 1991, featuring her as a large-feathered bird swinging on a bottle of said fragrance. Paradis said of the campaign (via Vogue France), "Jean-Paul Goude's film for Coco was a key moment in my career … I remember hesitating, so I'm happy that my agent and parents decided for me!" 
Per the outlet, Paradis transitioned seamlessly from music into fashion, modeling everything Chanel had from its iconic handbags to lipsticks. It thus was no surprise when Vogue UK described daughter Lily-Rose Depp "as synonymous with the house of Chanel as tweed jackets, strings of pearls and artfully pinned camellias." Clearly, it's in the (cool-girl) genes!
Vanessa Paradis and Lenny Kravitz … the relationship history forgot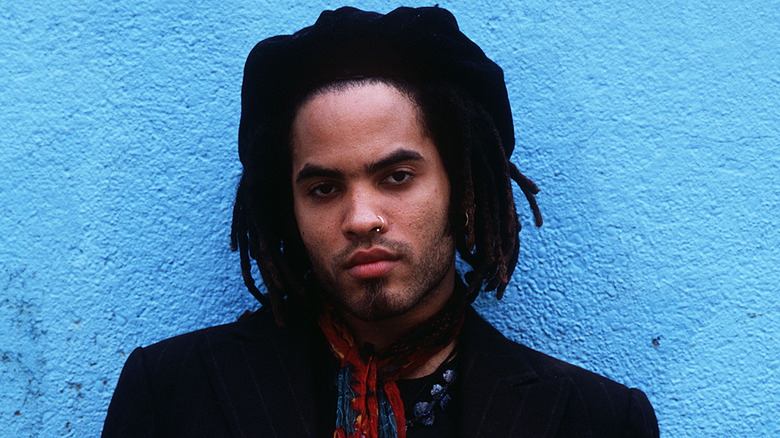 Yes, Johnny Depp's ex dated Lenny Kravitz — for five years, no less, per W Magazine. Vanessa Paradis' skyrocketing musical career in the 1990s took her stateside, where she would meet, work with, and begin dating Kravitz in 1992, according to the outlet. At age 20 then, Paradis had two successful French albums under her belt, per Leschartes.com, and the songbird desired an English-language record as well. Kravitz wrote and produced her third album, simply titled "Vanessa Paradis," which was a hit on the French charts and peaked in the U.K. at No. 45. The duo especially made magic with the album's single "Be My Baby", which gave Paradis a Top 10 hit in the U.K., with 15 weeks on the charts there and peaking at No. 6. 
As for the romantic aspect of their relationship, there is perhaps a reason many never knew the two famous faces were ever linked this way — as W mused in 2018, Kravitz's silence about "his once paparazzi-heavy romance with French musician Vanessa Paradis … is the most respectful way to handle a relationship after it's fizzled, especially one that's been over for more than two decades."
That said, we will certainly miss the glorious photoshoots this ex-couple served, such as this Kimye-evoking motorcycle-centric one via Last.fm. Très chic.
Vanessa Paradis got started acting early too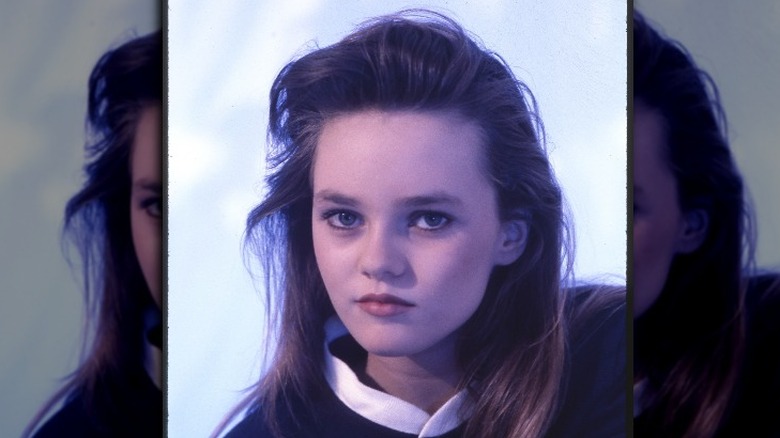 Vanessa Paradis wasn't just a teen singing sensation, but an acting one as well. With Vogue France writing that her childhood bedroom walls were covered with Marilyn Monroe posters, Paradis' feature film debut came in 1989's "Noce Blanche" ("White Wedding"), a role that earned the star a César, France's equivalent of an Oscar at age 16, per Hello!. Paradis later reflected on the role, per the outlet, saying, "'White Wedding' was without question the film that changed everything: the public's perception of me, winning a César and gaining the respect of my peers … I even got great reviews." The film sparked a decade-long streak of steady work alongside French cinema icons like Gérard Depardieu and Jeanne Moreau, with Paradis later named to a prestigious seat on the 2016 Cannes Film Festival Jury, per WWD.
In 2010, promoting her romantic comedy "Heartbreakers," opposite another acting heavyweight, Romain Duris, in the U.S., Paradis divulged her outlook on how she juggles the multifaceted dimensions of her career. "I don't think in terms of a career, I just like to do what I do," Paradis said, via Reuters. "The work I get to do fulfills me so much that I'm really, really happy."
Did Johnny Depp's mother badmouth Vanessa Paradis?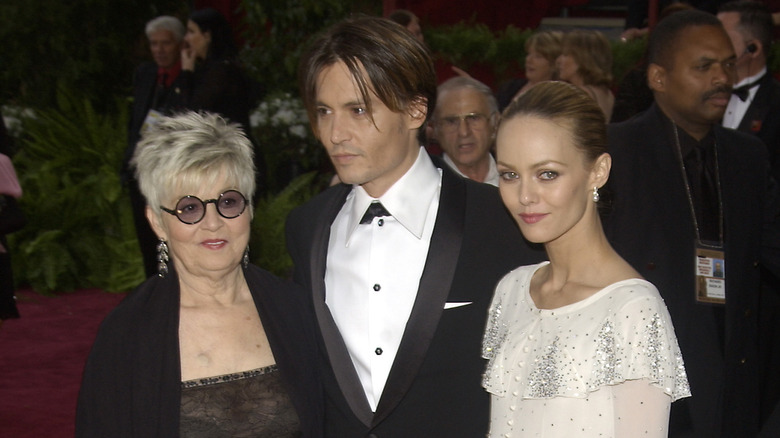 We have heard the rumors of Johnny Depp's mother not liking his ex-wife Amber Heard, per the Daily Mail, but more surprising is the allegation that Betty Sue Palmer did not get on with longtime partner and mother of his two children, Vanessa Paradis. Heather Rassel, the ex-wife of Depp's nephew Billy Rassel, revealed in a 2015 interview with The Sun (via Independent), that Palmer and Paradis' rift is what drove her and Depp apart.
"I don't like Vanessa," Rassel told the Sun. "I'm sorry but she was a total b***h. It's what ended their relationship. I think her family took advantage of Johnny, too. His mum Betty would never complain to Johnny about Vanessa or to her face. She was always polite, nice, and cordial to her but to us, she was a lot more honest." 
According to Independent, Palmer, whose name is famously tattooed inside a large heart on Depp's left arm, as Meaww noted, was the cause of at least one feud between Depp and a woman in his life — his sister Debbi (and Billy's mother). The two reportedly didn't speak for a year over who would care for Palmer in her older years. "She was a hellcat," Depp once said of his mother (via People). "She was mean, but she was funny." Paradis, for her part, never spoke ill of Palmer publicly and often walked down red carpets with Depp and Palmer by her side.
Vanessa Paradis wed for the first time in 2018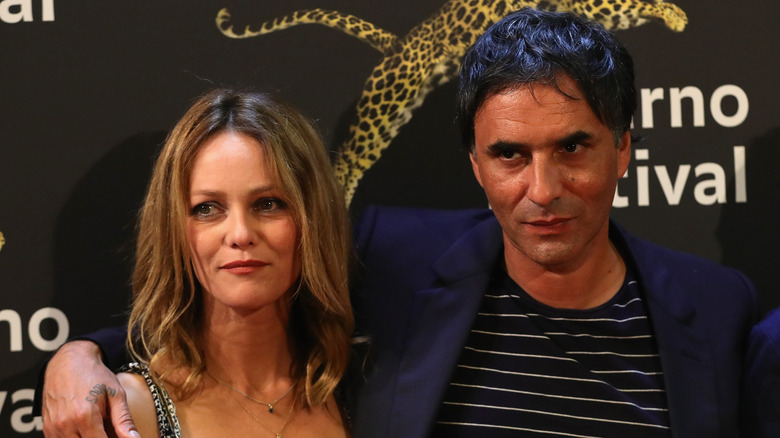 Vanessa Paradis may have been in a 14-year relationship with Johnny Depp (that produced daughter Lily-Rose and son Jack) but it was director Samuel Benchetrit whom she married. After meeting and hitting it off on the set of 2016's "Chien," Paradis walked down the aisle for the first time in 2018, the Daily Mail reported. Previously in 2011, the outlet reported that Paradis had expressed some practical skepticism about the institution of marriage. "It's romantic and the party part is fun," she said. "But it's a bit like the idea of a soulmate: I can't picture it for me. I know so many married people who tear each other apart. Ceremonies don't matter to me, love is all I need." 
Depp also explained why he and Paradis never made their union official on "Extra" in 2010 (via Hello!). "I never found myself needing that piece of paper," the actor said. "Marriage is really from soul to soul, heart to heart. You don't need somebody to say, okay you're married." Depp also voiced that it would have been up to Paradis. "If Vanessa wanted to get hitched, why not," he said, adding amusingly, "But the thing is, I'd be so scared of ruining her last name! She's got such a good last name."
Well, with his subsequent marriage to Amber Heard and hers to Benchetrit, we guess it truly is "never say never," huh?
If you or anyone you know has been a victim of sexual assault, help is available. Visit the Rape, Abuse & Incest National Network website or contact RAINN's National Helpline at 1-800-656-HOPE (4673).
Source: Read Full Article