Best friends Olivia and Paula might just be two of the most intimidating characters on TV in recent memory. The pair of college students — played by Sydney Sweeney and Brittany O'Grady in HBO's The White Lotus — vacation with Olivia's wealthy parents at an exclusive Hawaiian resort, where they disdain nearly everyone and everything around them. 
From their superior choice of poolside reading material (which leans toward Nietzsche and Freud) to their caustic takedowns of her parents and others, these know-it-all Gen Zers definitely think they're superior to pretty much everyone else, and they aren't afraid to show it. (Of course, it turns out that Olivia and Paula's friendship is quite a bit more complex than it initially appears.) 
When it came to creating Olivia and Paula, The White Lotus creator Mike White had some advice for Sweeney and O'Grady. He pointed them to a specific podcast to help them develop their characters. 
Olivia and Paula on 'The White Lotus' were inspired by the hosts of 'Red Scare'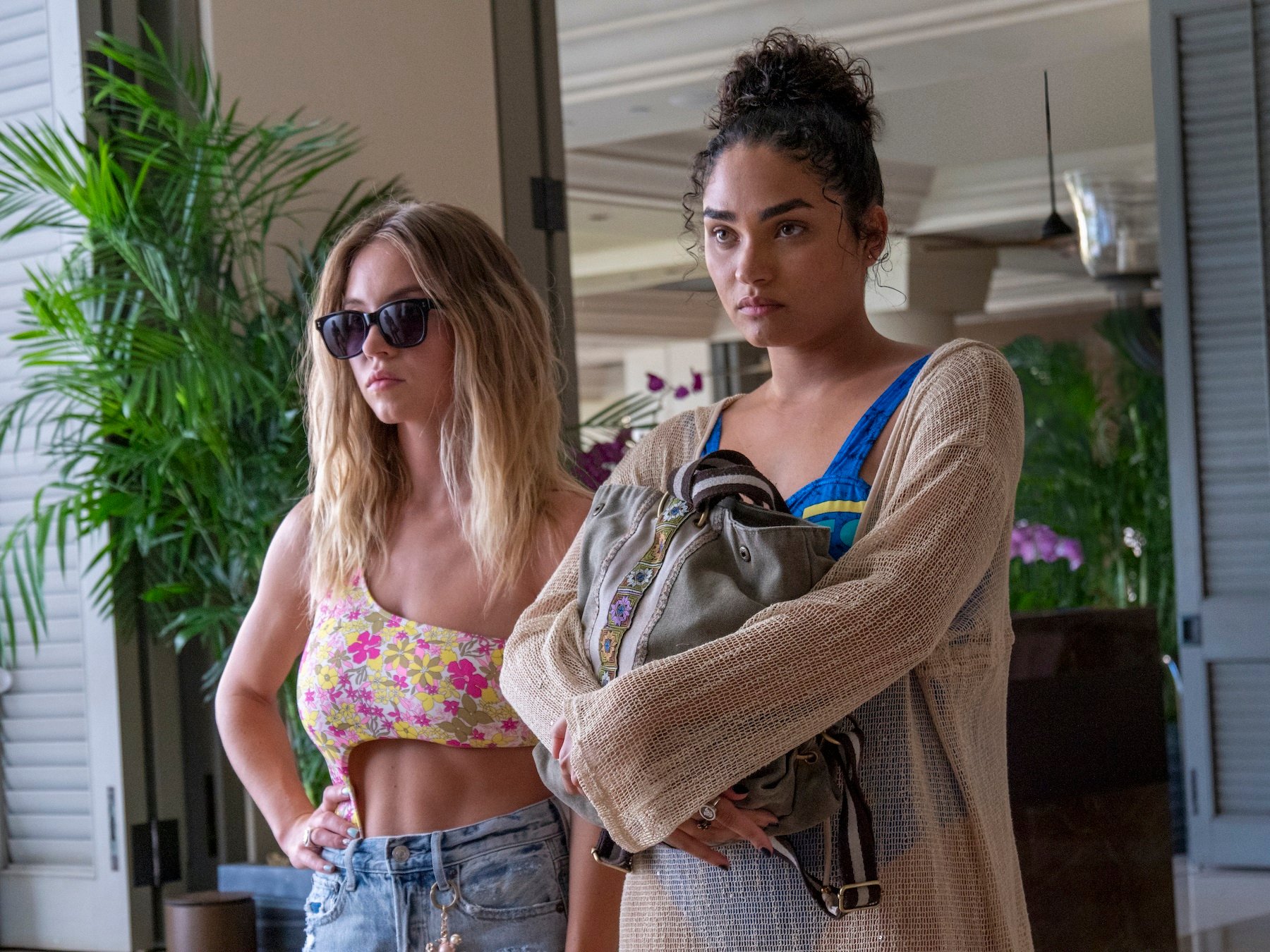 In an interview with Story + Rain, Sweeney, who plays the ultra-privileged Olivia, opened up about how White pointed her to the Red Scare podcast when explaining how he wanted her character to sound.
"Mike's very specific, which I love. He referenced the Red Scare podcast, two girls talking to one another about anything and everything, every episode," the Euphoria actor said. "He referenced their banter and their timing. They have a raspy, smoker, monotone kind of vibe to them. He loved the timing and how they spoke to one another, and he really wanted Paula and Olivia to play off of that in their most sarcastic moments. I would carefully listen to the podcast, and then flow through the scenes with Mike."
White also drew on his own experience as a college student when thinking about Olivia and Paula.
"I went to school at Wesleyan and was basically focussed on deconstructionist theory when I was there, and I got really into that whole world," he told the New Yorker. "And I came out the other side of it being a little bit cynical about what that all is. And so I was kind of playing with what I was like in college."
Sydney Sweeney said her character on 'The White Lotus' is a 'Gen Z-esque-type woke Twitter girl' 
In a joint interview with The New York Times, Sweeney and O'Grady elaborated on how Red Scare influenced their portrayals of Olivia and Paula in The White Lotus. 
"I mainly listened to [Red Scare] for the frequency of the voices of these girls and the timing and the monotone," Sweeney said. "It was so dry and drawn out and slow. I would just emulate and copy that as much as I could and then bring it into the present day, Gen Z-esque-type woke Twitter girl."
Sweeney was unfamiliar with the cultural commentary podcast before White told her about it.
"When he first told us to listen to it, I was like, 'What is this?' I have never really listened to podcasts," she said.
Her co-star O'Grady was also unfamiliar with it — and doesn't really get the appeal.
"I don't understand it," O'Grady added. "It's a whole world. It's like a different culture."
'Red Scare' is hosted by Dasha Nekrasova and Anna Khachiyan
Dasha Nekrasova and Anna Khachiyan started their Red Scare podcast in 2018. It concentrates on "neoliberal critiques, with a focus on women's issues and Russian American affairs," Nekrasova said in a 2018 interview with Vice.  
"Red Scare represents a critique of feminism, and capitalism, from deep inside the culture they've spawned," noted an article in The Cut profiling Nekrasova and Khachiyan, which described the co-hosts as "funny and cruel." The nastiness is part of the podcast's appeal, Khachiyan explained. 
"I think they like that we're a little bit mean," she said.
Check out Showbiz Cheat Sheet on Facebook!
Source: Read Full Article