ROBIN HOOD
Movie ★★★
9.30pm, Seven
Eight years is clearly long enough for yet another film to be made about this dashing outlaw. But the critical reception hasn't been great for the current box office version starring Welsh actor Taron Egerton. This 2010 retelling of the terror of Sherwood Forest by Ridley Scott, with Russell Crowe in the lead, does a decent job of it and the fight scenes are smashing. The overriding theme about the chasm between rich and poor is of course burningly relevant.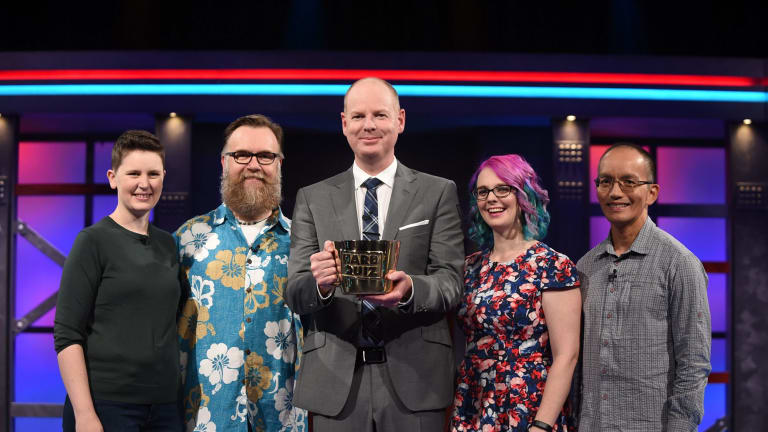 Hard Quiz: host Tom Gleeson has fun with this line-up of experts.Credit:COLIN PAGE
HARD QUIZ
Season finale ★★★½
8pm, ABC
What fun host Tom Gleeson has with this line-up of experts, whose obsessions are Meryl Streep, the Khmer Empire, AFLW and My Little Pony. So colourful and quick with a comeback are the contestants that it can sometimes be hard to believe they aren't hired actors. The hyperbolic reality-style voiceover and the flame bursts to signal each new round never fail to amuse. It's a comfort to know this droll format isn't done yet.
DAS BOOT
Series premiere ★★★★
9.35pm, SBS
World War II has not been a favourite subject for German filmmakers, with some exceptions of course including the original Das Boot. But for a new generation, this chapter of the nation's history is clearly worth revisiting from a dramatic perspective. In this sequel to the 1981 film, we experience the terror of war through the eyes of a mysterious female translator with French connections, a radio engineer and a commander. This is a haunting opening episode that begs for more.
Source: Read Full Article