Way before Making a Murderer or Serial got everyone hooked on true crime, there was Keith Morrison. The NBC reporter with the distinctively deep (some might say creepy) voice has hosted Dateline since 1995. Over the decades, he's investigated dozens of disturbing crimes, and become something of a pop culture icon in the process. He's been parodied on SNL, and there's even an Instagram account devoted to his signature lean.
Keith Morrison is worth $10 million
Curious how much Morrison gets paid to interview criminals, victims, and others involved in a crime? Celebrity Net Worth estimates that his salary is $3 million a year and that he has a net worth of $10 million.
Morrison has been a reporter for more than 50 years. A native of Canada, he started out working for a newspaper – the Saskatoon StarPhoenix – in the mid-1960s. Eventually, he moved on to roles as an anchor and correspondent for the CBC and CTV News, before relocating to the U.S. in 1986 to take a job at NBC News. That eventually led to the role that would make him – and his voice – famous: Dateline correspondent.
He sometimes questions his job
Dateline offers a window into the lives of people affected by tragedy. Morrison has said that he sometimes wonders if showing up with a camera crew to film their experience is the right thing to do.
"There is a time at the beginning of almost every story when I think to myself quite strongly, 'Why the heck are we doing this? Why are we invading people's privacy at a moment of extreme crisis in their lives when they feel awful about so many things and poking our noses in, in a kind of, I don't know, just a nosy way?'" he told Today earlier in 2018.
But Morrison has also realized that people often want to tell their stories to the world. "Our job is to listen," he said.
Morrison has a photographic memory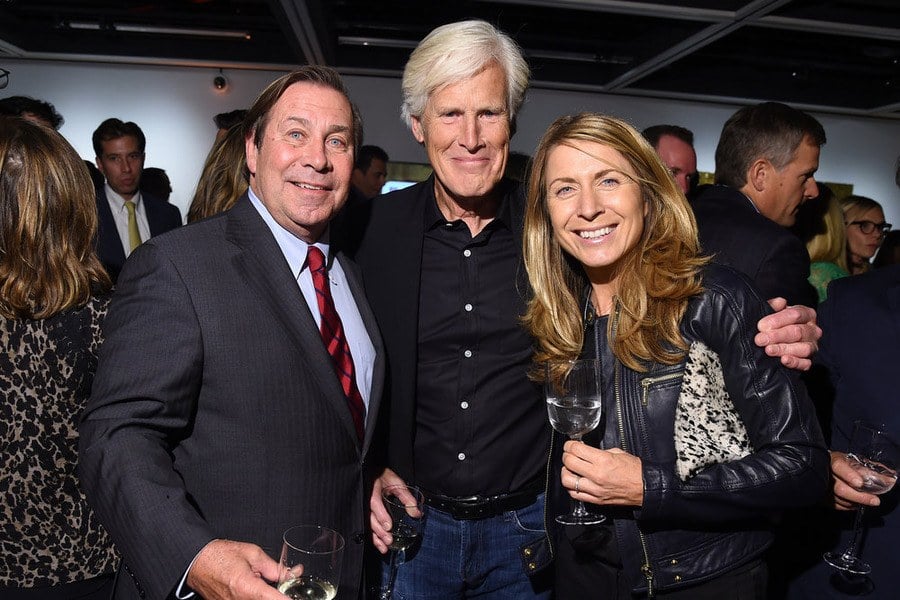 Dateline's Dennis Murphy and Keith Morrison with NBC News president Deborah Turness | Michael Loccisano/NBC
Viewers might only see a few minutes of an interview with a subject on Dateline, but chances are there's hours of footage that never sees the light of day. Morrison's interviews for the show can last several hours each, according to a Buzzfeed profile. And he and the rest of the show's team do extensive prep work for each one.
Producers put together extensive dossiers for Morrison to study before he sits down for an interview. But he doesn't rely on notes or prepared questions during the actual conversation. Instead, he memorizes all the research that the Dateline team prepares. Carol Gable, a producer at the show, told Buzzfeed that he commits "every little thing to memory. Everything … He is one of the best-prepared correspondents I've ever worked with."
He's said reporting on terrible crimes can be troubling
Morrison might have an unflappable demeanor on camera, but that doesn't mean he isn't affected by the stories he reports on. "[Y]ou do get to see a lot of the same patterns repeat themselves and it can be discouraging," he told The Wrap, specifically mentioning young women who get involved in abusive, controlling relationships, with tragic results. "But, to shed light on some of those patterns is probably not such a bad thing," he added.
Though always reporting on murder might turn some people cynical, Morrison has said he tries to stay positive.
"I keep the statistics in mind," he told Today. "The fact of the matter is that in the years that true crime has been such a popular genre on American television, and in books and every other place, the crime rate in America has gone way down. There are far fewer murders than there once were. It's just that people are more interested in them."
Check out The Cheat Sheet on Facebook!
Source: Read Full Article