Brother-sister team Steve and Leanne Ford debuted on HGTV five years ago with "Restored by the Fords," which aired for two seasons before morphing into the newer iteration of the show, now called "Home Again With the Fords." Leanne has also appeared on "Rock the Block" and the siblings appeared on "A Very Brady Renovation." These days they are two of the most recognizable stars of HGTV, but it was hard work getting to that point.
Leanne recognized early on that going outside of her comfort zone to have her own television show came with risks. According to House Beautiful, she said, "All of this is a risk — any time you put yourself out there in any form, you need to be ready for it to backfire, or for people to chime in. Living a full and creative life is always risky." While "Restored by the Fords" hit the airwaves in 2016, the show might have happened years earlier. Keep scrolling to find out how and why, along with everything else you did not know about HGTV's Steve and Leanne Ford.
Steve and Leanne Ford could have been the stars of Fixer Upper
The first time HGTV reached out to Leanne Ford, she had just finished three interior design projects and was enthusiastically blogging about her experiences. The network called her and, in her words, "Specifically, they were scouting for a cute couple who liked to fix up homes together for a brand new show," Leanne wrote in her memoir "Work in Progress" (via House Beautiful).
Leanne was married to her first husband at the time and he had no interest in being part of a television show, so Leanne and HGTV decided not to move forward. That cute couple HGTV eventually found was Joanna and Chip Gaines."Fixer Upper" premiered on HGTV in 2013, and we all know what happened next. The program and said "cute couple" took off like wildfire and have, over the past nine years, built an enormous empire and lifestyle brand.
Just one year later, however, HGTV reached out again and asked the siblings to create a "sizzle reel" that would "give producers a sense of who Leanne and Steve are and what the show would be like." While Leanne was deemed "too cool" after that reel, HGTV came calling again the following year and, of course, the rest is history. "The path to success is wonky and crooked," Leanne told House Beautiful. "Don't be afraid to fail; that's how you live a creative life."
Here's how Steve and Leanne Ford get their start in home renovation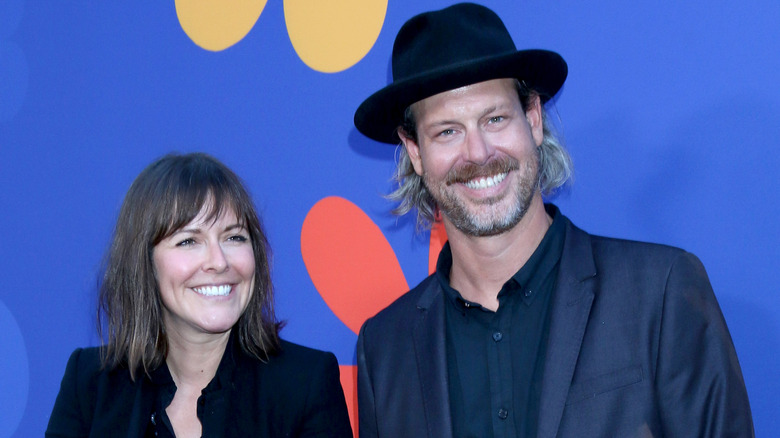 In "Restored by the Fords," siblings Steve and Leanne Ford renovate historic homes in their hometown of Pittsburgh, Pennsylvania. They got their start when Leanne purchased her first home, a historic schoolhouse that had not been updated (or even touched at all) since the 1960s.
Leanne had a vision for modernizing her home while also maintaining the charm of the historic building. She envisioned open rafters, a luxurious master bathroom, and a unique slat ceiling decorated with twinkle lights — but all the contractors she interviewed for the job turned her down, so she turned to her older brother, Steve. "It's very handy to have a handy brother, I'll tell you that," Leanne said in the HGTV press release for "Restored by the Fords."
Steve said, "She had this vision, and she would instantly go into a room and just start wrecking stuff. Then it had to be fixed to her taste and liking." He added, "She knew I could do it, so I got the phone call. I think she knew she had, like, a safety net. She could knock out walls and then her brother would come fix them."
Renovating homes wasn't always Steve and Leanne Ford's main gig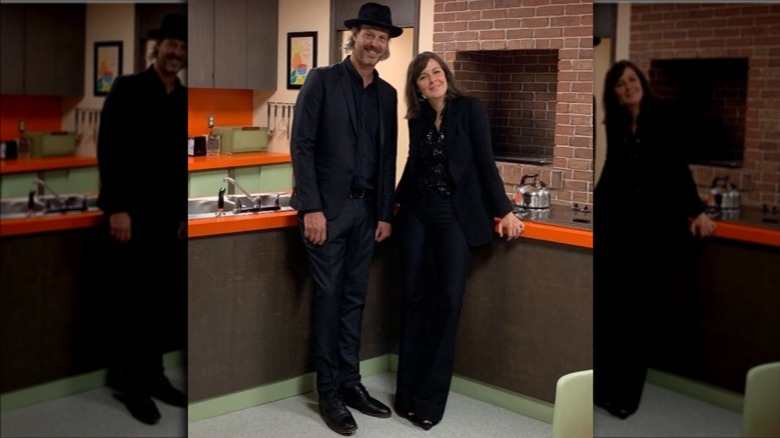 When the siblings finished Leanne Ford's renovated schoolhouse, their friends (and friends of friends) started contacting them and asking them to work on their houses. Before long, Steve Ford and his sister made home design their primary gig, per HGTV.
Steve had been involved in construction for years, but not full-time. Rather, he had turned to seasonal construction jobs to pay the bills when he was not pursuing his passion for sports, specifically skiing, snowboarding, rafting, and surfing. Pittsburgh is not a hot spot for surfers, but it will be if Steve has his way. He started the Surf Pittsburgh initiative to show his fellow Pittsburgh residents the joys of wake surfing, according to HGTV and his Instagram.
Leanne was in a creative field before getting involved in interior design. She was a stylist and creative director in New York City and Los Angeles for almost 15 years, per HGTV. Referring to how alike her two careers are, she said, "Honestly, the same thing in fashion is what I love about interiors, which is just new ways to connect things; new ways to put things together; mixing old and new, shiny and rusty."
Why did Restored by the Fords become Home Again with the Fords?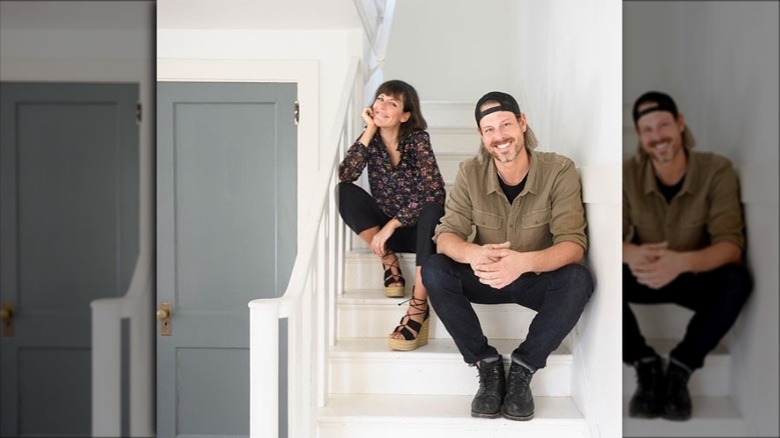 In "Restored by the Fords," Steve and Leanne Ford focused on finding "the coolest homes, the stranger, the weirder, the more unique, the better" in the Pittsburgh area, Steve said, via HGTV. "And then Leanne comes in and puts her spin on it, and I go to work." Yet, while fans continued to learn the fate of the siblings' original hit show, HGTV launched a new iteration of the same concept, which sees Steve and Leanne helping those in their hometown breathe new life into their old homes.
In "Home Again with the Fords," the siblings renovate and modernize older homes for Pittsburgh natives returning home to the city after years away. Leanne told HGTV, "People all over the country are now returning to the places they grew up. And what a wonderful place to be. It truly is a privilege to help people come home again, and to create a space they love."
"Home Again with the Fords" is a natural evolution of the siblings' original show, as HGTV noted, and retains the spirit and camaraderie the siblings have become known for, as they "address their clients' desired home updates, while honoring the properties' original charm."
Leanne Ford's husband took her last name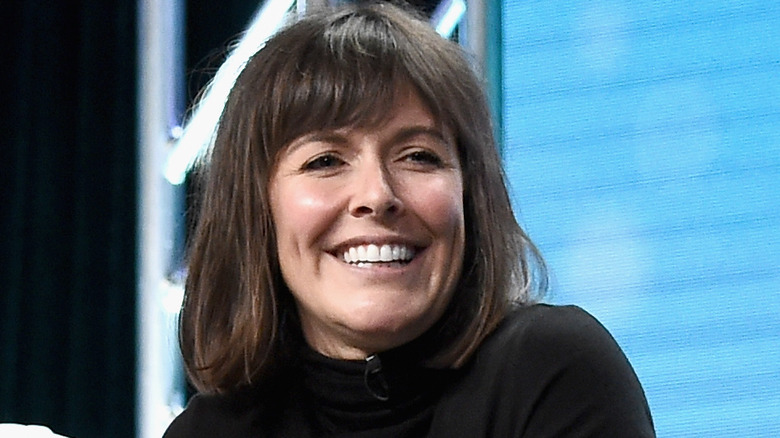 While older brother Steve Ford is unmarried and keeps his personal life under wraps, his sister Leanne found love again after divorcing her first husband. She and Erik Allen Ford eloped in 2017 after a bit more than a year of dating. The wedding was a big surprise — even to them — and took place at New York City's Bowery Hotel, per HGTV.
Not long after they got engaged, they were on a work trip and staying at the hotel and just decided to get married there. Leanne told HGTV, "We called our families on Wednesday and asked them to be there by Sunday. Eric found a tux, and I had a vintage dress I'd bought years ago mailed to me. There were 18 of us, and it was perfect."
Erik is a fashion designer. The newlyweds honeymooned in Fiji and Erik decided to take Leanne's last name, per House Beautiful. Their daughter Ever was born in March 2019, per People. While neither initially wanted kids, Leanne admitted that finding out she was pregnant felt "natural" after all. "Erik is the reason I wanted to have children, because of us," she explained. "Before that … I was just trekking along in my little career, happy as could be and then … he said, 'We have too much love not to share it.' … I was like, 'I hear that.'"
Source: Read Full Article